Is there a certain "silliness" to what may be perceived to be the plight of the inferiority complex given reign? Sure. There is a level of absurdity to feeling slighted by the opinions of the vanquished for their conqueror. The victory should be enough to scoff, to raise one's nose, to such pleas.
History has been written. The final tally tattooed to the walls of NBA history. The
Dallas Mavericks
were the 2010-11 season champions. Dirk Nowitzki, Jason Kidd, Tyson Chandler, Shawn Marion, Jason Terry and company have their rings, their place in basketball immortality.
Our memories of that have burrowed deep, cannot be erased. So, why should we care what perversions of that history arise? Why should we care while the common recollection, the national narrative, is remolded into some distant cousin of the truth?
History is constant.
History is ever evolving.
History cannot change. Perception can. If an opinion is shared enough, is stated lackadaisically as fact enough times without contention, regardless of the truths it's bending … the story can change, even as the root of history it sprouts from sits untouched.
Are we being overly sensitive, overtly protective of something that cannot, at its core, be altered, to want to take moment to counter claims that scrape against our Mavs-centered sensibilities?
Yes.
So be it.
From
the South Florida Sun-Sentinel's Ira Winderman, with my underline added to the final line:
Q: You indicated in one of your tweets that the Spurs will be toughest playoff matchup in Big Three era. Why will it be tougher than the OKC Finals last year? OKC beat the Spurs in six last year and obviously Heat beat OKC. I know the Spurs have championship experience, but other than Tony Parker, none of the players that they rely on for major contributions are in their prime. -- Jeffrey.

A: My thought process is this: The Thunder, to a degree, were just glad to be there in last year's Finals, to a degree similar to the Pacers taking the next step in the just-completed Eastern Conference finals against the Heat. By contrast, the Spurs know getting to the Finals is just part of the process, and know that Tony Parker, Tim Duncan and Manu Ginobili are capable of producing championship moments, something the Thunder had no basis for faith with Kevin Durant or Russell Westbrook. You could make an argument that the 2011 Mavericks were the Heat's most severe playoff challenge, but the continued sense is that the Heat sabotaged themselves in that series.
Mavs fans shouldn't care about a throw away line added to a Miami Heat beat writer's answer. Mavs fans shouldn't waste time harboring even the slightest of emotional reactions. In some sense, Mavs fans understand this.
Perhaps we (we're Mavs fans, too) have become hypersensitive to perceived slights. After almost a decade of hearing Dirk called everything from "soft'' to "wholly incapable of being the best player on a championship team'' to "only helping his team when his 3-pointers were falling,'' our antennae are up.
The championship was supposed to cure that, to erase any remnants of an inferiority complex that remained. In some ways it has. If nothing else, it has drained the vast majority of the sting from perceived slights.
It was only two years ago … and, holy shit, it was two years ago; a second and an eternity. So close while feeling so far away.
There is no desire to improperly set aside the joy that championship brought. We can tell you, in our own minds, that certainly isn't the case.
Is it really that strange that we'd find some level of annoyance, even if it's only a quickly passing surface emotion, when we sense (even if it turns out not to be ultimately true) the common story becoming that the Heat somehow gave away that 2011 series, rather than the Mavs earning their victory?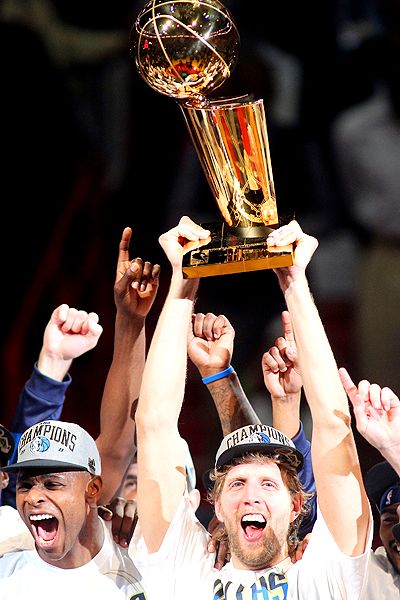 Why is it stating any contention to the minimizing of what the Mavs achieved is what draws the written (tweeted) eye roll, rather than the comments that drew our ire in the first place, such as Mr. Winderman's above?
In the instance, we're responding to a line from a Miami writer for a Miami paper. In a vacuum, this is a brush-off-our-shoulders comment of little consequence. In reality, it's an echo of something we've caught more than a whiff of from the national media. It may not often come from the upper echelon of basketball minds, but it's rarely those minds that have the most influence on the national narrative, on what we hear/see/read on the most easily accessible and popular platforms where the Skip Bayless's and Colin Cowherd's of the world help shape perception.
Gradually, it feels like the story is removing the facts around that Dallas team, replacing them with opinions over later versions of the Miami Heat.
Fading, or never known, is the consciousness of a 24-5 start, of a team that would likely have been in contention for the best record in the NBA if not for a nine-game absence of Dirk due to injury, compounded by simultaneously losing Caron Butler for the season, that led directly to a 2-9 stretch (including a season-worst six-game losing streak), of a team that posted a winning percentage of 77.5 if you remove that 11-game span (which would have topped the league that season), of a team that still managed to win 57 regular-season games (including going 2-0 against Miami), only one less than that Heat team, and that tied Miami for the best road record in the NBA.
Slipping away is the fact that Dallas faced about as difficult of a path to the title as any team, beginning with what many at the time viewed as the toughest first-round matchup with the Portland Trailblazers, then the two-time defending champion Lakers, the rising Thunder (who would represent the Western Conference in the Finals the next season), and those Heat … and the Mavs managed to post a record of 16-5 while doing so.
That's not luck. That's dominance.
Maybe it's all in our heads, all our thin skins being pricked. Honestly, maybe it is. Or, maybe it's just the natural progression of time, of a growing separation between now and the event we hold closer than most. As silly or dumb as it may be, it's hard not to deny that the truth of what that team accomplished is fading, slipping away, and being replaced by something else in the larger consciousness … isn't it OK if that bothers us to some degree?
As the players at its core age, even the matchups that continue to prove problematic to the Heat are sliding away: the scoring big man at his peak in Dirk, the guard with the ability to either penetrate (JJ Barea) or intelligently orchestrate the game (Kidd), and the dominant defensive interior presence (Tyson Chandler) with just enough of an offensive threat to keep the defense honest, the spacing true … not to mention a handful of elite perimeter defenders (Shawn Marion, DeShawn Stevenson, Kidd), a Jason Terry at his most clutch, and a perfect mix of bench contributors who continually made the brilliant machinations of their coach succeed.
This wasn't a team that lucked into a bunch of opponents "sabotaging" themselves. That was a team that ended one "dynasty" and may have delayed the "inevitable" rise of two others. This was a group that came together perfectly to personify the notion of team basketball.
Its greatest strength was its perfect storm of fit, chemistry, cohesion, leadership and timing (and good fortune of their own making and taking, of course, always necessary for a titlist) … and, in the essence of what stories history will tell and retell like a game of password, where what's whispered in the first of a line of ears gradually becomes something else, perhaps it will prove to be their greatest weakness in a historical sense.
Rising so quickly from the murkiness of being "good'' to mount the highest peaks and become "great,'' then picked apart just as quickly, there simply wasn't time to fully appreciate them, for the depth of what they truly were to take hold in a national consciousness that is generally ready for the "next" thing before the current has come to a conclusion.
Forgive us fans our sensitivities, in those instances where we find slights from thin air, for our wish for the impossible: to be remembered the way the New York's, Los Angeles's and even Miami's of the world seem to be … to have our greatest memories lifted to idolization rather than become minimized as the footnotes of others.
The change in narration around Dirk is a start, but we're fans. We want more. We want it all. It's what makes us fans. So, forgive us while we get our feathers ruffled by what we see as the gradual dismissal of the team we remember so fondly, while we do what we can in the hopes that more than the most learned of basketball minds outside of the Metroplex remember the 2010-11 Mavericks for what they were, a great team that proved better than all they faced, rather than the "Champions of Happenstance" who stumbled upon a handful of others that fumbled away their rightful destinies.
2011 wasn't just the Finals that Miami lost, not to those of us in Dallas. It was the Title that the Mavs earned.
And, it's not a bad thing that we want others to understand that.