REBUILDING THE MAVS - A BASIC BLUEPRINT
Since the season ended,
Dallas Mavericks
owner Mark Cuban has spoken openly of a "quick rebuild" for the Mavs, and in the past he has boasted that when the excellence fades and titles are out of reach, he will never allow his team to muddle along as a borderline playoff team. Yet here we sit, with such two seasons in the rearview mirror, and even more disturbing is that the team is hoping to get a lower-tier playoff seed next season – that is, their goal is for yet another year as a borderline playoff team.
We're in the very sort of existence Cuban said he would do everything to avoid. The Mavs have fallen and they can't get up. it's "The Treadmill of Mediocrity.''
We do understand that there's still a quest ahead for the next superstar, landing either Dwight Howard or Chris Paul (or, in our wildest dreams, both) in free agency.
That's a pursuit we applaud, and we've even detailed financial ways to do it.
(We should note here another wave
of Dwight rumors that has him disinterested in returning to LA. Which would jack up his interest in Dallas.
For what it's worth.)
But Plan B? If they miss out on those superstars, Plan B is to spend their $18M or so in available cap room on long contracts for several mid-talent players to create a low-rung playoff team. Finish in the lower half of the playoff bracket. Then come back in the summer of 2014 and try to add a second and third superstar next to Dirk.
Unfortunately, that plan has big holes in it. One is that the available money simply doesn't add up. Once you pencil in the players you plan to sign this summer, plus re-signing Dirk at $10 million or so, there won't be enough cap room left in 2014 to add two max players on top. But more concerning is that it's virtually impossible to identify even one true non-pipedreamy superstar who might really be available to Dallas in free agency in the summer of 2014. And ultimately, the chosen path means the Mavs will probably field a team for the balance of Dirk's career that surrounds him with mid-talent players and a hope for the best.
But in a world of multi-star teams like Miami, OKC, and San Antonio, and perhaps more if you include Indiana, NY, and whatever the LA teams can continue to fashion, playing for titles will be out of the question without landing another star or two.
Do the Mavs truly want to win another title? Then they must do whatever it takes to land another star.
Is gathering more than one star an idle dream? Not at all. Because they already have Dirk, they have the advantage of being part way there. Under this new CBA, star players are out there to be had, moving from one team to another like never before. But instead of moving via cap space, they are moving in trade. Perhaps Howard or Paul will buck that trend, which is why we strongly support an all-out chase to sign them; but if they stay in LA as expected, it's time to notice the team that ended up with them acquired them by trade (as were Deron Williams, James Harden, Carmelo Anthony, and so on) and adjust course.
What would "whatever it takes to land another star" entail? Here's a bare-bones list of some tough choices or concepts needed to speed up the process before Dirk's career runs out of time. Platitudes, generalities, and raw concepts abound here – but they paint a picture of a different type of approach.
THERE IS ONLY ONE PRIORITY
The different approach would prioritize the rebuild over all else. That means wins don't matter, players don't matter, and even Dirk has to take a backseat to the quest to get another superstar on this team, one way or another.
Yes, the Mavs have set aside some cap space already. But it's time for the team to get serious and admit that superstars don't come exclusively by cap room and free agency – and in fact, that's the least likely way to get one. So it's time to also put this team in position via draft or trade, the more common ways, to get the job done. Until that happens, the Mavs really aren't trying to get it done.
Draft issues
With low-to-medium picks (like 2013), focus on turning them into usable assets.
"Superstar or bust" mentality has been killing the team when picking later in the draft. Be willing to take singles and doubles (which can become trade assets), rather than swinging for the fences when picking outside the top 10.
The draft is about creating assets, even if you can't get the pick to draft the star. Assets can be traded, and trades can bring stars. During the year, accumulate picks (even if protected) so you have picks to trade; you never want to have to trade yours except on draft day.
The mandatory detour – getting the star in the draft
2014 is the once-a-decade draft with multiple future stars available. Tank, tank, tank – with no remorse – to get a top 3 lottery seed or better in 2014 and get that superstar the old-fashioned way. (Have thick skin: fans and media will scream at the results.)
Waste a season of Dirk's career? "Whatever it takes." Lose with him if he's on the roster, or lose without him if he's not, but you have to lose 60-65 games some way or another. If he wants to play to win (and we'd expect no less), trade him for assets and let him help someone else win. Then in 2014, he can return as a free agent.
Trade concepts – fill up the cupboard and don't be shy
To trade for a star means having assets. Mavs have an almost-bare cupboard right now, even after two mediocre seasons. (What can they offer for Cousins or Wall, if their teams decided to move them?
How about Aldridge, the DFW native who wants out of Portland?
What can they offer for him, or for Rondo? Not much.)
If players play well, don't be afraid to cash them when they have top value. It's about getting set for a superstar trade, step by step, and speeding the process, not winning a few more games this season.
Have cap room to offer at the trade deadline…the more, the better…and after season too. Let others buy your cap space (and they will); don't use it up yourself except to invest in a certain asset. Facilitate what others desperately want to do, for a price.
An expiring-but-talented player like Marion or Carter should be treated like an asset. Let the market come to you, because someone needs him. Or just keep him until the market changes. But don't waste a pick to move him – you should be getting a pick to let him go. It's rumored the Mavs will give a pick to get rid of Marion and that's backwards. Mavs need to make moves that allow them to get assets, not using scarce assets to bribe a team to accept another asset.
Accumulate assets that can be traded, not players that are liabilities. If he isn't an asset-to-be, he has no value here. Need to have a market mentality and abandon the club atmosphere, for the time being. (Details on what is going on with Marion talks are
covered here with how to make a Cleveland deal work
and
here with how to use "the hammer.''
)
Cap space and desirable players are only assets if you let someone trade assets to get them. Make everything available at a price.
Cash in Carter, Marion, and Dirk as soon as you can get value back in exchange. If you don't, their value will vanish, and they will make you win too many games. You can always re-sign them in a year.
Cater to the desires of other GMs. Encourage them to bribe you with assets to achieve their latest whim.
Free agency – the goal is asset-gathering, not wins
Set up roster with a mix of 2-year and 3-year contracts – to have cap room and expirings each year.
Prioritize bargains that can be traded later for value.
Use cap room and annual exceptions to be able to offer four-year minimum salary deals, with one or more non-guaranteed years, to develop promising players and maximize bargains.
Unless it's a huge bargain, no 4-year deals.
That's not a trade asset. You can stretch-waive a player on a bad deal, but it's not an asset and you can't trade that undesirable for a star. A player on a bargain deal is the best "cap space" you can have. You can trade them or give them away for a pick at any time you wish.
Preferable contract length is the 2-3 year contract at a bargain price. That gives a year or so to foster the value and look for a way to reap that value – and the team getting him will have him at a good price for another year.
One-year contracts are great trade assets when accompanied by a willingness to take back bad contracts – but not so much when you don't want to take back bad contracts. Try to avoid.
Work the acquisition of players as an asset-gathering exercise. Until there is a star, free agency, trade deadlines and draft days are times to buy low, sell high … not to build a roster for a few wins.
THE TOTAL PICTURE
Living by those rules would add up to a lost year on the court, but a focused year in roster-building. Dirk, Marion, and Carter would all get traded for assets usable for trading for a star. Bargain contracts would be pursued, to create more assets. Cap space and players would be available to other GMs, at a price. And the losses on the court would lead to a high draft pick in a stacked draft, where a star can hopefully be obtained.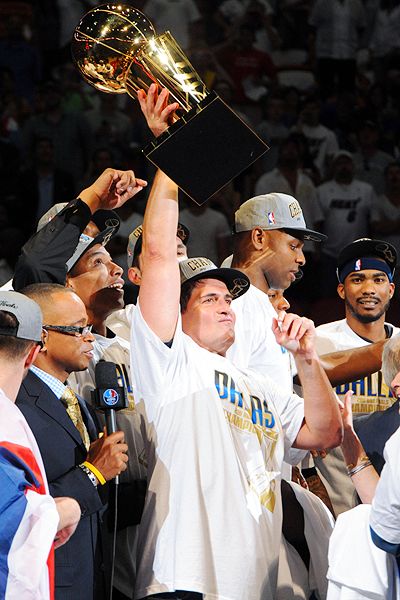 At the end of the year, ideally a future star has been drafted, assets have been accumulated to trade for another, and there will be cap room for Dirk, perhaps Marion and Carter, and potentially another star in free agency as well. The holdover players will have benefited from a year of generous NBA minutes.
That's the right way to do a "quick rebuild" and with the 2014 draft stacked with talent, now's the time to bite the bullet and do it.
BEGINNING THE REBUILDING PROCESS
The first chance to start the rebuilding process is today, starting at 6 p.m. Dallas time. The Mavs pick 13, with plenty of ways to use that pick.
They've had more than 25 guys visit.
Is that an indication they are taking this process seriously/ Will they turn the pick into an asset? Follow us on Twitter (
Mike Fisher
and
David Lord
) and on
DB.com Boards
for our news and notes from Mavs headquarters as it all happens. (Fish will also provide live draft coverage from Mavs HQ on 105.3 The Fan along with Gavin Dawson and Chris Arnold.)
After the draft, we'll share with you the three franchise-altering moves we would like to see, ones that might preclude the need to go into full "tank'' mode as outlined above (assuming the Mavs don't land either
Dwight Howard
or
Chris Paul
).
We'll begin Friday by outlining the late-June move the Mavs can make: a unique, never-before-done, outside-the-box gigantic cap-room-creating move that would accelerate the Mavs rebuild, but a move so daring that the Mavs won't try it. That, plus our draft review, here tomorrow.