DONUT 1: Draft-ables visiting Dallas ...
We're feeding you names.
*Dario Saric, Rudy Gobert, Michael Carter-Williams, Trey Burke and Jamal Franklin ... some of whom are first-round guys, some not. (
Search the DB.com Archives for names and context.)
Let's add the names of Steven Adams and Mason Plumlee, both of whom were in town right for Mavs workouts along with Gobert and others. Oh, and German point guard Dennis Schroeder reportedly worked out for Dallas on Tuesday. (Note: Dallas is not the team giving Schroeder a first-round promise.)
Here's another in the second-round-level category, I think: the
Dallas Mavericks
have a visit scheduled with 6-5 Dwayne Davis, who averaged 16 points and 4.5 rebounds a game for a 27-10 Southern Miss team.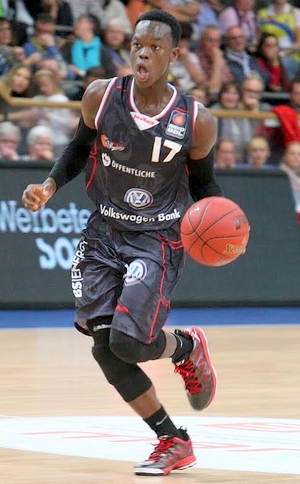 There is no "pattern'' here, by the way; I've seen it suggested that somewhere in here is the suggest that Dallas is "planning to draft a center.'' There are 5's, 4's, 3's, 2's and 1's on this list ... just as there are high first-rounders and low second-rounders on this list.
What I think the list does establish is that Dallas isn't automatically giving away No. 13 for cap room ...
DONUT 2: The $58.5M cap ...
What does it mean to the Mavs if that's indeed the salary-cap number? Our David Lord breaks it down like pretty much no one can ... CP3, Dwight, necessary moves ... down to the penny.
Check it out here.
DONUT 3: Bill Simmons, J.R. Ewing and DFW's self-image ...
It is Bill Simmons' position that Memphis' sports anxiety is a product of the killing of MLK. Simmons also asserts that Dallas' self-image wallowed in an association with the 1963 JFK assassination but is in recovery now due in part to the TV show 'Dallas.'
Are we really simpletons to that degree? Does Bill think we are? Or is Bill the simpleton?
My essay on DFW's self-image here.
DONUT 4: Follow the Mavs on Twitter ...
Follow the Mavs on Twitter:
Mike Fisher
,
David Lord
and
Michael Dugat
keep you up-to-the-minute informed on all things Mavs!
DONUT 5: Bynum and the stretch provision ...
Mavs sources tell DB.com that Mark Cuban's thoughts on the use of the 'stretch provision' are not intended for application to the signing of a big-money/big-risk player like Andrew Bynum, but rather on the O.J. Mayo-level player whose contract can be minimized if a Summer-of-2014 'Big Fish' (or two) is on the hook.
Why not Bynum?
"Understanding The Mavs, Bynum And The Stretch,'' a DB.com exclusive, is about to be delivered to your doorstep.
DONUT 6: Coach-killing ...
One strength of Rick Carlisle's position in Dallas: This side of Pop, he's about as unlikely a "coach-killer'' victim as there is in the NBA. Yes, somebody will tell that to Chris Paul, who is on the verge of being given that label thanks to the ineptitude of his present owner.
DB.com is reporting on how that impacts how the Mavs will handle their 'Chris Paul Pitch' when the parties meet sometime shortly after midnight July 1.
DONUT 7: Cuban Makes Contact With Kidd ...
Mark Cuban's public stance on Jason Kidd's retirement? Silence. His private stance? 'Cube reached out and sent me a nice note,' Kidd tells 105.3 The Fan. 'Cube is one of, if not the, best owner in sports. We were lucky to be with him when we won that championship.'
And maybe, if the ice thaws, both sides can consider themselves lucky to reunite?
Here's
the latest info on Cuban and Kidd.
DONUT 8: How about Danny Granger? ...
Our man Skin mentions Danny Granger as a Mavs summer target and it matches well with
MDug's deadline look at the ups and downs of the Granger-to-Dallas idea.
DONUT 9: "The Two-Year Plan.'' ...
I'm flooded with questions on
DB.com Boards
and on
Twitter
... which is great. But here's a shortcut to lots of answers: The Mavs fan must-read breakdown of
"The Two-Year Plan.'' Stuff from inside Mavs HQ here, with little room for homerism. Check it out.
DONUT 10: But I AM a homer ...
My friendly rival Tom Ziller, writing at SB Nation, acknowledges
my Mavs Homerism by paying me tribute in his Mavs Mock Draft selection.
Hey, as long as he doesn't put a "C'' in "Fisher,'' we're cool.
DONUT 11: Thanks to Red Rock! ...
Our North Dallas hangout for sports and live music? It's
Red Rock Bar & Grill
! They help make DB.com what it is ... thanks, guys!
DONUT 12: The Final Word ...
Amid continuing sourced speculation of Dallas' plans with pick No. 13, I give you a logical Mark Cuban quote:
"We're not going to make the decision way in advance,'' he says.
Reports to the contrary or not ... doing anything different that what Cuban says he will do would be foolish.