DONUT 1: Dirk At '13'? ...
An "expert'' at ESPN has a formula
that "proves'' that Dirk Nowitzki is the 13th best power forward in the NBA.
Dallas Mavericks
faithful have danced this dance before with another ESPN "expert,'' John Hollinger, and I will say here what I said there: When you formulate a theory/formula -- for the purpose of science or for the purpose of finance, either way -- and then you discover that your theory/formula is seriously flawed, you must crumple up all that painstaking research you did and toss it in the waste can and start over again.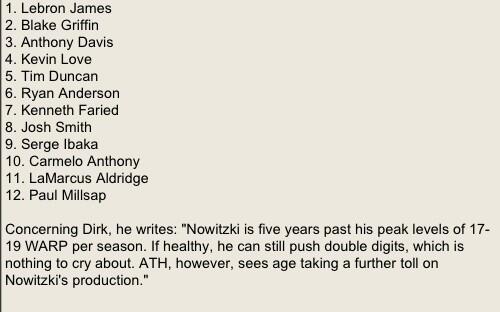 Look at the names on that list. There is no intelligent basketball person that would rank at least half of those guys as being in Dirk's class. And ESPN's "scientists'' simply must know this.
But the investment in the theory/formula has been made. The promotion of "science'' or the desire for "finance'' must be met. So once again we are given a nonsensical "advancement'' that could not possibly be more backwards.
DONUT 2: A 'Dirkumentary'?...
Meanwhile, Dirk
is slated to be the subject of a feature-length documentary film by director Sebastian Dehnhardt.
The concept: The filmmakers will accompany The UberMan over the course of one year to create a documentary detailing his rise from an unknown prospect in Germany into one of the best basketball players in the NBA.
As noted by the gang on DB.com Boards, the same director filmed a documentary about the Klitschko brothers a couple of years ago. ... and yes, I'm sure we all have our seven bucks at the ready.
DONUT 3: Coop's View ...
It's a special thing and an annual treat:
Db.com contributor Chuck Cooperstein shares his thoughts on the newly-minded Mavs schedule.
DONUT 4: Follow the Mavs on Twitter ...
Follow the Mavs on Twitter:
Mike Fisher
,
David Lord
and
Michael Dugat
keep you up-to-the-minute informed on all things Mavs!
DONUT 5: DeJuan beyond The Eye Test ...
We've used The Eye Test on DeJuan Blair to project him as a comfortable-fit weapon as a pick-and-roll guy inside with the likes of Calderon, Monta and Devin operating on the perimeter.
Synergy Sports pushes beyond The Eye Test for a pair of hard numbers: When used as the roll man last year with the Spurs, Blair shot 61 percent.
Now, playing behind Dirk and Wright and Trix at the power forward and fighting Wright and James for time at center behind Dalembert, I don't know how often DeJuan will be called upon to be on the receiving end of the pick-and-roll.
but I think we now know what can happen if he is.
DONUT 6: Party time! ...
A tip of the cap of appreciation to
Frisco Party Station
, your neighborhood headquarters for all your party needs ... everything! All the neighborhood schools represented -- college and even high school! -- and the party is on!
DONUT 7: D-Lord brings the heat ...
Our David Lord is a Mavs lover and an admirer of so many of the things the organization has done in the last 13 years.
But in his roasting of Dallas' approach to the draft, Lord calls for the "firing, demotion or change''
of the "cancerous'' "hard-to-win'' approach to the draft.
"A negative mindset,'' Lord writes, "is a cancer, and whatever it takes, it has to be excised, or it will become an easy crutch for perpetual failure.''
It's an important Premium piece Mavs fans can only get on DB.com.
DONUT 8: Devin moments ...
Old pal Devin Harris is
having some fun on Twitter, asking Mavs fans for their greatest MFFL memories.
As much fun as it is to have Devin back, we must admit -- and hope it won't hurt his feelings -- when we note that
one of our greatest MFFL memories is when Devin was traded away for Kidd, a swap that led to a Mavs title.
DONUT 9: Ten To Watch....
While Coop has his perspective on the upcoming schedule -- very much from a traditional broadcasting perch -- our Kevin Brolan has ...
well, a unique angle on the top 10 "event'' games on the Mavs' 2013-14 schedule
DONUT 10: Thanks to Red Rock! ...
Our North Dallas hangout for sports and live music? It's
Red Rock Bar & Grill
! They help make DB.com what it is ... thanks, guys!
DONUT 11: 40 Oz. ...
Cowboys legend Larry Allen's Hall-of-Fame acceptance speech will never be matched for frankness, in any sport, at any time. How did Larry explain falling in love with his wife on their first date?
He announced she cooked him "two chickens, some fries, baked him a cake and handed him a 40-ounce.''
And it was love at first bite.
In a world where we take ourselves too seriously (me certainly included) and where when we are on a stage that large we take ourselves even more seriously, LA said
that
?
True to himself. Is there a better way for any of us to be?
The Final Word ...
I gotta get me an "Uncle Nate.''