DONUT 1: I was wrong. ...
"Dwight Howard is set to stay with the Lakers. The Mavs need to look elsewhere," I said all season, confident in thinking that he would tolerate any discomfort with the Lakers in favor of the five-year deal he had always sought. Many DB.com readers tried their best to set me straight, but I wouldn't listen.
Yes I was right on the idea that the
Dallas Mavericks
wouldn't get him -- when Fish talked about Dwight-to-Dallas as a "Two-Percent Thing'' I thought he might've been too optimistic! – but wow did I whiff in thinking that Howard wouldn't truly be up for grabs to another team.
You were right. I was wrong. And the Mavs? Wrong, too.
DONUT 2: Credit to Kobe ...
I'll give Kobe plenty of the credit for running Dwight Howard out of town. I was stunned that the Master Narcissist couldn't keep his ego zipped, and decided he had to tell Howard he would have to play second banana for at least three more seasons and learn how to win under the tutelage of The Great Mamba. And while I heard Howard say that what Kobe said didn't bother him, I also heard him follow that with strong explanations of how he's already knows how to win, and how he can lead a team.
D'Antoni gets credit, too.
But give tons of credit to the front office for selecting a coach who knows nothing about defense to be the guy they felt would be the attraction to manage a defensive stud to greater heights.
Toss onto the pile their botched invitation to Phil Jackson to the meeting and ... the Lakers aren't the Lakers anymore.
Howard was LA's to lose. And wow, they did about everything wrong.
DONUT 3: Back to the team that matters ...
So far the Mavs have committed to four players this summer: PG Jose Calderon, PG-SG Devin Harris, PG Shane Larkin, and PG Gal Mekel. All guards, and all the deals are for three or four seasons.
I have lots of question marks here. Can Calderon learn to play passable defense?
(Lots of answers on Calderon can be found here.)
Can Harris play SG despite his lack of size? Are Larkin and Mekel worth the draft pick and the commitments?
But there's one thing that's clear. The Mavs have clearly identified their guard play as a problem to address, and have taken decisive steps to do so. If their evaluation skills match their aggressiveness, they should be set for a few years at guard.
DONUT 4: And at the other end of the roster? ....
There are still needs at the big men positions, center and power-forward.
The only center on the roster is the lightly played Bernard James, who was a second round pick a year ago and returns with a non-guaranteed contract. The only power-forward is Dirk Nowitzki. A typical roster has three players at each position; you can do the math and see the gaping hole.
DONUT 5: Is Andrew Bynum the answer at center? ...
In 2011-12 he was a budding star and didn't miss a game to injury. After the season was over, he was traded from LA to Philly, passed intense medical checks – and then missed the whole season because his knees were injured.
What happened? It's hard to say, exactly. But now he's a free agent, the Sixers don't want him anymore, and he's looking for a team.
If he's healthy, every team would want him. In this context, no one knows what to think. But the Mavs are interested, they say, and plan to have him for a visit later this week.
DONUT 6: Want to know how injured Bynum is? ...
Here's
the video of Bynum with the Sixers, as he worked out at various times and in various ways throughout the season.
It's accompanied by the thoughts of the team's CEO, answering questions about him. See for yourself.
My thoughts on that video? He's amazingly agile. You can see all the things that make him so desirable: big, active, skilled.
But one thing is missing – and it's a biggie. Nowhere in it did he do much jumping. And if he can't jump without damage to his knees, he's not the answer for the Mavs, because playing center in the NBA requires lots of jumping.
Since that video, he's had surgery on both knees. He's undergone extensive rehab. He's begun training for next season. And he's refused to 'work out' for teams who want to sign him.
If the Mavs can sign the Bynum of 2011-12 to be a Mav for the next few seasons, I'm in. But can you get that guy anymore? How healthy is he? Is he worth a gamble? I have no idea.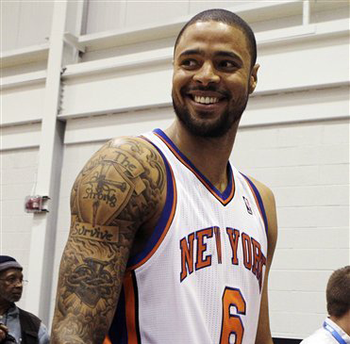 DONUT 7: Rekindling ...
With the Mavs missing out on Dwight Howard, the debate has been rekindled anew about the Mavs' choices under the new CBA. Should they have kept Tyson Chandler? All the others as well, even? Or did they make the right choice to bite the bullet?
I've long said that I would have kept Chandler, even if he might have been overpaid by the Knicks. My feelings haven't changed, but I'm not interested in that same tired discussion. But in my estimation, there was an even bigger failure that occurred at that juncture. The real problem that happened then, and has continued unabated, is that the Mavs stopped trying to improve. Instead, under the new CBA, they've been trying to get by.
Did the Mavs truly TRY to defend their title? The axiom is that you can't repeat if you don't improve, because the rest of the league will be trying to catch you. Then did they TRY to improve? They unquestionably did neither. Meanwhile, the rest of the league has been scratching and clawing, doing their best to improve their roster and their asset base.
Sorry Mark, Donnie, and all, but you're getting your teeth kicked in by the league for two years now, because you stopped doing whatever you could to try to improve each season. And you can't really blame that mindset on the CBA.
DONUT 8: Spin-cycle ...
When it comes to free agency, sometimes it's hard to know who might be spinning stories to facilitate a better deal. But other times, it's not tough at all.
For example, take
the headlines that the Cavs ended up offering Bynum a "two-year, $24 million " deal, one that they were pressuring him to take.
Yet when looking closer, the spin is apparent. The second year doesn't even exist – it's just a team option. And the $12M in the first year is heavily laden with incentives, presumably much of the money being non-guaranteed to protect the Cavs against a Bynum re-injury.
Who might want to take an offer with a few million in guaranteed money, and spin it into headlines of two years and $24 million? The player and agent about to solicit "better offers" at the next stop, of course.
DONUT 9: But sometimes, it's harder to tell. Coincidence? Or conspiracy? ...
I understand that there's a certain degree of caution required with Bynum because of his injury issues. But dating
all the way back to DB.com's original June 30 story on the Mavs' interest in Bynum
, and by very early Saturday accelerating into even more public proclamations, there was a tie here as the Mavs were very interested and carefully evaluating him.
Yet through the weekend nothing happened on that front, except more proclamations.
By Monday noon, the Cavs had been able to get Bynum to come visit, to talk deal. Meanwhile, all that supposed interest by the Mavs had produced nothing. Are the Mavs just posturing with Bynum, I wondered aloud on DB.com and on Twitter. Is the Mavs' highly-publicized flirtation with Bynum a ploy to get a better trade price on Asik or Gortat?
Within 15 minutes, my friend Marc Stein was breaking the news via twitter that Bynum would be visiting the Mavs later in the week. Coincidence?
On hearing that the Mavs had scheduled Bynum to visit, it convinced me he really is their target. Or mostly convinced me. I think.
Oh, and this morning Yahoo reports that Bynum might decide TODAY while he's in Atlanta. So does a visit to Dallas happen at all?
A lot of coincidence here. A lot of cat-and-mouse. A lot of purposeful information leaks.
DONUT 10: Other than a center, who else might the Mavs target? And how would they get them? ...
The Mavs have somewhere in the $7.5-9.0 million range left in spending room, depending on which other assets they decide to keep. They could also trade for talent, with the most obvious trade chip being Shawn Marion and his $9.3 million expiring contract. So they appear to have the ability to get either one or two players with a salary in the $7-11 million price range.
They can also add a free agent with their Room-MLE of $2.652 million.
The obvious use of one of those larger trade chips would be for a center. Bynum is the publicized target, but Asik ($8.375M), Gortat ($7.727M), and Varejao ($9.036M) all have salaries that would fit the Mavs, if the Mavs can work a deal.
As big men to round out the rotation, could Brand get the Mavs' MLE, and Wright be brought back as well using his Early Bird rights?
Some other names we are keeping an eye on: Metta World Peace, who was coached by Carlisle in Indy and rumored to be made available on the amnesty list; Andrei Kirilenko, a player the Mavs have liked for years, and one we think makes sense to replace Marion should Shawn be traded away; and Wes Matthews, playing on a team with younger talents at his position and perhaps can be pried loose because of his salary (a suggestion from the sharp NBA eye of DB.com contributor Chuck Cooperstein, and one we like).
DONUT 11: Follow the Mavs on Twitter ...
Follow the Mavs on Twitter:
Mike Fisher
,
David Lord
and
Michael Dugat
keep you up-to-the-minute informed on all things Mavs!
DONUT 12: The Final Word ...
I thought the Lakers couldn't miss the slam dunk in keeping Howard. I was wrong as could be. Kudos to all of you DB.com readers who saw it before I did.
But where are we in the NBA now?
LA loses a star in free agency? Unheard of. Golden State shuffles their deck and almost gets the prize? Unpredicted. Morey out-analyzes how to work the new CBA over Cuban? Unacceptable. (To Cuban himself, I'm certain.)
Seriously, two years ago, was there any reason to think that two years of Mavs preparation were going to be completely trumped by Houston?
This whole outcome with Howard – and with the rest of the Mavs' chase for a superstar - needs to be a motivation to reassess. Despite the new tax and the new rules, what matters to roster building? After two years of worsening results on the court and dwindling assets, the gathered-and-hoarded cap room has brought Calderon and Harris. Nice players, but definitely not the needed superstar that was the clear goal and expectation. Were these players that were out of reach without cap room? Hardly. That should be ample evidence that cap room means very little, relatively speaking.
It's time for the realization in the Dallas front office that – just as in the past - it's all about player assets. Get them any way you can, keep them when you find them, trade them when you can improve by doing so, and be aggressive.
The New NBA, under the 2011 CBA, it's here. It was all supposed to create a seismic shift ... but did it simply create a new version of the same ole NBA?