DONUT 1: The dice rolls to Miami ...
The
Dallas Mavericks
were willing to roll the dice on Greg Oden. But now they will roll with Dalembert, Wright, Bernard and DeJuan (as soon as he's official-official) at center.
Oden, the former No. 1 overall pick who is attempting to salvage a career ruined by knee injuries, will do so with the two-time defending NBA champion Miami Heat.
"He just thought that it was the best fit for him, where he's at and especially for how it relates to him coming back," agent Mike Conley said. "He can be on a winning team and be working his way in slowly."
It's hard to argue with his choice, and it folds nicely into the "Superstar League'' vision that Mavs management has regarding The Miami Way. Because they have LeBron (and others), they have in three consecutive offseasons been able to lure high-profile supporting-cast members on the cheap. Shane Battier did it. Ray Allen did it. And now Greg Oden does it. ... and does it with no real external pressure to succeed.
DONUT 2: No leaks! ...
In Mark Cuban's recent visit on the team's flagship KESN, the owner said:
"Always know this about the Mavericks: if you're reading about it, it's not true because I will fire anybody who leaks stuff. I'm the only person allowed to leak anything if there's a reason for it to be out. If you're reading about it, it's not true. When we do trades, when we sign people, it's a surprise to anybody.''
Tony Cubes is (I think) knowingly speaking broadly here, speaking about an ideal here, speaking about a rule of thumb here ... and sending to his staff and his fans yet another "buck-stops-here'' message.
Is it literally true that every single source on every single Mavs story is Mark Cuban? Of course not. ... For if that is true, Marc Stein and Mike Fisher and Eddie Sefko need never again write the words "a team source,'' because "a team source'' would be automatically synonymous with the words "Mark Cuban.''
Is it true that Dallas does a terrific job of keeping a lid on information it wants protected -- trade talks, for instance -- and that Cuban is the go-to-guy in the building when DallasBasketball.com or other news outlets seek information? Absolutely.
And one more: Is is true that Mavs employees have been told by their boss to think very carefully before they speak? Yes, and increasingly so this summer.
Generally speaking, it's quite brilliant to create the mostly-true impression that a Mavs "sourced'' story isn't a story unless the man in charge has approved of it. What Cuban is essentially saying here (to those inside the building and out) is that the Mavs are about "gathering information'' and not "sharing information.''
And while information is the stock-and-trade of what a reporter does, and is part of the lifeblood of what makes fandom so fun, succeeding as an organization trumps all of that.
So the meme "Cuban-As-Source'' is fine by me. Oh, and I've checked with a "Mavs source,'' and it's fine by him, too.
DONUT 3: Follow the Mavs on Twitter ...
Follow the Mavs on Twitter:
Mike Fisher
,
David Lord
and
Michael Dugat
keep you up-to-the-minute informed on all things Mavs!
DONUT 4: The Boss and the Boss ...
Jae Crowder tweets,
HAD A GREAT TALK WITH OUR NEW GM GERSSON ROSAS GOOD GUY. WE @dallasmavs TOOK ANOTHER STEP IN THE RIGHT DIRECTION HIRING HIM..!
Are we all OK with that? No, not with the ALL-CAPS. That's rarely OK. But with Jae, coming off a rookie season, taking a public "team spokesman''-type role on the subject of the new GM?
I'm good with it. Its positivity certainly beats the alternative (of what some people are doing and saying on Twitter right at this very moment) and the Mavs can use all the positivity they can muster. Even from a kid.
DONUT 5: The largest TV in Texas! ...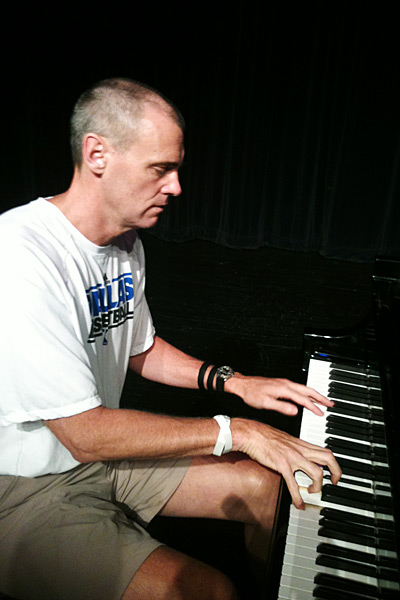 Our North Dallas hangout for sports and live music? It's
Red Rock Bar & Grill
! They help make DB.com what it is ... thanks, guys!
DONUT 6: What's in a name? Money ...
The Charlotte Bobcats need more than just changing their name to the "Charlotte Hornets.''
But financially speaking, it's a start.
DONUT 7: Bruce Hornsby and the Coach ...
Bruce Hornsby has a concert in North Carolina this weekend and Rick Carlisle likes to hang out in that neck of the woods so, you shouldn't be surprised to learn that the coach is on stage with his buddy and accompanying Hornsby on the piano.
And what cool thing are you doing this weekend?
DONUT 8: Owner Abuse ...
How can you tell when Mark Cuban's traditionally open wallet and traditionally open mind is being abused? When agents are actually convincing reporters that Dallas is prepared to give guaranteed money to the likes of Mike James and Lou Amundson.
This summer alone, Cuban has, according to those agents and their reporter pals, bid a billion dollars on all the Jameses and the Amundsons. Guys like that have a spot on somebody's NBA roster. But "pursuing'' and "promising'' and all that crap? Agents use the Mavs as negotiation posturing so often that anymore, it cannot possibly work. I mean, don't other teams look at the fact that Dallas is about to have 15 guaranteed guys under contract (and in the case of James' candidacy, four point guards) and smell the bluff?
DONUT 9: A D+? …
Friend-of-DB.com Chad Ford is a respected voice around here, even when he grades the Mavs' offseason as a "D+.'' But we will pick this bone: Are we sure that 27-year-old Monta Ellis' "best days are behind him''? And that his future days are "D+'' days?
Monta Ellis is an analytics guy's headscratcher. But at $8 mil for this year, with the very real possibility of him being a 20-points/6-assists guy here ... is Monta Ellis washed up, a bad value or a bad player?
DONUT 10: Thanks, Frisco Party Station! ...
A tip of the cap of appreciation to
Frisco Party Station
, your neighborhood headquarters for all your party needs ... everything! All the neighborhood schools represented -- college and even high school! -- and the party is on!
DONUT 11: Mavs trades on the horizon? ...
Nope. Historically speaking, this organization likes to give its guys time to gel -- and with more longer-term contracts than were the case last summer, there will likely be more time given. Meanwhile, because of the roster turnover, so many of these guys have new contracts that they're not eligible to be traded until December 15 or beyond, anyway.
DONUT 12: Thanks, Studio Movie Grill! ...
A great partner with us in charitable work and a great place to get a movie and a meal ... thanks for the DB.com relationship,
Studio Movie Grill!
DONUT 13: The Final Word ...
Chris Sheridan's Power Rankings have your Dallas Mavericks at No. 25. That would make them a complete start-to-finish non-playoff contender for the first time in 13 years, would make them the lottery team likely to hold the No. 6 overall pick, and would mean absolutely dismal seasons not only for guys like Ellis and Dalembert and Calderon (which might be Sheridan's supportable view) but also for Carlisle and Dirk.
Somebody thinks Carlisle and Dirk are going to oversee the sixth-worst team in basketball?
I'm betting against that.