A DB.com tradition, The Mavs Quoteboard from Thursday's media-and-fan session at the AAC with the
Dallas Mavericks
as we add
to the theme-laden coverage
with a wide range of quotes:
DONUT 1: Owner Mark Cuban ...
"All of people speculated about a lot of different things for this summer, and I kept on telling everybody it's probably going to work out better than anticipated ... We've got a great group of guys here that are coming ready to play, I think we're gonna have a great team. I love the fact that everyone is kind of throwing us under the bus and thinking we're nothing ... We ain't done yet and we've got a lot more to do. ... It's gonna be a fun, fun year.''
DONUT 2: Ellis on being Dirk's sidekick ...
"I think everyone is going work together. Dirk been here longer than me, so I'm coming to be his sidekick. But at the same time we come here to win games and that's all."
DONUT 3: New GM Gersson Rosas ...
"You've got championship experience, an owner in Mark who's as passionate as any owner in this league, an individual in Rick who is a top coach in the league, then you have Donnie ... His track record speaks for itself, a basketball genius."
"To me this is a very special opportunity; there are championship aspirations here. It hasn't been too long since championship memories were made here and last time I checked this was the last Texas team to win a championship. So the focus is to get back there in the not-to distant future and let those celebrations happen again."
DONUT 4: Donnie on picking Rosas ...
"Mark told me this summer that we needed to get out there and find a 'Basketball Jedi.' I didn't know what a 'Jedi' was I'm not a 'Star Wars' guy, but anyway we went out and made an incredible hire one of the top guys in the industry. We're really excited about him, he'll work closely with Keith Grant and myself, with Mark and coach."
DONUT 5: Jose Calderon ...
"I've been in the league eight years now and I think everybody knows how I play. I try to get everybody the ball in the right positions to the guys who need the ball. I'm a team guy, I can shoot the ball; sometimes I need to be more aggressive depending what kind of game we get. But I'm a team player and we have a lot of guys who can score. It's going to be an easy job for me."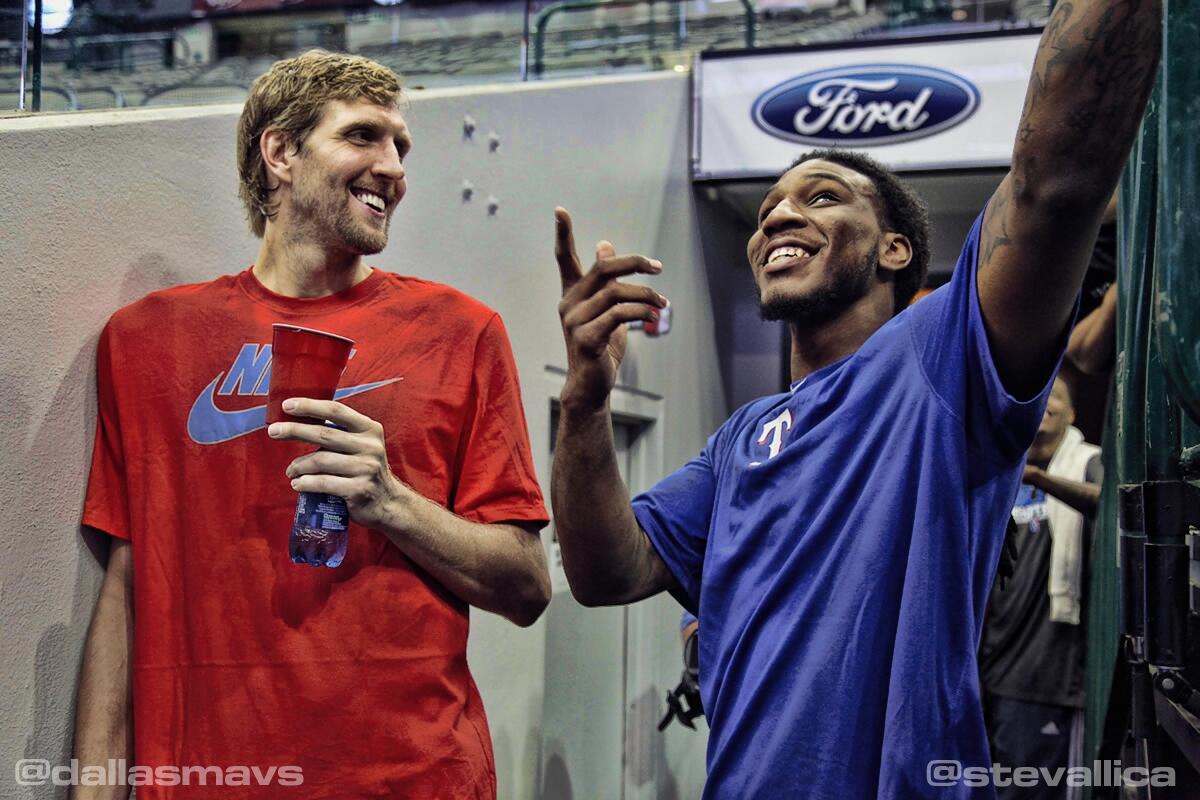 DONUT 6: Cuban on the centerpiece ...
"There are a lot of people downplaying Dirk like he can't play anymore and that's just not the case. We think Dirk has a lot more to give. He's working hard to be ready and we think we've put a lot of good players around him."
DONUT 7: Devin Harris on coming home ...
"It feels great. It feels like I'm home. Unfortunately, I had to leave seven years ago. But I always knew I'd come back at some point, so I'm just excited to be back and ready to contribute."
DONUT 8: Samuel Dalembert ...
"I want to thank Mark Cuban for the resurrection. Thank you so much and I am ready to go."
DONUT 9: Brandan Wright plays to the crowd …
"I'm very happy and excited to be back here, playing in front of the best fans in the world. Throughout the whole free-agency process, I never really wanted to leave. I can say I flirted around with other teams, but my heart was always here and to be a Dallas Maverick."
DONUT 10: Carlisle's theme ...
"Everyone sitting at this table feels like they have something to prove.''
DONUT 11: Carlisle on DeJuan Blair. ...
"DeJuan was an important late add for us with Elton Brand leaving. We need that physical, tough ass-kicker to put out there and be that enforcer for us."
DONUT 12: The Final Word from Cuban ...
"I don't and never have made predictions ... but I will say I'll be disappointed if we're not making noise in April and May and later."