DONUT 1: Admitting you're wrong ...
The
Dallas Mavericks
have just accomplished one of the most difficult things for competitors and champions to do:
They've admitted they're wrong. Or, at least, admitted to needing to find ways to be "righter.''
DONUT 2: Meet Gersson Rosas ...
That's what the hiring of new GM Gersson Rosas represents; an admission.
The Mavs are smart enough to want to get smarter. Competitive enough to want to be more competitive. And in what might be interpreted as a rather stunning admission, sliding slowly away from 11X50 and two NBA Finals appearances and one glorious title in a manner that requires a self-administered kick in the pants.
Who, exactly, is Gersson Rosas and what will he do as the GM?
We answer the Gersson Rosas questions here.
What, exactly, is the admission?
DONUT 3: We answer that question here ...
On
DB.com Boards
, reader TXSaint9 noted quite smartly what a special accomplishment it is to play in an NBA Finals. That doesn't mean you have to love everything about the Cuban regime, or about the Donnie regime (which carries on with Nelson as President of Basketball Ops and Rosas working under him).
But it does mean the smart Mavs fan recognizes the special nature of what this franchise has been ... and wants to be again.
In the last 13 years including this one, 11 of the 30 NBA franchises have made it to the NBA Finals. Of those 11, only seven have made it more than once. Those seven teams? The Lakers, Spurs, Heat, Pistons, Nets, Celtics and your Dallas Mavericks.
In the West, where Dallas has has to survive some of the most competitive NBA basketball ever, only four Western Conference franchises (out of 15) have made it to the Finals in the last 13 years. And only three have advanced to the Finals more than once.
Dallas hasn't quite been the Lakers (with their six appearances in 13 years) and Dallas hasn't quite been the Spurs (with their four). But the Mavs are right there, on their tails as an elite team and with this change, making an obvious and full commitment to continuing the chase.
To me, that's the most immediately huge part of the Rosas story: This is Mark Cuban's commitment to make even himself better ... a rare sporting admission from any competitor or from any champion.
DONUT 4: 'Monta Have It All' ...
The Mavs' procurement of high-scoring guard Monta Ellis is complete, with a three-year deal that our David Lord was first to report totals $25.5 million and starts at $8 mil for this season. The contract is almost key as his stats as Ellis - who counts Dirk among his fans - represents an asset on the floor and in the front office.
"Monta Have It All'? This examination can help you be the judge of that.
Oh, I suppose you need the video clip, too:
DONUT 5: The largest TV in Texas! ...
Our North Dallas hangout for sports and live music? It's
Red Rock Bar & Grill
! They help make DB.com what it is ... thanks, guys!
DONUT 6: Defending Jose ...
In a KESN interview, Cuban defended the signing (and contract) of Jose Calderon by noting, "I was shocked when people thought we signed a bad deal with Jose Calderon. First, the guy shot, what, 50 percent from three and the market for guys who just catch-and-shoot 3s and do nothing else was higher than what we paid for Jose. Add to the fact, he knows how to play point guard, knows how to get Dirk the ball, he knows the game. He never turns it over. Literally, I was like, 'What are people thinking?'''
I have expressed the same view here, noting that Calderon's first year will likely pay him $6,791,570, and that the number is far less than his $11,046,591 salary last season and seemingly under-market value.
DB.com reader "HotRod'' chips in with some market-value numbers:
Calderon is coming off a year in which he was ...
24th in scoring among PGs
12th in assist among PGs
Second in assist/TO among PGs
First in 3-point percentagep
Second in FG percentage.
Meanwhile, Jeremy Lin in Houston is averaging $8,374,646 per year while coming off a season in which he was ...
16th in scoring among PGs
17th in assists among PGs
77th in assist/TO among PGs
58th in 3-point percentage
22nd in FG percentage
Now, there are some apples and oranges here. Lin is younger. His contract averages $8,374,646 but that includes the jump to $15 mil next year. Calderon's four-year deal in Dallas might work in the club's favor as a future asset; it's unknown what the Rockets plan to do when the "balloon-mortgage'' on Lin is due.
Nevertheless, as Cuban notes, there are shoot-only specialists who just got new contracts in the same range as Calderon's.
That -- and Dallas' desperate need to fix the most broken thing on last year's squad, the inability to make the most simple pass to a scorer -- suggests Calderon is the right guy ... hopefully at the right price.
DONUT 7: More on 'The Ledo Shuffle' ...
Guided by David Lord, we've talked multiple times about the Mavs' window of opportunity to sign Ledo and perhaps others to four-year minimums, if they do so from cap space.
To be clear, the most advantageous structure for such a "four-year" deal would be a three-year deal, plus a team option for Year 4. The reason is that, with a pure four-year deal, at its end the Mavs would not have matching rights on a new deal. But if the deal ended after Year 3, they would.
The ideal deal would be some-to-none of the money guaranteed in Year 1, no guarantees in Year 2 and 3, and a team option for Year 4, all at the minimum.
How close did the Mavs come to pulling this off?
Our David Lord has this scoop, too, on -the-record with Ledo's agent, here.
DONUT 8: 'Better off without'? ...
Are the Mavs really "better off without Dwight''? Or did Mark Cuban even mean that at all?
We let the owner clear it up himself with a DB.com 1-on-1 exclusive.
DONUT 9: Follow the Mavs on Twitter …
Follow the Mavs on Twitter:
Mike Fisher
,
David Lord
and
Michael Dugat
keep you up-to-the-minute informed on all things Mavs!
DONUT 10: Thanks, Frisco Party Station! ...
A tip of the cap of appreciation to
Frisco Party Station
, your neighborhood headquarters for all your party needs ... everything! All the neighborhood schools represented -- college and even high school! -- and the party is on!
DONUT 11: B-Wright checks in with DB.com ...
Moments after his contract agreement, Brandan Wright confirmed to DB.com his two-year agreement to return to the Mavs, saying, 'I'm looking forward to getting the bad taste out of our mouths from not making the playoffs last year. I'm blessed to be back!''
The Mavericks owned Wright's Early Bird rights, so his return was almost always a foregone conclusion. Agent Jim Trotter told TNT's David Aldridge that the deal includes $10 million guaranteed, with an additional $1.1 million in incentives. Wright informed DB.com that the $10 mil is split, $5 mil in each year.
Wright was the eighth overall pick of the 2007 draft but has been a successful Mavs reclamation project. Wright, 25, played 20 minutes or more in 14 games last year and averaged 10.9 points, 5.1 boards, 1.9 blocks and 64-percent shooting then while playing center and power forward in Dallas.
"I'm just happy for the opportunity to be a part of the Mavs organization for the next two years,'' Wright told DB.com.
DONUT 12: The Final Word ...
David Lord at the wheel for why the structure of Wright's deal matters:
Brandan tells Fish was that is two-year $10-million deal will pay him exactly $5 million each season (plus incentives). I hope that proves to be inaccurate, and instead we find that the deal pays him the $10 million as $5,194,805 in Year One, and $4,805,195 in Year Two. Allow me to explain the significance:
That difference shouldn't matter to the Mavs, and Wright certainly wouldn't object to getting a few more dollars sooner. But in the quest for roster-building, that little change may help the Mavs down the road in two different ways.
First, the bigger contract this season makes for a better trade chip this season. (We're creating assets, remember?)
Let's surmise that the Mavs love Wright but love Gortat or Asik even more. Wright, between December 15 and the trade deadline, might be attractive for one or the other, being a young C/PF to complement Len in Phoenix or Howard in Houston, and with another year to run on his contract.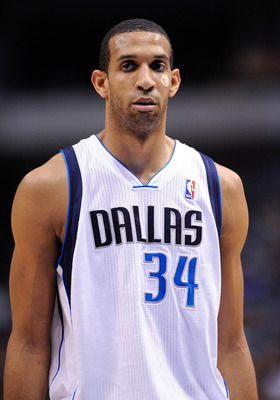 If he had a $5.19M contract this season, Wright could be traded in a one-for-one deal for Gortat, with no other players needed for the matching; however, making only $5M, the Mavs would have to add another player to satisfy the matching rules.
In a deal for Asik, Wright at $5.19M plus a rookie player at the bare minimum would work, but at $5M it would take a more substantial salary (and, presumably, a more talented one as well).
We're not dismissing Wright here, or being presumptuous about what's coming -- we just see a way for the Mavs to be best prepared for what might be coming.
Will any of that come to pass, where it would matter? There's no way to tell - but since the contract can be done as easily to provide a little advantage just in case, why not?
Second, even if Wright isn't traded, having the bigger salary this season still might help later. Paying more up front and less in the 2014/15 season will leave a bit more cap spending room ($194,804) for the summer of 2014 in case it's needed. While that doesn't seem like much, don't forget that the Mavs just had to risk Bernard James to the waiver wire, when they preferred not to, because they lacked an extra $186,000 in cap room.
Ya never know.