Below, you'll read the Tuesday news of Brandan Wright's agreeing to a new deal with the Mavs, and Fish's 1-on-1 visit with the big man, as well as some details of what will come next for Dallas ... and why the order matters. (UPDATE: 238 pm DFW time on Thursday, July 25, Wright signing goes official.)
Meanwhile ...
There was a whisper Tuesday that Brandan Wright's two-year $10-million deal will pay him exactly $5 million each season (plus incentives). I hope that proves to be inaccurate, and instead we find that the deal pays him the $10 million as $5,194,805 in Year One, and $4,805,195 in Year Two. Allow me to explain the significance:
That difference shouldn't matter to the Mavs, and Wright certainly wouldn't object to getting a few more dollars sooner. But in the quest for roster-building, that little change may help the Mavs down the road in two different ways.
First, the bigger contract this season makes for a better trade chip this season.
(We're creating assets, remember?)
Let's surmise that the Mavs love Wright but love Gortat or Asik even more. Wright, between December 15 and the trade deadline, might be attractive for one or the other, being a young C/PF to complement Len in Phoenix or Howard in Houston, and with another year to run on his contract.
If he had a $5.19M contract this season, Wright could be traded in a one-for-one deal for Gortat, with no other players needed for the matching; however, making only $5M, the Mavs would have to add another player to satisfy the matching rules.
In a deal for Asik, Wright at $5.19M plus a rookie player at the bare minimum would work, but at $5M it would take a more substantial salary (and, presumably, a more talented one as well).
We're not dismissing Wright here, or being presumptuous about what's coming -- we just see a way for the Mavs to be best prepared for what might be coming.
Will any of that come to pass, where it would matter? There's no way to tell - but since the contract can be done as easily to provide a little advantage just in case, why not?
Second, even if Wright isn't traded, having the bigger salary this season still might help later.
Paying more up front and less in the 2014/15 season will leave a bit more cap spending room ($194,804) for the summer of 2014 in case it's needed. While that doesn't seem like much, don't forget that the Mavs just had to risk Bernard James to the waiver wire, when they preferred not to, because they lacked an extra $186,000 in cap room.
Ya never know.
THE B-WRIGHT VISIT AND OTHER DEALS - By Mike Fisher
The
Dallas Mavericks
have some pecking-order issues when it comes to handling their contracts, but they have a two-year agreement with big man Brandan Wright, who tells DB.com, "I'm looking forward to getting the bad taste out of our mouths from not making the playoffs last year. I'm blessed to be back!''
The Mavericks owned Wright's Early Bird rights, so his return was almost always a foregone conclusion. Agent Jim Trotter tells TNT's David Aldridge that the deal includes $10 million guaranteed, with an additional $1.1 million in incentives.
Wright was the eighth overall pick of the 2007 draft but has been a successful Mavs reclamation project. Wright, 25, played 20 minutes or more in 14 games last year and averaged 10.9 points, 5.1 boards, 1.9 blocks and 64-percent shooting then while playing center and power forward in Dallas.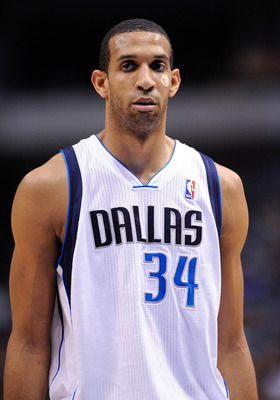 "I'm just happy for the opportunity to be a part of the Mavs organization for the next two years,'' Wright tells DB.com.
The organization does have more work to do, even with Wednesday's other
signing of Monta Ellis.
If the Mavs wish to sign second-round rookie Ricky Ledo to a budget-wise four-year minimum deal, the only way to do it is for his official signing to precede Wright's, and not the other way around. (Otherwise, Ledo will be limited to a two-year deal.)
Wright tells DB.com that he has not yet
signed
the deal ... which we believe to be a critically important detail.
Meanwhile, the Mavs continue to court center Greg Oden, who would be given a Minimum Salary Exception also outside the cap.