DONUT 1: Apollo 13, Part II ...
Last offseason, I made the analogy that the
Dallas Mavericks
' cobbling together of a passable NBA roster after losing out on Deron Williams
neatly paralleled the "successful-failure'' of Apollo 13.
That fateful mission lost the moon, but returned the three astronauts safely to earth. Similarly, the Mavericks did not land a superstar, but put together an interesting roster with enough upside that could challenge for a playoff spot if things went their way.
Like many big summer movies, this Mavericks' offseason played out much like a sequel to the last. Dallas again came up short in pursuit of a superstar, Dwight Howard this time, but was able to turn this disappointment into what I believe is a compelling roster that seems to be better constructed than last season's outfit.
At the very least, Dallas upgraded its backcourt and with a passable front line and superior bench depth, could certainly compete its way into the playoffs. Let's look at the reason's why in Mavs Donuts.
DONUT 2: Cuban's Blog ...
Transparency is something sports fans crave. We love to speculate on why certain teams signed, drafted or released certain players but so rarely do we get the type of unvarnished answers we crave. That's why
Mark Cuban's recent blog entry "Lets Talk Mavs #MFFL"
has earned such widespread praise.
Michael Dugat has already
broken down, piece-by-piece, Cuban's entry
but allow me to add my two cents here.
While Cuban certainly lays plenty of cards out on the table, no one should think Cuban laid out his full hand. He's still dealt into the game and will be sitting at the table for many more years. Yes, he has lost a few hands, but he's not going to divulge how he plans to play the long game. He certainly has laid out a few strategic advantages that Dallas could leverage in the coming seasons.
However, I still fear that the Mavericks are playing a different game than everyone else. Though they may be the "Smartest Guys In The Room," the nerds rarely go home with the hot girls, and Dallas may never realize the goal of propping up Nowitzki's twilight years with a young superstar or two.
However, it still doesn't mean it wasn't a shot worth taking. As Cuban said,
"Would i do it the same way again ? In a heartbeat. Why ? Because in the NBA, like in the non-sports business world you have to take chances in order to be rewarded. You have to be smart and you have to be more than a little lucky."
Thus far, it's been that last pair that has eluded the Mavericks.
DONUT 3: Charting the Mavs' Depth ...
Though many of these players will rotate between two positions, an early look at the Mavericks' roster:
| | | | |
| --- | --- | --- | --- |
| C: Dalembert | BJames | | |
| PF: Nowitzki | Wright | DeJuan | |
| SF: Marion | Vince | Crowder | |
| SG: Monta | Ellington | Ledo | |
| PG: Calderon | Devin | Larkin | Mekel |
DONUT 4: Follow the Mavs on Twitter ...
Follow the Mavs on Twitter:
Mike Fisher
,
Chuck Perry
,
David Lord
and
Michael Dugat
keep you up-to-the-minute informed on all things Mavs!
DONUT 5: An Under-Appreciated Point Guard ...
Jose Calderon's signing was met among most local fans with a mixture of incredulity and a belief that the Mavericks overpaid for an over-the-hill point guard.
There are many reasons this line of thinking is flawed, but here is my favorite: in the past seven seasons, Calderon has finished outside the top 10 in AST% (a measure of how well a player sets up his teammates) only once.
That seems like an arbitrary cutoff, but a statistical feat that is exceeded by only Chris Paul and Deron Williams and matched by only Steve Nash. While admittedly a narrow measure, it does illustrate how skilled an offensive facilitator Calderon remains at age 31.
Also, he's an elite-level outside shooter, leading the league last season in three-point field goal percentage and his base salary next season is half of that of the average of the top 10 at his position.
DONUT 6: Party time! ...
A tip of the cap of appreciation to
Frisco Party Station
, your neighborhood headquarters for all your party needs ... everything! All the neighborhood schools represented -- college and even high school! -- and the party is on!
DONUT 7: What Monta Ellis is Not, A Comparison ...
So Monta Ellis isn't exactly the player you envisioned the Mavericks acquiring during the Plan Powder Era. When Tyson Chandler and the rest of the championship roster was allowed to walk, superstar-level replacements were what many Mavs fans expected taking their places.
Monta Ellis is not a superstar and thus far has occupied a tier at least one level below the league's elite. Ellis is often understood as poor-man's little Carmelo Anthony: an inefficient, volume midrange shooter, with below-average defense. However, focusing on all that Ellis is not shortchanges what he is and could be.
Consider two players:
Player A is 6'2", 176 lbs, was 27 when he played his first game for the Mavericks and was thought of as a high-volume, low-efficiency scorer with speed on a bad Eastern Conference team.
Player B is 6'3", 175 lbs, will be 27 when he plays his first game for the Mavericks and is thought of as a high-volume, low-efficiency scorer with speed on a bad Eastern Conference team.
Consider both players' averages for the preceding three seasons before they became Mavericks:
| Category | Player A | Player B |
| --- | --- | --- |
| FG% | 42.5 | 43.4 |
| 3FG% | 36.9 | 34.2 |
| PPG | 17.7 | 21.3 |
| TS% | 53.9 | 52.2 |
| Usage% | 23.1 | 28.7 |
| PER | 17.9 | 17.7 |
| Steals | 1.6 | 2.0 |
| TOV | 2.7 | 3.3 |
| AST | 6.2 | 5.6 |
| OWS | 16.1 | 5.9 |
| DWS | 5 | 3.9 |
What we see in these two data sets is two very similar players, statistically. Player B is a bit sloppier with the ball and an overall more inefficient player than Player A, but overall we are comparing apples-to-apples here.
Player A is Jason Terry. Player B is Monta Ellis.
DONUT 8: What Monta Could Be: The Next Two Man-Game ...
I make the comparison to the JET both because of their similarities before becoming Mavs, but also the roles that both would be asked to occupy next to the freakishly-efficient Nowitzki. Ellis will slide into JET's old role as Nowitzki's primary pick-and-roll partner, something Maverick guards struggled with last season.
Ellis is certainly comfortable as a pick-and-roll initiator, as the vast majority of his offensive plays were run in this set last season according to SynergySports. The caveat is that Ellis is too often cavalier in these moments, frequently taking a poor shot when the defense sags away from him.
DONUT 9: Terry's Growth as a Mav Gives Hope For Ellis...
There is, however, plenty of reason for hope that many of Ellis' more frustrating tendencies can be corrected. Consider the JET again and his averages for the three season's after he became a Maverick:
| Category | Terry |
| --- | --- |
| FG% | 48.3 |
| 3FG% | 42.3 |
| PPG | 15.4 |
| TS% | 58.7 |
| Usage% | 20.6 |
| PER | 18.6 |
| Steals | 1.2 |
| TOV | 1.8 |
| AST | 4.8 |
| OWS | 21.3 |
| DWS | 7.7 |
While Terry's scoring dipped a bit, his efficiency rose across the board as he became a more accurate shooter, and more careful with the ball. Further, consider what Rick Carlisle was able to achieve with O.J. Mayo last season.
Also, this will be the first time that Ellis has played with a pass-first point guard in Jose Calderon, meaning that Ellis will not be asked to be the team's primary ball-handler, a role he has struggled with in the past. Further, it's no stretch to say that Dirk Nowitzki will be the best player that Ellis has ever played alongside. While Ellis will certainly be asked to score, between the ball handling of Calderon and the efficient offense of Nowitzki, Ellis could fit nicely into a more limited role that best befits his unique talents.
DONUT 10: Thanks to Red Rock! ...
Our North Dallas hangout for sports and live music? It's
Red Rock Bar & Grill
! They help make DB.com what it is ... thanks, guys!
DONUT 11: The Optimist's Take ...
Last year, Dallas finished an uninspiring 41-41. However, nearly everything that could have gone wrong last year did. Dallas' point guard position was a unmitigated disaster. Dallas employed seven different point guards last year, one of which, Derek Fisher, was born during Richard Nixon's last day in office and another, Mike James, was born during Gerald Ford's administration. That, and Dirk's missed 29 games, made it all ... well, uninspiring.
And now? The varied offensive talents of Calderon, Nowitzki and Ellis give reason to believe the Mavericks' offensive spacing could very well be difficult to defend. With Calderon's top-shelf outside shooting on the weak side, if Dirk and Ellis can form a formidable pick and roll battery with timely help from Vince Carter and Shawn Marion, the Mavericks may again field a multi-faceted offense that ranks among the league's elite.
Such an offense, with a merely-average defense, could be enough to boost Dallas back into playoff contention.
DONUT 12: The Pessimist's View ...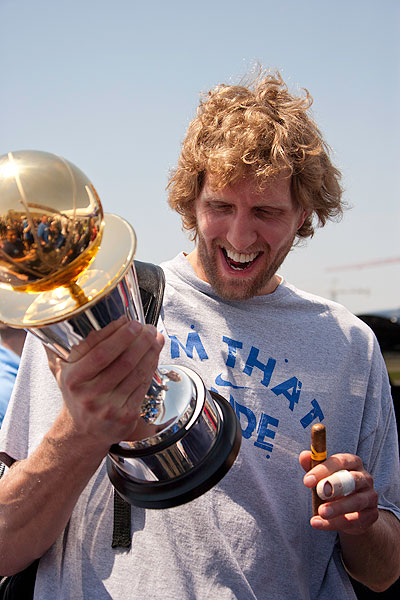 That rosy view, however, relies quite a bit on luck. Dallas' backcourt is decidedly undersized and while they possess undeniable skill on offense, neither Ellis nor Calderon will ever be confused with a 'stopper' on defense. The porous backcourt would be acceptable if it were bolstered by a formidable, bruising front line. However, between Nowitzki, and the newly-signed rim-protector Samuel Dalembert, the closest Dallas comes to a front-line enforcer is the 6-7 DeJuan Blair.
Such a flimsy on-paper defense, coupled with a chronic struggle to secure rebounds, could spell doom for a team in transition.
DONUT 13: The Final Word ...
Among DB.com's projects for next week – "The Front Court and The Defense and The Bench.'' In this space I will explore Dallas' newly-constructed front line, explain why Samuel Dalembert is probably over-hated and praise the ex-Spur DeJuan Blair. Also, I will explore whether the new front-line can pick up the defensive slack created by Dallas' backcourt. Finally, I will take a brief look at the reserves and rookies.
Stay tuned and thanks for reading DallasBasketball.com!