DONUT 1: Dirk and Duncan together?! ...
The fanbase of the
Dallas Mavericks
is protective of its precious Dirk. So we don't like to see his name or reputation unnecessarily soiled.
And putting The UberMan in a Spurs uniform is as "unnecessarily soiled'' as it gets.
And the idea that it was two Mavs-minded media types named "Moore'' and "Harper'' discussing this noxious concept? That's TREASON!
DONUT 2: The reason for treason ...
Well,
have to read the DB.com Boards thread, and then the clarification, to regain your composure.
It's not (David) Moore of the DMN or (Derek) Harper of Mavs iconic status. It's some other guy named "Moore'' and some other-other guy named "Harper.''
Matt and Zach, respectively, are welcome to their thoughts. (Matt Moore is, in fact, a smart NBA commentator with a good eye for Mavs stuff.) But they are not welcome to shuffle Dirk Nowitzki off to The Ugly-Ass River City, no sir.
DONUT 3: The idea of Monta replicating Jet for the Mavs ...
You already know that Ellis is at 27 the same age Terry was when he became a Mav. Now, do you buy the idea of Monta replicating Jet in his first year with the Mavs?
Check out Chuck Perry's research on the two players' three seasons before coming to Dallas and be amazed at the parallels.
DONUT 4: And more Monta ...
The name of the piece is
"Monta Ellis' Mavs Fit & Future: 3 Skepticism-Driven Points Of Analysis''
and David Lord runs the project.
Lord notes,
"My colleagues at DB.com have crafted some smart advance-stats stuff on what Monta Ellis has done and can do. Monta himself is saying all the right things about this being 'a great opportunity and a new beginning.' So why am I so curious about Ellis' 'fit and future' with the Mavs?''

*A history of inefficiency.

*My projection of him as a possible non-starter.

*My projection of his true value as a future trade piece.
It's smart stuff for Mavs Premium Fans.
DONUT 5: Fixing a team in the West ...
As the Mavs attempt again to rebound -- to "return to where they belong'' (as we say about our team, same as fans of pretty much every other team say about theirs), a note on the "geographic'' challenge of being a playoff team in the West:
In the last 10 years there have been 20 Eastern teams that managed to sneak into the playoffs with records of 41-41 or worse.
If "41-41'' sounds familiar, it's because it's an echo of Dallas' "failed'' 2012-13 season, when the playoffs didn't happen ... and in the West, 41-41 playoff teams NEVER happen in the last 10 years.
DONUT 6: The Mavs' lacking ...
ESPN says the Mavs are sorely lacking in the area of "young talent.'' This is a worthy project for us to take on, because DB.com has a completely different thesis here than "Amin Elhassan, ESPN Insider.'' But let's start here with ESPN's thoughts:
"Given the select nature of those players eligible for an under-25 team ranking, here's an overview of guidelines and some brief rules of thumb: In order to be eligible for this list, a player must be 24 years old ... Teams with established superstars get an edge, due to a greater likelihood of return on investment, over teams with multiple "solid" talents (as the adage goes, "A bird in the hand is worth two in the bush"). However, teams with a lot of bushes (a full cupboard of solid talents) may trump teams with a solitary star. ... Added consideration was given to players who made last season's top 25 under 25 list or next 10 list.''
Ah. It's based on the amount of players on a roster who are 25 or younger and have accomplished something (I guess.) And a "bird in the hand'' is worth more ... unless it's not. And, if we thought you were special when you were 23, we are going to continue to consider you special at 24.
Again, mull this over and we'll work our way up from here in the coming days while all along acknowledging: A roster featuring it's best offensive player who is 35 and its best defensive player at 35 -- no matter how good they are compared to the rest of the league, irrespective of age -- is likely going to bomb out on this study.
So is a team with a bunch of stud 26-year-olds, by the way.
DONUT 7: Delonte opens up ...
Here's
the headline and it's an eye-grabber:
"'Self-loathing' Delonte West discusses negative effects of arrest, Gloria James rumors.''
Readers of this space know we have an affection for Delonte. Meanwhile, our family (and likely your family) includes a loved one who battled with a mental illness or a learning disability or something "different'' that presents a challenge.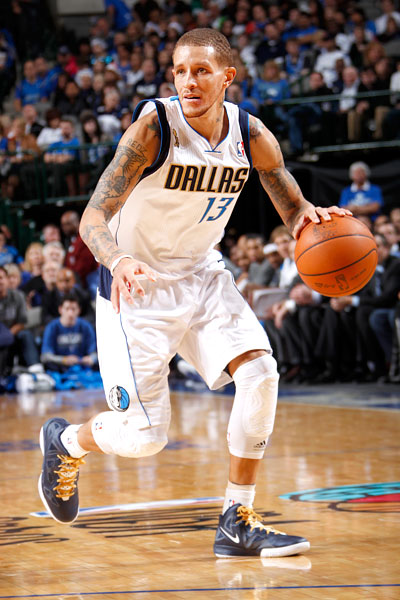 So it is with affection that I must gently pose a question: Why, instead of sharing this information with the Boston Globe or any of us in the media, doesn't Delonte use his time and resources to tell his story to a counselor in search of mental-health solutions?
DONUT 8: Which position do you play? ...
Where
there used to be five basketball positions are there now 13?
DONUT 9: Thanks, Studio Movie Grill! ...
A great partner with us in charitable work and a great place to get a movie and a meal ... thanks for the DB.com relationship,
Studio Movie Grill!
DONUT 10: Misspelling "hell no'' ...
I certainly respect the body of work of long-time NBA writer Chris Sheridan, and having traveled 13 years ago the path of carving out an online niche for basketball coverage, I fully understand the attention-getting challenges.
But Chris must know better than to headline a story "Will Dallas Trade Dirk? Cuban Hints ...'' ... when in fact, Mark Cuban hasn't "hinted'' at anything and has been very clear as to his refusal to trade Nowitzki and his "culture''-based reasons why.
This is what Cuban not-so-fondly calls "Headline Porn'' and we should work to be clearer, better annd more honest than that headline.''
DONUT 11: Party time! ...
A tip of the cap of appreciation to
Frisco Party Station
, your neighborhood headquarters for all your party needs ... everything! All the neighborhood schools represented -- college and even high school! -- and the party is on!
DONUT 12: The Final Word ...
We're five weeks away from the start of camp ... and looking for valuable ways to fill the time. "Here's To Redemption'' is such a way ...