DONUT 1: Light in the shorts ...
From the basketball website Hoopsworld:
The Dallas Mavericks may have the "lightest" schedule in the league with just 16 back-to-back sets. The longest stretch of road they'll hit is four straight, which they'll do twice. Dallas can also boast a league-high eight-game home-stand (matched only by the New York Knicks). Once the Mavericks get through a heavy November, they'll have just 10 back-to-backs left over the course of the season. The Knicks play 18 back-to-backs.
So the Mavs have the easiest schedule in the NBA? Yippee!
But wait. That doesn't sound right.
DONUT 2: The issue of B-2-B's ...
In truth,
as discussed here on DB.com Boards, the Mavs have it "light'' in the category of back-to-back games.
And if that's the only measure of strength-of-schedule, yeah, Dallas is going to cakewalk its way to the playoffs!
Obviously, b-2-b's are NOT the singular measure of a schedule. So ... no.
Furthermore, a quick glance at the other teams' schedules reveals that the Warriors and Thunder (with just 15 b-2-b's) and the Knicks and Nuggets (with 14) actually have it "lighter'' than Dallas does.
So not only is the thesis wrong, but the information used to formulate the thesis is wrong. There is nothing for Dallas to celebrate here and there is nothing for Dallas to bemoan here.
Now, the Bobcats have 22 b-to-b's. There, Hoopsworld, is your story.
DONUT 3: OK, one more ...
Here's another one: The Mavs apparently have the sixth most difficult schedule to start the season (meaning games through Nov. 30).
That
sounds
significant. But is it?
Is "sixth'' horrible? If the schedule eases up in the week after Nov. 30, why don't we just move the date of delineation? What if in December, the Mavs have the easiest schedule? Doesn't that even things up?
Oh, and strength-of-schedule is based on last year's teams' record. But as this year's opponents have different makeups than last year's opponents ... Well, you get the idea. This is how we fill the offseason, I suppose.
DONUT 4: Meet The Mavs! ...
Here's an even better way to spend an offseason day: Meet The Mavs! It's a chance to attend an at-large press conference featuring all the new Mavs players and all the key members of management, too ... and to select your seats for the '13-14 season. It's the Mavs Press Conference & Open House on Thursday, and
we've got all the info right here.
DONUT 5: A tip o' the headband ...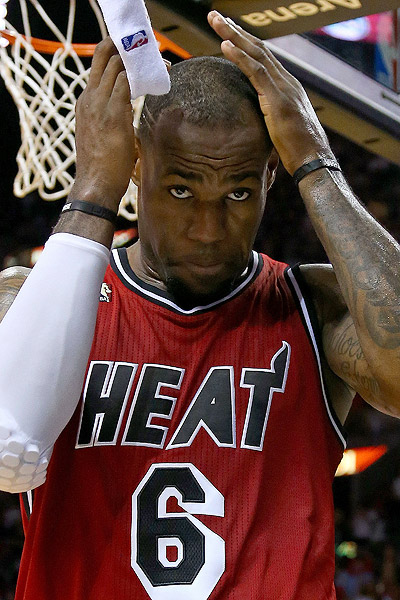 LeBron James was considering becoming the NBA Players Association president, and even as he's pulled out, he is to be applauded for the thought.
I've seen it written that James should've passed all along on considering filling the void because of the opportunity he has to become the greatest player in the history of the game ... and how anything that takes him away from that does a disservice to his legacy.
I think it's notable that LeBron wasn't locked into thinking in such a narrow way.
The union lacks direction and lacks leadership. Amid hints of scandal and wrongdoing, it could use a president who has the universal respect of its constituents. Leadership is usually a selfless thing. LeBron James filling this role might have some impact on the time he spends building his legacy as a basketball player; and indeed, that seems to be among his motivations for pulling out. But if it was to be time spend on building his legacy as a man -- and he might just get the opportunity again in his future -- it will be time well-spent.
DONUT 6: Party time! ...
A tip of the cap of appreciation to
Frisco Party Station
, your neighborhood headquarters for all your party needs ... everything! All the neighborhood schools represented -- college and even high school! -- and the party is on!
DONUT 7: A Carlisle guy ...
Rick Carlisle, by bogus reputation, doesn't play rookies. (More accurate: He'd prefer to play knowledgeable and talented veterans.) Rick Carlisle, by verifiable DB.com information, was very much involved in the draft selection of Miami guard Shane Larkin, who Dallas believes has the style of play that fits the team's need and the NBA's direction.
There is another reason Rick has an intimate feel for what Larkin might be able to do. Jim Larranaga, Larkin's coach at Miami, was on the Virginia coaching staff when Carlisle was there.
This is oftentimes a connection business. The Jim Larranaga Connection is a sensible and valuable one here.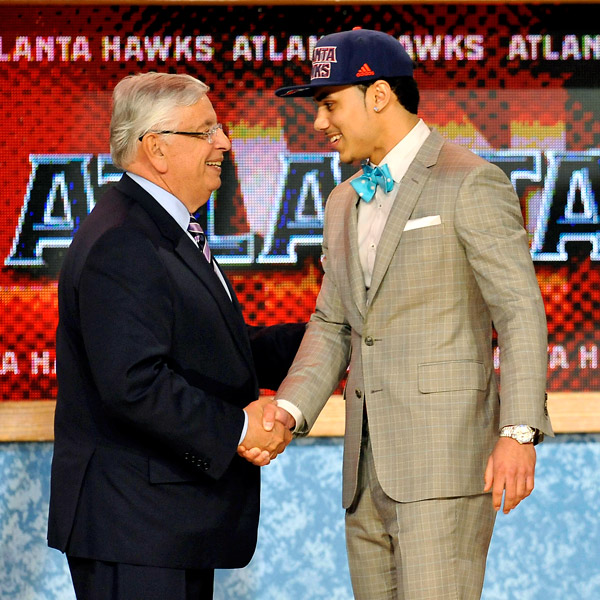 DONUT 8: Condoms, Bro, Condoms ...
Rookie Shabazz Muhammad was sent home from the NBA's Rookie Transition program in New Jersey because he violated a rule by inviting a lady to his hotel room.
You know what? Shabazz Muhammad used a condom, that Rookie Transition program was effective enough for me.
DONUT 9: Trades? Already? ...
We're already fielding lots of questions about upcoming Mavs trades.
Easy, y'all! We're not even to training camp yet!
Two reasons to not anticipate anything soon from the Mavs in this area: One, it doesn't fit this organization's profile; the Mavs believe in giving things a chance to grow before pulling the plug. Two, there are numerous restrictions on when the newly-signed guys can be dealt. For Shake Larkin, it's a total no-trade to the end of August. for B-Wright, it's all the way to January 15 before he can be dealt. For the bulk of the rest, the earliest they can be swapped out is December 15.
So nothing cooking in that department quite yet.
DONUT 10: The Calderon Justification ...
Mark Cuban suggests that Dallas' play at point guard last year would've been vastly different had the original plan -- "a No. 13 and a No. 2'' -- been on the roster.
He's right, even as his logic comes with an ironic twist: Dallas was planning on relying on Delonte and Kidd ... despite the fact that their issues (personality and age, respectively) rendered them unreliable enough in their own rights.
Nevertheless, something from them damn sure woulda been superior to Mike James.
And it's yet another reason to justify the acquisition of Jose Calderon, highly reliable in the one area (point-guard distribution) that was Dallas' most glaring Achilles last year.
How reliable? Only once in the last seven years, has Calderon finished outside the NBA's top 10 in AST-percentage (a measure of how well a player sets up his teammates with passes).
That reliable.
DONUT 11: You know you're old when ...
... An NBA coach has on his resume a rap song:
DONUT 12: Thanks, Studio Movie Grill! ...
A great partner with us in charitable work and a great place to get a movie and a meal ... thanks for the DB.com relationship,
Studio Movie Grill!
DONUT 13: The Final Word ...
I'm in the middle of a busy travel schedule involving high-school football, Legends basketball, NFL football and most of all, of course, the Dallas Mavericks. This will be my 32nd year of hoping not to miss connecting flights, eating cold press-box hot dogs and bitching about "technical'' failures.
This is also my time to address my colleagues with this annual reminder:
Ladies and gentlemen, after 32 years of sportswriting and sports broadcasting, I promise you: Our audience doesn't give two shits about our "travel problems.''