Present and accounted for at Thursday's "Meet The Mavs'' event: new guys DeJuan Blair, Jose Calderon, Samuel Dalembert, Wayne Ellington and Monta Ellis, plus old/new guys Devin Harris and Brandan Wright, plus owner Mark Cuban, President of Basketball Ops Donnie Nelson, coach Rick Carlisle and yet another newcomer, just-hired GM Gersson Rosas.
We don't yet know if this year's
Dallas Mavericks
have a lot of answers.
But given the size of this press conference, we know they have lots of chairs and microphones.
"Everyone at this table at one point in their career has been written off,'' said Wright, the big man who re-upped this summer with a Dallas team that have given him a second chance at re-making his career. "So we have a lot to prove."
There are more new guys, of course; rookies Shane Larkin and Gal Mekel will also eventually face the music -- or at least the swarm of questioners as the Mavs prepare for 2013-14. (Larkin, in fact, was in attendance, off to the side. As was an always-interested Dirk Nowitzki.) But for now, B-Wright's remark is theme enough.
As is the nature of these events, positivism was in the air. Cuban raved about Ellington as "a knockdown shooter who you can't leave open'' and about Dalembert as "a true rim protector.'' Carlisle is excited about Devin's two-month prognosis after toe surgery, projecting him as a weapon at both guard spots, thinks Blair "is a huge pickup for us (because) we need that physical play,'' and sees Ellis an a "very good playmaker,'' the fastest player to ever wear a Mavs uniform and a nice fit as Dirk's "Robin'' as
Ellis, always confident, sees it the same way.
"The years I had at Golden State, I think I had to do about 60 percent of everything,'' said the former Warrior and Buck. ""It's a great opportunity. A new beginning and I'm looking forward to it. ... "I'm going to be Dirk's sidekick. We've come here to win games, and that's all.''
Carlisle believes the club's level of experience is a plus.
"The thing I like about this group is that we have more experience than we did last year,'' the coach said. "Our nemesis last year were close losses."
Another problem with last year's club? Erratic passing from the point-guard spot, something Calderon's track record says he solves.
"I'm going to try and get everyone involved and get the ball in the right positions,'' Calderon said. "I'm a team player.''
In total, Cuban, as he is prone to do, loves his assemblage of talent.
"I love the team we've put together,'' Cuban said. "Dirk has a lot more to give and we've put a lot of great players around him. ... "I love the fact that everybody is throwing us under the bus. ... I'll be very disappointed if we don't make some playoff noise."
At least in terms of the calendar, "playoff noise'' is a ways off for a team that failed to qualify for the postseason last year for the first time in more than a decade. The new players are part of the push, as is new front-office leader Rosas.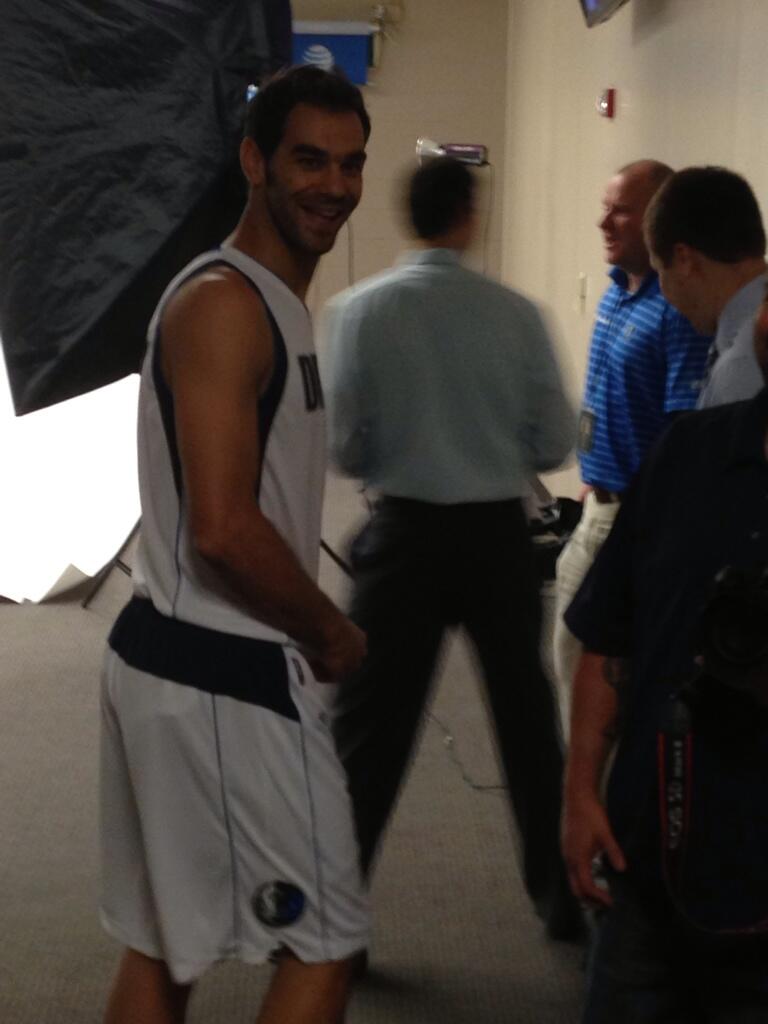 "I am very confident in this organization,'' said the former Rockets executive, hired this summer to work alongside Cuban and Nelson. "I'm excited with the focus and passion we have on all levels."
The
excitement level of Mavs fans can be measured here, as always, on DB.com Boards!
Optimism. Skepticism. It's all there. But none of the latter was allowed on the crowded stage.
"Everyone sitting at this table feels like they have something to prove and want to be a part of this,'' said Carlisle, and yessir, that is your 2013-15 Dallas Mavericks theme.
Photo credits to Dallas Mavs