With
Dallas Mavericks
training camp fast approaching, I go 1-on-1 with coach Rick Carlisle:
FISH:
What did you do for your summer vacation?
RICK:
"I recruited free agents, spent time with the summer-league team, and mixed in a little rest. We have a home in South Carolina and it is important to get away a little bit and recharge. That's a necessity in this profession.''
FISH:
And then you are completely recharged and ready to get back to one of your favorite parts of the job, which I know is teaching. I know there are administrative duties, and strategic decisions and all that stuff, but ...
RICK:
"In addition to all that stuff, and all of that is important. ... The other thing about this job is this: You look forward to every day, and you look forward to engaging every day. My job is special in that it makes me feel completely alive every single day.''
FISH:
I'm always fascinated by observing a coach, a teacher, and how they interact with their players vs. how they interact with their own children. In the case of Abby (the Carlisles' 9-year-old daughter), I'm wondering how two Type-A parents handle wishing their child to be an achiever -- the same way a coach wishes his players to be achievers?
RICK:
"Well, first of all, what's a 'Type-A personality'?'' (laughing)
FISH:
Sir, I believe you are in possession of a degree in Psychology from the University of Virginia. And I believe your wife (Donna) shares that background. ...
RICK:
"Well, I think of us as nurturing parents who don't push too hard. We try to let Abby experience many different things and see what she likes. And as you know, one thing she likes is being on stage. Abby is not afraid of a microphone; she is a performer and it doesn't take much to get her to play to an audience. She likes to sing and entertain. It doesn't take any coaching to bring that out of her.''
(See more on Abby's influence on Dad here.)
FISH:
You and I have talked before about how you as a coach have one foot firmly planted in the influence of Red Auerbach but another ready to step into a more modern way of doing basketball business -- advanced stats, training methods, whatever. How much are the additions to the Mavs staff this year -- added brainpower -- reflective of all that?
RICK:
"I think you are always talking about adding thoughtful people to your staff. You and I have talked about this before I don't think you need to have played in the NBA in order to coach in the NBA. There are many different paths you can take to get to this place. as (GM Gersson Rosas and assistant Kaleb Canales) show.
"It is part of the evolution of the game and the evolution of every sport.''
(See more on GM Gersson Rosas here and on assistant Kaleb Canales here.)
FISH:
Would it be accurate to say that under Mark Cuban, Dallas has always been pretty avant-garde in these areas -- but that the rest of the NBA is catching up?
RICK:
"We have always tried to acknowledge the evolution of it all and to stay ahead of the curve ... Or, yeah, in some cases keep up with the curve because of that constant evolution. You do that with brainpower.''
FISH:
And then you also do it the old-fashioned way, right? What was accomplished last year with, say, O.J. Mayo, was very much about a teacher-pupil relationship between the two of you, agreed?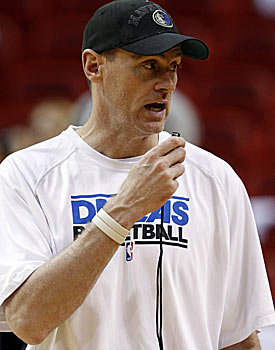 RICK:
"I enjoyed every moment I spent with O.J. and with Darren (Collison). I did what I could to help them develop and I'm proud of what they accomplished. They both got better, and I bet they'll continue to do so. I'm proud of what they've done and they have the right to be proud of it, too, as they continue to grow.''
FISH:
Do you think this year's backcourt will require a different approach from you? If only because Monta Ellis and Jose Calderon have some skins on the wall?
RICK:
"Now it's a new bunch of new guys and a new bunch of relationships. You're right; Calderon and Ellis are established guys. They've been stars in this league, they have logged the time.
"So we'll work on those relationships. And it will be a good thing. It's the 'Circle of Life' in the NBA.''