DONUT 1: Mickey-Mouse Miami ...
In Miami, Heat players are talking about the buzz that would have them wear nicknames in place of surnames on the backs of their jerseys for select games against the Nets, who would do the same.
"It shows growth in our league and it shows we do adapt to what's going on around us," Ray Allen tells the AP, adding that he plans to wear "Shuttlesworth'' on his jersey as a nod to his character from the movie "He Got Game." "We're still kids, playing a kids' game.''
And there is my first problem with the concept: It's childish.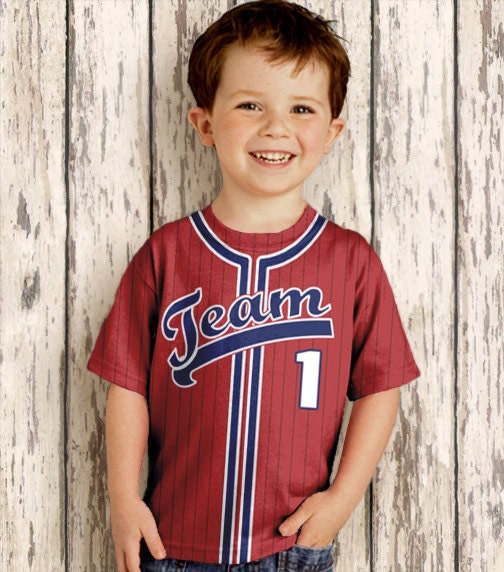 DONUT 2: The meaning of "uniform'' ...
Additionally -- and I will cop to being a bit anal about this -- I'm a firm believer that uniforms should be ... you know,
uniform
.
Maybe in Little League, it doesn't matter if one kid has his last name on his shirt and another kid has his first name and another kid has no name at all. But let that sloppiness linger and slide up the ladder to the NBA?
It's rinky-dink.
Nevertheless, the AP reports that LeBron James might wear "King James." And that Brooklyn's Paul Pierce might wear "The Truth" alongside teammate Kevin Garnett wearing "The Big Ticket."
Using nicknames that are essentially individual brand names goes against the concept of "team.'' But the idea has some marketing allure (which is all this is about, of course) ... except for all the guys who aren't attached to marketable "brand''-level nicknames, or nicknames that lack cleverness.
Dwyane Wade might wear "D-Wade''? Why bother? Shane Battier says he'll wear "Shane-o" because ... well, because he doesn't have a nickname and may just be subversive enough to be exposing the silliness of it all.
DONUT 3: Meanwhile, in Dallas ...
I remain a fan of James and Wade sticking with the original back-of-uni nicknames essentially given them by
Dirk Nowitzki when he was fueled by their insolence to beat their asses in the 2011 NBA Finals.
Remember? Heck, it's not just "childish.'' It's "ignorant,'' too!
One problem with my campaign: Mavs owner Mark Cuban will be campaigning against me.
"I love it!'' Cuban tells me. "Hey, it's fun. Fans will love it.''
DONUT 4: Follow the Mavs on Twitter ...
Follow the Mavs on Twitter:
Mike Fisher
,
Chuck Perry
,
David Lord
and
Michael Dugat
keep you up-to-the-minute informed on all things Mavs!
DONUT 5: And about those ads ...
I acknowledge that advertising on uniforms is coming to the NBA and doesn't bother me a bit. Stadium naming rights are, in a sense, as old as Wrigley Field. Ads on athletes is a concept as old as NASCAR. And seeing Cuban's AXS network patch on his Mavs' practice jerseys has no impact other than to help promote revenue for the guy who invests and loses millions while owning his professional sports teams.
DONUT 6: But what if? ...
Ads are "uniform.'' And they are historical enough to not be "rinky-dink.'' But let's say the nickname thing catches on. The Heat and the Nets sell lotsa fake jerseys and T-shirts. The NBA sees dollar signs in the silliness. And the
Dallas Mavericks
are ordered to sew together a batch of nickname jerseys.
Or, more accurately, given what Tony Cubes just told me, the Mavs excitedly line up to bask in the joy of nickname jerseys.
How, exactly, can this work in a way that seems uniform and professional?
DONUT 7: "The Tall Baller From The G'' ...
That's what Dirk likes to call himself, and does so on Twitter. But not even his shoulders are broad enough to fit that on a jersey.
"Dirty''? That's still around, an antique from the days of "Dirty, Filthy and Nasty.'' (Finley and Nash as his running mates. "The UberMan''? It's always worked around here at DB.com, but Nowitzki is surely to modest to wear it in public.
I could almost be convinced if Dirk conceded to wear an "I'M THAT DUDE'' identifier, reminiscent of his post-title Nike T-shirt. But again, I don't think he's buying that.
Oh, and please don't bring your "Diggler'' anywhere near me.
(Meanwhile, I can already envision Kobe Bryant petitioning the NBA to put a halt on the Heat-Nets idea so HE can be the guy who debuts the concept ... thus providing him even more opportunities to refer to himself as "The Black Mamba.'')
DONUT 8: What about The Other Guys? ...
So it's tough enough for the superstar who, unlike some members of the Heat, has never bothered crafting himself a marketable moniker.
What about The Other Guys?
DONUT 9: "The Mississippi Bullet'' ...
Once upon a time, Monta Ellis was known as "The Mississippi Bullet.'' Coach Rick Carlisle says Ellis will show himself to be the fastest player to ever don a Mavs jersey. So it is at least appropriate and it is not an artificial conjuring of a nickname.
DONUT 10: "Vinsanity'' & "The Matrix'' ...
I hereby grant these to Vince Carter and to Shawn Marion, should this trend actually come to the AAC.
Vince has earned it with his performance, with his longevity, and with his re-birth in Dallas. Meanwhile, people actually call Shawn "Trix.'' It's not a joke, or a creation. It's, like, his real nickname. (People don't really go up to LeBron and say, "Hey, King,'' do they?)
Still, the use of "Vinsanity'' & "The Matrix'' would put pressure on the other fellas to attempt to match two of the coolest and most fitting christenings ever.
DONUT 11: We miss you, JET ...
I believe someone once referred to Samuel Dalembert as "The Haitian Sensation.'' That's a no-go.
Heck, maybe the time has passed for the Dallas roster to play this game. How we long for JET (Jason Terry's descriptive initials) and "The Custodian'' (the workman-like Brian Cardinal) and "Charlie Redz'' (Delonte West) and even one of DB.com's first-ever bits, the Eddie Najera-endorsed "El Rayo.''
DONUT 12: He Hate Me ...
"Fans will like it and so will a lot of the players," Ray Allen says, echoing Our Man Cuban's view. "Guys will get a good kick out of it."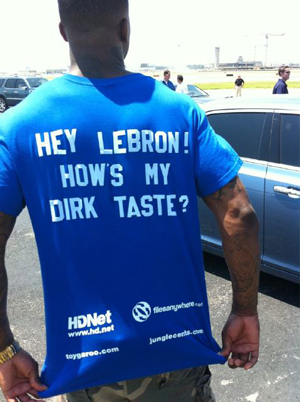 But "fun'' ideas don't necessarily equate to being good ideas. Calling Charlotte the "Bobcats'' because their owner was named "Bob'' was fun. So was Chancellor Stern's introduction of the plastic ball. The White Sox' "Disco Demolition Night'' in 1979 sounded fun until the drunken crowd was exposed to an explosion that grew so large that it damaged the stadium.
The XFL needed "He-Hate-Me.'' In trying to compete against the NFL, "silly'' was its only shot.
How badly does the NBA need "silly''?
DONUT 13: The Final Word ...
If it must happen? If Cuban's going to continue to convince me that it's all "fun''? Maybe we can conform to the ideals of "unity'' and still give the big kids their "fun.''
How about if every Mav wears the same nickname? Something from The DeShawn Stevenson Line, maybe?