DONUT 1: "Mavs Masters'' ...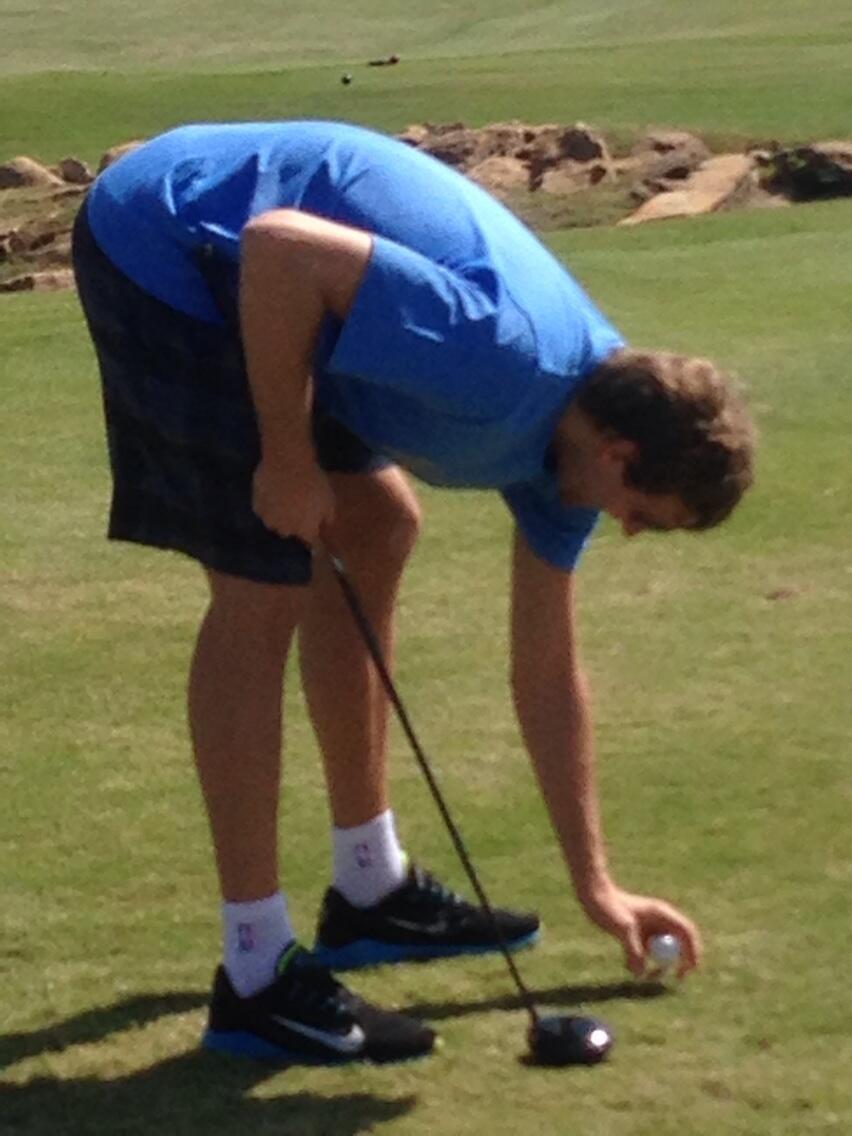 "Looks like you got a lot of practice in South Carolina, huh?'' Dirk yelled at Rick Carlisle as the coach launched a drive off the first tee.
I had the privilege of spending the day with the
Dallas Mavericks
our at Hackberry Creek for the sponsors tournament. Dirk Nowitzki was in rare form (as a comedian, not as a golfer.) Devin Harris, as you will see below, had a special non-golf assignment. And coach Rick Carlisle once again told anyone who would listen about what a lousy golfer he was and then looked as smooth an athlete as anyone on the course.
"You're a sand-bagger,'' I told Carlisle, who has a vacation home in South Carolina, thus Dirk's jab.
"Naw, I don't even know what I'm doing,'' Carlisle responded, practicing on me the line he would undoubtedly use against pigeons all day long.
DONUT 2: Who is Ricky Ledo? ...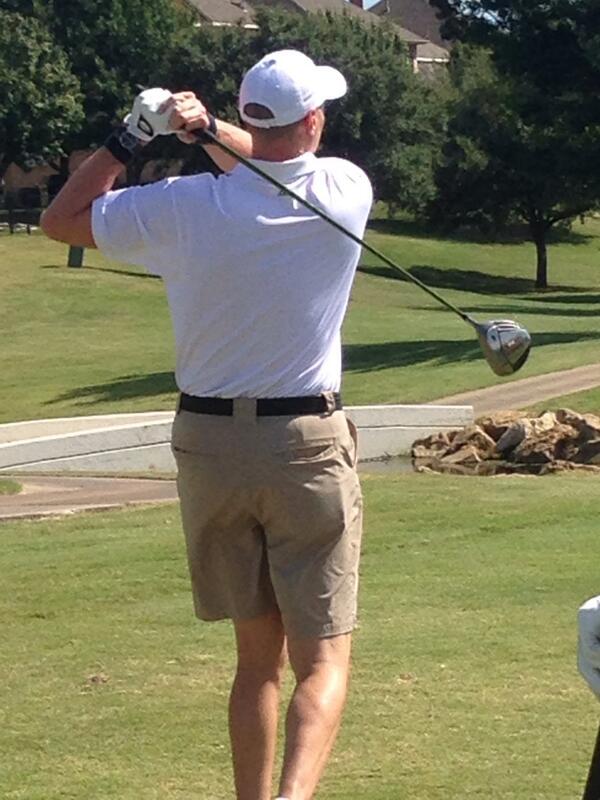 Ricky Ledo is different things to different people.
To those who wonder about his path, he's a non-college enigma. To his fellow rookies, he's an NBA class clown. To the Mavs, he's a long-range project.
And to Ledo? He still thinks he was "the best 2-guard in the draft.''
So far, the second-round rookie is also a guy who has been on the floor to finish two close Mavs preseason games.
DB.com goes 1-on-1 with Ricky Ledo to find out more in this Premium visit.
DONUT 3: Big man's big problem? ...
Dallas Mavericks
big man Brandan Wright underwent an MRI to determine the severity of an injury to his left shoulder. And on Thursday evening, relief from Wright.
"There is no damage to the previous (shoulder) repair,' Wright told me. "I'll have a couple of evaluations over the next two weeks. And I'll be back strong.''
Over the course of those two weeks, Wright's shoulder will likely be immobilized (in a sling) to help what the MRI showed is a small, non-displaced fracture to his left shoulder.
Why was there a concern over something worse?
Wright, the eighth overall pick in the 2007 Draft by the Warriors, missed the entire 2009-10 season after undergoing surgery on a labrum tear of that left shoulder. The 6-10 center/forward has missed 119 games managing his shoulder and DB.com athletic trainer Jeff Stotts notes that any damage to the labrum would be particularly limiting.
In Stotts' opinion, this latest shoulder injury can still linger as a possible major setback for a player looking to build on a successful 2012-13 campaign.
The good news from a very technical standpoint: the fractured discovered by his recent MRI is small and non-displaced meaning the bone broke but remain aligned. This will allow for a smoother recovery process and should allow him to avoid going under the knife.
Wright had turned heads with his added 15 pounds of muscle and Stotts says this should help him return quicker. (A more muscular shoulder would help maintain the stability of the joint.)
The danger here was the location of the fracture. The Mavericks did not reveal specifics but this is the key in determining just how long "indefinite" means. Wright telling us the injury did not occur to the area involved with his previous surgery is extremely good news. If the glenoid rim had been fractured then the entire integrity of the shoulder would have been compromised.
However, it sounds like the fracture occurred to the scapula, better known as the shoulder blade. The healing process and recovery for this type of injury is pretty straightforward: Immobilize the joint and allow the bone to heal, which generally takes between four-to-six weeks depending on the size of the crack.
Wright will be able to maintain his conditioning during the rehab process and should be able to contribute when cleared to return. He will have follow up evaluations as his rehab progresses to insure the bone is healing properly.
So the Mavs now know this issue -- sustained Tuesday in practice -- is unrelated to the labrum problem. So Wright will look forward to a clean bill of health and
a return to the weight room, where DB.com caught up with him in this Premium Q-and--A.
... and as he tells me, being relieved.
"I had the same concerns (about the labrum and surgery) so this is good news,'' says Wright, adding that the diagnosis is a "blessing.''
DONUT 4: Follow the Mavs on Twitter ...
Follow our Mavs coverage on Twitter, where our live coverage of preseason will unfold all day and every day!
Mike Fisher
,
Chuck Perry
,
David Lord
and
Michael Dugat
keep you up-to-the-minute informed on all things Mavs!
Also, be part of the Mavs conversation on the best discussion forum in the NBA, The
DB.com Boards!
DONUT 5: Welcome, Social Club! ...
We welcome to the DB.com family
Oak Cliff Social Club,
voted Dallas' best "dive bar'' and located in the heart of the Bishop Arts District.
This "place for local people to come without paying tourist prices" is anchored by a 40-foot, oak-backed, Brazilian black granite bar, and a "garage" area featuring couches, TVs, and twin pool tables. Local beers and home-style pizza will do the trick before or after the Mavs game.
Thanks to
Oak Cliff Social Club
for supporting the Mavs, DB.com and so many positives things happening in the Bishop Arts District!
DONUT 7: No Jose ...
The Mavs resume practice today in the AAC basement but Jose Calderon will not be a full participant once again, as the team continues to evaluate his left hamstring problem.
An early guess? Calderon will miss the Monday visit from Orlando ... and then more evaluation going forward with the five remaining Dallas preseason games after that.
DONUT 8: Mavs at St. Jude ...
Coach Rick Carlisle says trying to work the Mavs travel schedule so a visit to Memphis could include a visit to St. Jude Children's Research Hospital has long been a team goal.
That goal was accomplished on Wednesday, when before the 95-90 preseason win over the Grizzlies, Carlisle's guys made the trip.
"This is one of the really special places in our country in what they do for sick kids,'' Carlisle said. "We've been trying to organize this trip for the last couple of years and it hasn't worked out because of scheduling. ... It (was) just a real good opportunity for us.''
DONUT 9: Thanks, Studio Movie Grill! ...
A great partner with us in charitable work and a great place to get a movie and a meal ... thanks for the DB.com relationship,
Studio Movie Grill!
DONUT 10: Quotable ...
The adjustment for him is going to be that there's some nights we're not going to need him to score 20 unlike other teams that he's been with. And his play-making is just as important.'' - Rick Carlisle on Monta, who in his first two preseason games has a 15-to-3 assist-to-turnover ratio.
DONUT 11: Your Mavs inside man ...
If you like sports and entertainment in DFW, you might already know Chris Hyde. He's an institution with the Mavs! If you need anything Mavs-related - season tickets or a suite rental for one game to entertain or even individual game tickets - Chris is The Man. Keep this number: (214) 658-7112.
DONUT 12: The Final Word ...
"I can't golf,'' Devin Harris told me at the "Mavs Masters'' as he continues to recover from toe surgery. "So I'm in charge of fun!''