DONUT 1: Last year behind us ...
Highlighted – or, lowlighted, given the
Dallas Mavericks
decade-plus run of contention -- by a bushel of one-year contracts and without Dirk Nowitzki for the first 29 games of the season, the Mavericks of last year found themselves in decidedly unfamiliar territory. Falling as low as 10 games below .500, pride became the fuel moving forward and thus, their memorable ".500 beards were born." In solidarity, they agreed to forego shaving until the ship was righted and things were evened up in the win/loss column.
Avoiding an unintended homage to "Duck Dynasty,'' the Mavs finally got back to .500 in the 80th game of the season and ultimately finished at 41-41.
And let's be frank: Is it never a great sign when the most memorable thing about a group of guys is that they managed to grow facial hair.
DONUT 2: Plan Powder, evaporated ...
Aside from Dirk missing significant time, that team was assembled with a purpose – some might say a dubious purpose, given the long-shot nature of stealing blue-chip free agents from other clubs. The idea was to compete while also leaving cap room the following offseason in the hopes of landing Dwight Howard or Chris Paul. The one-year-deal experiment proved to be a failed one both on the court and off, ending a 12-year playoff run for Dallas.
Inconsistency marred that team late in games, as the young backcourt had trouble not only with costly turnovers, but with finding Dirk with the game on the line. Point guard play was so inefficient that the Mavs took stabs with elders Derek Fisher and Mike James to run the show. Chris Kaman was brought in to provide offense from the center position, and comic relief aside, he was revealed to be such a liability defensively that coach Rick Carlisle had to sit him for long stretches late in games.
All in all, the 2012-13 Mavs – two seasons removed from an NBA title – were a team of ill-fitting parts than never truly jelled or had much of a chance to after starting the season without their superstar.
DONUT 3: Is that enough of last year? ...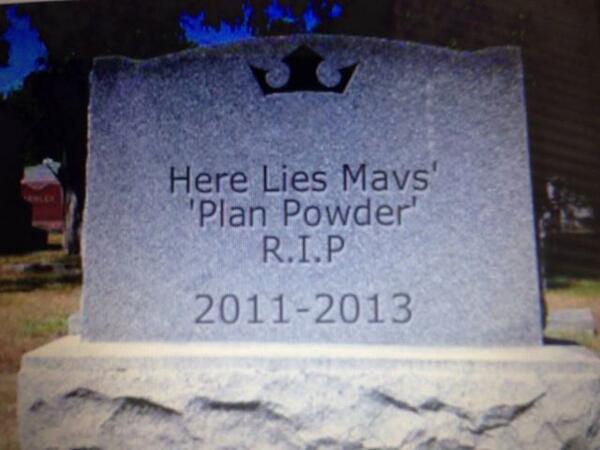 With many new faces, a healthy Dirk and an upgraded roster, optimism abounds for the Dallas Mavericks this season.
But is it the fool's gold that creates optimism for everybody when they are 0-0?
"Hey, I'm always optimistic,'' Rick Carlisle said on Tuesday. "Like I said at this time last year, I'm like Col. Sanders: He heard 1,000 'no's' before someone finally said 'yes' for his chicken recipe.''
Stability has returned in the way of Jose Calderon, a veteran point guard who not only can take care of the ball but also displayed his sharp-shooting by leading the NBA in three-point percentage at an impressive 46-percent clip last season.
For a team that's wanted so desperately to alleviate some of the scoring weight from the shoulders of Dirk, Monta Ellis looks to be in line to fill that role. He averaged 19 points per game and six assists last season for Milwaukee, and the presence of Dirk should create parting-of-sea-size spacing on offense. Both players should benefit greatly from each other, leaving their pick-and-roll options fruitful.
Devin Harris has returned this season as well, which has Mavs owner Mark Cuban gushing at the possibility of "having the fastest backcourt in the NBA." Along with Shane Larkin, whom they drafted this year out of Miami, this team should be able to create an up-tempo style that will cause headaches for many teams around the league. ... once those guys (and big man Brandan Wright)are fully healthy, anyway.
DONUT 4: Follow the Mavs on Twitter ...
Follow our Mavs coverage on Twitter, where our live coverage of this day and every day will unfold all season long!
Mike Fisher
,
Chuck Perry
,
David Lord
and
Michael Dugat
keep you up-to-the-minute informed on all things Mavs!
Also, be part of the Mavs conversation on the best discussion forum in the NBA, The
DB.com Boards!
And of course, when you are looking to catch up on our incredible volume of Mavs stories -- inside the front office, inside the games, even inside the practices --
go here and dig around DB.com Archives!
DallasBasketball.com is the most popular website of its kind on the planet. Thousands of Mavs fans just like you -- including Premium Mavs Fans who invest 10 cents a day in what we do -- are rewarded with every detail about the franchise ... and that includes
the unmatched work of our David Lord, the go-to guy not only for us but for national media and even NBA rules mavens like Larry Coon.
We're proud to have D-Lord as part of The 75-Member Staff and if you are not familiar with what he does and what we do ... please take the 7-day free trial and learn more!
DONUT 5: Dalembert on Defense ...
Defensively, Samuel Dalembert will play the role of anchor and rim protector, hopefully giving the Mavs and their fans alike a bout of selective amnesia after last season's struggles in the post. Dalembert's motor needs to run more consistently high than it often has in his career, but Carlisle says he's "the most improved guy in camp, no question.'' That's a start.
There's little doubt inside Mavs HQ that this year's version will be much improved, benefiting from not only upgrades in talent, but also from having a coach like Rick Carlisle at the helm.
But every conversation must come back to defense -- or rather, the anticipated lack thereof.
And therefore, every search for a solution must come back to Shawn Marion.
Even at the age of 35, Marion has continued to show why he's one of the most valuable assets to this Mavericks team. Often under-appreciated due to lack of "style points," Marion is a crafty scorer with a knack for rebounding as well. Coming off 12.1 points per game and 7.8 rebounds in 2012, he quietly remains a consistent and productive veteran player who typically draws the less than appealing defensive assignment of guarding the opposing team's best offensive player. His ability to handle this type of defensive load proves very complementary to a team whose best players' strengths are more known for their offensive skillsets.
We can make a case for Marion as a future Hall-of-Famer and in fact asked him if that's a legit concept.
"It is,'' Marion tells us in this exclusive examination of the idea, "to anyone who knows a damn thing about basketball.''
DONUT 6: The Finest Dentists in North Texas! ...
Our neighborhood dentists, even though we don't even live in the McKinney neighborhood? It's McKinneyDentist.com, and it's been the case for the Fisher family for our kids' entire lifetime.
At
McKinneyDentist.com
, Dr. Berlin, Dr. Markham, Dr. Lynch and Dr. Wood have been providing the finest in everything from technology to chair-side manner for years, to our family and to so many of you. Their great work has been part of us bringing our Mavs coverage to you since 1995 ... And we're proud to be associated with The Finest Dentists in North Texas ... McKinneyDentist.com!
DONUT 7: The Uberman...
Dirk Nowitzki. Regardless of any new talent or potential upgrades, this season will inevitably go as Dirk goes. The good news for Mavs fans? That is a positive element.
Many feel after dealing with unexpected knee injuries over the past two seasons, Nowitzki will rebound nicely this year and return to the form we've grown accustomed to seeing from him. After going under the knife last offseason and battling not only with swelling but eventually his rhythm, Dirk comes into this season as healthy as ever.
Even last season, despite not finding the consistency he's been so used to over his Hall-of-Fame-caliber career, he was still able to score 17.3 point per game. He flashed certain games last season where he looked like his MVP self, but he also struggled to play at or around that level for periods of time. Without Dirk in the lineup last year, the Mavericks were 13-16 and in less than stellar company residing near the cellar of the Western Conference. With Dirk, they were 28-25 and able to climb the mountain all the way back to a .500 record by season's end.
Dirk's heard the same whispers that have reached Kobe's ears these days, wondering if they can still play at that elite level we've been spoiled by. With the momentum of a full offseason without any setbacks and the motivation to prove the doubters wrong, people inside Mavs HQ are unbending in their confidence that Dirk is primed to return to the nightmare matchup he's been for over a decade and carry this team to yet another playoff run.
"I'm fired up, and hopefully I can show it and still put up a decent season,'' says Nowitzki, whose idea of "decent'' isn't being part of a .500 team.
DONUT 8: So 'inside' they're actually 'Self-Scouting Reports'! ...
DallasBasketball.com has put the finishing touches on our exclusive Player-by-Player Scouting Reports -- projections and plans and upsides and pitfalls -- constructed with guidance from president Donnie Nelson, coach Rick Carlisle and elsewhere inside the
Dallas Mavericks
personnel department itself.
It's 15 Mavs and 15 reports – Premium-grade information from inside the AAC. It's ready for Premium Mavs fans just in time for the start of the regular season.
DONUT 9: Calderon most 'excited' ...
"It's always good to start with a win,' says Jose Calderon, the veteran PG who on the eve of his Mavs debut says he's "more excited than in other years, maybe. It's a big change for me.''
Some cool audio of Jose Calderon's visit with the media at Tuesday practice (accompanied by our big-faced associate 'Machine') ... get it here on DB.com!
DONUT 10: Who wants hot dogs? ...
Tipoff tonight against the Atlanta Hawks is 7:30. But the Dallas Mavericks will open the doors of AAC a half-hour early, at 5:30 p.m.
A few reasons why, including the inclement weather expected to hit DFW today. But get in early and get hot dogs and sodas for $1 each until 6:30 p.m. ... and come see us on the court before the game as we tape a segment for FOX Sports Southwest's "Mavs Insider.''
See you tonight ... early!
DONUT 11: 'Not the best fit' ...
The
Dallas Mavericks
parted ways Tuesday with GM Gersson Rosas, and DallasBasketball.com has been told a conflict regarding organizational roles is at the core of the quickie divorce.
"We wish him nothing but the best in the future,'' team president Donnie Nelson said, confirming the change.
At the same time, Rosas released a statement through Mavs PR:
"I made the personal decision to resign as General Manager of the Dallas Mavericks after determining that the position was not the best fit for me at this point in my career," said Rosas. "The decision was made solely by me, as I firmly believe this change is in my best interest.
"Mark Cuban asked me to reconsider my decision, but graciously accepted my decision and we part as friends,'' Rosas continued. "I would like to thank Mark and the Dallas Mavericks for the opportunity."
Cuban, in the same release: "I was disappointed when Gersson told me of his decision, but I understand and all of us wish him the best.''
Nelson, working under Cuban, was pivotal in pinpointing Rosas, 35, as the man to serve beneath him on the organizational chart as the general manager.
The short version of Cuban's stated view of the hire in July? "Brainpower, organizational management and process power." Rosas has those qualities. He spent a decade with the Rockets, starting as a video coordinator and being promoted to VP of basketball operations in 2012.
Rosas' short run in charge -- but not as "in charge'' as he seemingly wished to be -- leaves the Mavs with a void as they prepare for Wednesday's season-opener at the AAC against visiting Atlanta. The "Triangle of Trust'' (Cuban, Nelson and coach Rick Carlisle) will move forward without the help of a staffer viewed as so key just three months ago.
What is the story behind the story? How did Rosas rub one corner of the "Triangle of Trust'' wrong? How could Rosas somehow find conflict in the well-defined organizational chart?
DallasBasketball.com
has exclusive details inside story here on The Rise And Fall of Gersson Rosas.
DONUT 12: The Final Word ...
With the combination of the aforementioned healthy Dirk and the upgrade in talent on this roster, this Mavericks team is looking at returning to the playoffs despite a loaded Western Conference. That's a lower-bar goal than was once the case in DFW … but it's a reality that can be a positive one.
"We'll see,'' owner Mark Cuban says when we ask him about true contention. 'The pieces have got to get better and we've got to learn how to play together well and stay healthy. If we do, anything's possible.''
The Mavs believe Calderon, Ellis and Nowitzki will create chaos for defenses by creating all kinds of space for one another while also executing pick-and-roll set-ups on both sides of the offensive floor. Vince Carter will the sixth-man, and may get some league-wide votes for that official honor. Dallas needs backcourt shooting and defense from Wayne Ellington and front-court muscle from DeJuan Blair, both part of a club that has long prided itself on depth.
If guys like Wright and Harris are able to return to form coming off injuries and contribute consistently, the depth is very real. But in the NBA, excellence is achieved not by having good players in the rotation but by having great players atop the totem pole. Dallas has one of those in Dirk, and Carlisle tells us he sees Ellis and Calderon both as "stars.''
If he's right, the Mavericks are capable of pushing for the sixth seed and settling at or above eighth. Dallas' offense will carry the heaviest load, and if that works, some optimism and excitement in Dallas will be merited. And the highlights can once again overshadow the lowlights.