DONUT 1: Player-By-Player Scouting Reports ...
DallasBasketball.com is putting the finishing touches on our exclusive Player-by-Player Scouting Reports -- projections and plans and upsides and pitfalls -- constructed with guidance from president Donnie Nelson, coach Rick Carlisle and elsewhere inside the
Dallas Mavericks
personnel department itself. It's 15 Mavs and 15 reports – Premium-grade information from inside the AAC. We'll have it ready for Premium Mavs fans in time for the start of the regular season. Here, a taste of what is included, featuring Vince Carter:
VINCE CARTER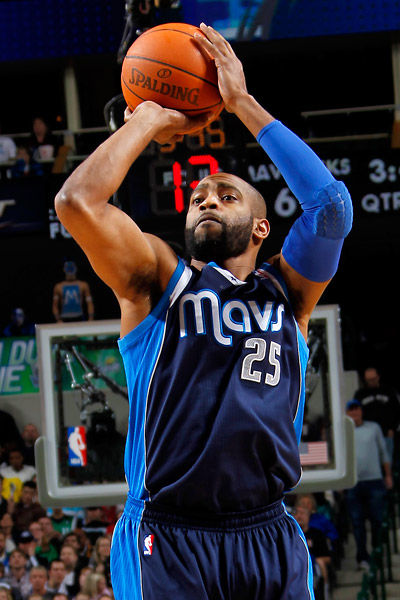 Mavs scouting view:
Dallas considers him "instant offense'' but knows there are times when too much has been asked of him. He still has moments of "Vinsanity'' but in his two seasons with the Mavs he's often been the go-through guy in the clutch ... and Carter's clutch numbers are surprisingly mediocre. His perimeter offense overall, though, remains exceptional. (He made 40.6 percent of his 3-pointers last season.) And he is a respected finisher, too. You get "Sixth Man of the Year'' votes in a Dallas uniform when you do things like post a .571 true shooting percentage. The Mavs like him getting those votes.
Projected role:
It starts with him serving as the Sixth Man, leading Dallas' second wave of talent. The Mavs now have a fairly storied history of their bench consistently outscoring the opponents' bench, and Carter is central to that goal.
Upside:
Dallas has a potential Hall-of-Famer to ride here. Carter enters 2013-14 at 27th on the NBA's all-time scoring list with 22,223 points. Every single eligible player who is ahead of him on that list is in the Hall. There is experience there, leadership there, and wisdom there - the sort of wisdom that makes Carter arguably a better defensive performer than he was a decade ago.
Pitfall:
Coach Rick Carlisle wants to the minutes here in the mid-20's. That creates a limitation of sorts. But for us, the Carter story is more about front-office moves than on-court moves. He's in the final year of his deal. His expiring contract, and his talent, will be attractive to someone. Dallas passed on offers last February. Now Mark Cuban is making noise about wanting to re-up Carter ... while we think the noise should quiet so the owner can hear the offers that will come for the 36-yar-old who could be "sold high.''
Contract:
Carter is on the final year of a contract that pays him $3,180,000 this season.
Quotable:
"It is a business and I understand that. No hard feelings. You have to understand that. But I've said (to Mavs management), 'Hey, this is where I want to be. Carlisle and Mark Cuban all about their team winning. Stats are great. But winning is everything. So I told them, 'I want you guys to understand, I'm happy here.''' - Vince Carter.
DONUT 2: Trix for the HOF? ...
Hey,
Shawn Marion, DallasBasketball.com is working on a project placing you as a candidate for the Hall of Fame.
You think that would be a legit idea?
"It would be,' Marion tells us, "to anyone who knows a damn thing about basketball.''
We know a damn thing. Enjoy our Mavs perspective on Shawn Marion for the HOF.
DONUT 3: The Finest Dentists in North Texas! ...
Our neighborhood dentists, even though we don't even live in the McKinney neighborhood? It's McKinneyDentist.com, and it's been the case for Nate, Tony and me for my kids' entire lifetime.
At
McKinneyDentist.com
, Dr. Berlin, Dr. Markham, Dr. Lynch and Dr. Wood have been providing the finest in everything from technology to chair-side manner for years, to my family and to so many of you. Their great work has part of us bringing our Mavs coverage to you since 1995 ... And we're proud to be associated with The Finest Dentists in North Texas ... McKinneyDentist.com!
DONUT 4: "Do You Really Think I'm Done?!'' ...
Is this a Mavs marketing scheme?
Yes it is.
Did Dirk agree to participate in this Mavs marketing scheme because he truly feels this way?
Yes he does.
DONUT 5: An American Insult! ...
These
Spurs camo uniforms are supposed to be a tribute to our military.
They're so disgusting, though, that they almost to a disservice to the service.
Or maybe we just think that of the Spurs no matter what clothes they are wearing.
DONUT 6: Pacers to close it ...
Indiana at the AAC tonight (7:30 tip) to finish up the preseason. The 75-Member Staff will occupy our 75 seats on Press Row and
thousands of Mavs fans will kick it around in the Mavs GameThread here ...
and on a skillion other Mavs topics here on
DB.com Boards.
DONUT 7: Dinner before the game? ...
Thanks to Dee and the incredible staff at
Dee Lincoln Steak and Burger Bar
for inviting us tonight to a wonderful Mavs pregame dinner ... the legendary DFW restaurateur has done it again.
Dee Lincoln Steak and Burger Bar is becoming THE "upscale casual'' place to dine before you attend events in Dallas ... And the gang from DB.com looks forward to seeing you there!
DONUT 8: "Anything is possible'' ...
"I like it,'' Mavs owner Mark Cuban says about his team. "I really do. People are really dialing in to what their role is and how they can contribute. The guys like playing together. ... Everybody's unselfish. The ball moves. Everybody's in and it feels good. It feels really really good. I'm excited about it.''
Want more Cuban?
Here's all the goods from his recent Q-and-A with the DFW media.
DONUT 9: Where's Dirk? ...
Who is the best power forward in the NBA? The GMs have their say ...
and because Dirk isn't ranked high enough, the gang on DB.com Boards has its say, too.
DONUT 10: Better fate for Rick ...
In that same poll conducted by NBA.com, the GMs were more flattering when it came to coach Rick Carlisle. He was tabbed as the second-best coach in the league (behind Pop) at "making in-game adjustments.''
As you might imagine, Carlisle doesn't give a crap.
"I've been around a long time and I find myself as one of the more experienced guys, and so it's a lot of (coaches) out there these guys don't know,'' Carlisle said, which is funny because you would think the GMs know the coaches. "So there's a limited number of guys to pick from.''
You don't get money for this sort of recognition and you certainly don't get wins. So they aren't much worth the coach's time.
"I haven't paid a lot of attention to those things,'' Rick said. "They can be distracting from trying to get your team to play, and this is a hard league to win in.''
DONUT 11: Is it Halloween yet? ...
It is at Mavs HQ.
DONUT 12: The Final Word ...
Former Mavs swingman
Moe Ager is on the ballot to receive a Grammy this year
, which seems like quite an accomplishment until you realize the musical genius of Shaq was once on the ballot to receive a Grammy.