DONUT 1: NO 94, Mavs 92 ...
The
Dallas Mavericks
may not have been televised, but they tipped off their 2013 preseason against the visiting New Orleans Pelicans on Monday night, giving another small shove to get the Monta-era underway. ... and The 75-Member Staff was glad to be in the AAC.
Dallas was playing without Jose Calderon, Devin Harris and Shane Larkin, leaving the starting point guard position to last-man-standing rookie Gal Mekel.
The new-look New Orleans took the court without Tyreke Evans or Eric Gordon, but with new floor leader Jrue Holiday ... and handed the Mavs a 94-92 loss that went down to the final seconds.
DONUT 2: One small step ...
It's only one preseason game, and the first at that. Ultimately, it is essentially meaningless … except that it's not. Not really. It's a single taste that often reeks of hyperbole, of over-extrapolation, meritless insight, and misleading foreshadowing … but it's not meaningless (and sometimes a team that finishes the preseason 4-4 goes on to finish the regular season 41-41, as the Mavs did a year ago).
The first step of a long journey may quickly become buried beneath those that follow, but without it there could be no next step … no distance traveled.
It's also our first glimpse of a new roster facing outside NBA competition. It's the first moment our expectations are put to the test, even if only marginally so.
And, so it begins …
DONUT 3: Dirk Nowitzki ...
Once you're an 11-time All-Star, 12-time All-NBA selection, one-time regular season MVP and one-time Finals MVP, the goal of the preseason changes. For Dirk Nowitzki, that goal is to simply stay healthy, with some ancillary benefits, such as getting into game shape and beginning the process of building chemistry with a new surrounding cast.
There was a moment that Dirk went to the floor after drawing a foul, paid some minor attention to his right ankle, but all appeared well as he continued to play with no noticeable limp.
In other words, it was a positive performance for Nowitzki, who finished with six points, 2-of-5 field goals, four rebounds and no turnovers (the only core player to play significant minutes able to make such a claim) in 22 minutes of action.
DONUT 4: Monta have it all? …
True, it's only the preseason, but it's safe to assume not many would have predicted that Monta Ellis would have more assists (four) than field-goal attempts (three) in his first quarter wearing a Mavs uniform.
For the bulk of the night, Ellis was the top Dallas performer. He showed a willingness to pass, to create for teammates, and played with a controlled aggression … even giving some nice glimpses of a two-man game, mostly with Brandan Wright, but a couple of smooth opportunities with Dirk as well.
We can hope that the first Mavs points of the preseason somehow foreshadow a chemistry that was never present a season ago between Dirk and that team's guards … when Dirk scored from a nice Ellis assist.
"Monta played well and this is how he's been playing during the whole camp," coach Rick Carlisle said. "He's going to make a lot of good things happen for us."
Ellis finished with 13 points, 5-of-11 field goals, 2-of-3 3-pointers, seven assists and two turnovers in just under 25 minutes – and he won Player of the Game in the AAC. So, there's that.
A positive first impression, as Monta demontrated a crisp balance between patience and aggressiveness.
As Dirk said, "There was a lot of space out there for him to attack. … He looks great. That's when he's at his best, off the dribble. It's going be fun playing with him."
DONUT 5: Just a peek …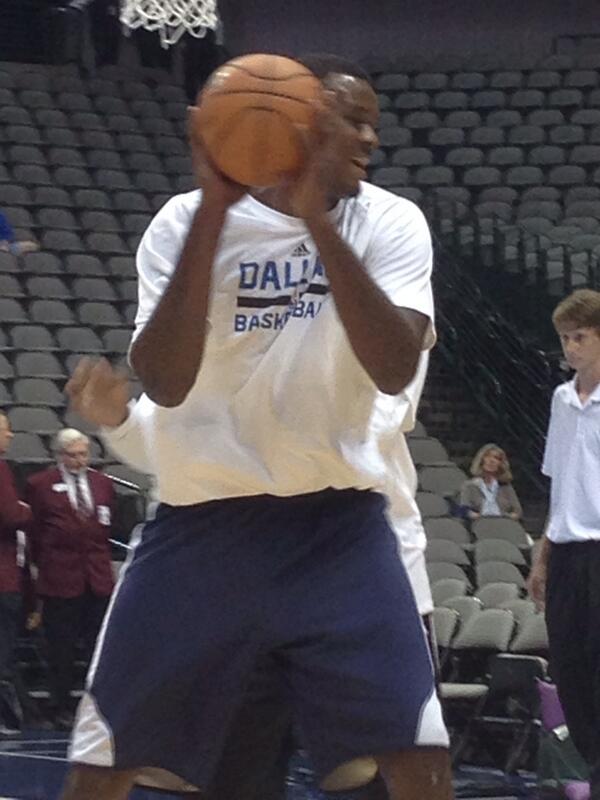 Samuel Dalembert took only 4:12 to collect his first four fouls. Any rhythm that may have been found, any chance to show how he may fit, was lost.
He would play a total of 10:46, scoring four points, two rebounds and committing four turnovers (the fouls coming in the span of four minutes) … showing a slight case of Damp-hands, fumbling a number of passes, and never really had a chance to get into the flow of the game.
Hopefully we'll see more of Dalembert next game, and get a chance to get a better feel for how he'll mesh here.
For now, Carlisle is displeased with Sam's level of conditioning.
The first thing is that Dalembert has got to continue to work to get in shape,'' Carlisle said. "He's just not in the condition that he needs to be in, and we need him. He struggled out there and I think a lot of it is conditioning. And so in the next 21-22 days he's got to get to a higher level.''
Want a silver lining? Before the game, the Mav who spent the most time on the floor, repeating high-post and low-post move after move, was Dalembert, apparently trying to battle through some back soreness as a result of wrasslin'-around horseplay with the fellas.
DONUT 6: Last PG standing …
Gal Mekel got the start at point guard, and with Calderon, Harris and Larkin out, he pretty much had to.
For the most part Mekel looked like what he was: a rookie getting his first NBA game action.
"It's literally getting thrown into the deep end of the ocean when you jump into the NBA from a European league like that," Carlisle said of Mekel. "It's just kind of an unfair thing for him to have to do right now, but he'll learn more doing this and have a chance to start some games than coming off the bench and playing little bit roles here and there."
Now, Coach, it's not
literally
the ocean. Otherwise, the AAC floor would've been very, very wet. But we get the point and saw the same thing.
In 19 minutes, Mekel finished with two points, 1-of-5 field goals, five rebounds, five assists … and a game-high five turnovers. Dallas committed 17 turnovers in the first half and Mekel was sort of the "pace-setter'' there.
The kid seems unshaken by the errors, though.
"I'm not worried about those,'' Mekel said. "It can happen in one game. In the next game, I'm sure I'll correct those mistakes."
Before the starters took the bench for good, Ellis also saw a lot of minutes at point guard, and appeared capable of handling the position for stretches if needed.
DONUT 7: Brandan Wright is back, and there's more of him …
Brandan Wright showed his wishes in free agency. By doing little to nothing to test the market, he let us all know that he wants to be in Dallas … and he returned with an extra layer of muscle, worn like proof of his continued desire to improve.
Wright may not fill the "stretch four" role the Mavs could prefer, but it's hard to deny he needs to be on the court in some capacity. He continues to show an innate knack for scoring around the rim, a combination of athleticism and willingess that sees so many of his finishes find the net.
Both Gal Mekel and Monta Ellis capitalized on Brandan's ability to roll after picks, and finish.
Wright is an intriguing part of this team that continues to show signs of improvement, and a complete willingness to embrace and justify any trust placed in him.
He finished with 14 points (a Mavs high), three rebounds (sure, we'd like to see more here … but he offers enough other things to deserve minutes), 7-of-8 field goals and one turnover in a little over 19 minutes.
DONUT 8: Preaching D ...
Rick Carlisle has preached defense not only during the birth of the season, but from the conception of it. It's paramount to whatever success will be found.
In some aspects, there were positives to take, such as the fact that the Pelicans (yeah, doesn't feel right writing that yet) hit only 37.9 percent of their shot attempts through the first three quarters.
Yet, for every positive, there was a teaching moment … a wide-open Anthony Davis flashing to the rim uncontested on his way to 25 points on 11-of-19 shooting, for example.
Then, there was finishing the defensive possession with a rebound. New Orleans had 10 offensive rebounds through three quarters, holding a 10-3 advantage over the Mavs in that area at that time, giving them enough extra shots to make up for their poor conversion rate.
Through three quarters (looking primarily at the close of the third quarter as no Mavs starter played a second of the fourth) the Mavs were up only five, despite shooting 53.8 percent compared to that 37.9 for the Pelicans … in large part because New Orleans had taken 14 more shot attempts than Dallas, due to a combination of Mavs turnovers and Pelicans offensive rebounds.
DONUT 9: Speaking of turnovers ...
Through three quarters, Dallas had 21 turnovers (including those 17 in the first half) leading directly to 15 points for New Orleans. They would keep up that turnover pace with seven more in the fourth, but saw more of the "catastrophic" brand in the final frame, leading to nine easy points and contributing heavily to a two-point loss.
"17 turnovers in the first half is a number I don't know that I've ever seen before," Carlisle said. "We knew that taking care of the ball has got to be one of our keys this year. To get that kind of a start, it was ugly."
Ugly is an accurate description when a team totals 28 turnovers, but with the starting point guard sitting out – and maybe the second and third stringers as well – in the first game for a roster largely unfamiliar with each other, maybe it's an understandable side effect of their situation.
At this point, you can't read too much into it.
DONUT 10: Welcome, Social Club! ...
We welcome to the DB.com family
Oak Cliff Social Club,
voted Dallas' best "dive bar'' and located in the heart of the Bishop Arts District.
This "place for local people to come without paying tourist prices" is anchored by a 40-foot, oak-backed, Brazilian black granite bar, and a "garage" area featuring couches, TVs, and twin pool tables. Local beers and home-style pizza will do the trick before or after the Mavs game.
Thanks to
Oak Cliff Social Club
for supporting the Mavs, DB.com and so many positives things happening in the Bishop Arts District!
DONUT 11: Making it Wayne …
Wayne Ellington hit both of his attempts from behind the arc, finishing with nine points, three rebounds, one assist and three turnovers.
With the dearth of available point guards, he may have handled the ball more than he'll be asked to once the roster gets healthy, as the three turnovers may show, but he looked good for the most part.
It's easy to imagine Ellington filling the role he'll be asked to: playing defense and draining open 3-pointers.
DONUT 12: The other rookie ...
There's a lot to like about the smoothness of Ricky Ledo's game, and thankfully, there's still a lot of time for him to show us this. The potential is undeniable, and after a turnover on his first offensive possession, there's nowhere to go but up.
Ledo finished with three points, 1-of-5 field goals, one rebound and two turnovers.
"It went OK out there,'' Ledo said. "It was good experience, a good learning experience. I'm just trying to get better each day. Every situation is a learning experience so next time I know what to do different and what not what to do."
What would Ledo change?
"Just to be more aggressive on the offense end and close out better on defense,'' Ledo said. "I just need to become more comfortable with the offense. There's a lot going on and it's going to be a learning experience."
Again, it's not hard to see the talent Ledo holds … but it may be a year of polishing in Frisco with the Legends before we really get to see that converted to any sort of NBA success. Of course, he could also come out and score 30 next game. As it is, he thought he was going to score the winning shot at the buzzer here.
"I thought it was going to hit the backboard and go in,'' he said of his late heave, "but too much of a lean."
As with everything else, it's too early to speak with any certainties …but Ledo will see better days.
DONUT 13: The Finest Dentists in North Texas! ...
Our neighborhood dentists, even though we don't even live in the McKinney neighborhood? It's McKinneyDentist.com, and it's been the case for Nate, Tony and me for my kids' entire lifetime.
At
McKinneyDentist.com
, Dr. Berlin, Dr. Markham, Dr. Lynch and Dr. Wood have been providing the finest in everything from technology to chair-side manner for years, to my family and to so many of you. Their great work has part of us bringing our Mavs coverage to you since 1995 ... And we're proud to be associated with The Finest Dentists in North Texas ... McKinneyDentist.com!
DONUT 14: The centers ...
Due in part to the limitation on minutes Dalembert's foul trouble caused him, we got to see much more than expected of how the Mavs may deal with the center position behind their starter. While it's no surprise, given that Dalembert and Bernard James are the only true centers with guaranteed contracts, we may see our fair share of "small" ball.
Meaning, there could be a lot of DeJuan Blair, Wright, Dirk or Marion at the five.
DeJuan Blair and Dalembert will be asked to carry the heavy lifting on the boards, and Dallas will need everyone else to chip in as well for this concern to be alleviated.
Monday night, Dallas ended up out-rebounding New Orleans 43-40, but that doesn't completely bury the concern.
Blair finished with five rebounds to go with four points in 10 minutes.
DONUT 15: The Final Word ...
The Mavs are now 17-17 in the preseason under Rick Carlisle. They were 4-4 last year, just as they were the championship season. The outcome of each individual game isn't of great significance, at least not on the scoreboard. Lessons will be taught and hopefully learned.
Whatever will follow, this was the first step into game action, or first glimpse of Ellis and so many other new faces against another NBA roster.
And damn, are we glad to have the NBA back.