DONUT 1: Let the games begin! ...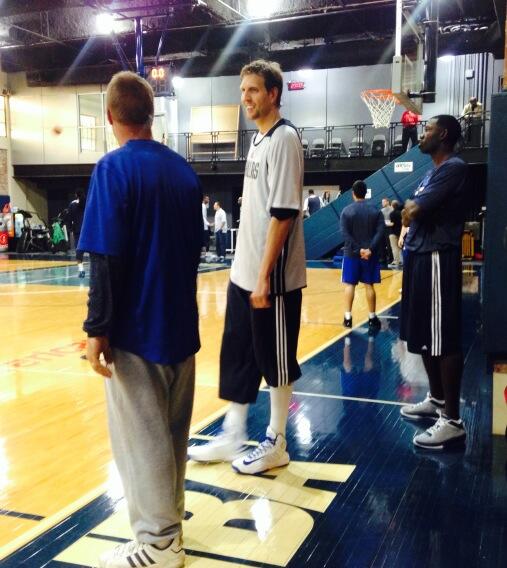 The
Dallas Mavericks
' work in the basement isn't done. But tonight marks the first chance to demonstrate to somebody in other colors what this offseason work and training-camp work has been all about.
And I think we begin with Rick Carlisle figuring exactly how to work with Monta Ellis. Not "handle.'' Rick hates that word. "Work with.'' That's the phrase the coach likes.
And Rick is just as smart with his words, I think, when discussing Ellis' early contributions in training camp.
"Monta's had a really good four or five days,'' Carlisle said. "He's just been aggressive, he's been a leader on the team. ... Defensively, he's been into the ball, he's been attacking, and so he's going to help us an awful lot.''
Go through your Monta Ellis Checklist -- really, things you want Monta to do right and things you think Monta might want to know are being acknowledged as being done right:
*"Aggressive,'' meaning "not just shot-hunting from the perimeter.'' Check.
*"Leadership,'' meaning it's gone way beyond "acceptance.'' This is the young veteran badge of honor. Check.
*"Defense,'' something Coach cannot afford to have lost in the translation for Ellis. Check.
Check, Check, Check. New star player being "worked with.''
Next Carlisle project? Maybe "work with'' the Monta Handshake:
DONUT 2: Expectations for Pelicans-at-Mavs ...
Jose Calderon (hamstring) did do some work yesterday and he was expressing optimism about playing. But ...
"He was able to do some things live today, but he's going to be doubtful for (Monday),'' Carlisle said on Sunday. "I doubt he's going to play (in tonight's game).''
UPDATE: Calderon has been ruled out. Gal Mekel starts at the point for Dallas.
Meanwhile, in readying for the 7:30 p.m. tip at the AAC, the Pelicans are coming off a Saturday 116-115 preseason win at Houston in which newly acquired swingman Tyreke Evans left the game with a sprained left ankle.
Another guard off their deep, young bench, Austin Rivers, led the way in that game with 21 points on seven-of-18 - with nine points in the final quarter.
We won't see Evans tonight. Starting shooting guard Eric Gordon and 3-point marksman Ryan Anderson did not play Saturday. We'll look for them at shootaround today.
Former No. 1 overall pick Anthony Davis also scored 21 points on Saturday and should be featured tonight.
No TV tonight, by the way.
Here's the Mavs' preseason schedule, including the handful of TV dates.
And while we're at it: Here's DB.com columnist
Chuck Cooperstein's look at the regular-season schedule
... and a reminder that I'm honored to once again be involved in the Fox Sports Southwest TV pre- and postgame shows as a studio analyst joining Bob Ortegel and Dana Larson.
DONUT 3: Diggin' at Wiggins ...
Optimism reigns, at this moment. The Mavs, along with everybody else, have an unblemished record. But reality is going to come bouncing by shortly. Somebody will soon be bad enough to stand accused of tanking and to be coveting Andrew Wiggins.
But will they ever admit it?
Celtics GM Danny Ainge tells SI.com that one of the reasons he promises (fibs?) that the Celtics aren't going to tank is because he doesn't see Kansas freshman Wiggins as a franchise-changer.
"If Kareem Abdul-Jabbar was out there to change your franchise forever, or Tim Duncan was going to change your franchise for 15 years? That might be a different story," said Ainge, careful not to mention Wiggins by name. "I don't see that player out there."
There are quite likely 29 or so GMs that disagree with that evaluation of the player. But what Ainge is really talking about is tanking. I have a feeling he's smart enough to love Wiggins, and absolutely covets him. But at what cost?
"That's harder than people recognize," said Ainge of tanking. "It's a really easy thing to conceptualize, and an easy thing to talk about and philosophize about. But it's a hard thing to live through -- for fans, for coaches, for owners, for sponsors, for our TV partners."
That mirrors my general philosophy: That sports is hard enough without purposely inviting the cancer of losing into the picture. And yet ...
Last year's Mavs' 41-41 playoff-less season was painful, too, was it not? Is there a cancer-level difference between 41 wins and, say, 11 wins, that the drafting of Wiggins wouldn't cure?
DONUT 4: Follow the Mavs on Twitter ...
Follow our Mavs coverage on Twitter, where our live coverage of preseason will unfold all day and every day!
Mike Fisher
,
Chuck Perry
,
David Lord
and
Michael Dugat
keep you up-to-the-minute informed on all things Mavs!
Also, be part of the Mavs conversation on the best discussion forum in the NBA, The
DB.com Boards!
DONUT 5: Speedo-free ...
I don't spend a lot of time watching baseball. But when I hear Dodgers exec Magic Johnson promising to to model a Speedo should his Dodgers advance past the Braves and keep winning until they capture the World Series?
Well, go Braves.
DONUT 6: Fish Video Visit with Larkin ...
"The game is big,'' Shane Larkin tells me, "but it's getting smaller.''
The Mavs' first-round investment in Larkin is based in part on that. And on Rick Carlisle's personal commitment to the idea of Larkin in Dallas.
Larkin continues to rehab from a broken ankle
(we've got those "on-schedule'' details here)
and talks to DallasBasketball.com about a variety of things as he adjusts to life in the NBA.
"Me and (Carlisle) are in constant contact, and I can tell that he really has a vested interest in me,'' Larkin says. "He told me himself that he had a big part in them drafting me. He thought I was the best point guard in the draft and that's why he took me. That's why they brought me here. And now, it's just that weight on my shoulders of now I've gotta show them why he thinks that of me and now I've gotta go prove that when I get on the court."
DONUT 7: Training Days ...
Get caught up on the action from inside the AAC!
From Saturday:
A review of the Mavstoberfest open practice.
From Thursday:
Our Training-Day report updates you on Calderon's hammy and features a one-on-one with Devin Harris.
From Wednesday:
Our Training-Day report featuring one-on-ones with Vince and Jose.
From Tuesday:
Training-Day report including a Shawn Marion Video Visit and exclusive video from the first workout.
And from Monday, if you are a DB.com Mavs Premium Fan,
you'll enjoy Dirk's presser in its entirety. No media filter to interpret or spin. Just Dirk being Dirk.
That's just a fraction of what DallasBasketball.com does, every day, 24 hours a day ...
Click into the DB.com Archives for neatly organized links to all our coverage!
DONUT 8: Kidd klash? ...
Is
Coach Jason Kidd already clashing with his veteran talent?
Given Kevin Garnett's involvement in the story, it's not exactly difficult to imagine.
DONUT 9: Thanks, Studio Movie Grill! ...
A great partner with us in charitable work and a great place to get a movie and a meal ... thanks for the DB.com relationship,
Studio Movie Grill!
DONUT 10: Exclusive with B-Wright ...
Our David Lord is working on a terrific Premium story with Brandan Wright ... fresh out of the weight room and trying to add not only bulk but other facets to his game.
"I know Coach Carlisle prefers a 4 that can shoot the 3-ball like Dirk, and that's not my game,'' B-Wright tells DB.com. "They brought in Troy (Murphy) last season for that reason. And I'm not big enough to bang all the time with some of the big guys. But I feel like I can help the team with what I do.''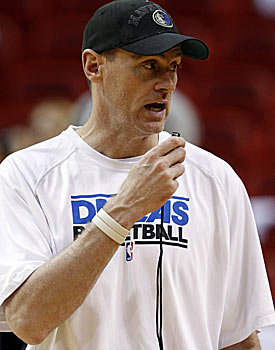 Much more to come. Stay tuned.
DONUT 11: Your Mavs inside man ...
If you like sports and entertainment in DFW, you might already know Chris Hyde. He's an institution with the Mavs! If you need anything Mavs-related - season tickets or a suite rental for one game to entertain or even individual game tickets - Chris is The Man. Keep this number: (214) 658-7112.
DONUT 12: The Final Word ...
"My job is special in that it makes me feel completely alive every single day.'' - Rick Carlisle, part of
DB.com's exclusive interview here.