DONUT 1: Mavtoberfest unveiling ...
The
Dallas Mavericks
are about to show themselves.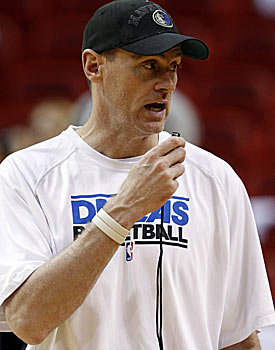 Today is a ticket-sales opportunity for the franchise, a party at the AAC for all comers, but most of all an evening practice where we'll all gather -- me, The 75-Member Staff, and you -- to watch a Mavs practice.
It's "Mavstoberfest 2013,'' including Mavs Select-A-Seat (with doors open at 9 a.m.) and then the featured event Mavstoberfest starting at 4 p.m. Admission is FREE and no ticket is required. Parking in the lots surrounding American Airlines Center will be $5 per car.
At 4 p.m., Mavs Dancers and ManiAACs will sign autographs and take photos. From 5-6 p.m., Rolando Blackman, Brad Davis and Derek Harper will be among the players past and present signing autographs. And at 6:30 p.m., the Mavs open practice on the main court.
During the Select-A-Seat event, any fan that purchases a half or full season ticket plan will receive a piece of the Mavs 2011 Championship hardwood floor, signed by Dirk Nowitzki.
DB.com will have complete coverage of the event ... and we hope to see you there!
DONUT 2: HUSTLE HARDER ...
Rick Carlisle swore he dig Renaldo Balkman's tattoos. Oh, and also, "I like his hairdo,'' the coach insisted.
Balkman's body tattoos tell various stories. But it's his eyelid tattoos -- yes, in 2010, Balkman inked his lids -- that Carlisle believes are most telling of all.
"You know he's got a high pain tolerance,'' Rick said, "if he's got tattoos on his eyelids.''
Those tats: "HUSTLE'' on one lid. "HARDER'' on the other.
DONUT 3: OJ vs. MJ ...
Once upon a time, in 2006 or so, old friend O.J. Mayo was a high-school superstar attending Michael Jordan's basketball camp. The kid was apparently talking some trash directed at the 43-year-old legend.
Eventually, according to Jordan, he "sent the kids to bed" but kept Mayo on the floor with him.
"Finally,'' Jordan remembered in a talk with ESPN, "I just said, 'Look dude, you might be the best high school player, but I'm the best player in the world. So from this point on, it's a lesson.'
"And from that point on, it was a lesson. He never won a game, I posted him up, I did everything. If I can ever show you that film or you can ask him that, ask him about the thing that happened at my camp. I don't consider that trash [talk], I consider that fact. You call it trash."
O.J. remembers, too:
"He said, 'I need all the campers and everybody to leave. Let's clear the gym.' ... So we continued playing pickup, and Mike was Mike. He was jawing a little bit and really getting into me defensively. He was backing me down. He said, 'You better scream for momma. Mom-ma, mom-ma! He hit the famous fadeaway on me. And then I said, 'OK, OK, you got it going.'
"He said, 'Hey, young fella, let me tell you something. You may be the best high school player in the world, but I'm the greatest ever. Don't you ever disrespect the great like that.'
DONUT 4: Follow the Mavs on Twitter ...
Follow our Mavs coverage on Twitter, where our live coverage of training camp will unfold all day!
Mike Fisher
,
Chuck Perry
,
David Lord
and
Michael Dugat
keep you up-to-the-minute informed on all things Mavs!
Also, be part of the Mavs conversation on the best discussion forum in the NBA, The
DB.com Boards!
DONUT 5: Delonte to China? ...
I don't know whether to be happy for Delonte West because
he's reportedly got a basketball gig in China
or to be frustrated for him because I'm guessing he's frustrated at having to get a basketball gig in China.
DONUT 6: Fish on "Breaking Bad'' ...
Thanks for the kind responses to my series of reviews of the final episodes of "Breaking Bad.'' I know this is a basketball site but I also know most of us have enough cranial capacity to like a few other things, too.
Here, my take on "Felina,''
in which I note that Walter White did not, in the end, work alone. He had help. From Groucho and Gollum, from Al Pacino and John Wayne, from a cowboy and a cabbie.
DONUT 7: Training Days ...
From Thursday:
Our Training-Day report updates you on Calderon's hammy and features a one-on-one with Devin Harris.
From Wednesday:
Our Training-Day report featuring one-on-ones with Vince and Jose.
From Tuesday:
Training-Day report including a Shawn Marion Video Visit and exclusive video from the first workout.
And from Monday, if you are a DB.com Mavs Premium Fan,
you'll enjoy Dirk's presser in its entirety. No media filter to interpret or spin. Just Dirk being Dirk.
DONUT 8: Already tired?! ...
As a Mavs fan, you are undoubtedly aware of the rumblings that would have LaMarcus Aldridge forcing his way out of Portland. You are aware because LA is a DFW native. Or you are aware because you think LA would look good in his hometown blues.
You aren't necessarily wrong about any of that. But don't tell it to
Blazers general manager Neil Olshey, who is tiring of those damn questions.
And the Blazers season hasn't even started yet!
DONUT 9: Thanks, Studio Movie Grill! ...
A great partner with us in charitable work and a great place to get a movie and a meal ... thanks for the DB.com relationship,
Studio Movie Grill!
DONUT 10: D-I-V-O-R-C-E ...
If the infamous Jimmy/Jerry breakup of almost two decades ago was fueled by their power-mad egotism, what does that make the Nolan Ryan/Jon Daniels conflict within the Rangers? Or for that matter, the Cuban/Nellie conflict of almost a decade ago?
Don't nitpick me with crap like, "Well, Jimmy was a coach and Jon is the GM so it's different.'' Or, "Jerry is the singular boss while Nolan is only part of the collection of bosses.'' The similarities are greater than all the subtle differences, and the similarities are all about ego, power, philosophy, conflict, getting sick of one another ...
The lesson to be learned was never, and is not now, who was/is right. There is no way to settle that argument, especially as media member now mimic their actions from the Mavs conflict and the Cowboys conflict preceding the Rangers conflict.
The lesson to be learned: Married couples in America divorce at a rate of 50 percent. Dating couples break up at a rate of 99 percent, probably. So there is truly nothing shocking about Jimmy/Jerry, Cuban/Nellie or Nolan/JD.
Boy meets Girl. Boy connects with Girl. Boy becomes a championship contender with Girl. Boy and Girl argue and Boy separates from Girl.
That's the lesson.
DONUT 11: Party time! ...
A tip of the cap of appreciation to
Frisco Party Station
, your neighborhood headquarters for all your party needs ... everything! All the neighborhood schools represented -- college and even high school! -- and the party is on!
DONUT 12: The Final Word ...
Old pal Avery Johnson is circling back into the TV studio.
Not all Mavs fans are looking forward to hearing him squeak.