QUOTE 1: Montabasketball.com? ...
"I'm going to get criticized for what I do. The only thing I can do is laugh it off. There's a lot of guys that take a lot of bad shots in this league. But nobody wants to talk about that. Everybody wants to talk about the shots Monta takes. All I'm going to do is take the punches and prove everybody wrong. ...
"What I'm saying is I'm going to play Monta basketball and if y'all want to criticize, criticize." new
Dallas Mavericks
guard Monta Ellis, taking either a very defensive position or a very offensive position to the notion of inefficency.
QUOTE 2: Kidd Redux ...
"I'm a pass-first point guard. That's going to be my job. I think there are things that (Jason) Kidd once did here that I will try to do. But there won't be fancy passing or crazy passing. I've modeled part of what I do on what Kidd does best.'' - Jose Calderon.
QUOTE 3: Who's the Boss? ...
"Donnie is the team president. I'm the general manager. So I'm involved with many things, from players to analytics, you name it. So Donnie is the big-picture guy. I'm the micro guy.'' - New Mavs GM Gersson Rosas.
QUOTE 4: The UberMan feeling ubergood ...
"I feel good now. Going into camp, I did a lot of work. I started working out in May, probably the earliest for a long, long time. Hopefully I'll feel good going into the season and I can stay injury-free. ... I feel now better than I have at any point last year, so I think that's very encouraging. It's very important also from a mental standpoint and hopefully I can show it." - Dirk Nowitzki, not planning on missing 29 games due to injury.
QUOTE 5: BBIQ ...
"We want to be a high-basketball-IQ team." - Coach Rick Carlisle.
QUOTE 6: The Rook ...
"Coach Carlisle told me specifically how invested he was in the decision to draft me. Once I'm healthy, when the season starts, I'm going to do everything I can to prove him right.'' - Rookie Shane Larkin.
QUOTE 7: Mission Possible ...
"Our mission this year is to get back to winning in the playoffs. The goal is always going to be win a championship, but getting to the playoffs and winning puts you in the top eight. And then anything can happen there, so that's what our mission is. We know that there aren't a lot of people that think we're capable of doing that, so our self-belief has got to be there.'' -- Coach Rick Carlisle.
QUOTE 8: Playoff noise ...
"We're going to prove a lot of people wrong. And we're going to get back to the Dallas Mavericks making some noise in the playoffs." - Monta Ellis.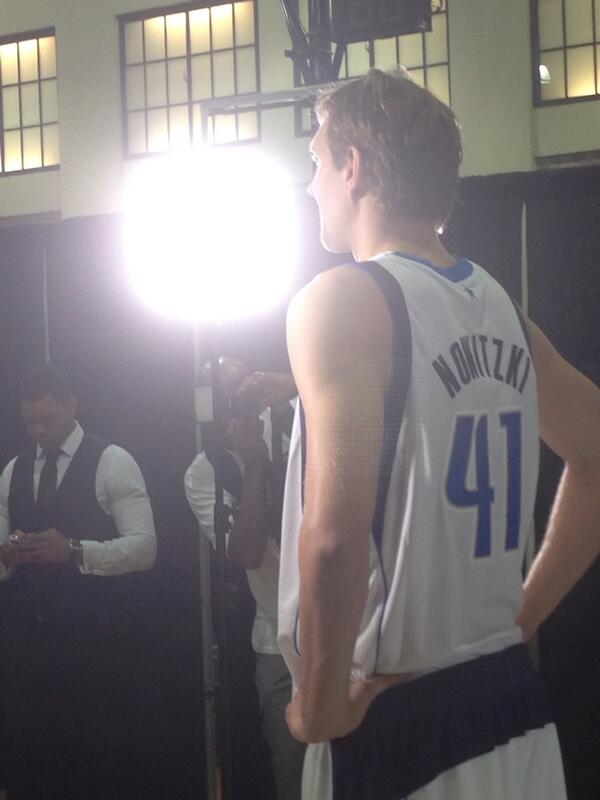 QUOTE 9: Strengths and weaknesses ...
"I like this team offensively. This is going to come down to defense. ... I've got to fit these guys in a defensive system that helps us do better than last year. ... We have to do it collectively. We have to establish a covenant to make it important." - Rick Carlisle.
QUOTE 10: The limits of fatherhood ...
"I don't have boobs.'' - Daddy Dirk.