LARKIN DEBUTS:
You think you are antsy to see the No. 18 overall pick in June's draft, Shane Larkin, on the court?
"It's been really, really hard to be patient,'' said the former Miami standout, who practiced with the Mavs for the first time Monday since undergoing offseason ankle surgery.
"I felt good out there," said Larkin. "I don't have my quickness back yet, but that will come in the next couple of practices. Hopefully, in the next couple of weeks ... I'll be back being able to play."
As we reported last week, Larkin has been running, jumping, even dunking. But at Monday's workout on the main AAC floor, when it was time to end the practice with 3-point-shooting work, the kid struggled.
"I'm not used to the pro 3 line!'' Larkin hooted, by way of defending a few misses.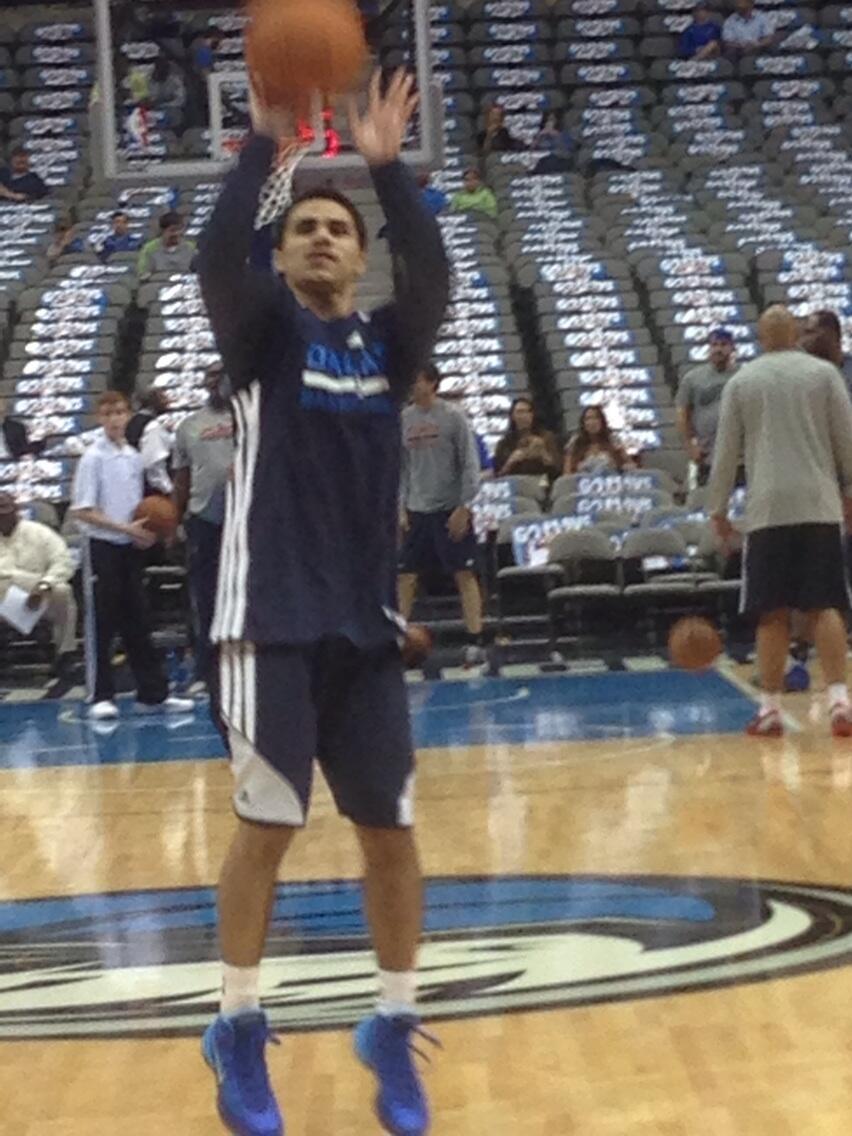 We'll tell you something Shane Larkin is really good at, and we've noticed this in shooting drills lately: He's really good at cheating. When he misses a first shot in a bunch of five, he only-half-jokingly hoots at coaches, "that was a warmup shot.'' And if he misses a final shot in a bunch?
"Coach, you miscounted!'' he yells, grinning, begging for the ball one more time.
Rick Carlisle's overall summation of the day? "It's the first day he's practiced," the coach said. "It's a step. He's picking things up. For the first day of live practice, he did well.''
Especially at cheating.
EARLY TRACKING:
Using SportsVU's tracking systems NBA.com now provides a peek into a new (at least to the public) realm of statistical quantification, showing us everything from the distance a player moves in a game, along with their average speed, to more in-depth views of a player's rebounding stats, such as how many of their rebounds are contested and what percentage of the rebounds they have a legitimate chance at they are able to claim.
At this point, these numbers have very little analytical value as the sample size is simply too small to extrapolate much of anything (especially has single game anomalies currently account for 33-to-50 percent of most player's totals). This is simply for entertainment purposes, but here are some early observations as they pertain to Mavs players:
One: Shawn Marion has been a beast on the glass
Of players to average at least 20 minutes and five rebound chances per game ("chance" being defined by NBA.com as within 3.5 feet of a possible rebound), Marion ranks sixth in the NBA by grabbing 80.0 percent of the 13.3 rebounds he has a "chance" at, easily leading the Mavs (Dalembert comes in next at 62.3 percent of his 12.3 chances per game).
In contested-rebound percentage (as the name implies, these are rebound chances that are contested by another player), using the same minimum criteria as above, Marion ranks 8th in the NBA with a 56.3 percent success rate, one spot behind the top Mavs player on the list, DeJuan Blair at 57.1 percent.
Worth noting for these stats is that centers, due to their proximity to the rim – as well as the proximity of other centers -- are more likely to have a higher level of contested rebound attempts, lowering their overall rebounds-per-chance percentages. For example, of the top ten players (again, using the same minimum criteria listed above) in rebounds-per-chance conversion percentage only two are true centers: DeMarcus Cousins (5th, 81.6 percent) and DeAndre Jordan (8th, 76.6 percent).
Samuel Dalembert comes in at 62.2 percent (virtually tied with Roy Hibbert, 62.5 percent and well above Marc Gasol's 55.0 percent – to use two rather random points of comparison) … putting him somewhere in the area of 10-11 among centers. To use another comparison, Tyson Chandler is at 68.0 percent.
Two: Samuel Dalembert with solid "rim protection" percentages
Of players averaging at least 20 minutes and defending a minimum of five field-goal attempts at the rim per game, Dalembert ranks 15th in opponent's field-goal percentage at the rim, holding opponents to 40.9 percent in 7.3 attempts per game.
For the sake of comparison, the last two Defensive Player's of the Year: Tyson Chandler is holding opponents to a 38.2 field-goal percentage at the rim (11.3 attempts faced per). Marc Gasol is allowing 55.6 (6.0 attempts faced per).
Oddly enough, though he doesn't meet the minimum minute or field-goal attempts defended requirements, Chris Kaman (last year's starting center) is holding opponents to 15.8 percent.
So, grain of salt required … though Kaman was underrated as an on-ball defender, none would make the claim that he is a solid rim protector in the team construct.
Three: Monta Ellis is attacking the rim … a lot
Of those to average at least 20 minutes, Monta Ellis leads the league in points-per-game on drives at 8.7 ("drives" defined as: a touch that starts at least 20 feet from the hoop and is dribbled within 10 feet of the hoop and excludes fast breaks).
Only Jeremy Lin (12.0) averages more drives per game than Ellis (11.3).
The Mavs are averaging 13.3 points per game on Ellis drives, exceeded only by Houston's 15.0 on Lin drives, and OKC at 14.0 on Russell Westbrook drives (note that Westbrook has only played one game, Lin and Ellis have played three).
The only downside at the moment for Ellis is his field-goal percentage when driving: 46.2.
For the sake of comparison, of the top 15 in points-per-game on drives that field-goal percentage ranks 10th (above names like Ramon Sessions, Eric Gordon, Ty Lawson, Raymond Felton and Kyrie Irving – Kevin Durant is at 50 percent, James Harden leads the way at 72.7 percent).
Of the top 15 in total drives-per-game, it ranks as the sixth best conversion rate.
If history is any indication, you should expect that field-goal percentage to rise at least a bit for Ellis as he's hitting below career norms at the rim and from nine feet in.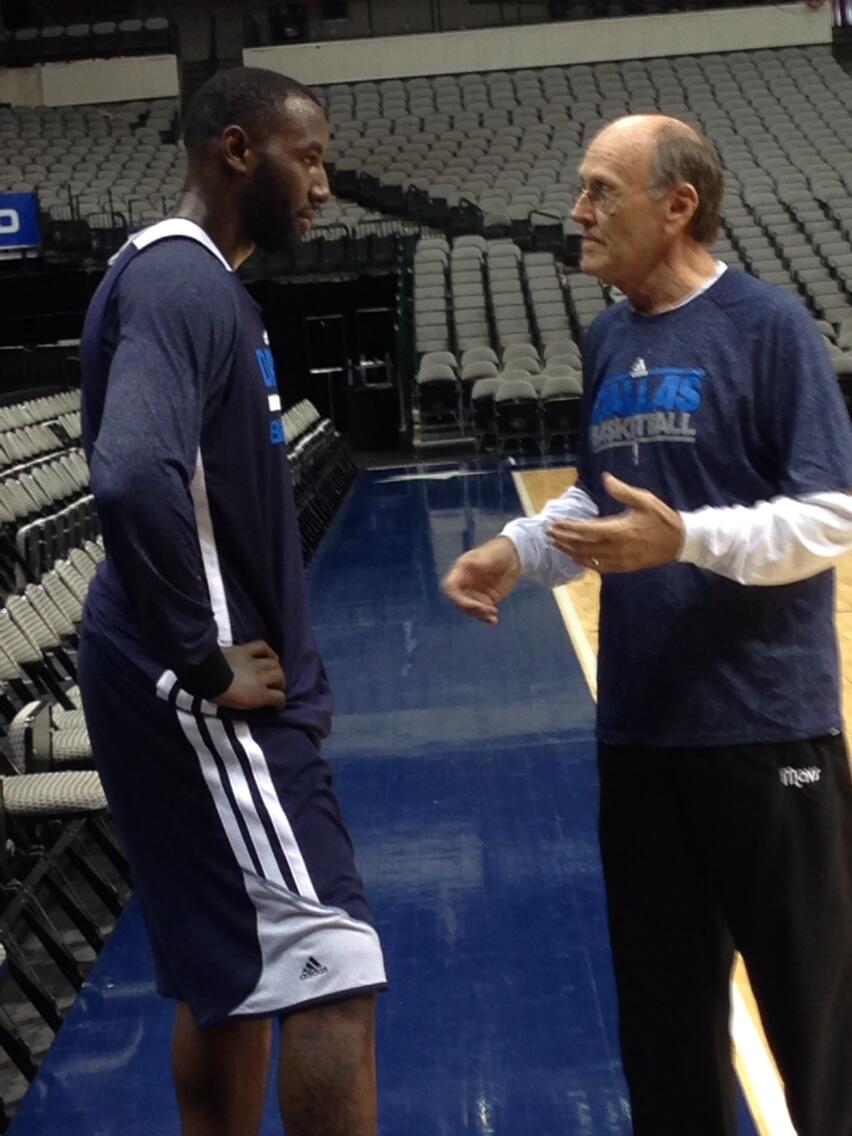 Four: Fun!
Monta Ellis leads the Mavs in distance traveled per game at 2.5 miles, but on a per-48-minute basis Gal Mekel leads the way at 3.7 miles.
Mekel leads the
Dallas Mavericks
in average speed at 4.6 miles per hour. Dalembert is next at 4.4 mph, tied with Jae Crowder and Jose Calderon. Wayne Ellington and Marion are next up at 4.3 mph, followed by Ellis and Vince Carter at 4.2 mph.
DIRK + BLAIR = ?
We were wondering: DeJuan Blair is off to such a fine rebounding start. And Dirk is Dirk.
So is is working out well when the two of them work together? Some hard numbers (Rebound Percentage equals the number of available rebounds a player grabs while on the court):
Blair playing with Nowitzki (38 minutes)
15.2 rebounds per 48 min
8.8 offensive rebounds per 48 min
+3.8 rebounds per 48 min (as team)
+5.1 off. Rebounds per 48 min (as team)
17.9 Rebound Percentage
19.4 off rebound percentage
Blair with Nowitzki on bench (23 minutes)
18.8 rebounds per 48 min
10.4 offensive rebounds per 48 min
-10.4 rebounds per 48 min (as team)
+2.1 off rebounds per 48 min (as team)
17.6 rebound percentage
17.2 off rebound percentage
Blair Overall:
16.5 rebounds per 48 min
As a team, the Mavs actually have rebounded much better with Dirk on the floor (as alluded to in Blair's numbers, see the differentials for the team when Dirk is on vs off while Blair is playing): Team is +1.5 rebounds per 48 minutes with Dirk playing and -7.8 rebounds per 48 minutes when he's sitting.
So it's not necessarily been about Dirk + Blair together as it has them doing their things however possible.
As Rick said, ""He brings toughness. He brings an attitude."
COACHING HEALTH SCARES:
You will recall a couple of years ago before the Mavs were set to play an exhibition game in Palm Springs and just before the trip, Rick Carlisle fell ill and did not make the trip. That -- and the fact that he's the president of the NBA Coaches Association -- puts him in an informed seat when it comes to discussing the weekend illnesses of Broncos coach John Fox and Texans coach Gary Kubiak.
"I don't know the details about their specific situations, but regardless of whether you're a head coach of a professional sports team or not, you've got to take care of yourself, you've got to get physicals, you've got to monitor things,'' Carlisle said. "And I'm sure those guys do.
"One of the things about coaching in professional sports is that there's a lot going on, there's a lot of physical and mental pressure that goes with it and it's very difficult. ... The bigger concern is that they're OK physically and that they can recover and be able to come back and do their jobs, because that's what they love to do.''
MAVSELLANEOUS:
Jose Calderon spent some extra time after practice working on defensive strategy with assistant Monta Mathis ... DB.com visited for a time with Holger Geschwindner, Dirk's advisor. We asked Holger something we've been wanting to know for quite some time: Do other Mavs players come to you for training advice? Are they allowed to? "Oh, yes, anytime at night when Dirk is in the gym, other guys come along, too,'' Holger told us.'' And, we jokingly asked, do you charge a fee? "Oh, no,'' Holger said. "I don't need their money.''
THE FINAL WORD:
They aren't the Kobe Bryant-led Lakers. But they are the Lakers nevertheless.
Right, Rick?
"They're a different look this year,'' Carlisle said. "They're playing a lot with smaller, athletic guys. The 3-point shot is a real big part of their game, and they still have great players with Nash and Gasol, who can cause a lot of problems."
That's a 7:30 tip from the AAC on Tuesday. The game will air locally on FoxSportsSouthwest and we'll have wall-to-wall coverage from The 75-Member Staff on DB.com.