DEVIN Q-&-A:
He started with the
Dallas Mavericks
. He hopes to finish with the Dallas Mavericks. And in between, the veteran point guard -- re-signed to the Mavs as a free agent after starting his career in Dallas in 2004 and then spending time with Nets, Jazz and Hawks -- is rehabbing and talking to DB.com.
DB.com: What does it feel like to be back with the same team that you started your NBA career with?
"It's not really the same because the only player that I played with back then that's still here is Dirk. But it's still much the same system so that will be familiar.''
DB.com: How's your toe injury? How close are you to being ready to play?
"Not ready yet. I've been in a walking boot (which has been scheduled to come off this week). There's no timetable. I just have to take it as it goes. ... Everybody's been telling me not to rush back.''
DB.com: Do you know whether you'll be playing point guard, shooting guard, or both when you return?
"Definitely both.''
DB.com: What's your approach to playing in Dallas again, after having started here and then playing all around the league?
"My approach is the same here as it's always been, to get myself ready to do what I need to do. But over my years in the league, I've played on a 12-win team and I've been to the Finals, so I'm ready to win again.''
QUOTABLE:
"You know he's got a lot of pain tolerance if he's got tattoos on his eyelids." - Rick Carlisle on Renaldo Balkman, who does indeed have the words "HUSTLE HARDER'' inked onto his eyelids.
JOSE'S HAMMY:
The mothballs continue.
The projected starting point guard, Jose Calderon, did not participate fully in the Thursday a.m. workout as Dallas continues to monitor his tight hamstring.
"He did a little bit of stuff," coach Rick Carlisle said, and indeed, Calderon was moving around fine during some shooting work. "He's going to be OK. It's not serious.''
Nevertheless, Carlisle added, "I don't know if we'll even have him try anything (in full-speed workouts for the rest of the week). We got to make sure he's OK.''
Calderon has twice in his eight-year career missed chunks of games due to hamstring problems.
MAVSELLANEOUS:
As we try to unravel some of the strengths and weaknesses of the new fellas, we eyeball Wayne Ellington. Is he really a defensive-minded 2 and a perimeter threat? He was on Thursday, when in a 3-point-shooting drill he zips around the arc from the five spots and hit just hit 22-of-25 treys. ... More Carlisle on Balkman: "My first thoughts? I like his hairdo and I like his tattoos a lot. There's a lot of storytelling going on." ...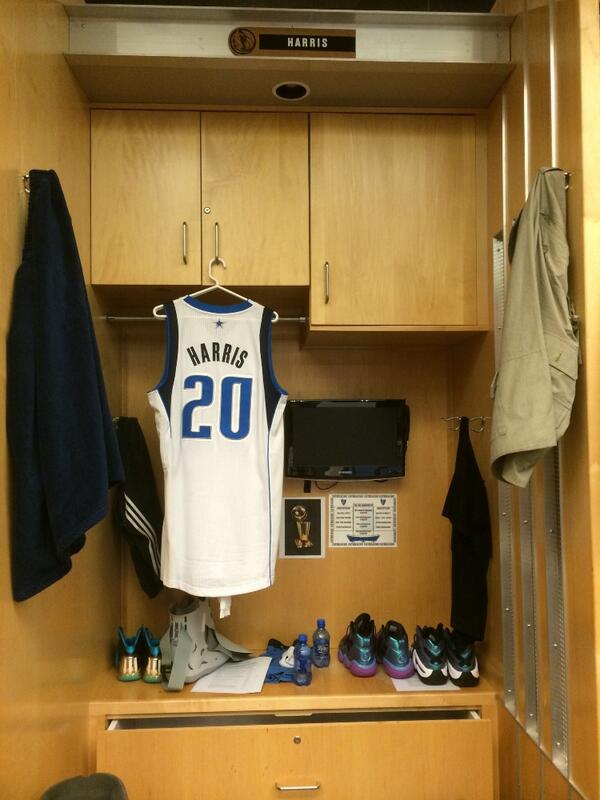 NORTH-AND-SOUTH:
Rookie guard Shane Larkin is making progress as he recovers from a broken ankle, but his running is all north-and-south, no lateral stuff. DB.com has a Video Visit with Larkin that we think you will find enlightening. Stay tuned.
MAVSTOBERFEST:
The Mavericks will engage in a shorter-than-usual practice on Friday morning, starting at 10 and ending just after 11:15. Then their second two-a-day will come in the form of "Mavstoberfest 2013.''
Doors open at 9 a.m. for Mavs Select-A-Seat and then the featured event Mavstoberfest starts at 4 p.m. And at 6:30 p.m., the Mavs open practice on the main court. DB.com will have complete coverage of the event ... and we hope to see you there!
THE FINAL WORD:
"I like the way that looks!'' -- Devin Harris, commenting on Twitter on his new locker stall.