A FIVE-POINT PLAN:
The fun of posing for photos has ended. Day 2 of training camp, and coach Rick Carlisle is being fairly revealing when discussing specific areas that need improvement from last season. Really, there seem to be five points of emphasis, using Rick's words: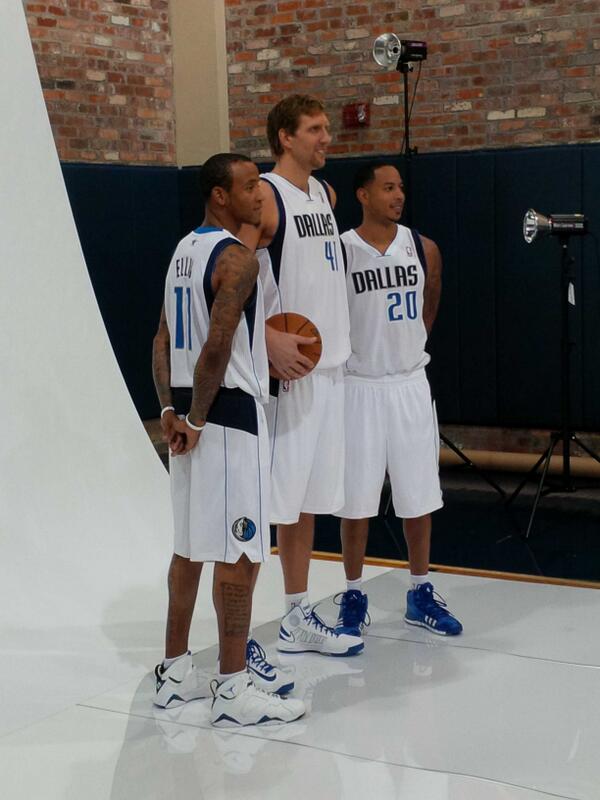 1) "Working on late-game situations.''
2)"Transition defense.''
3) "Take away 3's.''
4) "One-on-one defense.''
1)"We've got to be better at guarding the ball without fouling.''
1-ON-1 WITH VINCE:
Vince Carter has a fine offensive reputation. Carlisle insists his "defensive analytics" are good.
We make a case here that his legacy is Hall-of-Fame worthy.
What's left for Vince to accomplish individually?
More mentoring.
"At some point, if you play long enough you may be lucky enough to have an opportunity to help a team in other ways,'' Vince tells DB.com. "Here in Dallas I have gotten a chance to not only have an impact with what I can do on the court, but I am also able to bring along the younger players and teach them how to play the game. But I'm able to help the team on the court too, and that's a blessing to be able to do both.''
Vince as Mature Leader might not have been seen as his destiny a decade ago. But unselfishness is even the theme when we ask him about his contract. This is his last year with his existing deal ... might this be his last year in the NBA?
"What are you doing, trying to get rid of me?'' Vince replied, laughing. "But seriously, that's the farthest thing from my mind right now – I'm just thinking about this season. I won't even think about it until the season's over.''
Carter said he's physical feeling "great,'' which leaves him free to handle the intellectual side of the game. And coming full circle, that means boosting the intellect of his young mates.
There will be nine new players on the team this year. That means a learning curve even for the ones who are veterans. How does Vince fit into all of this?
"I'll still be in a mentor role off the court,'' Carter said. "But on the court, I don't know yet if my role will change at all ... We'll just have to see what the coaches want.''
Coaching-pleasing, retirement-stiff-arming, mentor-playing Vince as Mature Leader. We'll keep watching camp as this unfolds, with the hope that it pays off in tangible ways for Dallas' kids, newcomers and win-loss record.
EARLY BIRDS:
In recent weeks, assorted Mavs players gathered at a local outdoor track for conditioning work. Throughout last month, well in advance of training camp, many Mavs collected at the AAC for pickup games.
What can this early bird catch?
"There were a lot of guys here through the month of September,'' Carlisle said. "We've been able to see most of these guys working for three weeks, so that really helps.''
1-ON-1 WITH JOSE:
Jose Calderon's hamstring tightened up on him this morning so he was held out of some of today's practice. But he is healthy enough to be visiting with DB.com and does so here in an exclusive Video Visit:
We've written a lot about Jose and Carlisle's Point No. 1 from above -- "Working on late-game situations.'' Dirk is talking about it, too.
"Last year in crunch time, we had too many turnovers, we didn't get the ball where we needed it," Nowitzki said. "Calderon should help us do that. We shouldn't be losing seven games in overtime in a row. Not with this team, not with the playmakers we've got. ... If we just win half of those close games, we should be a playoff team."
MAVSELLANEOUS:
Coach Rick Carlisle believes one upgrade in the backcourt comes from the fact that Ellis and Calderon have some skins on the wall. "Both of those guys have playoff experience, so that's going to help us,'' the coach said. ... How did Jae lose those 15 pounds we wrote about yesterday? Cut out the beer, basically ... Trix on Ellis: "That was a great pickup for us this summer. I think he's going to be a great asset to this team.''
THE FINAL WORD:
Greg Oden told a Miami radio station today that the the closest he came to signing with a team other than the Heat was with ... the Mavs.
And for a while, that's the last we'll bother with that.