Dallas Mavericks
owner Mark Cuban met the media recently for a Q-and-A session ... his assorted thoughts as we close in on the start of the regular season:
Q: Thoughts on the team so far
MC: "I like it. I really do. People are really dialing in to what their role is and how they can contribute. The guys like playing together.
"Everybody's unselfish..the ball moves. Everybody's in and it feels good. It feels really really good. I'm excited about it.''
Q: Did you see Monta being the playmaker he is?
MC: Well we knew he was a good passer, but didn't know HOW good of a passer. He's really surprised a lot of people. Everybody looked at his overall numbers and what they meant, but if you looked at him with the ball in his hands he made good things happen. But I didn't realize HOW good of a passer he was. I think now with so many weapons around him, he's been incredibly unselfish. That Monta is amazing.''
Q: Are you excited about Calderon?
MC: Obviously, he can shoot. Between him and Monta moving the ball, and when Devin comes back we're gonna have the fastest backcourt in the league.
"Between him (Devin) and Monta, and just the three of them rotating in there in particular. It'll be fun. I think we'll be able to push the ball, defend and play well.''
Q: You've seen Dirk in all his camps. Have you seen him any better than this one?
MC: "Oh yeah. Look, he's old, he's slow and everybody knows he can't play. He's just showing off since it's preseason (smirking).''
Q: How do you feel about the center position, Carlisle challenging Dalembert, and from a depth standpoint?
MC: "Sam has done a really great job of responding to Rick, and to his teammates. One of the nice things is everybody's holding each other accountable and you've seen in Sam, he's not only working hard in practice. He's coming early … if he can't come early he stays late. He's getting in the extra work. He was coming in at 8 in the morning when we were (last) in town. So, he's really working because he knows he can be a special part of this team.''
Q: Does Dalembert need to be a 25-minute-a-night guy?
MC: "Yeah, we think so. You would think he's gonna play that much. I think his bigger issue is going to be fouls. He'll be able to do everything else, it's just sometimes if he's a step slow he'll reach some. So if we get him out of that habit I think he'll be really effective.''
Q: How tough was it for Gal to be thrown into the fire like that, without another point guard healthy)?
MC: "Well, obviously he was thrown in, but he got better every game. Summer league doesn't simulate it. Practice doesn't simulate it. But getting out there and playing in real-game situations, he learned. He went from shooting a layup like he was at the YWCA to realizing he's gotta put it up in the air, otherwise it's gonna get blocked. Those are the things you learn. He learned his little stutter step is gonna get called a travel on, and some of the Euro stuff doesn't work. But you know, some of it does so I think he's a smart kid and a quick learner.''
Q: How much did you need a young guy whether second year or the rookies to step up on this team?
MC: Well they haven't done that great a job (laughing), every fourth quarter In this preseason). But you see the potential there. You can see Ricky (Ledo) can get pretty much anywhere on the court. He just doesn't know what to do once he gets there. Gal has a lot of point guard skills. He's got a great basketball I.Q. He just gotta work on his shot. We'll see Shane (Larkin) hopefully pretty soon. So, you see all the stuff there, and it's just a matter of them getting better.
"That's why you have young kids, because you expect them to get better.''
Q: What's going on with many of the preseason games not being televised?
MC: I think there's only been one or two years where we had all of our games on TV in the preseason. We had to scramble some ... Some of them, like Charlotte aren't in NBA arenas and so they're not wired and all that stuff.''
Q: Are the pieces there to contend for a title this year?
MC: "We'll see. The pieces have got to get better and we've gotta learn how to play together well and stay healthy. If we do, anything's possible. I don't think anybody's looking at this team and going. 'Oh they're a lot worse than I thought they'd be.' If you guys are even asking that question, somebody is liking what they see.''
Q: Were we asking the same questions in 2010?
MC: "Pretty much.'' (laughing)
Q: Do you see Monta as part of the bridge to the future?
MC: "Very much so. If Monta is an elite playmaker like he has been, then Monta is a cornerstone piece. It's a lot easier to find shooting than it is to find someone who can get to the rim and create shots for other people.''
Q: You guys want Dirk to be your second best player. Does Monta have the ability to make him that?
MC: "I don't know. I think the way this team is built, it's not one superstar and four pieces. It's a lot of really good players who play as a team. I mean, the ball moves. Compared to last year, you can already see how that ball moves. ... It'll probably move even more, because if you can get the ball to (Calderon) and he's open, it's in.
"We really haven't had a draw-and-kick guy like Monta since Devin was here before. It'll be interesting to see what kind of shots we get and how effective Dirk and Monta, Dirk and B-Wright are on the pick-and-roll. Also how effective Monta and Jose are together. And when Devin gets back, you know Coach likes to push the ball, we're gonna have the fastest backcourt in the NBA. It's gonna be tough to match our speed if we get out and run, so it'll be interesting there as well.''
Q: Are you encouraged or surprised how quickly the Monta/Dirk dynamic has come together?
MC: "Yeah we were talking about that early on. The Monta/Dirk dynamic is the most straight-forward and expected. I think it's the way he's getting shots for everybody else. I think Sam even though they played together last year is surprised by half the passes that he gets. Wayne (Ellington) is getting shots. I mean, anybody who is playing with Monta on the court is getting shots and that's a beautiful thing.''
Q: Do you think people realize that Dirk's gonna end up possibly in the top six or seven in NBA scoring history when it's all said and done?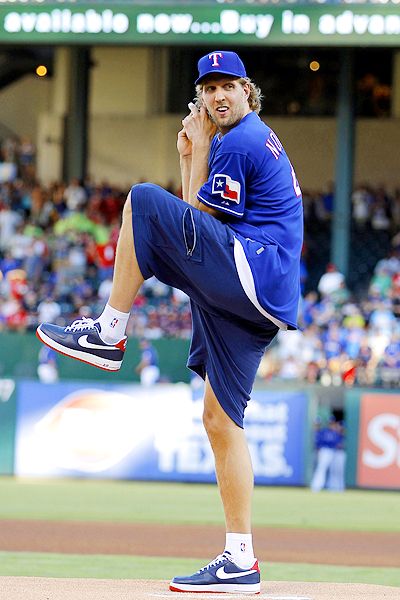 MC: "You know, maybe if he can play another 15 or 16 years! I haven't looked at that so I really don't even know. Honestly, whenever we hit a milestone or Dirk hits a milestone out there, it always catches me by surprise. As much as I love watching him, I tend to think about what's going on this year and I think that's the way he looks at it. I think when he gets really really close, that's when he starts paying attention and focusing on getting it.''
Q: Has he reached that part in his career like Staubach or Nolan Ryan late in their careers where you realize you're not going to see this type of player again?
MC: "We've been talking about that for three years now. To Dirk's credit, I don't think people realize the level of discipline he has. In terms of diet, workout, routine … the guy is a machine. If I get anything working right in terms of unique opportunities to keep him healthy and keep him playing longer, you know, he's one guys that take advantage of whatever's available to him to keep playing as long as he can.''