DONUT 1: Is everything OK with Dirk? ...
We kick around the
"Is something wrong with Dirk?'' concept here
and I hope DB.com isn't being unfair.
We certainly aren't suggesting there is a physical ailment. Or an emotional ailment. Maybe it's just "unselfishly working his way into a groove with his new teammates.''
Or maybe it's "non-aggressively working his way into a groove with his new teammates.''
But the truth about the three road games that preceded the Saturday success at Milwaukee is unavoidable: Nowitzki took 11 against the Wolves. He was at 12.8 field-goal attempts per game at that time. He's never been that low in his NBA career except for once ... his rookie season.
And now, even with his 15 shots vs. the Bucks, Dirk is at 13.1 shots per game.
What I don't want to see is Dirk being so unselfish or so non-aggressive that he morphs prematurely into "Aging Peja'' mode. That is coming, someday; Dirk as a perimeter specialist in a supplementary role will have its place in his legend.
But it's too early for that chapter.
Is something wrong with Dirk? Probably not anything that cannot be repaired by more assertion on his part.
DONUT 2: Mavs 91, Bucks 83 ...
Milwaukee fans hooted at former Bucks standout Monta Ellis. Mavs fans watching and listening probably did the same to O.J. Mayo. But in the end Saturday, the winner was Monta and the Mavs as he scored 18 in a 91-83 victory at Milwaukee.
The
Dallas Mavericks
kept their head above the .500 water with the win, propelled by Ellis' 18 points and five assists, part of an imperfect night for a Dallas team that owned a 55-40 halftime lead, gave up a 17-4 third-quarter run, and survived in part because of a late Mayo turnover.
This is familiar territory for Mavs fans, who last year saw Mayo - a centerpiece of the failed "One-Year Contract Experiment" - rejuvenate his career in Dallas ... even with the turnover pockmarks.
It is said that the Mavs somehow spurned Mayo. That is not exactly so; his time in Dallas is a success in that it resulted in him doubling the $4-mil deal he signed to play under Carlisle. And O.J. Had 28 points here, hardly a failure.
Mayo kept his Bucks alive in this one as Dallas hung on to a four-point edge with 2:23 remaining when Mayo committed a costly turnover. Dirk Nowitzki (16 points and now just 14 shy of topping Jerry West for 16th on the all-time scoring list) hit a turnaround jumper with 1:46 left to give the Mavs an 87-81 lead and Dallas held on from there.
Did Mayo feel anything special in this game?
"Nothing," Mayo said. "Just another game on the schedule."
This game on the schedule ends the Mavericks' three-game roadie and a demanding four-games-in-five-days gauntlet. Dallas is 4-3 -- and that represents a positive change from the Mayo-era Mavs who could never quite get over the .500 hump.
The embodiment of the change, of course, is Monta. This marked the first time back in Milwaukee for Ellis, who signed with Dallas as a free agent in the offseason after playing for the Bucks. Milwaukee fans do not seem to remember him fondly.
"I knew I was going to get something out there," Ellis said of the fans' abuse. "When they called my name and they booed, I knew what (kind of) night it was going to be. Like I said, `It's part of it. I'm not worried about it."
Ellis is now averaging 22.9 points per game (and is among
the candidates for "The Dirkie.")
He had help here from Shawn Marion (14 points and 10 rebounds). Another Buck-turned-Mav, center Sam Dalembert, had six points and six rebounds. Caron Butler, a member of Dallas' 2011 title team, scored 19 for his hometown Bucks.
Most important aspect of this outcome? It's Dallas' first road win. Hey, you gotta start somewhere!
DONUT 3: Trading The Matrix?! What?! ...
Just in time
to serve as traditional week-starting NBA gossip fodder, a Marion-for-Evan Turner trade!
While you kick this around in your head and on
DB.com Boards,
David Lord and I worked to examine its truth and viability.
The results of that examination are how here.
DONUT 4: Follow the Mavs on Twitter ...
Follow our Mavs coverage on Twitter, where our live coverage of preseason will unfold all day and every day!
Mike Fisher
,
Chuck Perry
,
David Lord
and
Michael Dugat
keep you up-to-the-minute informed on all things Mavs!
DONUT 5: The roadie gauntlet ...
Is there a way to survive a fourth game in five days, which was the situation facing the Mavs in Milwaukee on Saturday?
There is. A year ago, the Mavs faced the same situation. The solution? They shot 57.6 and scored 127 in winning at Atlanta.
So it's possible. What was the solution this time around, especially on the butt end of a b-2-b in Wisconsin? Maybe the fact that the Bucks are, at the moment, a rather disjointed bunch.
DONUT 6: Blame the zebras? ...
As you may know, I'm not much of a blame-the-zebras guy. There is a skill in getting to the free-throw line -- a skill borne of athleticism, aggressiveness, play design, theatrics, all of that -- and the teams that have that skill have a major advantage.
In their first three games, the Mavs attempted 95 free throws. In the next three the total dipped to 43. That streak included a second half Friday in Minny in which they didn't shoot a free throw at all.
Dallas got the line 21 times, with the bookends of having Dirk and Monta each attempt six free throws. In our conversations with coach Bob Ortegel, we talk a lot about Dirk's game needing to feature at least six FTs per game ... and we know that Monta's ability to do the same so consistently provides Dallas with a weapon it did not possess a year ago.
Don't blame the zebras. Instead, focus on marching to the line with such frequency that they start giving you calls by rote.
DONUT 7: He's DeJuan ..
As the Mavs shut down the roadie and came on home for today's midday practice, Our Man Followill notes that DeJuan Blair leads the NBA in steals off the bench (17) and is also now second in the NBA in offensive rebound percentage (18.8 percent).
That first number registers as a pleasant surprise. The second number is a pleasant fit in DeJuan's profile. I continue to believe that there can be more good stuff coming here from Blair if he's not Peter Principled. The return of Brandan Wright from his shoulder injury (whenever that comes) won't conflict with Blair's success; it will actually help it continue.
DONUT 8: Road woes ...
I mentioned above the importance of the Mavs getting that first taste of road success after having started 0-3 on road. I know we want to put this behind us, but remember, Dallas went into the Milwaukee trip with a 30-47 away record dating to the start of 11-12 season. And heck, the Mavs entered Saturday with a record of 7-24 lifetime.
So the Mavs successfully put a lot of lousy numbers behind them.
DONUT 9: ...
DONUT 10: Welcome, Social Club! ...
We welcome to the DB.com family
Oak Cliff Social Club,
voted Dallas' best "dive bar'' and located in the heart of the Bishop Arts District.
This "place for local people to come without paying tourist prices" is anchored by a 40-foot, oak-backed, Brazilian black granite bar, and a "garage" area featuring couches, TVs, and twin pool tables. Local beers and home-style pizza will do the trick before or after the Mavs game.
Thanks to
Oak Cliff Social Club
for supporting the Mavs, DB.com and so many positives things happening in the Bishop Arts District!
DONUT 11: Two Marions...
Oh, if only Dallas employed two of him.
We've seen in the last week what standout shooting guards can do against the Dallas defense, as both James Harden and Kevin Martin have exploded for 30-plus against the Mavs.
But wait. Shouldn't Dallas' "Swiss Army Knife'' defender Shawn Marion be the solution to that?
Nope. Not if the other team employs two premier scorers.
Houston has other weapons. Minnesota has other weapons. OKC has other weapons. Marion is simply spread too thin to slow all of them.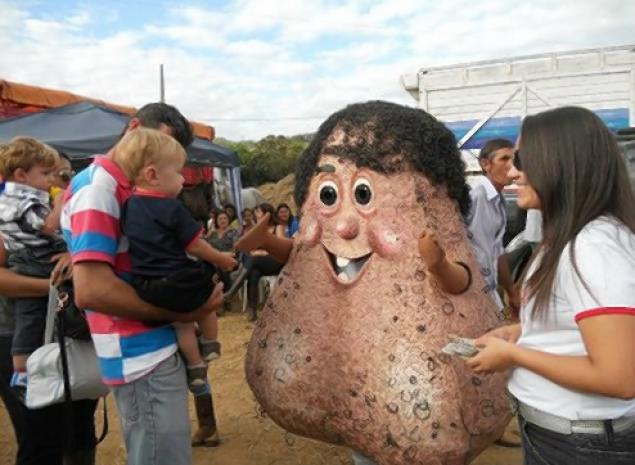 The Matrix can do a variety of things on defense to help his team win. But he can only do those things against one scorer at a time.
If the opponent employs two scorers, the Mavs' "team defense'' concept appears to be a bit overwhelmed. Most immediately, we'll have to see where Tuesday's visitors, the Wizards, qualify in that measure. Wall, Beal, Ariza, Gortat, Nene ... There are certainly Wizards who merit the defensive attention of a Swiss Army Knife.
DONUT 12: The Final Word ...
A DB.com Boards examination - complete with videos and GIFs and inappropriate language and Jason Terry flashbacks -
of basketball players punching each other in the balls. Why are we doing this, America?
Certainly "Señor Testiculo,'' pictured above, is not amused.
DONUT 13: The Finest Dentists in North Texas! ...
Our neighborhood dentists, even though we don't even live in the McKinney neighborhood? It's McKinneyDentist.com, and it's been the case for Nate, Tony and me for my kids' entire lifetime.
At
McKinneyDentist.com
, Dr. Berlin, Dr. Markham, Dr. Lynch and Dr. Wood have been providing the finest in everything from technology to chair-side manner for years, to my family and to so many of you. Their great work has part of us bringing our Mavs coverage to you since 1995 ... And we're proud to be associated with The Finest Dentists in North Texas ... McKinneyDentist.com!