DONUT 1: Welcome home! ...
The Mavs returned home from the Florida trip and took Sunday off as a day of reflection. And the reflection of the opening 10 games is good.
This first eighth of the season featured injuries to be endured, a demanding total of four back-to-back tests, more road games than home games ... and a solid 6-4 record.
"We're still a work in progress,'' coach Rick Carlisle said. "But we're making strides. Every day is a little better.''
This week's days to get a little better? Philly in town tonight, Houston here in an 8:30 p.m. start on Wednesday and Utah at the AAC on Friday.
DB.com will have complete coverage of all the games and all the practices as they Mavs try to "get a little better'' during a week-long homestand.
DONUT 2: Mavs interest in Asik? ...
Predictably, Omer Asik wants out of Houston. Predictably, the Rockets have engaged in trade conversations with potential suitors dating back to late-July following the Dwight acquisition. Now, how to predict the level of Dallas involvement?
There is no doubt about the accuracy of the Yahoo report that has Houston opening up its mind to the idea of trading Omer Asik. Nor is there any doubt
about Asik's desire to escape Houston.
He is a starting-caliber center reduced to playing behind Dwight Howard ... or playing alongside him, in a failed bit ... or, this past week, not playing at all.
On paper and/or in a vacuum, there is also no doubt the
Dallas Mavericks
could use a player of Asik's talents, as we discuss
in this week's DB.com Mavs Podcast.
So, amid all the stories of teams involved in preliminary discussions regarding Asik, are the Mavs in "touching-base" mode with Houston?
They are not.
And there are three reasons why.
We break down the Mavs' approach to an Asik trade here for Premium Mavs Fans.
DONUT 3: The Nowitzki sleeve ...
Dirk Nowitzki has for the last week worn a black rubber sleeve on his left knee.
Do we have an issue here?
"We had a lot of games (in a short time) and it didn't feel great there for awhile, but it was fine (Friday),'' Nowitzki said. "So I'm probably going to keep rocking it for awhile. But as long as I move and feel good, I'm ready to roll.''
Mavs owner Mark Cuban makes a solid point about the over-concern that might be misplaced.
"He's wearing it because it makes him feel better,'' Cuban said. "The same reason guys wear all that black sh-- that people wear on their sleeves.''
In fact, if you examine the Mavs on the court, you see all sort of variations of "sleeves'' being worn on arms and on lower extremities ... the idea being to keep the area "warm.''
And if it makes Dirk feel better ... mentally or physically ... he should definitely "keep rocking it for awhile.''
DONUT 4: Follow the Mavs on Twitter ...
Follow our Mavs coverage on Twitter, where our live coverage of the season will unfold all day and every day!
Mike Fisher
,
Chuck Perry
,
David Lord
and
Michael Dugat
keep you up-to-the-minute informed on all things Mavs!
Also, be part of the Mavs conversation on the best discussion forum in the NBA, The
DB.com Boards!
DONUT 5: Mavs 108, Magic 100 ...
Many of the things the were
not able to accomplish in Miami on Friday
got repaired Saturday in Orlando. Dallas earned its split of the back-to-back roadie in Florida and clearly the differing opponents had something to do with that.
But it's still notable when the Mavs end a first half with just two turnovers. (Dallas finished Saturday with just eight giveaways.) The central formula: Textbook unselfishness.
''We played sensibly,'' Carlisle said. ''None of us are going to get too far ahead of ourselves. We've done some good things and it's really important that we just stay focused.''
The starting guards in particular engaged in a "love affair with the basketball,'' as Coach Ortegel would say.
Our coverage of that game is here.
Mavs fans vote on "The Dirkie'' here.
DONUT 6: Paralysis via Analysis? ...
Are we overdoing it with Mavs advanced stats and their interpretation? As
you see here, DB.com's Michael Dugat has mastered the use of SportVU as it applies to the Mavs.
And
here we play with some of the numbers to come up with Our Top 10 Earlier Impressions of the Mavs.
Can all of this lead us down a path of faulty conclusions?
There's a stat in football now called "Yards at Tackle.'' Houston's J.J. Watt has some crazy-good number -- 0.06 or some damn thing -- meaning on average he's tackling you at the line of scrimmage. Run into Watt's territory and you go nowhere.
But the other day, Watt made an incredible hustle play to get a tackle 44 yards down the field ... meaning Houston (and he) "gave up'' a 44-yard play ... and it ruined his 0.06.
Point being, advanced stats without meshing with The Eye Test are just as useless as The Eye Test and ignoring advanced stats.
Specific to Marion's defense, which grades out surprisingly low according to some advanced stats: At Minny, Mavs needed a big stop, K-Martin hit a nasty baseline jumper with a defender draped all over him ... the defender is Marion. 'Trix gets the negative credit for the play ... "punished'' because he's taken on the responsibility of guarding the Wolf who can make that play.
So I think there is/should be an understanding that the stats have to be not only gathered but also interpreted ... another level of challenge for us and for the teams, too.
Trust us, we work to separate the wheat from the chaff. So when M-Dug writes, "Monta Ellis leads the Mavs in distance traveled per game at 2.5 miles, but on a per-48-minute basis Gal Mekel leads the way at 3.7 miles.'' ... believe me, we understand that it's more "fun info'' than it is "critical info.''
DONUT 7: Hatred in Dirk's heart ...
Dirk will tell you that he doesn't harbor hatred in his heart but that his feelings for the Heat are 'about as close as it gets.' Miami stole the 2006 title from him, for a moment on Friday morning seemed to have stolen his luggage from him, and by Friday night used steals and turnovers to beat his Mavs 110-104.
We've got the tale from Miami here.
Dirk did get his clothes back, by the way. "So now I can wear my lederhosen tonight,'' The Big German tweeted before the game. But with Miami's core of LeBron James and Dwyane Wade experiencing career-topping games in terms of efficiency, The Uberman's 28 wasn't enough.
James scored a season-best 39 points and had never before recorded than many on just 18 shots. Wade notched a career-high eight steals -- part of Dallas' season-worst 24-turnover barrage.
"The turnovers,'' Mavs coach Rick Carlisle said, "doomed us.''
DONUT 8: More doom ...
Especially dooming, though, was the final five minutes -- really, the first "crunch-and-clutch'' opportunity of the season.
Dallas entered the weekend among the handful of teams in the league that has yet to play a game decided by three points or fewer. So the "clutch'' and the "crunch'' hadn't been demanded of them yet. What happened in Miami -- as gifted as the Heat obviously is -- qualifies as a collapse, with DeJuan Blair serving as a centerpiece when (also obviously) that needs to be Dirk's time.
I'm not arguing against Rick's view that Dallas needs to win "collectively'' and "without one star carrying us.''
I'm just arguing that the "one star'' needs to be allowed to emerge in the "clutch'' and the "crunch.''
DONUT 9: The Mavs Podcast on iTunes ...
The Mavs are back from Florida and we got to exercise our lungs and our voices over the weekend
on the DB.com Mavs Podcast here on iTunes
and up and running below as well ... with a very special cast of characters:
Pull up a chair to the hoops roundtable and let's kick it around ...
Click
here for The DallasBasketball.com Mavs Podcast
, y'all!
DONUT 10: Welcome, Social Club! ...
We welcome to the DB.com family
Oak Cliff Social Club,
voted Dallas' best "dive bar'' and located in the heart of the Bishop Arts District.
This "place for local people to come without paying tourist prices" is anchored by a 40-foot, oak-backed, Brazilian black granite bar, and a "garage" area featuring couches, TVs, and twin pool tables. Local beers and home-style pizza will do the trick before or after the Mavs game.
Thanks to
Oak Cliff Social Club
for supporting the Mavs, DB.com and so many positives things happening in the Bishop Arts District!
DONUT 11: Almost-homecoming ...
Rookie point guard Shane Larkin's work to return from ankle surgery is being accelerated. Unfortunately, the process wasn't complete enough for him to be a part of the action in Miami, where the No. 1 pick attended college.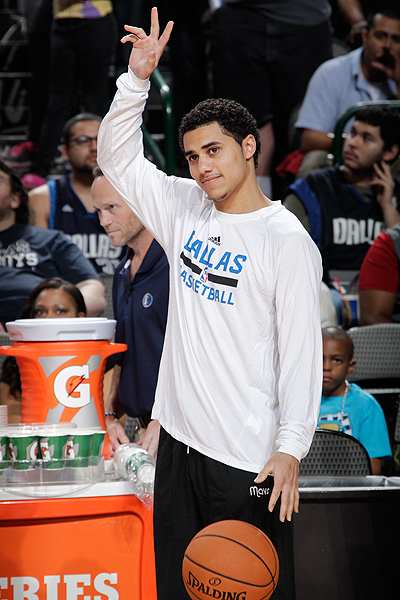 But it's coming ... we think almost certainly this week. And it's being supervised in large part by coach Rick Carlisle.
"I can't give you a timetable because it's not my place,'' Carlisle said Friday. "But we had a really aggressive workout with him this morning and plan to have another one tomorrow, and we'll just keep going. ... We're closer than we've ever been, but we're not quite there yet.''
Larkin is the son of baseball star Barry Larkin. Carlisle believes that fact will help Shane adjust to the big time.
"I really love his attitude towards the game, his demeanor,'' Carlisle said. "He's very professional, and with obvious reasons. He's been around pro sports for over two-and-a-half decades, and his dad and his mom are great people and they've had great influence on his approach to everything.''
We'll monitor Shane's work at shootaround this morning and update you going into tonight's tipoff. He is on record as saying this Wednesday or Friday are the target dates for his availability (even though it's not Rick's "place'' to say such a thing.)
DONUT 12: The Final Word ...
"I think we showed we can compete against anybody," said Jose Calderon, using the Miami game as proof. And it might be true. Still, it's nice to also be able to compete against an Orlando every once in awhile, too. Because those games, you actually do win.