DONUT 1: The B-2-B Challenge ...
The Mavs played at Houston on Friday and at home Saturday against Memphis. On Tuesday the Mavs will host the Los Angeles Lakers, then play at Oklahoma City on Wednesday. And then on Nov. 8, the Mavs will face Minnesota on the road, then play at Milwaukee on Nov. 9.
It's the back-end that has traditionally posed the greatest test here, and last season's Mavs didn't fare well enough, finishing 7-9 in the second games of B-2-Bs.
But on Saturday, the Mavs followed up
Friday's loss at Houston
with
a grind-it-out victory against visiting Memphis.
"We'll enjoy it for now, and then we've got to get ready for (a Lakers visit) Tuesday,''
Dallas Mavericks
coach Rick Carlisle said. "We have three back-to-backs in a row here, so this is a challenging time of the schedule. Each game is going to be a little bit different, so we're going to have to find ways."
Finding those ways is part of Dallas' work at practice today. DB.com will be down in the AAC basement with the Mavs and we'll have an All-Access Practice report up later today. A primary topic of conversation we are planning: Dallas' game-closing BBIQ. The feel is vastly different than at this time a year ago, and ... we're on it!
DONUT 2: "Spongebob Mavericks'' ...
DONUT 3: The two-man game is working ...
The Mavs-centric calculations after three games (still a tiny sample size, but ...): UberBall and MontaBall are each tied for 10th in the NBA in scoring at with 23.3 points per game, and the Mavs are one of just three teams with a pair of top-12 scorers. And together? The Dirk-and-Monta two-man game is the NBA's fourth-highest scoring duo in the league.
The foundation, of course, is the consistency of The UberMan, who has topped 20 points in all three games so far.
DONUT 4: Marion's backbone ...
The backbone of the Dallas win over Memphis?
Well, Mavs fans are awarding "The Dirkie'' to Shawn Marion
, who did his defensive thang along with contributing 21 points, 14 rebounds, four assists and two blocks.
"If you think of the history of the modern game, I can think of less than five, maybe six guys that can guard a guy like (Mike) Conley for big minutes and then turn around and guard a guy like Zach Randolph and then any other kind of guy in between,'' Carlisle said in praising Marion. "Jordan could do it. Pippen showed that he could do it. LeBron James does it. I don't know, I could probably come up with some other names, but there aren't many. You're talking about a really special player.''
Said Marion: "It's a mindset. It's definitely challenging – it's not easy. To go from having to know the principles of guarding a guard to being a big and telling a guard what to do, having to fight with screens and having to bang with the big guys. It's a physical game and it wears and tears on you.''
Marion's play motivated Carlisle to mention him as a future Mavs jersey retiree. Of course, we've already gone beyond that,
touching base with The Matrix himself on the subject of his viability as a future Hall-of-Famer.
DONUT 5: What, them worry? ...
The Dallas coaching staff never was worried about Jose Calderon's early shooting problems, even as he started the season 1-of-15 shooting. Their faith was rewarded Saturday against Memphis as Calderon scored 14 points (13 in the blow-out first half) and finished 4-of-11.
"His jump shot is by far the lowest on the list of whatever problems or challenges we may have," Carlisle said.
DONUT 6: "Easy Points'' ...
The challenge of getting "Easy Points''? Solved by getting to the free-throw line, of course.
Recent-vintage Mavs players who do that consistently well? Um, consider that last season, the longest streak of consecutive games with an individual attempting at least six free throws in a game was three.
And consider that Monta Ellis -- averaging 23.3 points per game -- has now matched that streak ... in the first three games of this season. He's attempted 10, six and eight FTs, respectively, in the three games, totalling 21-of-24.
That's "Easy Points.''
DONUT 7: Speaking of FTs...
Dirk Nowitzki made seven free throws against Memphis, giving him 6,184 for his career. That moves him two ahead of Bob Pettit for 14th place on the NBA's all-time list.
DONUT 8: Houston in review ...
"We have to play better at the start of the game," Carlisle said after the loss at Houston. "Our play in the first quarter put us in such a hole that we could never get back over the hump, and every minute counts in an NBA game."
Here's how it happened in those first 12 every-minute-counts minutes, by the numbers:
| | | | |
| --- | --- | --- | --- |
| item | Mavs | Rockets | Differential |
| points | 22 | 38 | -16 |
| rebounds | 7 | 19 | -12 |
| FG% | 36.4 | 53.8 | -17.4 |
| 3PT% | 33.3 | 50.0 | -16.7 |
| pts in paint | 8 | 16 | -8 |
| 2nd chance pts | 4 | 11 | -7 |
| fastbreak pts | 4 | 11 | -7 |
It was glaring. It was ugly. It was an avalanche. Again,
here's our review - "Demolition Donuts'' -- taking you inside the Mavs' visit to Houston.
Our Man Coop came away from Houston reporting that inside the frustrated Mavs locker room, one unnamed player was unimpressed by the Rockets saying, "They're not that good."
One Unnamed Player needs to review these stats. In the first quarter, Houston was that good. And because of it, they didn't need to be that good in the ensuing three quarters.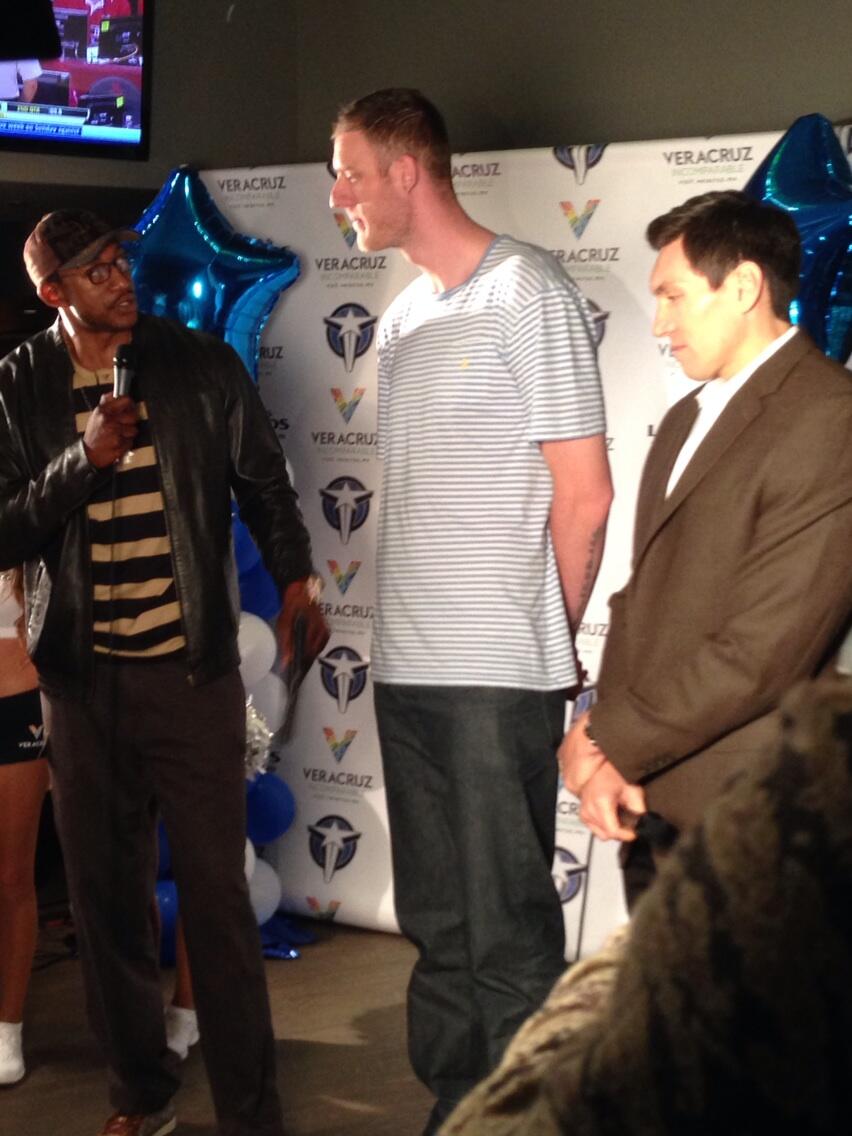 DONUT 9: Tall Paul ...
DB.com had some fun over the weekend hanging out with 7-foot, 8-inch British center Paul Sturgess, who is joining the Texas Legends.
Less enjoyable?
Reading accounts of his acquisition that make it sound like Sturgess is destined for time being 7-8 in a real, live Mavs uniform.
To be very clear here: Sturgess is an "entertainment acquisition.'' And he's not insulted by that; the greatest accomplishment of his basketball career is being a member of the Washington Generals and getting embarrassed by the Harlem Globetrotters.
He enjoys posing for photos (here with DJ Mbenga and Eddie Najera) and telling fans about his size-20 feet and about how he weighed 11 pounds at birth and about how he can touch the rim without jumping. But not only will he not play for the Mavs ... he's slated to barely actually play for the Legends.
His presence in Frisco is for entertainment purposes only. And lest you think that's an odd way of doing D-League business, understand that the Mavs' minor-league competition for his services was the Spurs' minor-league team.
So the Legends are in good company in wanting him and will have some fun employing him. And the plan right now is that he might even play a few minutes a game.
For entertainment purposes.
DONUT 10: See you at Dee Lincoln's ...
Thanks to Dee and the incredible staff at
Dee Lincoln Steak and Burger Bar
for making their place the wonderful "upscale casual'' place to dine before you attend events in Dallas ... The gang from DB.com looks forward to seeing you there on Tuesday before the Lakers game!
DONUT 11: Being frank about DeJuan ...
Let's be frank: We didn't foresee DeJuan Blair having this sort of off-the-bench impact ... even though, heck, what's he's done for Dallas through three games actually mirrors Blair at his best in San Antonio.
But can we be even more frank? The Mavs didn't completely foresee this, either.
The 6-6 Blair is taking his turns against Al Horford and Dwight Howard and Zach Randolph and still averaging 9.3 points and seven rebounds in 20.3 minutes per. Oh, they knew he was "a tough-nosed guy," as Nowitzki puts it. But productive at center? That was something they only hoped for, and with Brandan Wright (shoulder) not yet back, it's been a basketball godsend.
DONUT 12: The Final Word ...
For the ninth straight year, the Mavs -- who have accomplished so many brilliant things record-wise in the last decade-plus -- find it impossible to start 2-0.
And you thought "sports parity'' was just an NFL thing.