DallasBasketball.com provides this exclusive Player-by-Player Scouting Report -- projections and plans and upsides and pitfalls -- constructed with guidance from president Donnie Nelson, coach Rick Carlisle and elsewhere inside the
Dallas Mavericks
personnel department itself. It's 15 Mavs and 15 reports – Premium-grade information from inside the AAC:
DeJUAN BLAIR
Mavs scouting view:
Great strength and power as an interior player … nice touch from mid-range and a finisher as a smart and surprisingly smooth pick-and-roll weapon. Will rebound well depending on whether he's at the 4 or the 5; at 6-7, he'll not out-board centers but can win battles at the 4. Mavs think he can be "special'' on the offensive boards. … They believe his toughness on defense will compensate for his lack of raw quickness and talent there.
Projected role:
In a word, "enforcer.'' This doesn't mean flagrant-2's and fistfights. It means returning to his great successes as an offensive rebounder, it means throwing his bulk around as a change-of-pace replacement for "softer'' Mavs, it means playing with a chip on his shoulder as a result of falling out of favor with the Spurs, who let him walk away for nothing.
Upside:
He shares some physical characteristics with predecessor Elton Brand. But Brand is a former star, a guy who has scored 20 ppg in this league, and even with the Mavs a guy who was a top-notch man-on defender. Blair is none of those things. So with expectations managed, some realities: He's spent a lot of NBA time as a 6-7 player with the skills of a kinda-center. He was a starting piece on very good San Antonio teams, and if put into position to succeed, can be again. But he is a "piece'' that should be judged on his entire profile, which includes the minimum-wage deal Dallas gave him that makes this a no-brainer attempt to make him an LIBB. (Lightning In A Bottle Boy.)
Pitfall:
How often is Gregg Popovich wrong in player evaluations? You will note that Dallas' personnel people don't exactly disagree with Pop's thoughts on the player. The good news is that his much-discussed lack of knee joints is not a factor in his performance; Blair deserves credit for having overcome that issue. The bad news is that being an "enforcer'' who plays mediocre defense can make one an ineffective enforcer.
Contract:
Blair has a one-year deal at $947,907.
Quotable:
"I just try to use more of what I have than what I don't have. I know I don't have height, but I've got a lot of power and strength. So it evens out. It's nothing to me. I've been playing center all my life against 7-footers.'' -- DeJuan Blair.
JOSE CALDERON
Mavs scouting view:
This is part of Dallas' never-ending search to find another Kidd. The Mavs have always had great admiration for Calderon as a playmaking point guard and view his high-percentage, high-efficiency shooting as a bonus. What happened with this team at point guard last year accentuated the need to pay for the fix. Dallas is confidence this is it.
Projected role:
Calderon has career averages of 10.1 points and 7.2 assists per game and there's your projection.
Upside:
There are advanced stats that scream it (career .576 true shooting percentage), there are simple stats that show it (46.1 percent beyond the arc last year) and there is The Eye Test that proves it: Calderon is a deceptively good scorer because of how well he picks his spots and is an inarguably great distributor because of how he picks his teammates' spots. What Dallas envisions here: Dirk and Monta helping Calderon spread the floor, with pick-and-roll/two-man-game options available on both sides of the floor, being engineered by Monta and Calderon. And again, in one area he's not just a Kidd wannabe, but he's actually superior to Kidd: Jose is a catch-and-shoot threat from anywhere on the floor, and his bombs won't be pleasant surprises (as was the case with Kidd) but rather an expected, planned part of the arsenal.
Pitfall:
Without argument, it's Calderon's defense. The per-possession numbers against him have always been torture to read. Now, Dallas can argue that playing with a better program than Calderon did in Toronto or Detroit can be part of the fix. Mavs staffers will also argue that Calderon – as poor as he is on that end – is bigger and no worse than Collison and James were. But the fact is, Calderon's assignment will be to engineer an offense that outperforms the other team's offense.
Contract:
Calderon has a four-year, $29 million deal. Year-by-year: $6,791,570, $7,097,191, $7,402,812 and $7,708,427.
Quotable:
"My job this year will be to try to get the ball to the right guys at the right moments, try to know where they want the ball." -- Jose Calderon.
VINCE CARTER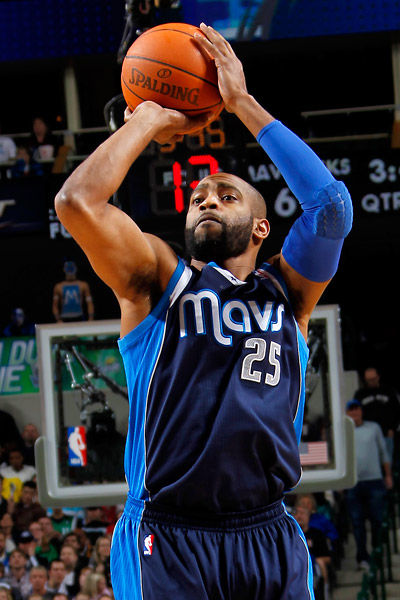 Mavs scouting view:
Dallas considers him "instant offense'' but knows there are times when too much has been asked of him. He still has moments of "Vinsanity'' but in his two seasons with the Mavs he's often been the go-through guy in the clutch ... and Carter's clutch numbers are surprisingly mediocre. His perimeter offense overall, though, remains exceptional. (He made 40.6 percent of his 3-pointers last season.) And he is a respected finisher, too. You get "Sixth Man of the Year'' votes in a Dallas uniform when you do things like post a .571 true shooting percentage. The Mavs like him getting those votes.
Projected role:
It starts with him serving as the Sixth Man, leading Dallas' second wave of talent. The Mavs now have a fairly storied history of their bench consistently outscoring the opponents' bench, and Carter is central to that goal.
Upside:
Dallas has a potential Hall-of-Famer to ride here. Carter enters 2013-14 at 27th on the NBA's all-time scoring list with 22,223 points. Every single eligible player who is ahead of him on that list is in the Hall. There is experience there, leadership there, and wisdom there - the sort of wisdom that makes Carter arguably a better defensive performer than he was a decade ago.
Pitfall:
Coach Rick Carlisle wants to the minutes here in the mid-20's. That creates a limitation of sorts. But for us, the Carter story is more about front-office moves than on-court moves. He's in the final year of his deal. His expiring contract, and his talent, will be attractive to someone. Dallas passed on offers last February. Now Mark Cuban is making noise about wanting to re-up Carter ... while we think the noise should quiet so the owner can hear the offers that will come for the 36-yar-old who could be "sold high.''
Contract:
Carter is on the final year of a contract that pays him $3,180,000 this season.
Quotable:
"It is a business and I understand that. No hard feelings. You have to understand that. But I've said (to Mavs management), 'Hey, this is where I want to be. Carlisle and Mark Cuban all about their team winning. Stats are great. But winning is everything. So I told them, 'I want you guys to understand, I'm happy here.''' - Vince Carter.
JAE CROWDER
Mavs scouting view:
One year into his time in Dallas, the Mavs are still exploring what he can and cannot do. Coach Rick Carlisle has encouraged him to continue shooting 3's even though Crowder's burly build (and the team's need for rebounding) might suggest he get inside more. They've given him starting assignments (as a rookie last season) even as they know his future likely isn't as a first-teamer on a good team. Eventually, Crowder will be a "specialist.'' But what are his "specialties''? They are still in development.
Projected role:
It is our contention that it's easier to find shooters who focus on range than it is to find muscular interior players who just happen to also be able to stretch. Therefore, we wish for Crowder to concentrate on the latter. Somewhere is his 17.3 minutes per game last year, he should be able to get more than 2.4 rebounds.
Upside:
As a rookie, he found himself being baptized by the fire of guarding everyone from Kobe Bryant on down. He's not long enough and he's not quick enough ... but it almost worked. We're impressed by his realization that he might have to alter his body type to better survive those baptisms, thus the loss of 15 pounds and the hope for added explosiveness.
Pitfall:
He is a classically good second-round story: High motor, good character, try-hard guy. You see the team option in his contract (below) and you know he's here to stay. But does he take forward time from Dirk? Marion? Wright? Blair? Carter? As Donnie Nelson says, he's in the "talent-acquisition business.'' Crowder's uphill battle is to milk everything possible from the talents that limited him to being that second-rounder.
Contract:
Crowder makes $788,872 with a team option next year at $915,243.
Quotable:
"I'm pushing forward. We're going through a lot of changes as an organization. I have to show the organization that I'm going to try to get better. I'm in the gym working, and I'm going to be ready whenever that opportunity comes." - Jae Crowder.
SAMUEL DALEMBERT
Mavs scouting view:
The are aware of the realities of acquiring centers in a way outsiders cannot be. The Mavs don't waste time pondering if they "finished second'' in the Dwightstakes. They also haven't spent much time correcting the ill-informed who claim they "failed to get Andrew Bynum.'' What they know is they needed a center who fits as a shot-blocker and who fits financially in where the franchise wishes to be.
Projected role:
At different times in this preseason we've seen Dalembert suffer from Damp-Hands one night and then make a nifty pass to the hole out of the high-post the next. The unselfishness of Dallas' style could rub off on him, causing him to give the Mavs more of the latter. The low-energy work that leads to Dalembert turnovers could cause Carlisle to pull out the little hair he's left himself.
Upside:
Dalembert is, by any measure, one of the NBA's best rim-protectors. The original plan at center for Dallas was named "Dwight Howard,'' and so many candidates -- including Dalembert -- pale compared to that. But alongside Dirk and playing behind what might be a porous backcourt in Ellis and Calderon, a rim-protector is a necessity. If Dalembert is that, this works.
Pitfall:
Dalembert is starting a fifth straight season with a new team. In a league where 7-footers are treasured, teams tire of waiting for Dalembert to be "the answer'' and eventually continue their search elsewhere. That doesn't mean Dalembert can't be solid; it means, consistently, he's never better than "solid.'' The problem there: Dallas doesn't have the veteran 7-foot depth of past years. There is a lot of responsibility on Dalembert to get minutes while playing hard and avoiding fouls. A big challenge.
Contract:
Dalembert has a two-year contract that pays him $3,700,748 this season and $3,867,282 next season. (But our David Lord reports that in Year 2 only $1.8 million is guaranteed).
Quotable:
"I think Sammy should bring some stuff that meshes really well with my game.'' -- Dirk Nowitzki.
WAYNE ELLINGTON
Mavs scouting view:
Ellington continues a long line of specialist wingmen in Dallas who can do one or two things with proficiency. He's a perimeter shooter (unquestionably) and a guy who can guard 2's (questionably, as not everyone agrees with Dallas' rosy view).
Projected role:
Ellington isn't big enough or quick enough to extend beyond the specialist role. But if he's left open, he scores. And if he can guard a 2, he's successful. There is some thought to sampling him as a starter, not unlike what Dallas has done in the past with DeShawn, Buckner, Antoine Wright, etc. But based on talent alone, he should be at the back end of the rotation.
Upside:
There is always room on the roster for a shooter. Of course, as Anthony Morrow learned recently, "room on the roster'' doesn't mean you ever get to play. Get Ellington an uncontested jumper and he will make it.
Pitfall:
He has a low NBA profile for a reason. While his BBIQ is high, he's one-dimensional on offense (not a driver, not a ball-handler) and on defense, he can't guard 1's or 3's
Contract:
Ellington's deal pays him $2,652,000 this season and $ 2,771,340 next year.
Quotable:
"I'm bringing a long-range threat, and I'm a guy that's going to work really hard on the defensive end of the floor. And I want to win. That's what's most important to me." -- Wayne Ellington.
MONTA ELLIS
Mavs scouting view:
Monta Ellis is a "second star'' waiting to happen, and the reason it hasn't fully happened -- even though coach Rick Carlisle refers to Ellis as a "star'' in his conversations with us -- is because he's never played alongside a Dirk. Ellis is a 20-ppg-level scorer who also creates for others, and while his advanced-stat defensive numbers are poor, Dallas thinks there is promise in taking what Ellis does as a steals guy and making it work in a team-wide concept.
Projected role:
The Mavs are careful not to put too much on Monta as it relates to the future; questions about him being a "foundation player'' or "the guy to take the baton from Dirk'' are generally deflected. Why? First things first. Carlisle thinks Ellis is the fastest player to ever wear a Mavs uniform. At 28, he's as suited as anyone on the roster to play a fast pace while also playing heavy minutes. None of that makes Ellis a guaranteed foundation piece for the franchise, but it makes Dirk and Monta in the two-man game the foundation piece for the Dallas offense.
Upside:
For us, this is 100-percent about Ellis getting to the rim. Monta got to the rim for 5.2 field-goal-attempts per game last season in Milwaukee, and has never averaged below 4.5. By comparison, Shawn Marion led the Mavs a year ago with 4.0 attempts at the rim per game (the most for a Dallas player since Marion averaged 4.1 in the 2010-11 season). No Dallas player has matched those 5.2 attempts at the rim per game going back to the 2006-07 season (per Hoopdata.com), and only twice in that span has a Dallas player exceeded Ellis's career-low of 4.5: Marion with 5.1 in 2009-10 and Devin Harris with 4.6 in 2007-08.
If Monta shoots 22-foot 2's, the concept of Dirk/Monta as a two-man game to set the NBA afire will collapse under its own weight. Monta to the rim? That's the answer.
Pitfall:
The "volume shooter'' tag bothers him because the truth hurts. In 2008, Ellis had a .580 true shooting percentage and the driving force there was his ability to get to the rim. There are also issues on defense, where his risk-taking gets him steals but where his lack of size can cause him to get abused.
Contract:
Ellis has a three-year deal that pays him $8,000,000, then $8,360,000 and then a player-option season at $8,720,000.
Quotable:
"Monta have it all.'' – Monta Ellis.
DEVIN HARRIS
Mavs scouting view:
He's matured into a combo guard who is re-joining Dallas as much for his talents in that department as for his peronality fit with the club. Consider: He'd agreed to a three-year, $9-million deal -- and then the club discovered the toe injury. All parties pulled back, and eventually agreed on a cheap one-year deal. That's a good soldier ... and Devin will be that as -- once he's healthy -- he serves as a backup to both Ellis and Calderon and as a tutor to the kid PGs.
Projected role:
It's a cliche, but it's the phrase used inside Mavs HQ: He's a winner. Harris was part of Dallas' first NBA Finals team. Last year, the Hawks' winning percentage took a great leap when he was allowed into the mix.
Upside:
His speed remains dazzling, and he's about as good as anyone in the NBA at using that speed off the dribble to get to the hoop -- and to the free-throw line. The Mavs believe he can guard waterbugs (even as the advanced stats argue against that). And they believe he's a better perimeter shooter and playmaker than he was in his first go-round in Dallas.
Pitfall:
Harris has never quite been able to convert his quickness and fearlessness into defensive prowess. But the biggest issue with Devin is the one that stares Dallas in the face presently: Call it more "fearlessness'' or call it "fragility,'' but he won't be available until at least December due to the toe injury and in the last six seasons he's missed 87 games while hurt.
Contract:
David Lord reports that the $884,293 amount is Dallas' cap-impact amount, but that in Harris' one-year deal he is paid $1,272,279 in total, with some of it subsidized by league.
Quotable:
"When Devin gets back, you know Coach likes to push the ball, we're gonna have the fastest backcourt in the NBA. It's gonna be tough to match our speed if we get out and run.'' Mavs owner Mark Cuban.
BERNARD JAMES
Mavs scouting view:
James came to basketball relatively late after a growth spurt. So despite "coming from a basketball family,'' as Bernard tells DB.com, he's still learning the game. The defensive end comes naturally to him; he's long and was a shot-block sensation in college. While he's a smooth athlete, he's not a skilled offensive weapon. On that end, he remains a project.
Projected role:
The Mavs have long-believed in having multiple "traditional'' centers in the stable, so employing James as a third center is actually quite a plus. His military background helps "Sarge,'' too, as he never plays as if he's intimidated by the surroundings. That doesn't mean the numbers will ever be there. But the attitude always is.
Upside:
Sarge knows his limitations and plays within him. Many times, in pregame warmups, we see big men fiddling around with 3-pointers, goofing around with moves they'll never use in games. James doesn't waste his time that way. His shot has no range and he recognizes he wasn't an offseason priority for Dallas before being brought back on a cheap one-year deal. He's not here to waste time.
Pitfall:
Most players in his position -- inexperienced, non-premier picks with uncustomary backgrounds -- never make it long-term. It's a success story so far, relatively speaking. But James has a long way to go before he's even qualified to be called a "journeyman.'' Indeed, you will recall that the Mavs waived James (temporarily) for cap room last summer, leaving him unprotected ... no other team claimed the 28-year-old.
Contract:
James is signed for one year at $788,872.
Quotable:
"The best thing about the Mavs is the environment. Dirk sets such a tone. I'm always trying to contribute to that, however I can.'' - Bernard James.
SHANE LARKIN
Mavs scouting view:
They've made the J.J. Barea comparison in public. But privately, the Dallas scouting report on their first-round pick is far more glowing than what most people ever said about Barea in terms of being an NBA prospect. Make no mistake, if Larkin has a JJB-type career, that will be acceptable. But Larkin has skills not only as a quick and fearless penetrator -- like Barea -- but also as a polished, big-program, son-of-a-Major-Leaguer hotshot. So in some ways, Larkin-as-Barea would actually register as a mild disappointment.
Projected role:
The Mavs have no problem with projections of his talent but admit they cannot project his role simply because due to the broken ankle sustained in the summer, they haven't seen him on the floor in casual workouts, in Summer League, in practice or in preseason games. Can he be an immediate spark off the bench? Will he quickly use his superior athleticism to beat out Gal Mekel? Can he do all the things Devin Harris can do? There is confidence in his future but there is no certainty of when the future begins.
Upside:
Larkin was about as dominant a little man as there was in college basketball last year. He was among the ACC leaders in scoring, assists and steals. In college, that offense was HIS offense, and of course in the NBA that will have to change. But he was in complete control with the ball in his hands, as a creator for others or, even more dangerously, as a creator for himself. Rick Carlisle personally pushed for his selection, a badge of honor that Larkin wears proudly.
Pitfall:
He's not quite 6-feet tall, so he's likely to get muscled on the defensive end and find himself relying on anticipation to contribute there. Does that make him a Chris Paul-type steals magnet? Or a kid easily lured into taking chances and getting out of position?
Contract:
Larkin's four years: $1,536,960, $1,606,080 $1,675,320) and $2,147,202, with the last two as team options.
Quotable:
"I see myself as a Ty Lawson type. Just somebody that can go out there every night and make an impact with my speed and quickness." - Shane Larkin.
RICKY LEDO
Mavs scouting view:
On paper, according to all the measurables, Ledo is a stud. Start with the fact that he's very long and he's physically strong. Add the fact that he thinks like a scorer but is also very confident about his ballhandling. Now add in a level of confidence that will be almost absolutely necessary to hold fast if he's to make the NBA leap to rotation player and ... well, on paper, he's a stud.
Projected role:
This is a long, long-term project. The work will almost certainly begin in Frisco, where he must take the next step from a guy who in Las Vegas Summer League just looked like a gunner.
Upside:
Before we envision him as a 6-6 point guard -- which is among the ways Ledo envisions himself, with visions of T-Mac and Penny dancing in his head -- we need to envision him as a wing with a solid BBIQ. He was a blue-chip high-school player, was recruited to a big program at Providence, and based purely on his skill set, was certainly a Round 1 talent. The Mavs think it's realistic to work towards having a kid who has been blue-chip at every level to someday do the same at this level.
Pitfall:
Everyone involved downplays the off-the-court questions that naturally arise for a kid who missed his entire freshman season at Providence for academic reasons -- all that after having played at four high schools in four years. Ledo very calmly and patiently has explained the circumstances of those moves to us (and to anyone else who asks). But this is undeniable: The path he's taken has robbed him of having the finest coaching and maybe the best guidance in maturing in general.
Contract:
DB.com's David Lord was the first to report on the cleverly constructed contract here: A four-year deal with base salaries of $544,000, $816,482,$947,276 and $1,015,696, with the last two seasons non-guaranteed.
Quotable:
"This isn't going to happen overnight. But we really like him as a prospect.'' Mavs coach Rick Carlisle.
SHAWN MARION
Mavs scouting view:
Mavs basketball people find it outrageous that never in Marion's illustrious career has he made an All-NBA Defense Team – first-team, second-team, nothing. They also view him as Hall-of-Fame worthy. (And so does Trix himself, as you can read in DB.com's exclusive visit with him.) Marion does things that look fundamentally unsound, but that's only because of his unorthodox style. He is in fact a brilliant defender, a genius at moving without the ball and an efficient offensive player not only as a supplemental scorer but even as a facilitator – all performed in an unorthodox manner.
Projected role:
Marion, even at 35, is among the most finely-conditioned athletes on the planet. He shows zero signs of wear-and-tear and remains the foundation of Dallas' defense. Carlisle will want to manage minutes … or rather, will go into the season and into a game wanting to do so. And then the game will unfold and Dallas will need a stop … and Marion will be that go-to guy.
Upside:
Marion arrived in Dallas with a rep as a malcontent. That's never shown itself here. His sing-song visits with the media and his profanity-laced visits, too, belie his intensely intellectual approach to the game. He's quit shooting 3-pointers because he's realized his terrific efficiency from mid-range and in. This preseason, he doesn't bring the ball up the court after a rebound because he sees that Calderon is more qualified to do so. If he's not on the floor to close – a Carlisle habit from last year that we're still not convinced was wise – Marion gives a coaching pep talk to his replacement. Marion has played a dozen different "characters'' in the NBA play that is his career, and is prepared to keep doing so.
Pitfall:
Statistically, we don't see drops in Marion's numbers. The only thing we see impacting his performance will be the inevitable deadline-time trade talk that will involve him. He has bitten his tongue in the past, leaving unsaid his privately-held notion that a foundation member of a title team deserves a level of respect above being dangled every February. If Dallas is winning enough games by February, no problem. If this year's team is going nowhere in February? Who would blame Marion for finally speaking out?
Contract:
Marion is in the final year of a deal that pays him $9,316,796.
Quotable:
"It would be, to anyone who knows a damn thing about basketball.'' - Shawn Marion, on whether his Hall-of-Fame candidacy is legitimate.
GAL MEKEL
Mavs scouting view:
They recognize the kid got over-extended in preseason by starting the first half of the exhibition slate in place of the injured Calderon … and they loved that it happened the way it did. The Mavs believe they have the makings of a classic play-making point guard who needs to keep adjusting up … from when he was a non-descript player at Wichita State (6.7 points, 2.7 assists) to when he dominated in Israel (as a two-time league MVP) to in Summer League, when the second Israeli player to sign in the NBA was in his element and on his level. Next step, next level up.
Projected role:
The start of the Mavericks' regular season puts him back in his place. Calderon will get the bulk of the minutes at the point. Mekel will get spot duty behind him – assuming he retained the faith of a head coach who doesn't want to "experiment'' with rookies if he can avoid it – and that will be the way the year starts. … even with Ellis on the roster available to play some 1. Soon enough (December?) Devin Harris will recover from the toe problem. He will shove Mekel down. Even before that, fellow rookie Shane Larkin – a scoring threat at the point – will be in the mix. This is a year of survival for Gal Mekel.
Upside:
Mekel is unquestionable a terrific game-manager. His passing skills can be dazzling. He's bigger than you think (at 6-3) so can see and reach angles that last year's points, Collison and James, could not. There are turnover adjustments to be made (the quickness of defenders in the NBA makes this not Israel). And he needs to keep working on the floater, a must for a point guard who isn't a brilliant perimeter shooter. If he has a long career as a backup point guard, this is a huge success.
Pitfall:
All the things he does well on offense can be negated by his lack of a threatening perimeter shot. Mekel can run the pick-and-roll but if he's not a threat to shoot? Defenses will leave him. Mekel can score off the dribble but if he's not a threat to shoot? Defenses will play him tight outside and take away the drive. The outside shot is a project and as new teammate Devin Harris can tell him, it's a project that can take years.
Contract:
Mekel makes $490,180 this year, $816,482 next year and then $947,276.
Quotable:
"I thought he gained a lot of experience in a short period of time. He went through a lot. ... It's literally getting thrown into the deep end of the ocean when you jump into the NBA coming from a European league like that.'' - Coach Rick Carlisle.
DIRK NOWITZKI
Mavs scouting view:
We begin here with the organization's Mama Bear attacks on anyone who dares question Dirk's dependability, commitment, talent and future. The Mavs think the idea that Nowitzki will beg out of this non-title-level moment in franchise history is an insult to Dirk's character. There is no desire for him to leave and there is no willingness to do so. The Mavs believe Dirk remains capable of playing at an All-Star level and wish to built around that.
Projected role:
Nowitzki is the centerpiece. Monta Ellis can be Robin. And on some nights, he can even be Batman. But as has been the case for the greater part of a decade, Dallas' fortunes ride on the shoulders of The Taller Baller from The G. He is the finest big-man scorer in the game. His One-Legged Euro FadeAway is unstoppable, his pick-and-pop work is virtually unmatched, and if the point guard gives him the ball in his pet spots – something last year's 1's could not do – the defender is essentially at his mercy. Dirk leads with personality and does what he can as part of a team-defense concept. But Dirk with the ball in his hands to stop runs, start runs and close games … that's The Uberman's role.
Upside:
The Mavs won 41 games last year despite Dirk missing 29 games. The Mavs won't argue that Dirk is likely to continue getting MVP votes – another decade-long phenomenon – but they laugh at media ratings that have four, six or 10 power forwards ranked ahead of him. The ball will go through Nowitzki … and yet he won't commit turnovers and he'll prove to be unmatchable unselfish. To paraphrase one Mavs staffer: The upside of Dirk Nowitzki is that on his best nights he's the best scorer in the world … and on his off-nights he's the best teammate in the world.
Pitfall:
As he inevitably declines, Dirk will become more of a perimeter player, less of a foul-drawer, and less of a minutes-eater. At 35, these are becoming realities … and so are injuries. Mavs owner Mark Cuban talks of critics dissing the team by saying, "If we're healthy …''. But 35-year-olds playing as injury-free as 25-year-olds is a Mavs house of cards. Regarding Dirk's defense: Pair him with a Kaman and it won't fly. Pair him with a Chandler, a Dampier or a Dalembert? Dallas feels good about the help a traditional center gives Nowitzki.
Contract:
Dirk is in the final year of a deal that will pay him $22,721,381.
Quotable:
"To Dirk's credit, I don't think people realize the level of discipline he has. In terms of diet, workout, routine … the guy is a machine. If I get anything working right in terms of unique opportunities to keep him healthy and keep him playing longer, you know, he's one guys that take advantage of whatever's available to him to keep playing as long as he can.'' -- Mavs owner Mark Cuban.
BRANDAN WRIGHT
Mavs scouting view:
Wright is the rare Mav who plays consistently above the rim. Because of that – and because of the work he's put into being a better face-up shooter – Dallas believes they can count on him to again shoot around 60 percent. Now, does that mean he deserves more shots or that he'll be Peter Principled if Carlisle overplays him? Carlisle's minutes distribution here gives you the coach's answer.
Projected role:
It largely depends on Dirk's availability (which would ask Wright to play more 4) and Dalembert's effort level (which, if low, will pull Wright into the center spot). If Dallas is serious about having Dalembert at about 25 minutes a game, that leaves plenty of available burn for Wright as a center. Additionally, to have Wright at his most effective, he needs to be teamed sometimes with Dirk … but all the time with a distributing point guard. Wright is not a shot-creator. But used properly, he's a shot-maker.
Upside:
He has borrowed a page from Nowitzki in trying to constantly add to his tool chest. Wright in the weight room is new. Wright stretching his range as a shooter is new. Wright trying to be a better help defender and rim protector is another ongoing project. Wright is bright and level-headed, not given to the roller-coaster emotions of NBA life. That's among his great attributes and even though he's likely a life-long role player in the NBA, consistency in earning minutes will make him a damn good role player.
Pitfall:
Wright tells DB.com he's worked hard to put on 15 pounds of muscle. And that additional strength figures to help his shoulder rehab. But he remains too slight-of-built to take the heavy-minute pounding at center. In this sense, he's a valuable "specialist'' – a backup 4 and 5 with an energetic style that can light a fuse for his team. His numbers as a rebounder also limit his projections.
Contract:
Wright this summer signed a two-year, $10-million contract
Quotable:
"I know Coach Carlisle prefers a 4 that can shoot the 3-ball like Dirk, and that's not my game. And I'm not big enough to bang all the time with some of the big guys. But I feel like I can help the team with what I do.'' -- Brandan Wright.