DONUT 1: The friendly skies ...
The
Dallas Mavericks
rarely miss an opportunity to market themselves, featuring a "Cool Factor'' that I know is valued by the boss.
So you go where the crowds go. You send a message delivered in a noteworthy way. Do you it in a way that is appealing.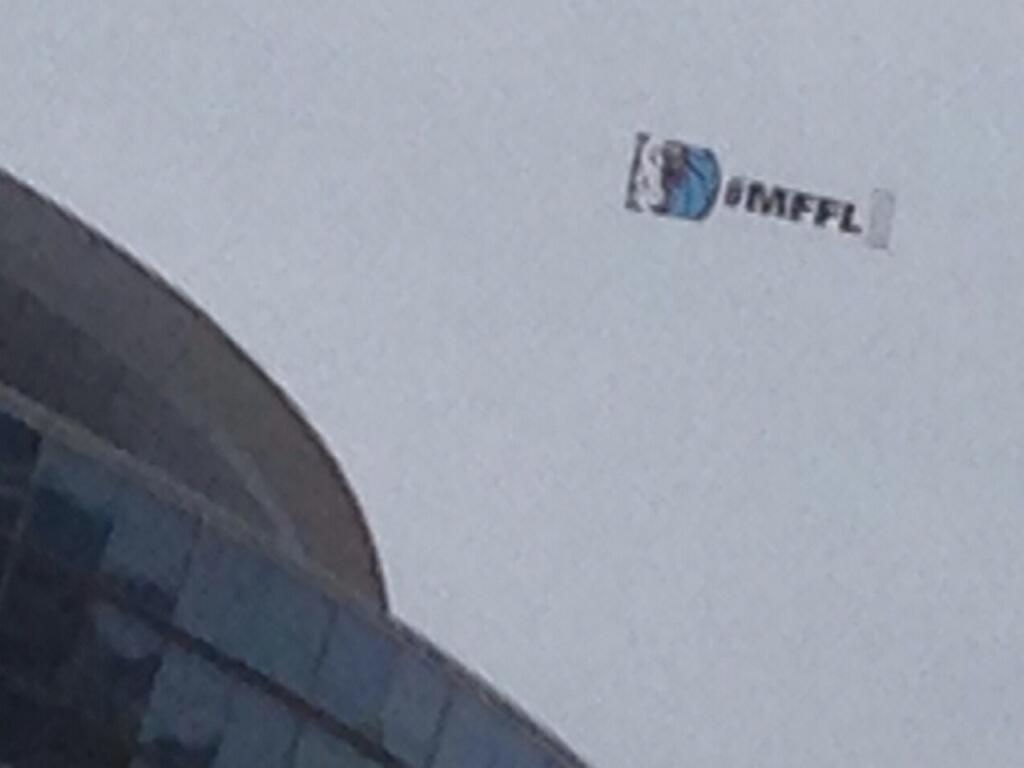 You fly an airplane banner over AT&T Stadium as Cowboys fans are leaving following the win over the Vikings. And the "Cool Factor'' is featured in five simple characters:
#MFFL
Speaking of cool:
The Mavs need to be covered right. So we have our infamous
DB.com Mavs Podcast here on iTunes
and up and running below as well ... with a very special cast of characters:

Mike Fisher
,
Kevin Turner
,
Kevin Brolan and
Mike Marshall
pull up a chair to the hoops roundtable to kick around the issues in this first week of the Mavs season ... And Vince Carter offers his opinion on one of the top sports stories of the week, hazing (and much worse) in the locker room.
The DallasBasketball.com Mavs Podcast, y'all!
DONUT 2: Stat-happy offense ...
Using SportsVU's tracking systems NBA.com now provides a peek into a new (at least to the fans) realm of statistical quantification, showing us everything from the distance a player moves in a game, along with their average speed, to more in-depth views of a player's rebounding stats, such as how many of their rebounds are contested and what percentage of the rebounds they have a legitimate chance at they are able to claim.
At this point, these numbers have very little analytical value as the sample size is simply too small to extrapolate much of anything (especially has single game anomalies currently account for 33-to-50 percent of most player's totals).
This is simply for entertainment purposes, but here are some early observations as they pertain to Mavs players ... all with the idea in mind, of course, that it might add up to Dallas having enough offense to top tonight's AAC visitors, the Lakers ...
DONUT 3: Beast on the boards ...
Of players to average at least 20 minutes and five rebound chances per game ("chance" being defined by NBA.com as within 3.5 feet of a possible rebound), Marion ranks sixth in the NBA by grabbing 80.0 percent of the 13.3 rebounds he has a "chance" at, easily leading the Mavs (Dalembert comes in next at 62.3 percent of his 12.3 chances per game).
In contested-rebound percentage (as the name implies, these are the percent of their rebound chances that are contested by another player), using the same minimum criteria as above, Marion ranks 8th in the NBA with 56.3 percent of his total rebounds being contested, one spot behind the top Mavs player on the list, DeJuan Blair at 57.1 percent.
DONUT 4: Rim protection ...
This is actually a defensive measure, of course; we thought we'd mix one in.
Of players averaging at least 20 minutes and defending a minimum of five field-goal attempts at the rim per game, Sam Dalembert ranks 15th in opponent's field-goal percentage at the rim, holding opponents to 40.9 percent in 7.3 attempts per game.
For the sake of comparison, the last two Defensive Player's of the Year: Tyson Chandler is holding opponents to a 38.2 field-goal percentage at the rim (11.3 attempts faced per). Marc Gasol is allowing 55.6 (6.0 attempts faced per).
Oddly enough, though he doesn't meet the minimum minute or field-goal attempts defended requirements, Chris Kaman (last year's starting center) is holding opponents to 15.8 percent.
So, grain of salt required … though Kaman was underrated as an on-ball defender, none would make the claim that he is a solid rim protector in the team construct.
We'll see more for ourselves tonight as The Kaveman now toils for the Lakers.
DONUT 5: Ellis is attacking the rim ...
Better said: Monta Ellis is attacking the rim … a lot. If this is what he meant by "MontaBasketball,'' we dig it.
Of those to average at least 20 minutes, Monta Ellis leads the league in points-per-game on drives at 8.7 ("drives" defined as: a touch that starts at least 20 feet from the hoop and is dribbled within 10 feet of the hoop and excludes fast breaks).
Only Jeremy Lin (12.0) averages more drives per game than Ellis (11.3).
The Mavs are averaging 13.3 points per game on Ellis drives, exceeded only by Houston's 15.0 on Lin drives, and OKC at 14.0 on Russell Westbrook drives (note that Westbrook has only played one game, Lin and Ellis have played three).
The only downside at the moment for Ellis is his field-goal percentage when driving: 46.2.
For the sake of comparison, of the top 15 in points-per-game on drives that field-goal percentage ranks 10th (above names like Ramon Sessions, Eric Gordon, Ty Lawson, Raymond Felton and Kyrie Irving – Kevin Durant is at 50 percent, James Harden leads the way at 72.7 percent).
Of the top 15 in total drives-per-game, it ranks as the sixth best conversion rate.
If history is any indication, you should expect that field-goal percentage to rise at least a bit for Ellis as he's hitting below career norms at the rim and from nine feet in.
Want
more in-depth analysis of the numbers the Mavs are now using in self-evaluation? We've got those details here.
DONUT 6: Join DB.com Boards! ...
Want more on these stats, with analysis, video, and exclusive interviews that take you inside every game, every practice, every move?
Go Mavs and Go Premium by taking our free 7-day trial ... it's 10 cents a day for the deepest Mavs coverage in the world!
While you are at it, of course, join DB.com Boards! Membership is free and the discussions are hot!
We invite you to be part of the Mavs conversation on the best discussion forum in the NBA, The
DB.com Boards!
We're in our 14th season of slicing and dicing Mavs issues ... and more!
DONUT 7: Larkin's practice debut ...
By now you know the No. 18 overall pick in June's draft, Shane Larkin, was on the court for his first full-contact work with the Mavs yesterday.
"I felt good out there," said Larkin, the Miami point guard recovering from ankle surgery. "I don't have my quickness back yet, but that will come in the next couple of practices. Hopefully, in the next couple of weeks ... I'll be back being able to play."
You may also be familiar with coach Rick Carlisle's summation of the workout.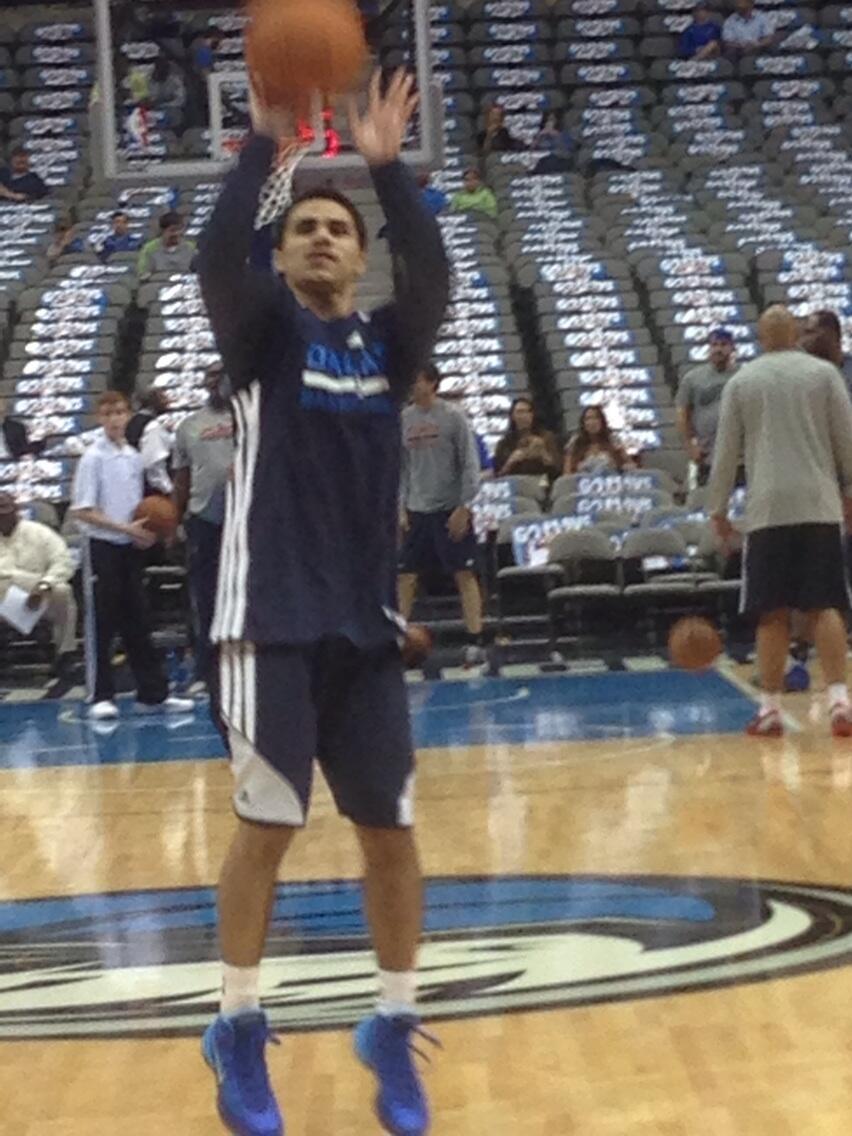 "It's the first day he's practiced," Carlisle said. "It's a step. He's picking things up. For the first day of live practice, he did well.''
But there is more to the story of Larkin's first day at work (at this level). It's a story of his frank assessment of his 3-point shooting and it's a story of Larkin's competitiveness being at such a high level that he's ... well, kind of a cheater.
The
exclusive details on Shane Larkin's practice are covered here for Premium Mavs Fans.
DONUT 8: Farewell to David Stern ...
This season will mark the end of David Stern's 30-year reign as NBA commissioner. Cuban and Stern have had what you might call a love/hate relationship since Cuban purchased the Mavericks.
"Maybe I'll get one more fine as a parting gift for David," Cuban joked recently. "Just because we're close like that. Just to give him coffee money and travel money."
Stern has announced that he will step down on February 1 and Adam Silver will step in as commissioner. And we have a piece of unsolicited advice for Tony Cubes regarding the new Commish.
This is a rare opportunity. A fresh-start chance. The Cuban-Stern dynamic has been productive for the league and they truly do have personal affection for one another.
But the Cuban-Stern dynamic has been one of conflict for the Mavs. Now there is an opening for a Cuban-Silver dynamic, and it needn't be adversarial.
How about instead of "coffee money and travel money'' sarcasm -- as entertaining as it often is -- the Mavs try to make nice with the new Commish.
It is a matter of fact that when Cuban first entered the NBA, he tried to "play nice'' in board meetings in order to motivate change. The stuffy curmudgeons did not listen ... so Mark grew louder, more demonstrative, more sarcastic ... anything that might push the NBA into a new century.
Mark, you tried playing nice once. What if, just in case, you try is again with Commissioner Silver?
DONUT 9: Carlisle on coaches' scares ...
A couple of years ago before the Mavs were set to play an exhibition game in Palm Springs, Rick Carlisle fell ill and did not make the trip. He surely reflects on that when discussing the weekend illnesses of Broncos coach John Fox and Texans coach Gary Kubiak.
"I don't know the details about their specific situations, but regardless of whether you're a head coach of a professional sports team or not, you've got to take care of yourself, you've got to get physicals, you've got to monitor things,'' Carlisle said. "And I'm sure those guys do.
"One of the things about coaching in professional sports is that there's a lot going on, there's a lot of physical and mental pressure that goes with it and it's very difficult. ... The bigger concern is that they're OK physically and that they can recover and be able to come back and do their jobs, because that's what they love to do.''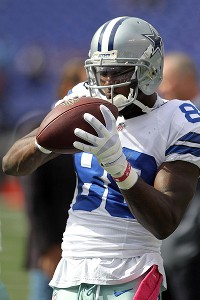 DONUT 10: Cuban gets Dez ...
By now, you are familiar with the Dez Bryant's "tantrum" during the Cowboys' 31-30 loss to the Detroit Lions two weeks ago. The national (and local) coverage of Bryant was for the most part negative and critical.
However, when the audio was released of Bryant's demonstrative and passionate tirade (arguably "overly demonstrative and passionate'') it was revealed that most of Bryant's dialogue was relatively positive and supportive of his teammates.
Cuban (always one to be weary of overcritical media and "headline porn) on the topic of Bryant:
"I was like, 'Good for you, Dez'" Cuban said about the audio being released. "Everybody was jumping to conclusions … Good for Dez. I'm actually glad to see that."
Hey, maybe the NBA could follow suit and mic-up Mark Cuban during one of his "demonstrative and passionate tirades'' on the sideline?
DONUT 11: Still the Lakers ...
These aren't your father's LA Lakers. And right now they're not even Kobe's Lakers.
But we anticipate 20,000 folks joining us at the AAC tonight for the 7:30 trip treating the visitors with the same distaste they've always deserved.
"They're a different look this year,'' Carlisle said. "They're playing a lot with smaller, athletic guys. The 3-point shot is a real big part of their game, and they still have great players with Nash and Gasol, who can cause a lot of problems."
LA is 2-2 and featuring Xavier Henry. That sounds different. LA also has an NBA-best 8-2 record at the AAC and has won six straight here.
Stick with us throughout the day and night. We'll have wall-to-wall coverage from The 75-Member Staff on DB.com.
DONUT 12: The (Semi-)Final Word ...
A place where some credit is due the 2-1 Mavs: Dallas finished strong enough in Game 1 (and beat Atlanta). Finished strong in Game 2 (the scrubs closing hard in a loss at Houston). And finished strong in Game 3 (beating Memphis). That's three playoff-caliber teams and when the pressure was on to attempt to close, Dallas coolly took the wins that were there to be had and fought uphill even when there wasn't a win to be had.
The Mavs once again as "closers'' is something we'd like to get used to around here. Re-starting with tonight.
DONUT 13: The Finest Dentists in North Texas! ...
Our neighborhood dentists, even though we don't even live in the McKinney neighborhood? It's McKinneyDentist.com, and it's been the case for Nate, Tony and me for my kids' entire lifetime.
At
McKinneyDentist.com
, Dr. Berlin, Dr. Markham, Dr. Lynch and Dr. Wood have been providing the finest in everything from technology to chair-side manner for years, to my family and to so many of you. Their great work has part of us bringing our Mavs coverage to you since 1995 ... And we're proud to be associated with The Finest Dentists in North Texas ... McKinneyDentist.com!