OBSERVATIONAL DONUT 1: NO DANGER IN SACRILEGE ...
Dallas Mavericks
coach Rick Carlisle said it without trying to be funny or ironic or controversial.
And Rick said it without flinching, too.
In classifying Dirk Nowitzki as a mid-range weapon, the coach offered his opinion on the three best in basketball history.
"Him, Bird, Jordan,'' said Carlisle. The "Him,'' of course, being Dirk.
Carlisle also said of Nowitzki's legendary efforts in the practice gym, "It's religion for him.''
Now, both those could be construed as blasphemy. The religious reference, obviously. But putting "Him'' up there with Bird and Jordan, too.
But basketball people know it's OK to give your Sundays to the church and some other times to the gym. And faith-based folks who love the Mavs know that Dirk Nowitzki is indeed a blessing.
So no sacrilege here.
OBSERVATIONAL DONUT 2: CALDERON'S COOL ...
Jose Calderon started the year 1-of-15 from the floor. Anyone who thought, "Aw, don't worry about it'' was off-base because 1-of-15 is ... well, worrisome.
But in Tuesday's win over the Wizards the new PG finished with 11 points (and four assists). Since that awful start through the first two games, Jose's hit 25-of-50 shots (50 percent).
Oh, and since starting 1-of-8 behind the arc, he's 20-of-35 (57.1 percent).
It was OK to worry then. Really, it was.
It's also OK to not worry anymore.
OBSERVATIONAL DONUT 3: EIGHT GAMES IN ...
After Game 8 a season ago, the Mavs were trudging along through a three-game losing streak. Oh, there was some early optimism because they'd averaged 108.4 points in the first five games (with O.J. absolutely playing at a high level). But slippage came quickly, and Dallas averaged only 91 during the losing streak.
Besides that, in eight games, the 2012-13 Mavs were getting almost doubled up on the offensive glass (15.3 to 8.4) and getting out-boarded by 5.1 per game.
This year? The offense has shown there may be hope for high-octane sustainability. The Mavs are managing to hold their own on the glass, having a positive rebounding margin. The issue of the defense is there, of course, but ...
They are at 5-3 and they've won all four home games. As the NBA turned on the lights for yesterday's business, there were only four teams in the West with a better record than Dallas'.
It's a start ... a start better than last year's start in so many ways.
OBSERVATIONAL DONUT 4: ADVANCED EYEBALLS ...
On a regular basis, our man Michael Dugat leads The 75-Member Staff and DB.com Premium Mavs Fans on a journey into advanced stats as they pertain to Dallas.
He likes to take a gander -- yes, he is sort of the kind of fellow who might use the word "gander'' -- at some of the noteworthy statistical information as it pertains to your Dallas Mavericks. He digs from everywhere ... from NBA.com's plethora of information, including the supremely intriguing player tracking from SportVU ... to Basketball-Reference ... to Synergy Sports ... to of course, the most important place of all to gather Mavs information: Inside Mavs HQ.
We'll deliver numbers we find interesting, significant or simply entertaining (at least, to us). But really, it's more than that: The NBA's advances in this department, and our ability to analyze those numbers, really does provide the Mavs fan with a next-level understanding of what the Mavs' coaching staff gets to see and evaluate.
With all due respect to Commissioner Stern's fine work in introducing plastic basketballs and eliminating flannel shirts, these stat-minded eyeballs help us all see the Mavs in a different, better way.
OBSERVATIONAL DONUT 5: FOR INSTANCE - THE PULL-UP JUMPER ...
An example of how we handle the aforementioned:
Let's check out Dugat's examination of Monta's love of the drive …
As we've discussed previously, with 11.5 Monta Ellis lead's the league in drives per game (drive defined as any touch at least 20 feet from the hoop and dribbled to within 10 feet, excluding fast breaks). He's also first in points per game on drives at 8.9 and trails only Ty Lawson in amount of points his team has scored on his drives (13.1).
Of players with at least six drives per game, Ellis ranks 9th in field-goal percentage when driving (48.8).
Interestingly enough, contrary to his well-earned recent reputation, Ellis is also performing quite well on "pull-up" attempts (shots outside of 10 feet where the player took at least one dribble prior to shooting).
Of players averaging at least five pull-up attempts per game, Ellis is currently shooting the sixth-highest percentage in the league, 46 percent … better than players like Stephen Curry (43.7 percent), Carmelo Anthony (41.2 percent), or last year's starting shooting guard for the Mavs, OJ Mayo (43.8 percent) … Tony Parker leads the league, converting 52.3 percent of his pull-up attempts.
As for other Mavs?
Vince Carter is the next Mavs player on the list (adhering to the same minimum requirements), hitting 30.8 percent of his pull-up tries … Dirk is hitting 50 percent of his pull-up attempts, but doesn't meet the five-attempt minimum (4.3).
Again, The 75-Member Staff's
exhaustive work in these departments and more is available to Premium Mavs Fans
for just a dime-a-day ... and as you'll see later today, Dugat will guide us deeper into the advanced-stat pool while I guide us through a Mavs practice. It's our 14th season of providing the best Mavs coverage on the planet and we're honored to have to join us!
OBSERVATIONAL DONUT 6: SLOW THE BREAK...
Coming into the Wiz game, the Mavs ranked No. 29 in the NBA in fast-break points allowed.
How did it get fixed? Er ... Dallas gave up a season-high 28 fast-break points.
How about the idea of "running with them''? After all, isn't Monta Ellis billed as the fastest Mav ever?
No, that didn't fly, either. Dallas countered with a season-low five fast-break points. Not to go all calculator-crazy on you, but obviously that results in a differential of minus-23 fast-break points - a Mavs season-low.
Got any fancy solutions? Pressure the defensive rebounder who makes the outlet pass? Pull a guy off attacking the offensive boards? Muddy the track?
Offer 'em up, please. Next up is Mavs-at-Miami on Friday. And if Rick Carlisle thought the Wizards were worthy of "stopwatches'' (due to their team speed) and worthy of "Speedos'' (due to their athletic frames) ... well, we are familiar with the havoc that Miami can bring, are we not?
OBSERVATIONAL DONUT 7: TRASH OR TREASURE ...
"Another man's trash is another man's treasure," DeJuan Blair said.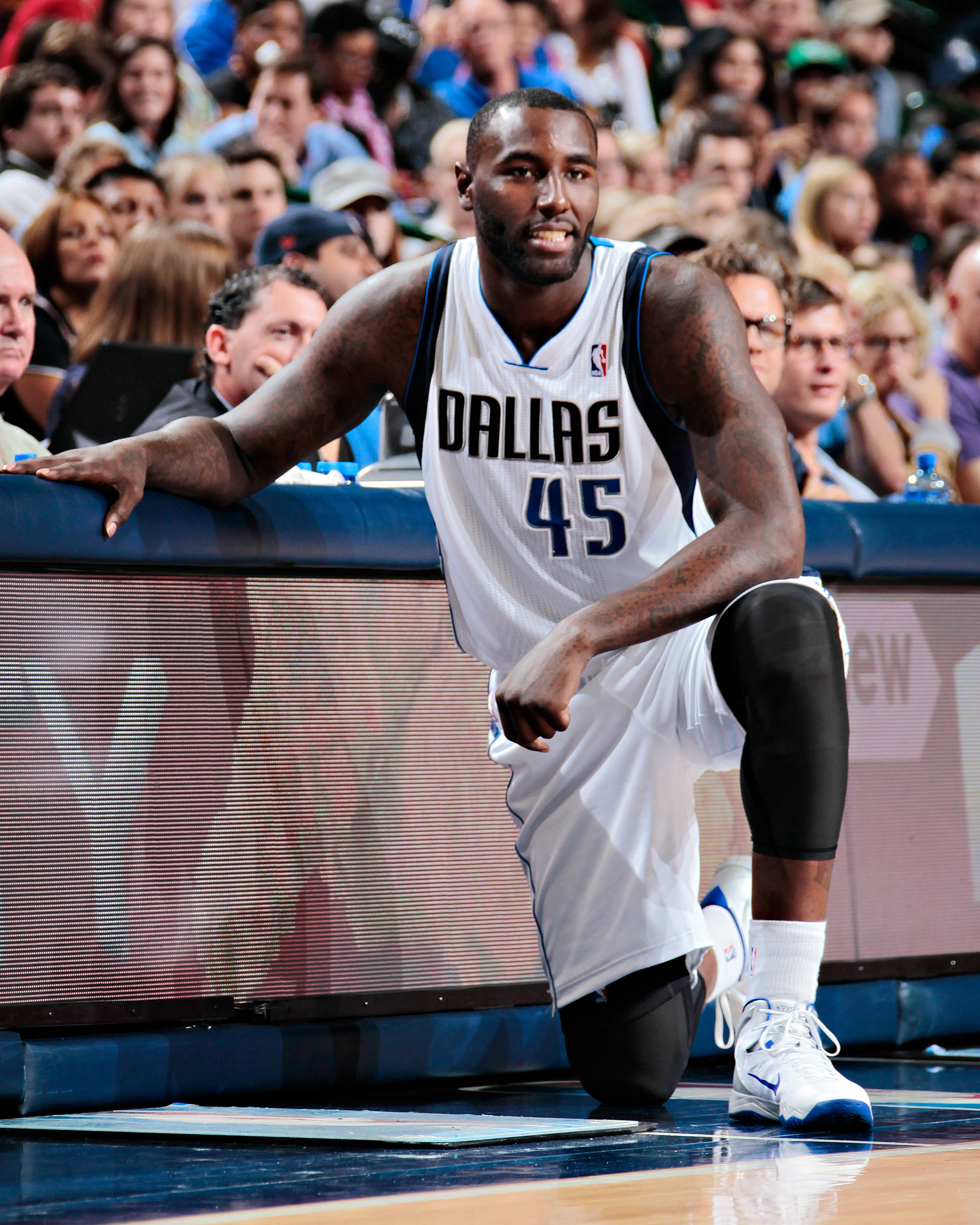 This is an enviable viewpoint for the evaluation of the world and the evaluation of self. Blair ran out of favor in San Antonio, wants desperately to prove the Spurs' judgment wrong, and is of great value here as one of Dallas' few "bull-in-a-china-shop talents.
At some point, the injured Mavs return. Point guard Devin Harris (toe) said his goal is to be playing in games by mid-December. Rookie point Shane Larkin (ankle) wishes he was fully back this weekend for the U of Miami product's homecoming (as the Mavs head to Florida for games at Miami and Orlando) but all he'll do this weekend is provide tickets for friends and family.
By the way, I'll join Bob Ortegel and Dana Larson on the Mavs Fox Sports Southwest telecasts as we bring you the Heat (6 p.m. Friday) and Magic (5:30 p.m. Saturday) games.
And then there is Brandan Wright (shoulder). The progress is so slow that he's just now up to actually shooting a basketball. That non-displaced fracture to his left shoulder happened on Oct. 8. The six-week prognosis? He's up against it.
With no Wright available, Blair has simply been invaluable. All treasure. No trash.
OBSERVATIONAL DONUT 8: THE SLEEVE! ...
We mujst note the black sleeve worn on Dirk's left knee on Tuesday. The right knee is the one he had work done last year and he says this is no big deal. For now, hopefully, we'll view it not as an ominous sign, but rather just precaution after an arduous stretch of games.
"It is what it is. ... I'm alright,'' said Dirk, and that's what we go with for now. ... his extremity featuring the sleeve and ours featuring crossed fingers.
OBSERVATIONAL DONUT 9: MONTA'S BULLETIN BOARD ...
Monta Ellis has clip-and-saved a locker-stall full of "bulletin board'' material. What's in the stories? Negative stuff. Why?
"It's just something I look at every practice and before the game and try to feed off it," Monta said.
This "nobody-ever-believed-in-me'' technique is time-tested. In the first one-on-one interview Emmitt Smith ever did in Dallas, I asked the fresh-faced new draftee what motivates him.
"All my life, everybody said I was too slow, too short, too this-and-that,'' Emmitt said, and I stopped him.
Too short? He was 5-9. Who ever said that? I suggested to Smith that he'd made that one up, that maybe he'd make up lots of imagined enemies and artificial hurdles so he could have ghosts to run through and run over.
And I say that now about Ellis.
Without having shuffled through all the papers in Monta's locker, I will assume he is fueled by the "inefficient shooter'' stuff. Problem there is, unlike Emmitt's artificial hurdle, Monta's reputation -- phrased accurately and scientifically and without malice -- is valid.
I'm sure Monta has this channeled properly and I'm encouraged by the ability to note that the Mavs have in their employ Dr. Don Kalkstein, one of the finest sports psychologists in the land.
So I suspect any negativity gets converted into positivity.
OBSERVATIONAL DONUT 10: THE FINAL WORD ...
It appears, as always, that in the East, a .500 team is in the playoffs. While in the West, a .500 team is at the butt-end of the lottery.
That was the Mavs' 41-41 fate a year ago. Rick Carlisle believes it'll be a piece-by-piece, night-by-night effort to avoid the same fate this year in the "12-deep West.''
In "the East,'' Rick said, "there are going to be more teams that at or below .500.'' Out of 15 teams in the West, it's going to be 12-deep at least in playoff contention. So every game every night is going to be meaningful.''
Hey, that's how DallasBasketball.com approaches every Mavs game. So yeah, it would be a savvy move for the team to do the same.