DONUT 1: And 'Away' We Go ...
The
Dallas Mavericks
are on a four-game roadie with a scheduling quirk in between: New Orleans on Wednesday, back in Dallas on Thursday but no practice, and then a practice Friday morning before hitting the road again for visits to Portland (Saturday), Sacto (Monday) and Golden State (Wednesday).
So it's an odd East-and-West zig-zaggy road trip with a great deal of demands ... and Dallas (3-6 on the road) not yet establishing that it is up to those demands.
Maybe coach
Rick Carlisle is right in saying of the win over the Pelicans, "We showed some signs of coming together.''
Or maybe the issue demands deeper analysis.
DONUT 2: Crunching numbers ...
(All home-vs.-away statistics below are from prior to Wednesday night's match-up in New Orleans, unless otherwise stated.)
A lot has been made of the fact that the Mavs have not performed nearly as well this season on the road. You need look no further than their record to find why: 9-2 at home and 3-6 on the road.
People then note the struggles of the offense on the road, with an eye on Dirk Nowitzki and Monta Ellis in particular.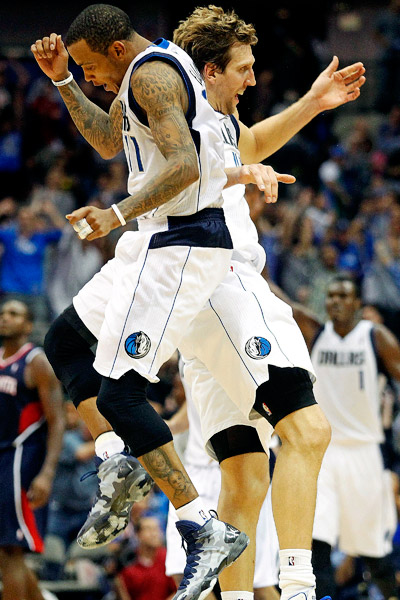 As a team, the Mavs had averaged 106.7 points per game at home, 99.5 on the road. And, hit 48.1 compared to 43.7 percent of their field goals at home and on the road respectively.
Dirk's home/away splits: 21.7 points, 52.0 field-goal percentage and 42.5 3-point percentage at home, 19.6 points, 44.6 field-goal percentage and 37.9 3-point percentage on the road.
Ellis's home/away splits: 23.6 points, 50.6 field-goal percentage and 41.7 3-point percentage at home, 19.6 points, 43.5 field-goal percentage and 30.4 on the road … and see's his free-throw attempts drop from 7.5 per home game to 4.6 on the road.
DONUT 7: Is it the home cooking? …
At a glance, it's easy to simply say the Mavs have struggled offensively on the road … and be completely correct.
As is almost always the case, there's more to be taken in than a glance can provide.
We'll begin by noting that the Mavs have played better teams on the road. Not counting the Pelicans, the combined record of the Mavs road opponents was 78-65, a winning percentage of .545.
(And if you want to "count the Pelicans'' in some way, count this: They came into that Wednesday meeting with a 9-8 record that would've made them the third best team in the East had they not the misfortune of being in the same Western Conference that houses Dallas.)
Compare that to a 99-104 combined record and .488 winning percentage for their home opponent's thus far.
DONUT 3: And there's more …
As is often the case when playing better teams, you also find better defenses … even if some of these numbers do not show vast separation.
The average league ranking of the opponent's defensive rating (points allowed per 100 possessions) on the road for Dallas has been 12.5 (un-weighted average of 104.86 defensive rating), with only two of the eight defenses faced ranking in the bottom half of the league.
At home, the average ranking of the opponent's defensive rating is 14.2 (un-weighted average of 105.45 defensive rating), with five of the 11 faced falling in the bottom half of the league, including the two worst ranked defenses they've faced (Philadelphia (26) and Utah (29)).
Meaning they've faced a defense rating in the top half 75 percent of the time on the road, compared to 54.5 percent at home … included in that, they have faced a top 10 ranked defense (by defensive rating) six times, three at home and three on the road, or 37.5 percent of the time on the road and 27.3 percent of the time at home.
(defensive ratings according to Basketball-Reference)
DONUT 4: No rest for the weary …
With a roster that relies heavily on veterans (and two key bench players still out), the Mavs are not ideally constructed to face games on limited rest.
Half of their games on the road (and again, this doesn't include the New Orleans game, which was also on the backend of a back-to-back) have come as the second night of a back-to-back, including games two, three and four of their four games in five nights stretch.
Count New Orleans and you've got seven b-2-b's ... 20 games having been played for the 12-8 Mavs and 14 of those games as part of a demanding scheduling sandwich.
Average rest, counting a game on the second night of a back-to-back as zero days rest? Dallas is averaging 0.63 days of rest prior to games on the road, compared to 1.1 at home … with the second night of a back-to-back being played at home only twice in 11 games.
DONUT 5: A road recipe ...
Put simply, the Mavs are playing better teams and better defenses on about half the rest on the road so far … which sounds like a recipe for worse performances.
And so that's what they give.
DONUT 6: Catching up ...
Catch up on a sample of the finest Mavs coverage in the land with
our All-Access Donuts from New Orleans ...
... and please
check out the DB.com Archives for all the latest goods on the Mavs!
DONUT 7: The smartest money guys in DFW ...
We're not what you would call "wealthy.'' We just have, like you, desire to create a more financial future for my family. Let us please introduce you to Woody Levinson and Bill Saplicki at
LS Wealth Strategies
! Because they're Mavs season-ticket types, we like 'em. But because they've taken such a keen interest in using their skills to help our family handle our finances, our investments and our future, we love 'em! Give them a click or a call at
LS Wealth Strategies
! and tell them The Fish sent you!
DONUT 8: A coming-together sign ...
This year's Mavs -- especially when Calderon is healthy and on the floor -- may be figuring out crunch time.
In games that are within four points in the final two minutes, the Mavs now have a 5-3 mark. Now, the way Saturday night foe Portland is playing, it might be a challenge to be that close that late. But if Dallas is ... maybe the Mavs have figured out some answers.
DONUT 9: Dallas' D ...
This is a season-long work-in-progress, as we have said many times before. But there is a mini-trend unfolding in regard to Dallas' fourth-quarter D:
Our man Mark Followill notes that in capturing their first sweep of a back-to-back this year, Dallas on Wednesday held Charlotte to 5-of-16 in the fourth ... and then on Thursday held the Pelicans to 6-of-21 shooting in the fourth.
It's a mini-trend!
DONUT 10: Are these Nets the Almost-Mavs? ...
It's pretty convenient to say today ... though Mark Cuban did essentially say it in his post-2011-championship actions.
But today's Brooklyn Nets are, the Mavs owner suggests, an embodiment of the reason he opted not to bring back Tyson Chandler and the rest of the free-agent gang from the title team.
"It's not just you're stuck for a week or you're stuck for half a season, you're stuck,'' Cuban said to reporters Wednesday in New Orleans when asked about Brooklyn's situation. "Now the rules have gotten worst you're even more stuck.''
DONUT 11: About this 'stuck' business ...
Where are the Nets? They have the most bloated payroll in the NBA at $102 mil. They have a horrible record. They have expensive and rapidly-aging players.
They are not the "model franchise'' they were touted to be, and under Nets owner Mikhail Prokhorov -- hailed by many as a "Russian version of Cuban'' -- they have not yet approached anything like Dallas' decade-plus run of success under Cuban.
It adds to the irony that today, the NBA in New York is constructed of pieces from Dallas' title team.
"If you look across the board a lot of guys would have been our guys and they've been hurt a lot,'' Cuban says. "One's a coach now (Kidd in Brooklyn) and two of our key players (Terry in Brooklyn and Chandler with the Knicks) would have been hurt. You never know, but that was definitely a fear.''
The Mavs did retain Jason Terry following the title but he was displeased at being retained only in the final year of his deal. Dallas' plan was to keep Kidd involved in the franchise but he bolted to the Knicks as a player before becoming a coach. Chandler headed a group that included J.J. Barea and Caron Butler that was allowed to walk.
It is Cuban's view that the long-term retention of all those players might've pushed today's Mavs into a corner not unlike where today's Nets are -- including seeming financial inflexibility.
That may all be a little too convenient, though.
DONUT 12: The Final Word ...
It's been frustrating to watch the Mavs spend the last couple of years "keeping their powder dry.'' But maybe it's more frustrating being a Nets fan.
We wouldn't know. We're not Nets fans.
But here's what else we don't know: If these injury-related chips were destined to fall this way no matter what. If the Russian owner, like Cuban a lux-tax payer, cares about the money. Why Cuban agrees to discuss and pinpoint the Nets in this fashion; could it be because he's still got a little Deron on his mind? Oh, and why does he work the failed Lakers signings into the same conversation?
Do the Nets and the Lakers really have anything to do with the way the Mavs have done their business any more than any other franchises? Or is there just a slightly gloating nature to Mavs ownership wanting to use them as examples?
Cuban was if he has any advice for Prokhorov. He grinned and said, "Drink more? I don't know.''
The first part of that answer is funny. The second part is true. Cuban does not know. He cannot know. Heck, we can't even be certain the Nets are "stuck.'' What if they get themselves "unstuck''?
And what if they do so before the Mavs get themselves "unstuck'' from being a middling contender?
We can all "drink more'' if we wish. But when it comes to the master plans of both the Nets and the Mavs, none of our drinks need to come in the form of celebratory toasts. Not yet.
DONUT 13: The Finest Dentists in North Texas! ...
Our neighborhood dentists, even though we don't even live in the McKinney neighborhood? It's McKinneyDentist.com, and it's been the case for Nate, Tony and me for my kids' entire lifetime.
At
McKinneyDentist.com
, Dr. Berlin, Dr. Markham, Dr. Lynch and Dr. Wood have been providing the finest in everything from technology to chair-side manner for years, to my family and to so many of you. Their great work has part of us bringing our Mavs coverage to you since 1995 ... And we're proud to be associated with The Finest Dentists in North Texas ... McKinneyDentist.com!