DONUT 1: Startin' Sam ...
The
Dallas Mavericks
outsmarted themselves for a half, there.
Center Samuel Dalembert was jerked from the the starting lineup on Monday for the first time this season in favor of Jae Crowder, the Mavs' thinking being that it would be advantageous to play SmallBall against Philly.
"We should have started our regular way,'' said coach Rick Carlisle after Dallas reinserted Dalembert to begin the second half and came back to win 97-94. "But you live and learn.''
We also learned something about Dalembert, who rolled with the decision when the coach informed him of it Monday morning.
"He called me and he said,'Hey, listen I want to try something,' '' Dalembert said. "He said he wanted to go small with them, and I said, 'Hey, if it's the best thing for the team, then I don't have any objection of that and we'll give it a try.
"But it seemed like it didn't work.''
Well, no. It did not.
Crowder made just one of his eight shots. Dallas was behind by 10. Even in winning, the offense fell short of the 104-point mark that has become so common in this early season.
Meanwhile, the Mavs' new center Dalembert was true to his word, working off the bench for his eight points, his season-high 14 rebounds and his three blocks.
"It's a case of a guy who didn't let (the lineup change) affect him,'' Carlisle said of Sam. "He came in and he was a big factor.''
And tonight against Dwight Howard and the visiting Rockets, Samuel Dalembert will need to be a big factor again.
Only this time, from his customary starting spot.
DONUT 2: The DB.com Mavs Podcast! ...
The
Dallas Mavericks
on the DB.com Mavs Podcast here on iTunes
and up and running below as well ... with a very special cast of characters:
Mike Fisher
,
Kevin Turner
and
Mike Marshall
talk about the Philly win, the Rockets rolling in, trade ideas, the fit of Larkin, Dalembert and Jae, and also some regrettable toilet humor.
Oh, yeah. And we find Roddy B. Politely eating lunch alone in his BMW. With a cast on his hand.
Pull up a chair to the hoops roundtable and let's kick it around ...
DONUT 3: Ellis for 18-plus ...
No Mav has ever started his career with the scoring consistency of Monta Ellis.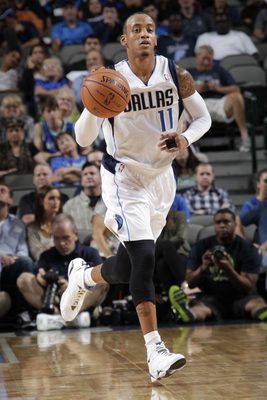 With his team-high 24 points against the Sixers, Monta has scored at least 18 points in all 11 Mavs' games this season.
Said an appreciative Dirk Nowitzki: "We know we can rely on him for 20-plus every night, and that's obviously a luxury to have,'' Nowitzki said in describing Ellis. "He can score in bunches, he's so quick, he's always attacking. ... He's been great scoring and making plays for his teammates.''
Two areas where Ellis is especially productive? At home and at the rim.
Courtesy of our man Coop: In five games this year at the AAC, Ellis is averaging 24.6 points on 54.7-percent shooting. And in 16 career games at the AAC, Monta is averaging 22.6 points on 51.2-percent shooting.
That percentage elevates when you go to the rim, of course. Going into mid-week, Monta is the NBA leader in total drives to the basket, with 121.
DONUT 4: Lots of Video Visits! ...
Our coverage of the Mavs' win over Philly includes
our First Impressions focusing on the surprises
and
video and analysis of the game from on the sideline and in the locker room.
Dig in and enjoy as we await the 8:30 start for tonight's Rockets-at-Mavs tip!
DONUT 5: The last time ...
This will be the second go-around for these two teams. You might recall
the results from the earlier 113-105 Mavs loss
featuring a horrid first quarter.
Consider this chart as part of your review:
| | | | |
| --- | --- | --- | --- |
| item | Mavs | Rockets | Differential |
| points | 22 | 38 | -16 |
| rebounds | 7 | 19 | -12 |
| FG% | 36.4 | 53.8 | -17.4 |
| 3PT% | 33.3 | 50.0 | -16.7 |
| pts in paint | 8 | 16 | -8 |
| 2nd chance pts | 4 | 11 | -7 |
| fastbreak pts | 4 | 11 | -7 |
"The truth is, it's a 48-minute game," Carlisle said after that night, "and the first 12 we got demolished.''
Dig in and learn as we await the 8:30 start for tonight's Rockets-at-Mavs tip!
DONUT 6: Where does Shane fit? ...
"It was a great moment in my life and a great moment that I've been waiting my whole life for and working my whole life for,'' rookie Shane Larkin said of his NBA debut on Monday in the win over Philly. "To step on the court and hear the crowd cheering for you like they've been waiting for this moment is a great feeling.''
We've got
the review of Larkin's night here.
What we don't yet know: Does he leapfrog over Mekel as Calderon's backup? If so, how soon?
And by the time we get to late-December and Devin Harris is healthy, who does he leapfrog over?
DONUT 7: Beasting the East ...
Must Dallas outduel opponents in the West in order to make the playoffs and climb the eight-seed ladder? Of course.
But being 4-1 so far against the East is also key. We'll address the details in an upcoming Premium Mavs piece.
And once we've all consumed these numbers, we'll come to realize how important it is to stash away these wins over the Bucks and the Sixers and the whomevers from the Jayvee Schedule.
DONUT 8: All-Star balloting ...
Three Mavs are on the All-Star ballot. Lest you get too excited, though, that's the minimum number required per team. Nevertheless ... vote away!
DONUT 9: A 14-year ride ...
Mavs conversation about tonight's game and everything else Mavs? It's on the best discussion forum in the NBA, The
DB.com Boards!
Membership is free and we'd love for you to be a part of our 14-year ride together on DallasBasketball.com!
DONUT 10: Welcome, Social Club! ...
We welcome to the DB.com family
Oak Cliff Social Club,
voted Dallas' best "dive bar'' and located in the heart of the Bishop Arts District.
This "place for local people to come without paying tourist prices" is anchored by a 40-foot, oak-backed, Brazilian black granite bar, and a "garage" area featuring couches, TVs, and twin pool tables. Local beers and home-style pizza will do the trick before or after the Mavs game.
Thanks to
Oak Cliff Social Club
for supporting the Mavs, DB.com and so many positives things happening in the Bishop Arts District!
DONUT 11: It's GameDay! ...
It's Wednesday. It's HumpDay. It's GameDay!
It's time ...
DONUT 12: The Final Word ...
"We've gone from at 29th in the league (in defense) the first week of the season, and we're up to 13th. And our catastrophic turnovers are keeping us from being in the Top 10, so ball security has a lot to do with that.'' -- Rick Carlisle.
DONUT 13: The Finest Dentists in North Texas! ...
Our neighborhood dentists, even though we don't even live in the McKinney neighborhood? It's McKinneyDentist.com, and it's been the case for Nate, Tony and me for my kids' entire lifetime.
At
McKinneyDentist.com
, Dr. Berlin, Dr. Markham, Dr. Lynch and Dr. Wood have been providing the finest in everything from technology to chair-side manner for years, to my family and to so many of you. Their great work has part of us bringing our Mavs coverage to you since 1995 ... And we're proud to be associated with The Finest Dentists in North Texas ... McKinneyDentist.com!