There is no doubt about the accuracy of the Yahoo report that has Houston opening up its mind to the idea of trading Omer Asik. Nor is there any doubt
about Asik's desire to escape Houston.
He is a starting-caliber center reduced to playing behind Dwight Howard ... or playing alongside him, in a failed bit ... or, this past week, not playing at all.
On paper and/or in a vacuum, there is also no doubt the Dallas Mavericks could use a player of Asik's talents, as we discuss
in this week's DB.com Mavs Podcast.
So, amid all the stories of teams involved in preliminary discussions regarding Asik, are the Mavs in "touching-base" mode with Houston?
They are not.
And there are three reasons why.
One: That pesky wish for a No. 1
As with
the bogus Shawn Marion-for-Evan Turner trade rumor of last week
, the complication of Mavs assets slows all conversation at this level. The Rockets have every reason, at this early stage, to ask for a No. 1 pick in any deal.
Eventually, Dallas is likely to be in ownership of a No. 1 pick in the seemingly loaded 2014 NBA Draft. But at this time (and for this season) the Mavs do not have that pick to convey as it technically is in OKC's possession.
So other bidders for Asik willing to give a pick and a player? They'll have Dallas beat.
Two: The Mavs' belief in 'organic growth'
However unlikely, what if Houston just happens to fall in love with the idea of, say, Shawn Marion as a Rocket? He truly could provide Houston a level of defensive-wing play the aspiring contender doesn't presently employ.
Consider Mavs policy and consider Mavs history: Cuban especially is a believer in the "organic growth" of a business, an idea, and yes, a team of players. Asik is 27, averages $10 mil a season for the next two years, and would be a prize even with the defensive-minded Sam Dalembert already manning the middle for Dallas.
But the Mavs do not usually blow up what they've just recently constructed. And even if they change their mind come February, they don't appear to have the building blocks to forge a reconstruction featuring Asik.
Three: The Waiting Game Houston will want to sit on this situation. It's notable that Woj's initial report created the impression that trade talks somehow accelerated late this week; he was quick to correct that misunderstanding to note that his suggestion of talks may date all the way back to July.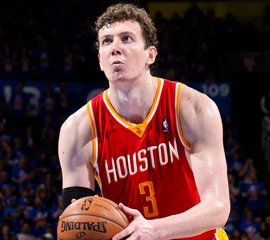 Why should Houston wait? Asik is presently an unhappy benchwarmer; his value has dropped, however, temporarily.
Why must Dallas wait? In most of the deals we can construct, we see guys like Brandan Wright and DeJuan Blair as worthy pieces. Blair can't be traded until mid-December. Wright -- who our David Lord sees as a standout fit for what Houston is trying to build -- cannot be dealt until mid-January.
Those are the behind-the-scenes reasons why the Mavs are not pursuing an Asik deal at this time. And given the reasons known inside Mavs HQ, we're guessing they might as well be saying "no" twice followed by a "not yet'' once.