DONUT 1: The offseason pickup ...
Surely Mavs owner Mark Cuban was being deviously playful last week when he suggested we should all reserve judgment on whether Dwight Howard was the best offseason pickup of the summer.
"Plan B sometimes is better than Plan A," Cuban said last week before the Mavs beat Houston. "Sometimes the best deals are the ones you don't do, but it's still too early to tell."
The
Mavs went all-in for Howard, as you might recall.
His landing in Houston is a Dwightmare for Rockets opponents far more than it represents a Houston Headache.
But behind Dwight (for all his warts the sort of core player that is absolutely necessary to truly compete for a title)?
There is Monta Ellis.
DONUT 2: Dazzling digits ...
The early-season non-advanced numbers are mind-numbingly pleasing to observers of the 9-5 Mavs.
Monta is at 23.6 points, 5.4 assists, 3.9 turnovers (all three lead the Mavs), 49.4-percent shooting, 37.8 percent from the arc, with 7.4 free throws per game and hitting 82.5 percent.
The last time a Mavs player averaged at least 7.4 free-throw attempts per game for a season was 2005-06 (Dirk) ... not counting Ellis right now, it's only been done seven times in Mavs franchise history. (Twice by Dirk, who also has most for a season at 9.1 in 2004-05, and joined by Jamal Mashburn twice, Jim Jackson, Adrian Dantley and Mark Aguirre).
Dirk is still a go-to guy and point guard Jose Calderon seems nearly Kidd-like in his operation of the offense. But Ellis has wasted no time in asserting himself as the ignition to this offense. His exploits are so notable that
even Deadspin is writing analytical pieces about him
... and that's a sign of Monta's inspirational power, because we didn't know Deadspin was even allowed to do such a thing without at least two penis jokes crammed into the copy. (We kid.)
DONUT 3: The factors …
There is obviously no single reason for Ellis' fat stats and ballyhooed efficiency. (Ballyhooed wrongly as something he's never done before; stay with us here ...)
Mavs watchers and national writers have attempted to pinpoint a single reason: He's never played with someone like Dirk (true). He's rarely played with a backcourt mate like Calderon (true). If you buy into Carlisle's teachings, you thrive (true.)
DONUT 4: "Because It's Dallas!'' …
Maybe he simply likes it here?
"I love Dallas,'' Monta said this weekend. "I love being here. You can tell by the hymns I'm singing up in here. It's great, man."
So yes, true. Oh, and the offensive numbers bear that out: In his seven home games this year's he's at 26.6 points, 7.1 assists, .55.4-percent shooting, 50-percent shooting from the arc and 9.4 free-throw attempts per.
Monta is especially hot in his last three home games, at 29 points, eight assists, 54.9-percent shooting, 50 percent from the arc and 11.7 free-throw tries.
Oh, and lo and behold, it has always been so. In Ellis' 16 career games at the AAC as a visitor, he's averaged 22.6 points on 51.2-percent shooting and - you guessed it -- 50 percent from the arc.
As Donnie Nelson once excitedly and (in)famously said in explaining why the Mavs can be a "destination team,'' "Because it's Dallas!''
DONUT 5: 1,000 Links In The Chain …
Obviously, all those reasons are involved. As we like to say around here, "There are 1,000 links in the chain of a championship.'' Dallas' 2011 title wasn't just about Dirk, wasn't just about TY. Links in that chain might've included some unnoticed bond in the locker room, some lucky bounce that occurred months before the securing of the Larry O'Brien, might've been one obscure sentence uttered to someone, somewhere, along the way.
So no "one reason.'' Maybe a 1,000 reasons.
DONUT 6: The Foundation Difference …
However ...
The most common question regarding Ellis' early-season explosion is whether he can sustain it. And the most common example used to establish that maybe he cannot is old friend O.J. Mayo
O.J. had never played with someone like Dirk, either, and until the last weeks of the 2012-13 season, anyway, bought into Carlisle's teachings -- and thrived.
Now, with Dirk missing 29 games (during which time Mayo had a great deal of authority and freedom) maybe the chemistry was never allowed to fully take hold.
Yet we are just one-sixth of the way through the 2013-14 Mavs season and we have witnessed an obvious chemistry between Dirk and Ellis.
Again, that chemistry can be created in a variety of different ways, obvious or obscure. It can be developed when the two guys hang out at the annual Thanksgiving Turkey Dunk, a Mavs charitable event staged last week. It can be Monta deciding to join Nowitzki for a late-night shooting session with Holger in attendance.
Or it can be on-the-court.
And it can be in the pick-and-roll.
DONUT 7: The pick-and-roll …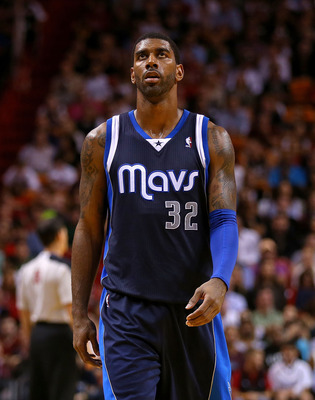 You will read no Mayo-bashing in this space.
Our criticisms of his odd behavior in the final week of last season still strikes us as weird, and we said so at the time.
Yet all-in-all, Mayo as a Mav was among the few chapters in Dallas' "One-Year-Contract Experiment'' that accomplished anything at all.
Mayo was, after all, the best player on this team last year. He came here for just $4 mil, and doubled the size of his annual pay upon leaving for Milwaukee. And at this exact time last year, we were touting him as borderline All-Star material.
And we stand by that. He was damn good ... but his numbers weren't sustainable, damnit.
Something else we stand by: Our stat-based view at the time that anyone who thought Mayo was going to out-Jet Jason Terry as a two-man-game partner with Dirk was mistaken. We did the study: Jet vs. Mayo as a ball-handler in pick-and-roll situations, as one half of a two-man-game
represented a landslide victory for Terry.
DONUT 8: Chart time! …
Even with that, Mayo's work as the pick-and-roll ball-handler last season with Dallas represents some of the best numbers in his pro life. And yet, compare O.J. last year to what Ellis had done through 14 Mavs outings:
| Player | PPP | Rank | FG% | %SF | TO% | %Scoring |
| --- | --- | --- | --- | --- | --- | --- |
| Mayo | 0.73 | 115 | 40.3 | 4.0 | 21.5 | 35.2 |
| Ellis | 0.99 | 4 | 55.4 | 11.2 | 19.1 | 50.7 |
*
PPP: points per possession

*%SF: percentage of plays that ended with shooting fouls

*%Scoring: percentage of plays that ended with a score (at least one made free throw)


There is no debate here. The difference is clear. And the difference involves a most important pillar in Dallas' offense.
DONUT 9: Pick-and-Roll Perfection? ...
This doesn't mean Pick-and-Roll Perfection. It doesn't mean this team and this player are without flaws. We saw some of
the flaws exposed (certainly on the defensive end) on Friday in what ideally should've been a blowout win over hapless Utah.
And then
we saw what happens when shots don't go late in a close loss in Denver on Saturday.
But it does mean that while Monta isn't Dwight ... Monta is a Mavs fit.
DONUT 10: How do players fit? …
In his heart, Mayo believes he possesses the ball-handling skills of a point guard; he talked about that at length with DB.com on more than a few occasions. But stats show he'd never shown great prowess while handling the ball in the pick-and-roll. ... or, as a partner with Dirk last season, as the triggerman in Nowitzki's pick-and-pop feature.
DB.com used SynergySports to track back to the 2009-10 season, Mayo's second in the NBA. In that time, the 0.73 points per possession as the pick-and-roll ball handler he posted with Dallas represented the best of his career to that point (he's currently at 0.78 with the Bucks).
That same number, 0.73, marks the worst over the same timeframe for Ellis, posted in his last half season with Golden State.
"He can score in bunches,'' Dirk said. "He's so quick, he's always attacking. ... If you relax for one second, one quick dribble and he's at the rim laying it in. So he's just constantly looking to attack. And if it's not there, he find the shooters, or find the rollers. He's been great scoring and making plays for his teammates.''
And there is a history here. How do Ellis' teams score when he's running the pick-and-roll? He averaged 0.96 points per possession in the 2010-11 season (ranking ninth in the NBA) and 0.82 during the 2009-10 campaign.
DONUT 11: Hey, Warriors and Bucks? …
Maybe the Warriors and Bucks should've studied these numbers as intensely as (we hope) you are studying them now. Because in those two seasons in Golden State, Ellis took 1,012 turns as the pick-and-roll ball handler. The Warriors got results.
Over the course of the next TWO seasons he had only 444 total turns on this play while toiling for Golden State and Milwaukee.
Cuban noted the other day that every NBA team is developing its own advanced stats, so it's less cookie-cutter than we might think.
Nevertheless: How and why did the Ellis pick-and-roll go out of vogue on those two teams? Or is it Monta's fault for losing a desire to go to the rim, which of court effectively cuts in half the purpose of the pick-and-roll?
DONUT 12: The Final Word …
We are one-sixth of the way through the season with the Nuggets in town tonight for a 7:30 start at the AAC. It will offer another chance to see if Ellis can sustain this level of production in the two-man-game with Dirk, and in the pick-and-roll in general with the
Dallas Mavericks
.
Dirk, for one, believes, calling Monta "a great phenomenal playmaker for us. That's what he's been doing all season long.''
And we believe we've already seen enough to know that unlike as with O.J. Mayo, there is a core reason to expect a continued high level of success. It's the pick-and-roll and Ellis' history of success with it. Enough to make Monta as valuable as Dwight? Um, no. Enough to suggest Monta is going to win the "comparison battle'' with Mayo?
Um, yes.