DONUT 1: Dallas 103, Golden State 99 ...
Coach Rick Carlisle's pregame comments tell you the
Dallas Mavericks
knew what they were up against in Wednesday's visit from the Warriors.
"They're a top team,' Carlisle said of Golden State. "They've got size, they've got strength, they've got athleticism ... They're known as a team that plays with playoff style, and that's undisputed. And that's a big accomplishment.''
How did Dallas deal with a club that is suddenly so blessed with so many attributes and such a "big accomplishment''?
"In a game like this, where you've got guys on the other team that can do skill-wise what these guys can do, you've got to take care of the ball,'' Carlisle said after his Mavs' 103-99 win. "It was important. Down the stretch it was a wild scramble to get the last couple of stops so we could put it away."
Dallas' victory -- which featured 27 assists and a season-low six turnovers -- moves the Mavs to 10-6 overall, including 8-1 at home.
DONUT 2: Dirk's Video Visit ...
Dirk Nowitzki was one of six Mavs in double-figures, leading the charge with 22 points. Part of his performance: A late-game turnaround jumper off the dribble that served as the dagger after Dallas almost lost a lead that had been as bloated as 17 earlier.
Nowitzki jumped back in front of Brooklyn's Kevin Garnett for 14th place on the NBA scoring list. KG Garnett scored just four points against the Lakers on Wednesday. Nowitzki is at 25,383 points. Garnett has 25,368. ... and we look forward to The Uberman pulling away here.
DONUT 3: Who Deserves 'The Dirkie'? ...
Player of the Game?
Who Deserves "The Dirkie''? You vote here!
DONUT 4: Monta's Video Visit ...
The Mavs were in control at 99-82 with about five minutes left in the game when much of the sellout crowd at the AAC was contemplating a return home to stuff a turkey or whatever. The Warriors -- using that "size, strength and athleticism'' that Rick had touted -- ran off 13 straight points to tighten the game.
Maybe it wouldn't have been so tight had Monta Ellis not been suffering from a tight back that was certainly a contributing factor in his poorest statistical outing as a Mav.
As Monta would later add, ""Mama said there'd be nights like this."
Ellis scored just four points while shooting 2-of-16 from the field. That breaks his season-long streak of scoring at least 18 per game. ... and yet he did find ways to contribute to Dallas' survival. His 10 assists (including a gorgeous feed for a Sam Slam with 1:21 left) matches his season-best. His hustle on defense prevented Golden State guard Stephen Curry from doing even more damage with 3-pointers on the break.
Ellis, Carlisle said, "was frustrated during the game, but it did not affect him at the defensive end and it did not affect his playmaking. He had a rough shooting night and yet he was a major factor making winning plays. It's huge for us."
DONUT 5: Stat O The Night ...
The Mavs are now 4-1 when they cough it up 12 times or fewer in a game.
DONUT 6: Making it Wayne ...
"Be Ready.''
You've probably noticed it's a favorite theme of mine to discuss because it's a favorite theme of Carlisle's to implement.
On Wednesday night, Wayne Ellington was ready.
The coach gave him six rare minutes. Ellington responded by matching season-high with six points, accented by a cut-to-the-hole.
"It's tough, but it's part of the game, part of being a professional," Ellington said of his role. "Whatever is thrown at me, I'm going to try to be as prepared as I can."
Added Carlisle: "Ellington stayed ready."
"Be Ready.'' ... to see that dunk:
DONUT 7: The bench is back! ...
The Dallas bench got outplayed on Monday against Denver. This coaching staff challenged its second unit to not let that happen again here -- at least in terms of energy output.
I've mentioned Ellington's contributions. But it hardly stops there. The Mavs got 43 points from the bench, highlighted by the work of Shane Larkin, DeJuan Blair and a prideful Jae Crowder.
"Of all the games we've played all year, tonight was the night we really needed the bench to step up and be big, really at both ends of the court, and they were," Carlisle said. "We've got some guys that we're developing, some younger guys. They all really stepped up tonight."
DONUT 8: Getting Vince untracked ...
Another guy being called out by Carlisle is Vince Carter.
(Mavs fans are here on DB.com Boards discussing the subtle approach by the coach regarding his veteran.)
Vince scored seven points in 28 minutes on Wednesday, meaning ... it's not quite there yet.
"He got some better looks,'' Rick said. "Teams are laying all over him. They know how important he is to us. There's going to be times he's going to have to just let the game come to him a little bit. The attention he gets off the ball opens up opportunities for other guys away from him. There's a certain amount of patience and discipline that he's got to use – and he will. He's got such an aggressive nature that he's always going to be looking to attack."
Here's our Video Visit with Vince:
DONUT 9: Shane's step-up ...
Rookie Shane Larkin was another bench guy who responded to the coaches' prodding.
Not only did Larkin play ahead of fellow rookie Gal Mekel (who got a DNP), he even popped up ahead of starter Jose Calderon when Dallas made defensive substitutions in the backcourt in the final three minutes.
"He just told me to get a stop," said Larkin. "It showed me he has a lot of confidence in me, so that was good."
The 5-11 rookie as a defensive stopper?! More accurately, the waterbug Larkin's role is to provide a spark ... offensively, defensively, whatever.
"It's not even about the points or the assists," said Larkin, who happened to score seven points with six assists. "I think I just gave my best energy effort off the bench and helped the team get going in that way."
DallasBasketball.com is in the Mavs locker room with Shane Larkin and will have more on his development and his Video Visits coming up!
DONUT 10: Carlisle's summation ...
DONUT 11: Bosh No. 1 target? ...
Meanwhile, ESPN is busy trying to connect the Mavs and Chris Bosh, saying the DFW native is Dallas' No. 1 target in summer-of-2014 free agency.
NBA executives "expect the Mavs to target Chris Bosh,'' according to an ESPN report on Wednesday that plants a sloppy seed that has grown into an illogical and errant tree of information.
Dallas has already firmed up its summer-of-2014 shopping list and Bosh stands atop it?
This is nonsense on a trio of important levels, which we detail here.
DONUT 12: The Final Word ...
The Warriors were on the butt end of back-to-back. But they still are what Rick says they are: "A top team ... with size, strength, athleticism ... with a playoff style.''
So it's a signature win of sorts for Dallas, piecing things together in ways that may allow them to think of "playoffs'' as well. Example: Centers Dalembert and DeJuan Blair combined for 22 points, 15 rebounds and three blocks.
Neither player is exactly an ideal blueprint for a postseason center, but, together?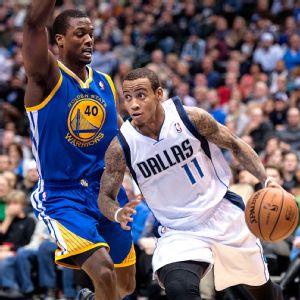 "One guy gives us girth, one guy gives us length," Carlisle said. "They're like 'Thick and Thin' out there.''
"Thick and Thin.'' That's a pretty good description of Mavs fans' allegiance to the cause, of Carlisle's so-far success in pulling this group together, and of enduring the peaks and valleys of being what this team presently is.
"Mama said there'd be nights like this," Monta said -- and Mama also knows how satisfying it is to win on nights like this.