DONUT 1: Mavs 100, Minny 98 ...
The
Dallas Mavericks
had their second stop on this chilly three-game roadie with a Monday nighter in Minnesota.
"We've got earmuffs, mittens, everything,'' joked Shawn Marion before the game, knowing that it was to be minus-a-billion degrees outside.
Luckily, once Trix went inside, he remained warm.
We've got
your All-Access Pass here
- we promise, the most insightful analysis to be found on the Mavs -- as we play around with Marion's 32 points and with his "controversial'' game-ending stop on Kevin Love:
Said Love: "I'm the type of person that if you see a foul, an obvious foul, you call it. I thought that was pretty, pretty obvious. ... Without saying too much, you look at the replay, and it was obvious he got arm."
Said Marion: "It was not a foul. It was not a foul.''
Marion wins the call. Marion wins the argument. Marion wins the game.
Also,
there's more Mavs info to be had here in First Impressions ...
And we keep the ball rolling on Wednesday as once again I'll be part of the FOX Sports Southwest telecast starting at 4:30 and also featuring Dana Larson, Bob Ortegel handing it off to Mark Followill and Derek Harper at it's Dallas at Washington to close the roadie -- maybe with four straight wins?! -- and open the New Year!
DONUT 2: Mavs 105, Bulls 83 ...
What happened in Chicago? Events just as fun as in Minny ... but different.
We wondered, using Rick Carlisle terminology: Would "Windshield-Wiper Basketball'' be the way to overcome the Bulls' "Smash-Mouth Style'' on Saturday in Chicago? Would that be the trick? Back-and-forth pace? High-octane attacking? "Windshield-Wiper'' trumping "Smash-Mouth'' as if this was an 94-foot-long game of "Paper, Rock, Scissors''?
In five previous meetings under coach Tom Thibodeau, Chicago had limited Dallas to a paltry average of 84 points per.
How did the problem get fixed on Saturday?
We've got the "Winshield-Wiper'' answers here in First Impressions.
... regarding what in a way was Dallas "throwing a no-hitter.''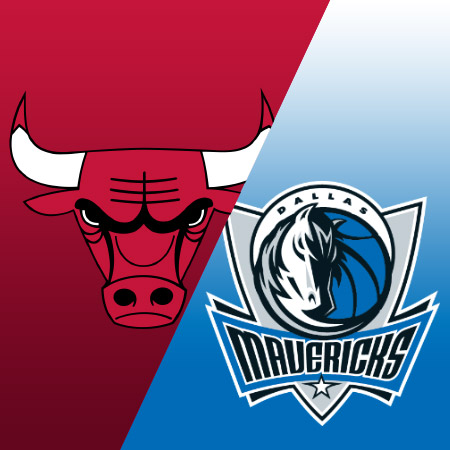 DONUT 3: Quoteboard ...
"When we defend and rebound like that, we're a formidable team." - Rick Carlisle after beating the Bulls.
DONUT 4: The Tar-Heel Tandem ...
The Mavs' bench scored 40 points against the Bulls, and check out this B-Wright-related trend: The Dallas bench was averaging 37 points per game over the seven games since the return of ...
Yeah. Brandan Wright.
And the biggest beneficiary was ...
Vince Carter.
The original discoverer of this trend is our own Michael Dugat, who has detailed how Vince's numbers explode when he's teamed with Brandan. The second wave of Dallas talent -- featuring the Tar-Heel Tandem combining for 9-of-12 shooting for 24 points in Chicago and last night featuring Wright's 14 points and three critical late-game rebounds -- can overwhelm an opponent when all hands are on-deck.
Look at Vince's work with Wright over the course of the 2012-13 season:
| Vince | Min | FG% | 3PT% | Asst | TOs | Pts | +/- | Net |
| --- | --- | --- | --- | --- | --- | --- | --- | --- |
| w/ Wright | 636 | 44 | 44 | 4.4 | 1.6 | 20 | +7.4 | +10.2 |
| w/o Wright | 1457 | 43.3 | 38.9 | 2.9 | 1.9 | 18.2 | +2.6 | +2.3 |
And this year? In those seven games, Carter was averaging 13.9 points on 52.6-percent shooting. That's highlighted by his 18 points in Chicago.
"I'm back in a groove," Vince said upon departing The Windy City, but more accurately, Wright is helping him re-carve that groove.
VC's numbers in Minny weren't very good; Carter finished with six points on 2-of-9 shooting (some of it dubious). But as a group, the Mavs' bench did it again: J.J. Barea scored five points. The rest of the T'Wolves' bench added a total of … zero.
And Wright and the Dallas subs win, 26-5.
DONUT 5: Devin's scheduled return ...
Devin Harris plans to go through his first full practice of the season about two weeks from now.
Harris has yet to play this season after undergoing surgery on a toe on his left foot this past summer. He's now reporting that there is no more lingering pain.
Dallas can eventually use Devin to supplant rookie point guards Mekel and Larkin, and to maybe take some touches away from the sometimes-overstretched Carter.
DONUT 6: How high can Dirk climb? ...
How high can Dirk climb? The Mavs icon is presently No. 13 all-time in NBA scoring and while the past company (English) seems lofty ... and while the next target (Havlicek) seems dreamy ... our calculations say The Uberman has a very real chance so move so high on the list that he passes No. 6 Shaq.
The stat breakdown of
How high can Dirk climb is here.
DONUT 7: The inbounds play ...
Apropos of everything if you've watched the Mavs' games recently: I like Jae Crowder, I really do. Second-round pick. Works his butt off. Plugs in where he's asked to plug in. But the guy-who-inbounds-the-ball assignment needs to go to ... somebody else.
DONUT 8: "The Good Coach'' ...
There are decisions being made by the Cowboys now, decisions that impact the future of the franchise.
Mark Cuban, for one, thinks the Cowboys would be wise to understand the value of the "good coach'' they have -- mediocre record be damned.
"I think Jerry would be quite crazy to fire Jason Garrett,"
Cuban said late last week.
"The hardest thing to do is hiring (the right) head coach. That's the hardest thing to do in professional sports, in my opinion.''
Cuban believes there are many reasons to value a coach beyond his win-loss record.
"I think unless a coach loses the locker room, regardless of the sport, or there's just something fundamentally wrong, you (keep him),'' Cuban said. "Then you go out and you get the best players you can and you go to war.''
Garrett is staying. Which forces the question: Are they 8-8 because he helps 'em win the eight? Or are they 8-8 because he causes them to lose the eight?
DONUT 9: Join DB.com Boards! ...
Mavs conversation about ... well, everything? The best discussion forum in the NBA, The
DB.com Boards,
is in its 14th season and membership is free, fun ... oh, and sometimes frustrating! But mostly free and fun!
DONUT 10: Trix' bounce-back ...
In last week's
loss to San Antonio (see the breakdown here, including locker-room Video Visits)
Shawn Marion performed poorly and was visibly upset about it.
It was encouraging to see him bounce right back with a 14/13 -- his fifth double-double of the year -- in his hometown of Chicago.
"We were just focused,'' Marion said. "Everybody was helping, everybody was communicating, we were sharing the ball, and our assertiveness and alertness were both on-point ... That's the thing about this league: It seems like you get to make up for (a previous failure) by playing again every night.''
And then to do it again, only better, in Minnesota? And here's the beauty of Marion's involvement with this franchise ... which might never result in him getting into the Hall of Fame but surely merits a jersey-in-rafters ceremony someday:
"We didn't run a play for him,'' coach Rick Carlisle said after the 32-point explosion.
DONUT 11: The truth about Bynum and the Mavs ...
Andrew Bynum was suspended by the Cavs over the weekend for "conduct detrimental to the team.'' The Mavs -- who on July 10 conducted a breakfast interview with him that went sour later -- are not surprised.
Happy? No, the Mavs aren't happy. They knew what they weren't getting into. There's no self-satisfaction here in the AAC basement.
When he rolled into town for a July 10 breakfast at the Crescent, Bynum was out of shape. There was no evidence that he'd rehabbed his knee. And his 'silly' persona ruled the day.
As the Cavs now dangle him in trade (no, I don't know if the assistant coach's wife is part of the deal),
DB.com has the exclusive details on Bynum's ill-fated visit here.
DONUT 12: The Final Word ...
This just in: The Cowboys are now listing UFC fighter Anderson Silva as "day-to-day.''
DONUT 13: The Finest Dentists in North Texas! ...
Our neighborhood dentists, even though we don't even live in the McKinney neighborhood? It's McKinneyDentist.com, and it's been the case for Nate, Tony and me for my kids' entire lifetime.
At
McKinneyDentist.com
, Dr. Berlin, Dr. Markham, Dr. Lynch and Dr. Wood have been providing the finest in everything from technology to chair-side manner for years, to my family and to so many of you. Their great work has part of us bringing our Mavs coverage to you since 1995 ... And we're proud to be associated with The Finest Dentists in North Texas ... McKinneyDentist.com!