DONUT 1: "You do the voodoo that you do so well …"
On the second night of a back-to-back the
Dallas Mavericks
found themselves in New Orleans to face the Pelicans, who were coming off of the league's only triple-overtime game this season Monday night. Though the Mavs have managed to win three of the last four in New Orleans -- after losing eight straight – this is a realm of strange happenings leading to stranger losses.
This was a game that went down to the final play, when everything seemed to go wrong before settling in just right with a 100-97 win for Dallas, improving to 4-3 on the second night of back-to-backs, 3-6 on the road, and 12-8 overall.
And, it's not often you get to read a Donut named after a Salt-n-Pepa lyric. So, everyone wins.
DONUT 2: The ending … ...
With the game tied, Dirk Nowitzki stepped to the line and calmly made the first, putting the Mavs up one. Then, the laws of physics and probability seemed to bend as his second attempt bounced out.
The Pelicans rebounded and came out of a timeout with 31.1 to play, down one.
Jrue Holiday drove a few feet beneath the free-throw line on the left side of the paint, picked up his dribble and found Al-Faroug Aminu completely uncovered behind the arc … the uncontested shot missed.
In the last bit of good luck that would go New Orleans way, Eric Gordon came away with the rebound after Ryan Anderson tipped it away from DeJuan Blair. Gordon would get the ball back a moment later from Holiday and drive deep into the paint, meeting with the defensive force that is Dirk, already sitting on four blocks.
Dirk would contest, helping cause a miss, and then rise for his seventh rebound to be fouled and find a chance at redemption at the line … all was well in the world, he would sink both, putting the Mavs up three with eight seconds to play.
With 2.9 seconds remaining the ball ended up in the hands of the man with the second highest 3-point percentage in the league, Ryan Anderson – the same player who was 14-of-22 (63.6 percent) behind the arc in the previous two games, though only 1-of-4 going into that final attempt – with a fair amount of space to shoot for the tie.
Monta Ellis challenged, but had sunk too deep into the lane on an Anderson cut to really contest … the shot missed. Jae Crowder grabbed the rebound and Dallas secured the win.
So much had gone wrong, before ultimately going right.
"You know," Rick Carlisle said, "it came down to it, we had a few stops at the end and we had a little good fortune that the last shot missed, but I thought we played hard enough to deserve a little bit of good luck at the end."
Carlisle is right. The Mavs did not yield, did not give in to the frustrations that were there throughout the night, but overcame and walked away with a win. They don't give points for pretty in the standings … and this was a win when a win was needed.
Luck is often earned. The Mavs did enough to earn that luck here.
DONUT 3: Who Deserves 'The Dirkie'? ...
You know the drill: They win. You vote. Which Mav is the Player of the Game and therefore
the deserving winner of the night's "Dirkie''?
Vote away!
DONUT 4: The Big Two ...
The shot wasn't falling with great efficiency for either Dirk or Monta Ellis … and the Mavs found a way to win. That's good news.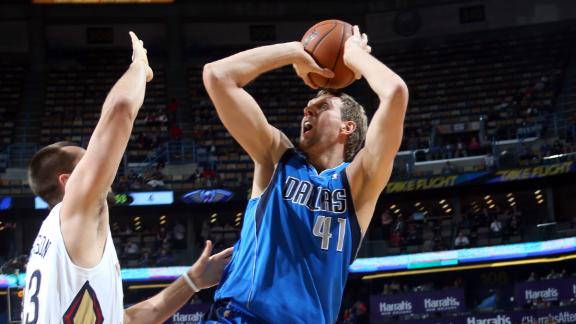 Dirk finished with 21 points (15 coming in the second half), 7-of-17 shooting, seven rebounds, three assists, four blocks, two steals and one turnover.
Ellis ended with his second double-double of the season with 14 points, 5-of-13 field goals, 10 assists, six rebounds, three steals and one turnover.
Beyond the shooting, you see 13 rebounds, 13 assists, four blocks, five steals and 14 combined free-throw attempts (making 10) … that's how your stars find other ways to win a game.
DONUT 5: Vince contributing …
Much has been made of Vince Carter's struggles. The ending of the game in Atlanta, that saw him take and miss the final Mavs shot, brought this to the forefront, but it's been a fairly consistent lack of production this season for Carter.
He's converted 40 percent or under of his shot attempts in 14 of his 19 games.
It has been about more than "clutch" attempts, the issue we detail here.
Wednesday night, he led the bench with 15 points on 5-of-9 attempts to go with five rebounds, four assists and only one turnover … single-handedly outscoring the Pelicans entire bench 15-to-10.
"Vince played a great game," Carlisle said. "He gave us timely shot making. He gave us defensive rebounding and he was making plays."
Dallas is now 2-1 when Carter makes at least 50 percent of his shots, the lone loss coming in Miami, and 7-3 in games he scores 10-or-more points.
DONUT 6: Hello, Red Rock! ...
A bunch of the gang checked in from
Red Rock Bar & Grill
last night to watch the Mavs win on Texas' biggest TV screen. When you're in North Dallas near Frankfort and Midway just off the Tollway, you should check in at Red Rock, too!
DONUT 7: Mavs DB.com Podcast ...
Talking about your Mavs in a semi-NSFW manner? We do that
on the DB.com Mavs Podcast here on iTunes
and up and running below as well ... with a very special cast of characters that includes Marshall,
Mike Fisher
and
Kevin Turner
.
Welcome aboard!
DONUT 8: The centers …
In a move Carlisle attributed to the matchup with a "shooting 5-man," Sam Dalembert did not start.
This is not a move without precedence. Against the 76ers, who also employ a center that does most of his offensive damage outside of the paint in Spencer Hawes, Carlisle brought Dalembert from the bench. In that game, Carlisle went with Jae Crowder in the starting lineup … with grievous enough results that Carlisle admitted to his mistake after the game.
This time, Carlisle went with DeJuan Blair … and the results were better, though this still feels like adjusting down – literally and figuratively – to your opponent.
Blair played well, for the most part, finishing with 12 points on 6-of-10 field goals in just over 29 minutes of action, but did not grab an offensive rebound in a game for the first time this season and finished with only four boards overall, his lowest total in a game this season where he's played at least 20 minutes (his fourth lowest of any game).
For his part, Dalembert once more took the change in role in stride and played reasonably well off the bench, finishing with six points, seven rebounds and a block in just under 19 minutes.
Since the Mavs won, you count the move as a win … but in a game that saw the Mavs get outrebounded by 20, by far the most this season, including allowing 19 second-chance points (tied for the second most they've allowed an opponent this season), the decision wasn't all roses.
DONUT 9: Through the pain ...
Jose Calderon played through the pain in his ankle, and after struggling with his shot for much of the night, he drained two clutch 3-pointers in the fourth quarter that helped deliver this win.
Calderon finished with 12 points, 4-of-11 field goals, 3-of-10 3-pointers, four assists, two steals and one turnover.
"I just feel it at some moments, but it's going to get better for sure,'' Calderon said of his bruised ankle. "I knew it was going to be tough, but it was good.''
DONUT 10: Quoteboard ...
"It was a good game. ... You know, some teams are going to give up. But we had to show we could recover." - Shawn Marion.
(Find
more Mavs Quoteboard and discussion here on DB.com Boards!)
DONUT 11: Mavsellaneous ...
*For the first time since his return from injury, Shane Larkin did not take the court. Gal Mekel was the only point guard to leave the bench.
Mekel played 10:43, scoring three points with one assist and no turnovers.
It feels almost inevitable that one of these players will head over to Frisco once Devin Harris (who is working his way into practicing this week) returns. It will be interesting to see if either can set themselves apart as that moment draws closer. At the moment, that would appear to be Mekel, but things can change quickly.
*The 10 points scored by the New Orleans bench ties the lowest allowed by Dallas this season.
Dallas countered with 31 from their bench, led by Carter's 15.
"The bench gave us a lot of energy tonight," Carlisle said. "We needed great balance to win this game coming on the second night of a back-to-back. We had six guys in double figures, which was big."
*The video highlights:
*The Pelicans were playing without Anthony Davis as he recovers from a non-displaced fracture of his left hand.
*Al-Farouq Aminu finished with 16 points and 20 rebounds … the first player to grab 20 rebounds in a game against Dallas since … Aminu did it April 17, 2013.
*The Mavs are now 11-1 when Monta Ellis has at least five assists.
*Dirk had four blocks for the first time since Feb. 5, 2011 … when he had five in a win in Charlotte.
DONUT 12: The Final Word ...
There are no points for "pretty" in the NBA. No one picks back through the schedule and discounts a win because it didn't meet the minimum requirement for "style points." A win is a win.
Neither Dirk nor Monta's shot was falling, as a team the Mavs hit 43 percent of their attempts, yet Dallas found a way to win, in part by holding the Pelicans to 40.4 percent shooting from the floor (the Mavs are now 4-0 this season when holding an opponent below 41 percent on their field goals).
"Tonight, we showed some signs of coming together," Carlisle said.
This is the kind of game where the bonds of chemistry can begin to be forged, when trust can be implanted between teammates. Maybe it amounts to nothing, or maybe it proves to be a step (not the first, just early) taken towards "coming together."
With three games left on this four-game road trip, against Portland, Sacramento and Golden State, we may not have to wait long to find out.
DONUT 13: The Finest Dentists in North Texas! ...
At
McKinneyDentist.com
, Dr. Berlin, Dr. Markham, Dr. Lynch and Dr. Wood have been providing the finest in everything from technology to chair-side manner for years, to our family and to so many of you. Their great work has part of us bringing our Mavs coverage to you since 1995 ... And we're proud to be associated with The Finest Dentists in North Texas ... McKinneyDentist.com!