First off, the hard numbers (courtesy of 82games.com) going into the weekend:
*Monta Ellis has played 6% of the teams PG minutes, 71% of the shooting guard minutes.
*As a PG per 48 minutes: 28.5 PER, 54.3 eFG%, 1.1 turnovers, 37.4 points
*As a SG per 48 minutes: 20.1 PER, 52.2 eFG%, 5.1 turnovers, 29.6 points
*Opponent counterpart per 48 minutes at PG: 12.5 PER, 46.4 eFG%, 1.1 turnovers, 17.6 points
*Opponent counterpart per 48 minutes at SG: 14.7 PER, 54.4 eFG%, 3.0 turnovers, 20.2 points
*Net Production per 48 minutes (Ellis production minus opponent's):
*As a PG per 48 minutes: +16.1 PER, +7.9 eFG%, even turnovers, +19.8 points
*As a SG per 48 minutesL +5.4 PER, -2.2 eFG%, -2.1 turnovers, +9.4 points
These numbers basically show that Ellis has been effective at both point and shooting guard, outplaying his counterpart at both positions, though by a much more significant degree at point guard. The numbers also seem to point to the fact that Ellis has more trouble defending the shooting guard position, a fact that should be expected due to his size.
Though Ellis has seen his personal statistics rise while playing point guard, the team has not necessarily mirrored that success, at least not to the same degree.
Of the 23 five-man units to have shared at least five minutes of court time this season (per NBA.com), only three have featured Ellis without one of the
Dallas Mavericks
true point guards (Jose Calderon, Shane Larkin or Gal Mekel … to this point), totaling just 32 of the possible 768 minutes at the time of this writing (prior to Friday's loss in Atlanta).
Those three lineups, in order of use:
1)
Ellis, Vince Carter, Jae Crowder, Shawn Marion, DeJuan Blair (17 minutes): 93.8 offensive rating, 96.8 defensive rating, -3.0 net rating, 44.1 eFG% (effective field-goal percentage, which gives more weight to made 3-pointers), 104.4 pace, 5.2 turnover percentage … plus/minus of +2.8 per 48 minutes.
2)
Ellis, Crowder, Carter, Dirk Nowitzki, Blair (9 minutes): 104.4 offensive rating, 131.3 defensive rating, -26.9 net rating, 50.5 eFG%, 91.2 pace, 16.5 turnover percentage … plus/minus of -15.7 per 48 minutes.
3)
Ellis, Wayne Ellington, Jae Crowder, Dirk, Blair (6 minutes): 133.3 offensive rating, 110.0 defensive rating, +23.3 net rating, 61.5 eFG%, 94.29 pace, 25.0 turnover percentage … plus-minus of +42.9 per 48 minutes.
These 32 minutes taken as a whole show that the Mavs have a plus/minus of +5.0 per 48 minutes when Ellis is on the court with without Calderon, Larkin or Mekel, an improvement to the +2.1 Dallas has been for the season.
There are a few obvious issues to consider when looking at these numbers. First, Ellis has acted as the point guard quite often when sharing the court with Calderon, Mekel or Larkin, which isn't accounted for in these numbers; second is the very limited nature of these sample sizes (the complete point total for this sample is a Mavs advantage of 71-to-68 over 32 minutes, not even three full quarters of play).
In our analysis, given his significant rise in personal numbers at point guard, you would expect the team to show a greater level of success with him in this role than what is shown above. While Ellis has an innate ability to function in the pick-and-roll, and to act as a creator for himself and others, he has not shown the ability to truly direct and orchestrate the offense as a whole.
As the end of the Atlanta game displayed, having a guy like Jose Calderon around when stricter structure becomes a necessity is a blessing Ellis hasn't yet shown the ability to bestow in Dallas (though Ellis's sore back may have had something to say about that in Atlanta).
In conclusion: Ellis is certainly capable of carrying the point guard responsibilities for stretches, but there is a reason his career has seen him drift to the shooting guard position. His natural skill set is more suited for the 2-guard, though his skills also allow him to handle the ball a great deal with effectiveness.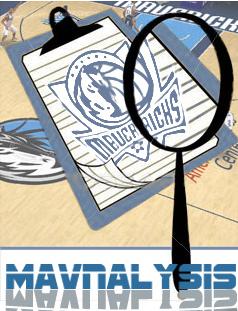 It will be interesting to see how Carlisle handles the lineups when Devin Harris is healthy (hopefully by late December). And it will be interesting to see if Harris has evolved into a better game manager than he was when he left Dallas (remember, that was essentially the reason they were looking for someone like Jason Kidd in the first place), despite the fact that his recent teams have gravitated towards using him primarily as a shooting guard.
Harris will have to take minutes from someone. On the defensive side, he would seem to be the ideal (looking only within the Mavs current roster) pairing to Ellis, or Calderon, for that matter. However, on offense, he may pair much better with Calderon overall, though the speed of Ellis and Harris together could be a daunting task for opposing defenses to handle before the game slows down in the final minutes.
Monta Ellis at the point? The Mavs view it a situational solution to a momentary issue ... and the numbers tell us their view is likely correct.