Who should be the
Dallas Mavericks
' starting center? One player has earned consideration but the numbers don't support the idea. Another guy is a trendy answer but may fit better elsewhere. And a third candidate could solve the puzzle but ... he's not.
Coach Rick Carlisle says it "will have to be a collective effort'' and we get that. But we've also collected some numbers, too. At the risk of oversimplifying the matter of the present arrangement: the Mavs are now 4-5 in games DeJuan Blair starts and 11-7 when he comes off the bench.
It would be a misunderstanding of our position here to think we're "blaming'' Blair. At $947,907 he's been a value signing for Dallas this year.
(As both predicted and hoped for in this space.)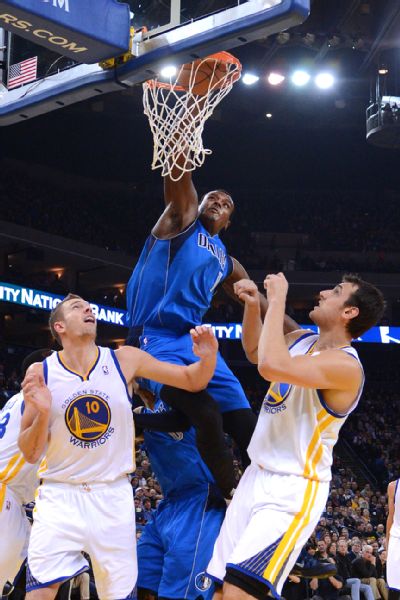 Really, it's a credit to the 6-7 wide body that he's played well enough to be in this conversation. But in our view, the numbers help see that ultimately him starting largely serves to deprive this team of a unique weapon off the bench -- and one that Carlisle could utilize strategically in ways to win match-ups.
But, you say, Sam Dalembert stinks, right? Why do the Mavs want to start a player who stinks?
Consider first, Blair and Samuel Dalembert's numbers as starters through Saturday's loss in Phoenix (per 36 minutes):
Blair: 13.7 points, 9.3 rebounds, 1.0 steals, 0.2 blocks, -2.7 plus/minus, 104.5 defensive rating, -2.2 net rating, 14.5 rebound percentage (percentage of available rebounds claimed).
Dalembert: 12.2 points, 10.3 rebounds, 1.3 steals, 2.1 blocks, -0.1 plus/minus, 104.2 defensive rating, +2.0 net rating, 16.8 rebound percentage.
For all of the disappointment in Dalembert's play, the team has had a better net rating with him as the starter, a slightly better defensive rating, and Dalembert was superior in every category other than scoring … but most importantly, in net rating and winning percentage (4-5 compared to 10-7 with Dalembert starting).
A quick look at Blair's numbers (per 36 minutes) from the bench shows a weapon, rather than a somewhat average starter: 14.5 points, 13.4 rebounds, 2.8 steals, +3.3 plus/minus, 104.1 defensive rating, +3.0 net rating, 21.3 rebound percentage.
Again, think about this: DeJuan coming from the bench means he doesn't have to automatically get at least his first six to eight minutes against opposing starters ... 7-footers ... their teams' most gifted bigs. DeJuan is destined to play somewhere in the area of 21 minutes per game and the Mavs, by starting him, have locked him into to (likely) just treading water for one-third of his game time.
Considering that bench players are more often matched up with other bench players, it's no surprise to see a rise across the board in comparison to starting, as we do with Blair … and as you do in most defensive categories with Dalembert.
This study isn't necessarily an effort to crown Dalembert the king of the starting lineup. At its heart, this is an argument to see Blair come from the bench, where we feel he has his biggest impact … and where that impact can be most influential.
Maybe we're misguided, or falling victim to idealizations of what we'd hoped to see when looking at the roster before games took place and Dalembert's play fell, or we're holding to preconceptions of how we think a player best fits while ignoring the season that's unfolded.
But over the course of 82 games, is it possible that Sam could hold his own against the opposing big ... Until reinforcements arrive off the bench?
As with DeJuan, Brandan Wright is also something different than a "traditional center.'' His explosion back onto the scene following the shoulder injury (13.8 points and five rebounds per during an average of 22 minutes of play in four games) has all of us clamoring for more of everything.
More starts! More off the bench! More teaming with Dirk (as a starter)! More teaming with Vince (where he positively makes Carter)!
More minutes for certain, based simply on
this group of DB.com factoids:
*When Wright has played over 15 minutes, the Mavs are 40-29, a winning percentage of 58.0
*When he's played over 20 minutes, the Mavs are 29-19, a 60.4 winning percentage.
*When Wright had played 15 minutes or fewer, the Mavs are 23-25, a 47.9 winning percentage (equivalent to a 39.3-win season).
But we probably need some patience here. There is reason for Rick to be easing Wright back. And eventually there might be reasons to protect the high-flyer from being brutalized as a heavy-lifting center.
There are numbers to show Blair works best with the starting group (though they took a significant hit with the loss to the Suns), such as the fact that the five-man group of Calderon-Ellis-Marion-Dirk-Blair had outplayed the five-man unit with Dalembert in place of Blair (net rating of +7.1 with Blair, compared to +3.8 with Dalembert – this is no longer true after Saturday night, as the Mavs slipped to +3.7 with Blair and remain at +3.8 with Dalembert), though that comparison is muddied by the fact that portions of it came with Blair entering from the bench … thus allowing Carlisle the freedom to do as we describe above, orchestrating when to unleash Blair to favorable matchups.
But Blair and the 15-12 Mavs tonight against Dwight Howard and the Rockets in Houston (with our own Mike Fisher getting the Fox Sports Southwest telecast rolling at 6:30 tonight)?
Is that a place where Wright can win? Or where Blair can win? Or a place where Dalembert simply must step up and joust as best he can with his fellow giant?
Carlisle can't simply gift minutes to Dalembert when his effort is lacking. We know that. So It's a tough situation, but one we think is made better by throwing Dalembert to the first-team wolves and thus freeing specialists Blair and Wright to be even more special.