DONUT 1: Clippers 119, Mavs 112 ...
Friday's was a game in the
Dallas Mavericks
' pocket, up seven with four minutes to play and the opposing team's best player out. The Clippers at the AAC were here for the taking.
By losing 119-112 ... and by allowing a 16-2 LA run to close ... Dallas never took.
"It's a game we can't lose," a crushed Dirk Nowitzki said afterwards. "Can't afford to lose that one."
Dirk's been down this emotional road before -- this season alone. What happened against the Hawks? A blown lead of 17 and a loss. What happened against the Warriors? A blown lead of 18 and a loss. What happened against the Raptors? A blown lead of 19 and a loss.
"The way we let those games slip away, I don't think we're a playoff team," Nowitzki said . "We've got to win those games. We've got to find a way to get those stops and protect the home court."
We guarantee you the very deepest and best
Mavs coverage available here in Your All-Access Pass.
Stats, analysis and videos you can get nowhere else ... all for just pennies a day. Please take our free 7-day trial and as you Go Mavs, Go Premium!
DONUT 2: Dirk's Video Visit ...
But you don't have to just read about Dirk's disappointment. You get to hear it. See it. Feel it.
And again, that "not-a-playoff-team'' evaluation ... that look like it stings for him to say it as much as it stings for you to hear it, see it, feel it.
DONUT 3: The Big Two ...
Nowitzki (a game-time decision with an ankle problem) finished with 24 points, 10-of-17 field goals, including 4-of-5 behind the arc, four rebounds, four assists, two steals and only one turnover.
Monta Ellis had 13 points, 6-of-12 field goals, nine assists, two steals and only two turnovers.
But there's a "but.''
The Mavs' Big Two totaled two free-throw attempts between them, both from Ellis. Among Clippers starters, only Jared Dudley did not attempt more, and he matched them with two of his own.
It makes sense that Blake Griffin, shooting just under 70 percent from the line entering the night, and a player any team would prefer to see at the line than posing in his newest poster mid-dunk, would have more attempts. He would take 13. You can also accept that Chris Paul is going to get his trips to the line.
But you cannot accept a 38-14 disparity in free-throw attempts.
And you cannot win that way, either.
DONUT 4: Withholding praise ...
Before the game Clippers head coach Doc Rivers was asked if he was surprised at the Mavericks' success this season. His response was an emphatic no.
"They still have that big guy from Germany," Rivers said. "He's pretty good. When you have a player like that you can put a lot of people around him and their going to be better. That's the effect of a Dirk on your team."
Now that Rivers is coaching in Los Angeles, he could give Nowitzki a compliment like that, but in past years he claims it was a little bit tougher.
"When I was in Boston, you couldn't rank Dirk because if you said anything that had to do with Dirk and Larry (Bird) those were fighting words. I just shut up. I didn't say anything. But he's got to be right at the top at his position."
DONUT 5: Versatility of the Matrix ...
Anyone who watched Friday night's game got a confirmation that Shawn Marion is one of the most versatile defenders in the NBA. He started the game defending Chris Paul. He spent time guarding Blake Griffin and he was also asked to keep Jamal Crawford from heating up like he so often does.
Paul once again proved that it's nearly impossible to prevent him from doing some semblance of what he wants to do on the court, but Marion seemed to have more success guarding him than any other Maverick.
Oh yeah, he also happened to score 20 points grab seven rebounds while surpassing 17,000 career points. It might be fair to say a lot of people take the Matrix for granted.
Our Video Visit with Marion ...
Again, want more videos, including visits with Monta Ellis and Rick Carlisle?
Check out our Mavs coverage available here in Your All-Access Pass!
DONUT 6: The Unfair Expectations of DC ...
It usually only takes about two seasons to get a general idea of what type of potential a particular NBA player has in the league, but there are always a few exceptions.
Darren Collison was one of those exceptions.
Collison's speed is an undeniable skill that he holds over the majority of the players in the league and it often seemed if he could sure up a few of his other strengths he could be a very promising starter.
The Mavericks certainly hoped so when they signed him to take over as the starting point guard last season. The reality was that Collison couldn't handle the job. He worked hard and he took whatever role Rick Carlisle assigned to him, but Dallas just couldn't compete with him as their primary option and eventually benched him for the 37-year old Mike James.
While it's fair to say Collison wasn't good enough, it might be more realistic to say that the expectations were far too high. In a sense, many of us expected Collison to be able to deliver the best attributes of both Jose Calderon and Monta Ellis. We wanted him to distribute the ball to all his new teammates and we wanted him to use his speed to get to the basket and score. The truth is that Collison is not as good as either of those things as Calderon or Ellis.
At one point last last year, Mavs officials told DB.com that they viewed DC as a "great backup point guard.''
At that lowered expectation level ... the Mavs were correct.
Now he is on a Clipper team backing up the best point guard in the NBA and instead of the burden of responsibility he is a luxury in his new role.
Collison had a triumphant return to Dallas and helped the Clippers survive after Paul left the game. He scored 20 points and had four assists.
DONUT 7: Stat of the Night ...
DeAndre Jordan: 18 rebounds
Samuel Dalembert/DeJuan Blair/Brandon Wright: 13 rebounds
There have been a lot of positives this season with the center trio of the Mavericks, but Friday night was not one of them. Jordan played 41 minutes and seemed to be unfazed by whoever was guarding him. He constantly had better position on the offensive glass and managed to hit 11-of-14 shots.
DONUT 8: The Wright Stuff ...
Does anyone else feel like Michael Finley was on the team the last time Brandon Wright shot less than 50 percent?
Well, it hasn't been that long, but it has only happened once in the nine games since Wright debuted this season on December 14th.
There's not much to say here but that Wright has been just about the definition of "efficient'' this season. Excluding an 0-of-3 performance against the Memphis Grizzlies, Wright came into Friday having shot 9-of-10, 5-of-8, 8-of-10, 3-of-3, 3-of-3, 6-of-8 and 5-of-7 in games this season.
Friday night, Wright finished with 12 points off of 6-of-8 shooting Friday night to go with five rebounds.
DONUT 9: Oh, those steaks and burgers!
Thanks to Dee and the incredible staff at
Dee Lincoln Steak and Burger Bar
for our incredible Mavs pregame dinners ... the legendary DFW restaurateur has done it again.
Dee Lincoln Steak and Burger Bar is becoming THE "upscale casual'' place to dine before you attend events in Dallas ... And the gang from DB.com looks forward to seeing you there this week!
DONUT 10: Here come the Knicks ...
The Mavs are disappointed at 19-14. It's all relative, as the Knicks are 12 games below .500, disappointed at 10-22. They are coming off a loss at Houston in which they displayed their usual ... well, quirkiness.
They were tied with 20 seconds left when J.R. Smith inexplicably launched an uncontested 3-pointer. Houston got the rebound, got fouled and got the win.
"Honestly I thought we were down two," Smith said. "When I shot the ball I started hearing Tyson (Chandler) say, 'No, no don't take the shot.' By that time it was already released. Good shot, bad timing.
"It was just bad basketball IQ by me."
"Disappointment,'' we suppose, is all relative.
DONUT 11: Nowitzki vs. Griffin: The Result ...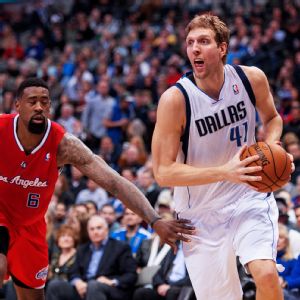 We begin here with hoping Dirk's ankle responds well after playing Friday, well enough that he's fine for Sunday. And we look back at the head-to-head PF challenge.
Griffin might be younger and more athletic than Nowitzki (especially a Nowitzki coming off of a turned ankle) and he may have been playing better offensively coming into Friday's game, but when the two faced off, they both displayed why they are two of the most successful players at their position.
Nowitzki socred an efficient 24 points off of 10-of-17 shooting along with four rebounds and four assists.
Griffin scored 25 points off of 7-of-18 shooting with 15 rebounds and five assists.
Nowitzki proved once again that he still holds a claim to any discussions about the best power forwards in the game, but it's hard to deny the level that Griffin is playing at right now.
Now, if we can just find a way to get Dirk to the free-throw line, which would help solve this game's ... discrepancy in that department ...
DONUT 12: The Final Word ...
"We gave up a 16-2 run to end the game," Carlisle said. "We just made it way too easy. Defensively they went right through us. Offensively, without getting stops, the shots got harder. It's on all of us. Every one of us. Coaches. Players. It was very disappointing because it was an opportunity lost."
It's time to look forward to the Knicks visit. But it's impossible to not look back at opportunities -- and four games in which Dallas held big leads that it failed to hold -- as a quartet of opportunities lost.
DONUT 13: The Finest Dentists in North Texas! ...
At
McKinneyDentist.com
, Dr. Berlin, Dr. Markham, Dr. Lynch and Dr. Wood have been providing the finest in everything from technology to chair-side manner for years, to our family and to so many of you. Their great work has part of us bringing our Mavs coverage to you since 1995 ... And we're proud to be associated with The Finest Dentists in North Texas ... McKinneyDentist.com!