DONUT 1: Texas-Sized Rivalry ...
The in-state rivalry between the
Dallas Mavericks
and Rockets has always seemed to produce a couple great games each season. Adding Dwight Howard and Monta Ellis to the equation has only heightened the level of electricity when it comes to games between the two games. Lately this series has featured impressive comebacks and games decided in the final seconds.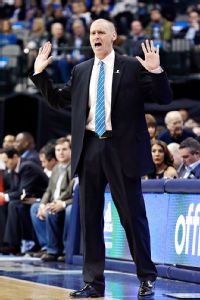 Wednesday night was no different.
The Rockets have not been able to come to Dallas and leave with a victory the past few seassons. Houston squeaked out a 117-115 win, but it was the first Rockets victory in Dallas in eight tries.
The Mavericks fall to 15-8 at home on the season.
DONUT 2: A Very Chilly Loss ...
Even while this game was undoubtedly a crowd-pleaser in terms of sheer entertainment, with the Mavs mounting a furious late comeback, coach Rick Carlisle was not pleased with his team's performance. He admitted to being pleased with the fight from the Mavericks showed in the last two minutes, but he was much more concerned with the first 46 minutes.
The Hack-a-Howard strategy employed by the coach in the final quarter was ineffective as Dwight went 9-of-11 from the free-throw line for the game and 7-of-8 during the strategic stretch, but Carlisle explained that it was easier to stomach the big man's free throws than to continue watching his defense struggle.
"I don't think any of our guys were really playing hard until the end of the game," Carlisle said. "I don't know how many times they blew by us. I'm glad we started fouling Howard because I was starting to get the chills over there from all the blow-by's. It saved our guys the embarrassment of having to get blown by two or three times in a row.''
More on the defense later.
DONUT 3: Monta's slump ...
For as great as Ellis has been getting to the basket this season it's easy to overlook how careless he's been with the ball at times. Now, a certain amount of turnovers should be expected considering how much the Mavericks rely on him to create offense for so many players.
Lately, though, Ellis has really hurt the offense and turned the ball over in a number of situations leading to opponent fast-break points. In the last four games (three of which were losses) Ellis combined for 22 turnovers.
The scoring has not been there, either. Ellis only scored 11 points last Sunday against Detroit and here managed just six points off 3-of-10 shooting.
"What he really needs to do is just focus on the defensive end first and everything else will fall into place," Carlisle said.
DONUT 4: Harris, on the other hand ...
Luckily for the Mavericks, they just recently saw the debut of veteran guard Devin Harris. Speed, defense and penetration were the three things that most people hoped Harris would immediately bring to the Mavericks. Consider that package delivered.
However, the most notable contribution from Devin so far may be surehandedness. Since his return Harris has totaled 19 assists and just two turnovers, an incredible ratio for a significant rotation player.
Harris was a huge spark in the Mavs' near-comeback, scoring 14 points, continuing to increase his streak of taking charges, and serving as a crunch-time backcourt factor getting minutes ahead of Monta and also teaming with him and Calderon in a three-guard lineup (along with Dirk and Carter) in the late-going.
DONUT 5: Campaigning for an All-Star Spot ...
Dirk Nowitzki is not the kind of guy that would publicly campaign for his spot in the All-Star Game. Not with his words. at least. But sometimes players can let their game speak for itself.
Nowitzki did just that on the night before the All-Star reserves were to be announced. He had arguably his best game of the season. scoring 38 points off of 13-of-21 shooting, grabbing 17 rebounds and becoming just the 13th player in NBA history to score as many as 26,000 career points.
"I've always said numbers don't mean anything in a loss, so it really means nothing,'' Nowitzki said. "We should have found a way to kind of win this one.''
The reserves are voted in by the NBA head coaches. Before Wednesday's game Rockets head coach Kevin McHale said that he believed Nowitzki deserved to be an All-Star despite refusing to divulge who he voted for. Carlisle has also said numerous times that he feels Nowitzki is deserving of a spot on the roster.
It would be Nowitzki's 12th time named as an All-Star.
DONUT 6: Jose For 3? ...
Jose Calderon says he wants to participate in the 3-point contest on All Star weekend. Rick Carlisle and Mark Cuban both agreed that he is deserving of selection. His statistics this season certainly back up such claims. He is shooting over 45 percent while taking over five 3's per game.
Calderon did not exactly make his best case on Wednesday night against the Rockets. He shot just 2-of-7 from behind the arc including missing two under-duress 3-pointers in the final seconds that would have given the Mavericks a victory.
"We shouldn't be putting ourselves in those situations where we're fighting back the whole game," Calderon said, offering perspective beyond just the missed treys.
DONUT 7: Too many easy looks ...
Sometimes statistics and analysis can very simple. The Mavericks defense continued with another extremely subpar performance. They improved in a few areas, as they worked hard on the defensive glass and they continued to do an adequate job of forcing turnovers.
But they allowed the Rockets to shoot 63 percent in the first half. For the game the Rockets shot 55 percent.
Not surprisingly, that resulted in 117 points allowed.
"If you give up 117 at the house,'' Dirk said, "you're going to lose.''
The scores that the Mavericks allow to Houston (of course a very good offensive team, with with James Harden sitting with a thumb injury) are far too easy. What the Mavericks accomplished offensively on Wednesday (and what they have been able to accomplish for much of the season) is far too impressive to nearly be wasted with such subpar defensive outings.
The Mavericks defensive woes create a trickle-down effect. They demand that the players perform at an unreasonably high level on offense. Amazingly, the offense often meets that challenge, but as we have seen sporadically throughout the season, asking that much of the offense is not sustainable.
"You've got to have some pride and try to guard your man a little better and we've got to help,'' Nowitzki said. "We know we don't have the greatest individual defenders in this league, so we've got to make it five guys got to scramble and work together.''
DONUT 8: Stat of the Night ...
*Dirk Nowitzki: 38 points, 17 rebounds
*Four Other Starters: 22 points, 14 rebounds
Glass half full: Nowitzki is still one of the most dynamic players in the NBA. On a night when everyone seemed focus on Durant vs. Lebron, Nowitzki had a more impressive performance than both of them at the age of 35.
Glass half empty: Sometimes it feels like these nearly unprecedented performances are going to waste. While a few key bench players (Vince Carter, DeJuan Blair and the hustling Devin Harris) stepped up, Nowitzki got far too little help from his fellow starters.
"Dirk is old" might be a truism around here. But that has nothing to do with the Mavericks' struggles to stay in the playoff picture.
DONUT 9: Oh, those steaks and burgers!
Thanks to Dee and the incredible staff at
Dee Lincoln Steak and Burger Bar
for our incredible Mavs pregame dinners ... the legendary DFW restaurateur has done it again.
Dee Lincoln Steak and Burger Bar is becoming THE "upscale casual'' place to dine before you attend events in Dallas ... And the gang from DB.com looks forward to seeing you there this week!
DONUT 10: Mavsellaneous ...
*Mark Cuban's on-court protests in the Jan. 15 loss at the Clippers resulted in the NBA handing him a $100,000 fine. As is his custom, he's matched the fine with a donation, this time to the iBelieve Foundation, which works to find a cure for a rare disease known as "Hunter Syndrome.''
*Nowitzki recorded at least 38 points and 17 rebounds in a game for the third time in his career.
*The Mavs didn't get much use out of Sam Dalembert. He recorded a couple of quick foils early and finished the game with three fouls, two points and three rebounds in 12 minutes. Dwight Howard.
DONUT 11: Quoteboard ...
"I know we can do better. I just know we can. We're just going to have to prepare guys better. We were running up too close to guys that are drive-first guys. That's my responsibility to make sure we don't do things like that." - Carlisle on how to repair 26-21 Dallas' defense.
DONUT 12: The Final Word ...
The Rockets are fifth in the Western Conference standings at 31-17 and yet Dallas has been able to split the season series with them. Oh-so-close? Maybe.
Dallas deserves some credit for a late-game 11-1 run to make it interesting. But standings-wise, other teams are making game-long "runs.'' And losses at home make your Mavs appear to be spinning their wheels. So it is for Dallas as Memphis is now a half-game back of the Mavs for the eighth spot in the West.