FOREWORD ...
After two straight home losses in what should have been very winnable games, the Dallas Mavericks welcomed the Los Angeles Lakers. With the disappointment still fresh, and the opening of a four-in-five-nights stretch, including the Spurs (who went to overtime Tuesday night to defeat the Grizzlies) Wednesday and then a home-and-home with the New Orleans fly-Pelicans-fly, the Mavs needed something positive to happen.
You don't want to call anything at the beginning of January a "must win," but this was as close to that as possible for Dallas.
The Lakers, led by Pau Gasol (15 points, 13 rebounds) and Jodie Meeks (24 points) … wait … ok, yep, that's right … Dallas struggled to pull away, allowing an inferior, injury-riddled Lakers squad to hang around. Then Monta Ellis got hot in the fourth, scoring 10-straight Dallas points, and it was over: a 110-97 Mavs win.
As Dirk said in the above Video Visit, "We meeded to stop the bleeding somehow.''
Marion down? …
Late in the second quarter, Ryan Kelly curled under the basket to leave space for Pau Gasol to go one-on-one against Dirk Nowitzki along the left baseline. Shawn Marion followed, attempting to spin around Pau to clutter any passing lane. As he spun, arms going up, Marion's feet first clipped Gasol and then Dirk's calves and shins.
Marion's legs caught, his body spun, his arms stayed over his head, never coming around to cushion the fall. Instead, momentum caused him to fall with the full weight of his upper body on his right shoulder, his head whipping to the right, perhaps also coming into contact with the floor.
"I actually tripped him, unfortunately. I was playing defense,'' Dirk said, then deadpanning, "I shouldn't have played defense."
After taking several moments to rise, Marion walked with Mavs trainer Casey Smith, directly to the locker room to get X-rays on his collarbone … which turned out to bring about as good of news as possible: right-shoulder contusion.
He would not return.
Wayne Ellington would start the second half in Marion's place.
Any time missed by Marion is bad for the Mavs, and Tuesday being the first game in a four-in-five-nights stretch including San Antonio Wednesday, it's worse.
"He's banged up," Rick Carlisle said of Marion. "X-rays were negative. He's not going to travel with us tonight (to San Antonio), and we'll hope that he feels better tomorrow or the next day. We'll see."
In just over 15 minutes, Marion contributed eight points, 4-of-7 field goals and seven rebounds.
The Big Two …
Dirk Nowitzki finished with a game-high 27 points, hitting 12-of-20 shots, to go with seven rebounds and four assists, doing much of the heavy lifting for the first three quarters, when he had 23 of those points, hitting 10-of-15 shots.
There was the odd moment, again, when Dirk missed his first free-throw attempt … but he would make all of the three others he would try.
While Dirk was on in the first 36 minutes, Monta Ellis was not.
Ellis missed his first six shots, and was sitting at 2-of-11 for six points entering the fourth.
Dirk went to the bench with 8:42 to play in the final period, the Mavs up 7. Following a Jodie Meeks three, the lead was down to four.
Jose Calderon (more on him below) hit a 20-footer to push the lead to six and then Ellis subbed back into the game … with Dirk still resting.
Ellis would surge, erasing the memory of his 2-of-11 start to score 10 straight Dallas points, quickly doing what the Mavs had struggled to do all night, creating a noticeable gap on the scoreboard and giving the Mavs their biggest lead of the night (13) and essentially sealing the victory … all while Dirk rested.
"It was the key stretch of the game," Carlisle said. "Monta had a rough game to that point offensively, although he had quite a few assists, and at that point we needed a spark, and he made plays. He made a couple of plays that weren't necessarily scores, and made some defensive plays too. It was great to see. The guy stayed the course, keep playing, and then it just popped, and that spurt, it got us the win."
In the fourth quarter alone, Ellis was 5-of-7 from the floor with 10 points, two assists, two steals and no turnovers.
For the game, Ellis had 16 points, nine assists, five steals and three turnovers.
"I think the last two games we got outside ourselves and we weren't moving the ball enough,'' Ellis said. "So throughout yesterday's practice and shoot around today coach expressed us to continue to move the ball and cut and move. And we did that and got open shots and luckily tonight they went down."
The Centers …
Samuel Dalembert managed to not be late to anything between Sunday's contest and Tuesday, but it was DeJuan Blair that got the start … though Dalembert was the first center off the bench.
(If we're interested in positives: Sam also joined Ellington as the first Mav on the floor to work out, registering the longest session of anyone by far.)
With no true threat at the five on the Lakers, no offense to Robert Sacre (seven points, 10 rebounds), or former Mav Chris Kaman (with a fascinating DNP-CD), Blair did make some sense with the starters and rewarded the Mavs by finishing with 15 points on 7-of-10 shots, nine rebounds, one steal and one turnover.
Wright would play more minutes (just under 18) than Dalembert (12:34), but with Marion out in the second half, Carlisle was forced to give others minutes behind Dirk at power forward … including a "test-tube'' pairing of Wright and Blair on the court when Monta keyed the surge that put the game away.
If there is a silver lining to Marion's injury -- and we're not necessarily saying that there is --it may be the forcing of Carlisle's hand to experiment with Wright and/or Blair at power forward … something Carlisle mentioned would likely happen with Marion unavailable.
For what it's worth (not much in this miniscule sample size), the Mavs outscored the Lakers by seven in the ten minutes Wright shared the court with either Blair or Dalembert Tuesday night.
However for the season, Wright has shared the court with either Blair or Dalembert for a total of 28 minutes, with the Mavs being outscored by a total of three points (including Tuesday night).
Each of Blair, Wright and Dalembert made their presence felt in this game … either on the boards, scoring or with spots of shot challenging (Dalembert finished with two blocks).
B-Wright believes it's about chemistry.
As an aside, it is worth noting that maybe the reason Sleepy Sam wasn't late to the pregame morning shootaround is because ... the Mavs didn't have one scheduled.
The starting guards …
From The Eye Test, this team often seems to go where the pairing of Jose Calderon and Monta Ellis take them. They share the helm of the flow offense, having direct influence over how the game unfolds.
This isn't unique to the Mavs, or a particularly surprising observation.
Ellis and Calderon combined for 28 points, 17 assists, 10 steals and four turnovers.
We'll take that … especially as Ellis continues to find other ways to contribute to the offense when his shot isn't falling, as was the case in the first three quarters.
Quoteboard ...
"He looked like he was unstoppable again." - Dirk on Monta's fourth quarter.
Carter strong again …
Vince Carter was once again slumping over the previous four games, averaging 10 points but shooting 31 percent from the floor and 28 percent behind the arc.
Against the Lakers, Carter outscored the entire Lakers bench 19-16, though that only included three players.
Carter finished with those 19 points by hitting 7-of-12 shots, including 3-of-5 behind the arc, and added five rebounds, one assist and one steal. The Mavs are now 7-1 when Carter hits at least half of his shot attempts … compared to 4-7 when he converts 30 percent or less of his shots.
Vince's Video Visit:
"Everybody was locked in tonight,'' Vince said.
And on the subject of San Antonio, where the Mavs quickly turned their locker-room attention to?
Vince: "They're like a machine. You just have to try to figure that machine out and hope they're off."
Mavsellaneous …
*With 32, the Mavs had their third highest assist total of the season … their top game also came against the Lakers (34), both wins.
Dallas is now 4-1 when totaling at least 30 assists.
*Dallas held the Lakers to 42.0 field-goal percentage, primarily on the back of a strong fourth-quarter … lowering Los Angeles 48.2 percentage through the first three quarters by holding them to 7-of-25 in the final frame (28 percent).
The Mavs have now held at team at-or-below 42.5 field-goal percentage 10 times this season … they are 9-1 in those games.
*The Mavs had their third most points in the paint this season, with 58. Oddly enough, the only two times they've had more, they've lost (in back-to-back games against Toronto and Phoenix).
*Not surprisingly, given the 10 steals from Ellis and Calderon, the Mavs scored 25 points off of 20 Lakers' turnovers … tying for their second most this season, second only to the 30 in a win over Golden State Nov. 27th.
*Cowboys coach Jason Garrett was hanging around the Mavs locker room with Carlisle and no we don't want to hear any of your stupid jokes.
Who Deserves 'The Dirkie'? ...
Ellis is among the candidates for
Who Deserves "The Dirkie''? Vote here and discuss the game as well on DB.com Boards!
A solemn wish ...
During this now-completed three-game homestand -- a failed bit to be sure as the Mavs won just one of three -- Dirk averaged 23 points per on 58.3-percent shooting. In his last game against the Spurs, The Uberman was good for 25 points on 10-of-17 shooting.
Without Marion, and against the "machine'' that is the Spurs, Dallas will need to ride all the things Dirk brings.
The Final Word …
When Dirk heads to the bench for his rest in the fourth quarter, the game often reaches a precarious balance. With Dirk sitting, Monta Ellis and company did not allow the lead, quickly shaved to four, to vanish. Instead, they built upon it and helped ensure another stressful ending, another opportunity lost, was avoided.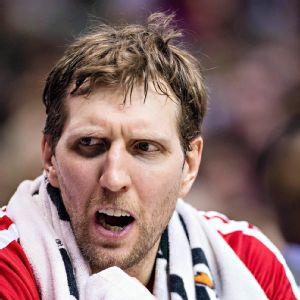 It may be early January, but this was a game the Mavs needed. Despite the fact that it often wasn't pretty, Dallas closed out the Lakers and secured the win … like they were supposed to.
"The important thing is to find a way – and we did,'' Carlisle said. "Now we've got to get on the plane and play a 6 p.m. game tomorrow."
Yes, on to a game the
Dallas Mavericks
are "supposed" to lose, especially with Marion not making the trip … and, with it, an opportunity.