DONUT 1: Setting the Table …
The
Dallas Mavericks
were 3-5 in their last eight games, and thanks to a 10-1 shove up the standings by the Memphis Grizzlies the Mavs were in danger of falling to the ninth seed in the Western Conference with a loss to the Sacramento Kings, who were playing without their best player, DeMarcus Cousins.
Dallas led by as much as 11 in the first half and took a five-point lead into the intermission, but watched any lingering positives get brutally washed away as the Kings opened the third on a 17-3 run, pushing the Mavs deficit to as much as 14 in the quarter.
For the majority of the night, it was the Dirk Nowitzki (34 points, 11-of-19 field goals) and Rudy Gay (35 points, 10-of-16 field goals, 12 rebounds, 6 assists) show – and we doubt it's a coincidence that Gay went off as Shawn Marion missed the game with that troublesome bruised shoulder -- but Dallas dominated the fourth. Led by Monta Ellis, Brandan Wright and Dirk, the Mavs held on to that eighth spot for at least one more day with the 107-103 victory.
Rick Carlisle's Video Visit:
DONUT 2: Dirk is good …
For the season, Dirk is averaging: 21.8 points, 48.5 FG%, 39.2 3PT%, 91.2 FT%, 6.2 rebounds, 2.9 assists, 1.0 steals and 1.4 turnovers.
Over the last 11 games, Dirk is averaging: 25.5 points, 48.2 FG%, 38.9 3PT%, 94.7 FT%, 7.0 rebounds, 2.6 assists, 0.8 steals and 1.1 turnovers.
Over the last three games, Dirk is averaging: 33.3 points, 60.7 FG%, 45.5 3PT%, 100.0 FT%, 10.3 rebounds, 3.0 assists, 1.0 steals and 1.3 turnovers.
He's an All-Star for the 12th time because he's earned it. This is not a "legacy" pick. This is a player playing as well as almost anyone in the league.
Dirk is good … very good … Hall-of-Fame good … still. He's no one's charity pick, no one's reward for a great career dwindling into the setting sun.
For the 12th time he'll represent the Mavs in the All-Star game, for the eighth time he'll do so as the sole Dallas player to make it … and he's there because he deserves to be. Calling this possibly his "last hurrah'' as an All-Star, Dirk joked about the uniforms this year's players will don in New Orleans.
"I can't wait to wear those sweet jerseys with the sleeves,'' he said. "It's really nice and snug. They should bring out my physique nicely."
Dirk's Video Visit:
DONUT 3: The Third: One not like the other …
The third quarter was a disaster. A five-point lead became a 14-point deficit.
It began with a 7-0 run that became a 17-3 surge that swelled a 27-8 bombardment … and a 14-point Kings lead with 4:20 to play in the period.
The numbers to that point:
| | Pts | Rebs | FG-FGA | FG% | 3PT-3PTA | 3PT% |
| --- | --- | --- | --- | --- | --- | --- |
| Kings | 27 | 10 | 10-14 | 71.4 | 3-5 | 60.0 |
| Mavs | 8 | 4 | 3-14 | 21.4 | 0-5 | 0-0 |
A couple of other items worth noting during this stretch: Jae Crowder, who got the start in place of Shawn Marion, had as many shots as any other Mavs player, going 0-of-4, Dirk had a minor cold streak, hitting 1-of-4 attempts, and Monta Ellis was rendered a complete afterthought on offense, relegated to wandering the perimeter as an onlooker and gathering no stats beyond his minutes (no points, assists, etc.).
As ugly as the defense was, the offense matched it … a near perfect storm of sorts.
DONUT 4: But then …
Over the final 4:20 of the third, the Mavs made a small run. A stint that could slide into irrelevance in the wider scope of the full game, but the tone shifted. What was spiraling away found its balance and drifted back within reach.
It began innocently enough with a 21-foot jumper near the left elbow from Ellis, a whisper luring him back into the fray of offense. Then came a DeJuan Blair layup off a Devin Harris feed, followed by Blair free throws and an Ellis steal ending in a breakaway dunk … and the lead was back down to eight.
By the end of the quarter, Dallas had a 13-5 run and the total deficit was down to six.
DONUT 5: The Fourth: The other not like the former …
Through the first three quarters, the Mavs had allowed the Kings to convert 57.1 percent of their shots, including 60.5 percent in the second and third combined.
In the fourth, the defense found its footing, holding Sacramento to 6-of-19 from the floor, a field-goal percentage of 31.6.
Dirk and Monta accounted for 23 of the Mavs 32 points, including going 12-of-12 from the free-throw line … outscoring the Kings 23-22 on their own.
Rick Carlisle was effusive in his praise of Ellis's game, saying it may have been his best "all-around" performance of the season, noting that Ellis had zero assists and played within the game.
Ellis finished with 20 points, 16 coming in the second half, 11 of those in the fourth, three assists, three rebounds, three steals, one block, 6-of-10 field goals and no turnovers.
"I thought Ellis played probably his best all-around game of the season," Carlisle said. "He had zero turnovers, he was extremely disciplined at both ends of the floor. ... He waited for the opportunities to pop and then he got to the rim, he had assists and he made huge free throws at the end. So he was fantastic tonight."
For a moment, consider that the Mavs had zero turnovers in the second half … zero.
Regardless of how this game "should" have gone, that's is indeed a fantastic way to close.
DONUT 6: Double-Double …
For the first time this season, Brandan Wright posted a double-double, finishing with 10 points and 10 rebounds in his usual efficient manner, hitting 4-of-6 shots in almost 26 minutes of action … including playing all but one second in the fourth.
Using purely the eye test, it's hard to remember a time we've seen Wright climb so high, so often, for rebounds. It's far from a rarity to see him sky for a dunk, or step effortlessly up an air-ladder to flush an alley-oop … but somewhat uncommon to see his skinny frame rise above the mosh pit beneath the rim to claim a rebound.
Here, he did just that … with five of those ten boards coming in the fourth, three on the offensive end.
B-Wright's Video Visit:
"I feel good, the best I have felt since I came back,'' Wright said. "I feel 100 percent - knock on wood.''
DONUT 7: Trends and wins …
Last year the Mavs were 16-5 when Brandan Wright played at least 23 minutes, and 8-14 when he was on the court under 15.
This year, we've seen a reversal of that trend. Wright has only played over 23 minutes five times (including Friday night), with Dallas posting a 2-3 record in those games. When he's played at least 19 minutes they are 4-7. At the other end of the spectrum this season, the Mavs are 10-3 when he's played under 19.
Prior to the Sacramento game, there seemed to be a sweet spot developing in correlation between wins and Wright's minutes. When Wright has been on the court between 13-to-19 minutes Dallas was 10-1.
DONUT 8: The other centers …
Since Wright's return Jan. 14th, Dallas is 6-8 when DeJuan Blair, Wright's primary competition for minutes, plays over 15 minutes … and 18-17 for the season.
Friday, Blair played 12:39, scoring six points to go with three rebounds, hitting 1-of-5 from the floor and 4-of-6 from the line.
Perhaps it shouldn't be surprise that the Mavs have faired worse when Wright and/or Blair are forced into higher minute totals. Both are players with obvious physical limitations for the position they are being asked to play – Blair's lack of height, Wright's lack of girth -- that prolonged exposure can highlight.
Perhaps it should also not be a surprise that Dallas has faired well when the player best suited to be an NBA center on their roster earns the right to stay on the court longer.
The Mavs are 16-10 when Dalembert plays at least 20 minutes, 12-4 when he gets at least 23 minutes, 8-1 when he totals 25-plus and 4-8 when he plays less than 15.
Dalembert finished with six points, hitting 3-of-4 field goals, four rebounds and one block … in 15:46 of action.
DONUT 9: The sliding defense …
Entering Friday night, the Mavs defense ranked 24th in defensive rating at 105.7. Utah held a league-worst 107.5.
Excluding the New Year's Day game against Washington, where they held the Wizards to 78 points, Dallas was 7-8 and had the third worst defensive rating in the league in 2014, at 110.1.
Over the three games leading up to Friday's contest against the DeMarcus Cousins-less Kings, the Mavs defensive rating had slipped to 113.2.
Against the Kings, it was 114.3.
Since Jan. 15th, over nine games, and a 4-5 record, the Mavs have the worst defensive rating in the NBA at 112.8.
That's … uh … not good.
DONUT 10: The legs still coming back …
Perhaps the most surprising number in that three-game stretch leading up to the Kings contest was that of players to average at least 10 minutes, only Brandan Wright (132.0) had a worse defensive rating than Devin Harris (126.9), though Harris countered this with the team's best offensive (137.8) and net ratings (+10.9).
Particularly against Houston, it wasn't rare to see the Rockets guards "blow-by" (as Rick Carlisle labeled it) their Dallas counterparts, including multiples instances with Harris as the defender.
If anything, perhaps this was a sign that despite his strong offensive numbers, Harris is still working his way back into true "game shape."
This is supported by Carlisle giving Harris a day off over the two-day break, and by the burst we saw early from Harris at the defensive end against Sacramento … a burst that wasn't prevalent in his first six games.
A lot has been thrown at Harris, a lot of hopes and responsibility have been thrust upon him only seconds after returning from a 41-game absence. He's responded very well, including three straight 14-point games, but patience must yield to the fact that this is a player who missed a full half of the season.
His legs are coming back … they aren't all the way there yet.
Harris finished with seven points, 2-of-7 field goals, five assists, two rebounds and no turnovers … and the teams second best defensive rating (104.0) of players who played at least 10 minutes, only Blair's 100.0 faired better.
We'll save the debate over defensive rating, which truly measures how much a team performs with a player on the court (not just the player), especially in such small sample sizes, but note that it matches up well with the eye test in this particular case.
DONUT 11: Mavsellaneous …
*Monta Ellis had eight turnovers against Toronto Jan. 22nd and again against Detroit on Jan. 26th.
OJ Mayo had at least eight turnovers twice last season (nine in a loss to Boston, Dec. 12, 2012 and eight in a loss to the Knicks, Nov. 9, 2012).
Prior to this, the last Mavs player to have at least eight turnovers more than once in a single season was Jason Kidd, who did so four times in 1995-96.
Ellis has zero turnovers against the Kings.
Monta's Video Visit:
*Per Basketball-Reference.com, the four turnovers Dallas totaled was their lowest number since March 27, 2009, when they also had four.
*This was the fifth double-double of Wright's career, his second with the Mavs and first of this season. He has never had double digit rebounds without having a double-double.
*Get
your Mavs Quoteboard here!
*After the game, Dallas announced that Shane Larkin and Ricky Ledo are scooting up 75 to uit up for the Texas Legends in the D-League.
That works for us; Fish will have the telecast for you on Channel 47 at 7 p.m. as the Legends host the Vipers (Rockets affiliate) in Frisco. You can also come see the game in person by
getting your tickets here.
*Dallas missed their first 14 3-pointers before Dirk converted an attempt with a little over eight minutes to play in the fourth.
Who Deserves "The Dirkie''? Vote here!
*Jose Calderon finished with 14 points, seven assists, one steal and one turnover … the Mavs are 7-2 when Calderon has at least seven assists.
DONUT 12: The Final Word …
Dallas now has 19 straight regular-season home wins against Sacramento, having not lost since Feb. 27, 2003. This mattered little in the third quarter, as Rudy Gay and the Kings threatened to run the Mavs out of their own building.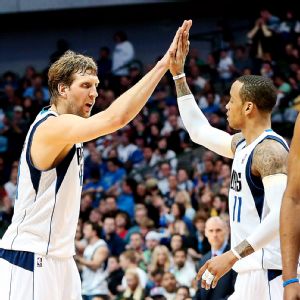 It's easy to not like how this game went, to say it should have never come to what it did, never have been so difficult, but that fact is … it did.
The Mavs could have come unraveled, let their frustration take the reins and lead them quickly into the ninth seed, but they didn't. Given where things went, how easily this could have been a loss … it was a good win.
For a team that's seen its share of come-from-ahead-losses, standing on the other side of the razor that glides between all wins and losses shouldn't be taken lightly. Faced with the chance to lose, the Mavs plucked a win from the mud.
"It was a tough night because our shot-making wasn't great,'' Carlisle said. "I just took a lot of grit to hang in — we got down, but we hung in."