DONUT 1: 'Coming-out party' ...
So much to get to ... we should probably do this in semi-chronological fashion ...
The
Dallas Mavericks
' extended weekend started with a Friday survival in Phoenix, a 110-107 win in which coach Rick Carlisle claimed they showed "character'' ... but where the rest of us also witnessed some "chaos.''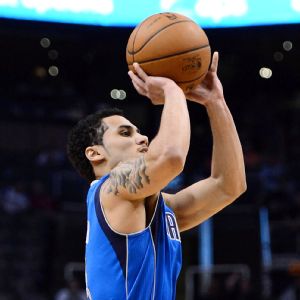 "It got hairy at the end, but it gets hairy at the end,'' said Carlisle.
Luckily, rookie Shane Larkin gave the game a clean shave. The Mavs and Suns are jousting for second-tier playoff position. Jose Calderon (knee) was out. Gal Mekel (knee surgery earlier in the day) was also unavailable.
So the pint-sized point guard Larkin, the Mavericks' first-round pick, helped closed the thing and became just the fourth Mav (with Mashburn, Kidd and Nowitzki) to by age 21 record a game of at least 18 points and five assists.
Said Larkin: "I just had the mentality to go in and play my game when I got in the game. My teammates had confidence in me. The coach had confidence in me to keep me in there and give me the ball late in the game."
Said Rick: "This is why we drafted him. We felt he could have this kind of impact."
Said Dirk: "He was awesome. He was phenomenal. ... He was very phenomenal.''
We've got more on the win, and Larkin's "coming-out party,'' here.
And we've also got lingering questions about "character'' and whether it's allowed to come and go as it pleases.
DONUT 2: Devin's debut ...
The Mavs entered Saturday's halftime against visiting Portland with their biggest deficit at an intermission this season, 19, and only watched the night slide further and further away in the third, trailing by as much as 36. The Dallas bench made a respectable push in the final period to close the gap to 14, forcing the Blazers to reinsert their starters, before the Mavs succumbed to the inevitable, a 127-111 loss.
A bright spot? Welcome Back, Devin Harris.
After missing the first 41 games of the season, with 3:22 to play in the first, Devin Harris made his debut for the Mavericks … again … to a nice ovation from the home crowd and even hit a buzzer-beater to close the opening quarter.
No longer a fifth-overall pick making his first acquaintances with the NBA, Harris took the court as a veteran expected to make an immediate impact.
For a player who is coming off missing 41 games and all of the preseason, perhaps these expectations aren't exactly fair … especially as he must become acclimated with an entirely unfamiliar roster -- Dirk Nowitzki being the sole holdover from Harris's first stint in Dallas -- as they, in turn, become comfortable with him.
If there is a silver lining, if we really want to stretch for such a notion after a blowout loss, perhaps it's that Harris was able to gather some minutes, take a baby step closer to returning to "basketball shape."
With time, Harris should be a very nice addition, a player capable of easing the burden on Monta Ellis's shoulders (see more on that burden below: minutes, miles) and adding a veteran presence with the ability to help Dallas at both ends of the court.
"He's worked hard," Carlisle said of Harris, "and he did well considering this is the first game and it's been months and it's a major surgery. It speaks to how hard he's worked, and this game gave us an opportunity to get him some, I think, what would be considered at this point extended minutes … He's a guy that can help us for sure."
Harris finished with six points and two assists in 17:24.
We've got your All-Access Pass to the game here.
DONUT 3: On to Cleveland ...
Those back-to-back games are proof that the schedule-maker hasn't made it easy on the Mavs of late. Of course, as demonstrated once again Monday in Cleveland, the Mavs do not make it on themselves, either.
""It's the NBA,'' Carlisle said said after the 102-97 MLK Day win, the Mavs' third game in a 68-hour span. "It's supposed to get hairy. I'd love us to hit every shot and get every stop, but you're on the road; teams battle back if they get behind.''
That's twice in one extended weekend the coach has resorted to the adjective "hairy.'' (For those of you scoring at home.)
The Mavs were up 59-35 lead just before the half. Energy? They had it. In addition to the Mavs having played Friday in Phoenix and Saturday in Dallas before this 1 p.m. tipoff, they recently played eight games in 12 days. In there was a four-in-five-nights stretch. Dallas has played the most games in the West since December 26 and the most games in the calendar year of 2014, 11 in 18 days.
Maybe that's among the reasons Mavs opponents down by lopsided scores so frequently charge back into the game; Dallas has four losses this season in games in which it once led by 17 points or more.
"We did a good job of holding them off,'' Carlisle said.
We've got
the breakdown of the game here, complete with the detailing of a couple of defensive plays at game's end
that truly made a difference as Dallas moves to 25-18.
DONUT 4: Thank you, Estilo Gaucho!...
Our friends at
Estilo Gaúcho
are original partners in support of the Texas Legends and in celebration of the excellence of their incredible and original restaurant, they've become partners with DallasBasketball.com, too.
This is a family-owned local business offering a memorable dining experience featuring the cultural traditions of Southern Brazil. It's been named not only the premier Brazilian steakhouse in DFW but also one of the finest restaurants in the Dallas area of any kind. For lunch or dinner, David and Alex and their staff of Gaúchos make every occasion a special occasion.
Please visit
Estilo Gaúcho
this week ... and tell 'em Fish sent you!
DONUT 5: Sam's checkup ...
The Mavs are monitoring the health of center Dalembert, who sustained what is being called a left shoulder strain in the Cleveland game. DB.com injury expert
Jeff Stotts is on the case
, noting that in Sam's 12-year NBA career he's sustained four injuries to his right shoulder (one sprain, three strains) but no problems with his left shoulder. None of those right-shoulder injuries, by the way, cost him any playing time.
While we wait for definitive medical results, don't pooh-pooh this as an issue. Dallas operates with center-by-committee, but the committee chairman is the beleaguered Dalembert, who gives you six points, six rebounds and a block per game in his 20 minutes - but who, more than that, gives you wins if you give him starts.
Dallas' record when Sam starts? Now 19-10.
DONUT 6: Next-man up ...
But this might also be a next-man-up opportunity.
The Mavs' other two centers are in theory as imperfect as Dalembert is. It's Goldielocks and The Three Centers, as one is too hard, one os too soft, and one apparently finds his bed to be just right.
But
the best player
among this teams committee of centers? The one whose numbers might grow if you let him grow into the job?
A compelling story angle going forward on this trip is whether the combination of injury and performance might mean it's B-Wright's turn, B-Wright's time.
DONUT 7: "Mom's Spaghetti!'' ...
Our weekend was also filled with some D-League action, including
the Texas Legends debut of P.J. Hairston (a good review here)
and R.J. Choppy's call of a Devin Ebanks dunk:
Our pals at
The Big Lead are not enamored with Choppy's signature "Mom's Spaghetti!'' tribute.
I guess next time I could pacify the kids by throwing in a "Wrecking Ball'' reference or something.
DONUT 8: The JayVeast ...
As the Mavs march toward the All-Star Break, seven of their 11 games before that mid-February milestone are against Eastern Conference teams -- and here is some encouraging news: The Mavs are 11-4 against the inferior East this season.
That doesn't guarantee we're not in for more "hairy,'' starting with Wednesday at Toronto. I'll be part of the FOX Sports Southwest team that brings that telecast to you starting at 5:30 p.m.
DONUT 9: Grading the offense ...
Over the weekend Bob Ortegel and I appeared on FOX Sports Southwest to give mid-season grades to the Mavs in four departments: Offense, Defense, Rebounding and Intangibles.
We were very much on the same page (luckily for me, because when it comes to Mavs basketball, if you're not on the same page with Coach Ortegel you are likely on the wrong page). And we started with Offense, where I give the first-half Mavs a B-plus.
Dirk getting those go-through touches in crunch time means everything to me. And has for a dozen years now. If he gets the last shot and misses it (which has essentially been the case in the four major implosion losses this year with him shooting 2-of-18 down the stretch), I live with it.
But let me focus on supplementary help: Vince working with Brandan Wright.
Depth is a factor here. Those guys, maybe along with Devin, represent the core of that depth.
when Vince plays without Wright, he's a minus-2.1. With Wright, Vince is a plus-6.3. His shooting percentage goes up 10 percent. his assists per 36 minutes double!
So ...
It's a B-plus because Dirk is a B-plus. Improved shot selection from Ellis can be a big help in the second half, as can the Tar-Heel Tandem of Vince and Wright, threatening to help nudge that grade up a bit.
Now, to Dallas' defense.
DONUT 10: Grading the defense ...
On Defense I give Dallas a D.
I wrote this on DallasBasketball.com on the first day of training camp and I said it to coach Carlisle, too: Dallas had better develop the Dirk-Monta two-man offensive game because almost no amount of work would make this a team that could hang its hat on defense.
Steals and blocks matter, and Dallas records those. But this club doesn't regularly get stops. The Mavs have seven losses by six points or fewer. That's the result of not getting just three more stops in a game.
The Mavs have the tools to solve their late-game offensive inefficiency. They don't have the tools to solve it on the other end. That "D'' grade isn't likely moving.
DONUT 11: Grading the rebounding ...
This stands alone as a category, in the judgment of Coach Ortegel and me, because it's so stand-alone poor.
To me, if you grade on the NBA curve, it's an F. This team got to the halfway mark ranking No. 28 in the league in rebounding ... and if anybody is going to get an "F,'' it probably ought to be the handful of teams in the statistical basement.
Now, Want some more help in improving it however slightly? Feed Sam Dalembert some minutes - and maybe some caffeine.
This requires good health from Dalembert. But he's your answer to true center play. Again, you essentially double your chance of winning when he starts. Dallas made a commitment to Sam Dalembert and did so knowing full-well the baggage he brought here with him.
You make a commitment to him. You need one back from him, obviously. But if you want to help the "F'' that is rebounding. ... staying committed to Dalembert is this roster's best way.
Now to intangibles ...
DONUT 12: The Final Word ...
The final category is "Intangibles.'' I give the first-half Mavs an optimistic "B-minus'' because ...
In Rick Carlisle I trust.
Not all of this team's flaws (including the aforementioned defensive woes) are fully fixable. But the BBIQ issues? Rick The Teacher can help the Mavs close better.
They can't be expected to close every game with a win. But maybe the ones in which they hold 17-point leads?
Rick can fully integrate Devin, and I really want to see how this club looks with him in the games before the Valentines Week trade deadline. Dalembert can be made to stay awake. Monta can be coaxed into better shot selection. B-Wright can get a few more minutes.
Think about this: Even with the problems, the intangibles here -- the positive ones -- have Dallas hanging around seventh and eighth in the West. With this same record, Dallas, placed in the other conference, would be a third-place friggin' superpower.
Do I have to give the Mavs a horrible intangible grade because they are in the wrong conference? I do not. This is an above-average team in the NBA. So it gets an optimistic B-minus here. A fingers-crossed B-minus.
DONUT 13: The Finest Dentists in North Texas! ...
At
McKinneyDentist.com
, Dr. Berlin, Dr. Markham, Dr. Lynch and Dr. Wood have been providing the finest in everything from technology to chair-side manner for years, to our family and to so many of you. Their great work has part of us bringing our Mavs coverage to you since 1995 ... And we're proud to be associated with The Finest Dentists in North Texas ... McKinneyDentist.com!