DONUT 1: Grind grinds on ...
The grind continues for the
Dallas Mavericks
, because while they've completed their much-discussed four-games-in-five-nights sandwich and taken a Sunday off to watch football, they are back at it tonight with a 7:30 AAC visit from Orlando. at 10-27 basketball's second-worst team.
The Mavs are 22-15 off the strength of the doubleheader sweep of the Pelicans.
(Read our exclusive coverage of those games, plus an incredible volume of Mavs stuff, in DB.com Archives here.)
Those two wins also helped form some new and stat-tastic numbers for Dallas ... which we throw into the gumbo below ...
DONUT 2: Sharing is caring ...
The Mavs totaled 32 assists in the 107-90 Friday win in the Bayou. They didn't quite achieve that Saturday in the 110-107 victory (in which they totaled 20 and otherwise simply got the hell out of Dirk's 40-point way). Nevertheless, Dallas is now 5-1 when the team totals at least 30 assists.
DONUT 3: As Sam goes ...
We know this makes you uncomfortable. But what if the Mavs go as Samuel Dalembert goes?
Dalembert played 18 minutes on Friday and gave Dallas nine points, eight rebounds and three blocks.
He started again Saturday and in 23 minutes gave Dallas nine rebounds four points.
The Mavs are now 16-8 in games Dalembert starts … and 8-1 when he plays at least 25 minutes.
"We need him,'' coach Rick Carlisle said, and ... what if that's not at all an exaggeration?
DONUT 4: Stumbling onto Monta ...
Last week we believed we'd stumbled onto
a legit explanation for Monta's perimeter slump.
Understand, it's not difficult for us to convince ourselves how smart we are ... but "Monta-at-37'' is making us look awfully smart.
In games where Ellis plays 37 minutes or more he has hit at least 47.5 percent of his shots only four times in 22 chances (including Saturday when he was terrific in scoring 26 points on 7-of-13 shooting in 41 minutes).
In games where Ellis plays less than 37 minutes he has hit at least 47.5 percent of his shots nine times in 16 chances (including Friday night).
Worth noting, the Mavs are 14-8 when Ellis plays over 37 minutes (seven decided by double digits), and 8-8 when he plays under (eight decided by double digits).
So Dallas is helped by Monta being a heavy-lifter ... but his individual numbers sink as a result.
Oh by the way: Over the past three games, Ellis is 25-of-45, an outstanding 56-percent … showing signs of having put the stop sign on his recent slump.
DONUT 5: Chairmen of the boards ...
OK, they're not really "chairmen.'' They're barely "footstoolmen.''
But Dallas did outrebound the Pelicans on Friday 39-38 before slipping back to being outrebounded 48-30 on Saturday.
The Mavs are now 8-1 this season when outrebounding their opponent. We see where somebody commented on DB.com Boards that we are "Captain Obvious'ing'' the situation by pointing out the correlation -- which misses the point entirely.
Believe us, we get it: As with the aforementioned assists stat, this is much easier for us to calculate than it is for the coaches and players to automatically create; how do they magically make sure they end up with 30 assists? How to they magically make sure they get one more rebound than the enemy?
Still, there is a base mindset that might drive them to success in these categories. Unselfishness and purposeful movement can lead to assists. Oh, and if every guy who plays would just work a little bit harder to fight for one more rebound ...
And, most of all: We guarantee you that Rick Carlisle and staff has waved the "8-1'' in the faces of his crummy rebounding team. And if it's good enough for Carlisle to mention to them, we think our calculations are good enough to mention in a Donut to you.
DONUT 6: Hooray, Jae! ...
We still like Jae Crowder because we remember what he started as -- a second-round pick, the 34th overall selection, a kid who lost 15 pounds over the summer, who is developing into a shooter, who is a high-effort player, a young man who is earnest about getting better.
(And we certainly wish he'd get better as a rebounder; his body type alone should allow him to do better than the six rebounds he's collected over the course of the last three games and 105 minutes!)
But as fluky as it seems, there is a Jae Crowder number that he should put on his resume: With Shawn Marion (shoulder) still unavailable, Jae got his third and fourth starts of the season over the weekend.
The Mavs have won all four of those outings.
DONUT 7: NBA Cares ...
The league this season has announced that twice its referees blew game-ended calls (in Minnesota) and on Saturday (when Monta slapped Austin Rivers).
DallasBasketball.com once again has announced, "Tough crap.''
Now, any time Chancellor Stern would like to announce he's rescinding a couple of weeks worth of blown calls in June 2006 that went against the Mavs, we will happily pay attention.
DONUT 8: The DB.com Mavs Podcast ...
The
Dallas Mavericks
? That is what life is all about for DB.com Podcasters
Mike Marshall
,
Mike Fisher
and
Kevin Turner
It's also apparently what a ton of you focus on, and we appreciate those five-star reviews rolling in even as Our Three Boys occasionally exhibit some NSFW pottie-mouthedness.
Here's how we roll
on the DB.com Mavs Podcast here on iTunes
and up and running below as well ...
Pull up a chair to the hoops roundtable and let's kick it around ... as we drop the names of:
*Danny Granger and Lance Stephenson (acquired in trade for Marion, Calderon and Larkin).
*Spencer Hawes and Evan Turner (acquired in trade for Monta, Vince and Ledo).
*Plus stuff on Z-Bo, Chris Bosh, Andrew Bynum, Luol Deng, Omer Asik and more and "The 12 Free Agents We Really Like''!
The DallasBasketball.com Mavs Podcast, y'all!
DONUT 9: Who needs freebies? ...
We desire strongly that Dirk get to the free-throw line. Along with Monta (who has the physical ability to do so), Nowitzki is a threat there (in large part because he really does receive some benevolently "superstar'' calls).
On Friday? For only the fifth time in his career, Dirk finished with at least 24 points … without the benefit of any free-throw attempts.
Let this sink in: It'd happened only four times before in his life. But now, in the calendar year of 2014, it's happened twice. (January 3 against the Clippers and now January 10.)
This is something that is not marvelous, but it's still something worth marveling at. Dallas needs Dirk at the line for the benefit of the team ... but Dirk, amazingly, doesn't need to get to the line to post amazing numbers.
And then came Saturday, as Dirk went from "no trips'' to a "parade.''
Sixteen visits to the line. Fifteen makes. Twenty points in the third quarter (the fourth time in his career he's done that in a period) and 40 points for the game (the 19th time for that, and a Dallas record of 15-4 in those games).
That's a conventional way for a great scorer to reach those 40 points, though it's funny to hear Dirk's unconventional explanation for how he was able to gas it up for such an effort as a 35-year-old playing on the end of a four-games-in-five-nights run.
"I don't know,'' Dirk said when asked what triggered the third-quarter explosion. "I figured somebody had to get going in here."
DONUT 10: The Two Vinces ...
We hope we've been clear in this space that we're not anti-Carter; the burden on his shoulders is more a result of the construct of this roster than it is Vince desiring to be "The Man.''
But this weekend series accented what Dallas gets from "Good Carter" and "Bad Carter.''
Vince Carter has played 37 games this season. In 17 of he's hit 33.3 percent or less of his shot attempts. In 12, he's now hit 45 percent or more.
When he's hit 33.3 percent or less, Dallas is 7-10 … Bad Carter.
When he's hit 45 percent or more, Dallas is 9-3 … Good Carter.
Friday night, the Mavs got "Good Carter.'' Carter finished with 14 points on 4-of-6 field goals, including 3-of-5 behind the arc.
Saturday night? Well, they needed what Vince gave them, with his 10 points, but he was 3-of-9 from the floor and 1-of-5 from the arc.
DONUT 11: Our demands ...
We are demanding and we are spoiled and we want more from our Mavs. So we each have to decide for ourselves if the fact that Dallas was 22-15 at the end of Saturday night and that only eight teams had more victories than that is a good thing or not.
We do believe it beats 20 or so alternatives.
DONUT 12: The Final Word ...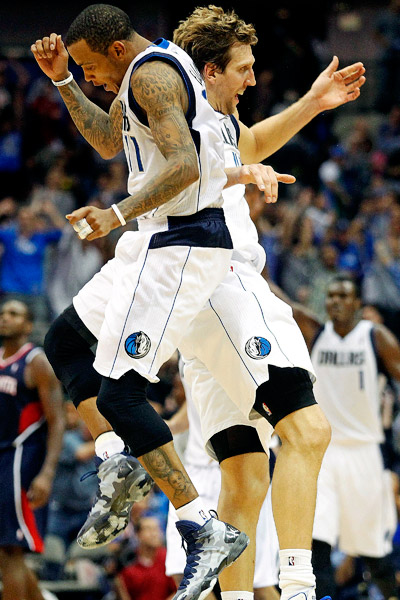 We knew from the very start that the meshing of "MontaBall'' with "UberBall'' would be the foundation upon whatever success Dallas would build. Defensive is important, rebounding is important, not oversleeping is important ... but back to the very first day of training camp we expressed the view that the Mavs would have one true strength upon which to hang their 2013-14 hat.
The Dirk/Monta two-man game was, and is, that thing.
Dirk Nowitzki's weekend: 64 points, 20-of-39 field goals, 15-of-16 free throws, nine assists, eight rebounds, five steals, two blocks and (incredibly, given his usage) one turnover.
Monta Ellis' weekend: 49 points, 15-of-29 field goals, 18-of-23 free throws, seven rebounds, 12 assists, three steals, one block and eight turnovers.
When you get both of these guys hitting their shots (the team is now 6-2 when both convert at least 50 percent of their attempts) -- and yeah, piling up 103 points in back-to-back games -- you have to feel a little better about the Mavs chances against anyone.