DONUT 1: Dirk To Represent...
The
Dallas Mavericks
have the distinct honor of being represented in the upcoming NBA All-Star Game -- for the 12th time -- by the incomparable Dirk Nowitzki.
Nowitzki wasn't selected to last year's Western Conference squad, an omission that he says now felt odd to him.
"I have been a part of All-Star Weekend every year since I have been in the league, and not being there last year felt strange," Nowitzki said in a statement released by the Mavs.
He was prepared to "go to the beach'' again this year during the All-Star Break. Well, he can still hang around the water, as the game will be played in New Orleans.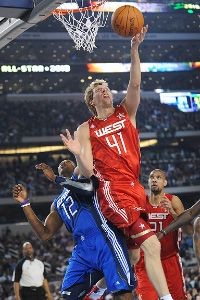 The UberMan won't likely be featured in the game; clear-outs and isos and individual one-on-one battles aren't his thing. So maybe he'll get few enough minutes to constitute a "rest'' of sorts, a good thing for a 35-year-old.
But he is undoubtedly deserving. He ranks 12th in the league in scoring at 21.6 points per game. He's a top-10 player in PER. He is by far the best player on a second-level contender in the tough West.
And he handles it all with trademark style.
"The Dallas fan base has always been great to me and the Mavericks' organization and the city deserves to be represented at the All-Star Game,'' Dirk said. "I appreciate my teammates for putting me in the best position to succeed and again be named to the Western Conference All-Star team. I am excited to represent the Mavericks in New Orleans and I look forward to returning to my team and making a great run at the playoffs."
Nowitzki becomes just the 21st player in NBA history to be selected for at least 12 All-Star appearances. ... something you cannot accomplish unless you have lived to be a certain age.
"Congrats to my guy,'' Mark Cuban tweeted. "Good guys can and do win. #35 ain't nothing but a number.''
DONUT 2: Goodbye, Chancellor Stern ...
Outgoing NBA commissioner David Stern's Top 10 on "The Late Show with David Letterman'':
"I am an inspiration to short, un-athletic kids everywhere.'' - David Stern.
DONUT 3: Should Dallas start Devin? ...
Ardent admirers of Devin Harris -- and I am on that list -- are excited to see him re-emerge so quickly as a Mavs go-to/crunch-time force.
So what about the next step? Should Dallas start Devin?
We've got
a Top-10 List of Pros ... and a Top-10 List of Cons.
We make a case ... both ways.
DONUT 4: Treadmill of Mediocrity ...
We use the phrase to pinpoint Mark Cuban's inability to bear the mucky middle of the NBA. But it applies to the erratic Mavs in the month of January. Dallas is 8-8 this month. The Mavs are 4-5 against the West. They are allowing opponents to score 104.7 points per game this month ... but against teams in December, but as our man Coop notes, when it comes to defending West teams they are allowing 111.6 points per game.
DONUT 5: Hat-tip to Red Rock ...
Thanks to the gang at
Red Rock Bar & Grill
for having the fellas from 105.3 The Fan hanging out the other night! It's the biggest screen in Texas at 200", it's the live music, and on Sunday, of course, it's the Super Bowl.
Oh, and Barry and the gang love their Mavs ... so that's on the big screen every night as well!
DONUT 6: The Frisco Farm ...
How's P.J. Hairston doing up on the farm?
The North Carolina product scored 45 points in 38 minutes on Wednesday for the D-League Texas Legends. He now has 137 points in 162 minutes this season.
It's a fascinating tale, really, and I bring you all the information on the Legends during our Channel 47 telecasts of the games live from Frisco. Join us Friday and Saturday night for the 7 p.m. tips on TV ... or better, join me in Frisco and
hang out with the Mavs' D-League affiliate in person! Get your tickets for the whole family here!
DONUT 7: Fantasy baloney ...
Lotsa fantasy baloney being tossed around regarding Houston's start-and-stop trade plans with center Omer Asik. Rockets GM Daryl Morey recently said, "We pushed to trade Omer in December. We felt we had to make a fair and aggressive effort to do that. Obviously, he'd prefer to be a starter.
"At this point, Omer is very likely going to be here until the end of his contract at the end of next season, not this season. The window to trade him was [in December], and teams weren't aggressive enough to get him, so we're excited about him being a part of our future."
Morey spins this thing to make is about "un-aggressive'' other teams; of course, it takes two teams to be "aggressive'' in order to make a deal. Meanwhile, there's another issue that's been buried amid all the hogwash:
Isn't Asik hurt? How hurt is he? Is he a malingerer? Why do I want him if I don't have the answers to those questions?
DONUT 8: Hack-a-Howard ...
The Mavs tried to intentionally foul Dwight Howard in Wednesday, the logic of course being that him making, say, 1-of-2 every trip down the floor is preferable to Houston getting two easy points every possession against Dallas' statue defense.
It didn't work, as
you can see chronicled here in our game coverage.
Howard was 7-of-8 during the late-game strategic move and 9-of-14 for the game.
It is Howard's contention that even though he's a mediocre foul shooter, it hasn't worked all year.
"We're 6-1 when they Hack-a-Dwight,'' he said. "Look it up. The only one we lost was to the Lakers."
DONUT 9: Kings at Mavs tonight ...
It's a 7:30 tip at the AAC, Kings in town, sporting a 15-30 record but also sporting an early-December 112-97 win over the Mavs to their credit. in early December at Sacramento.
Before that game, they had lost 15 of the previous 16 to the Mavericks. … and even still, the Mavs have won 18 consecutive games against the Kings at AAC.
This is as close to a slam-dunk as the Mavericks get. They… Dirk Nowitzki has been rolling of late, averaging 28 points and 11 rebounds in the three games since he was given a game off to rest. His 38 points against Houston pushed him to 26,022 for his career, the 13th player all-time to pass 26,000. … The last three games have not been as kind to Monta Ellis. He's averaged 11 points and five assists during that stretch. … The Mavericks (26-21) have lost four of their last six games and need a win to avoid a losing January. They are 8-8 this month. … Rick Carlisle understandably wants his team to play better defense. The Mavericks are 9-17 when surrendering 100 points or more.
DallasBasketball.com will have all-day and all-night coverage of the game, including exclusive analysis and Video Visits ... starting with an update in a bit on Shawn Marion's shoulder. He did not practice Thursday for the 36-21 and comes into the day as questionable for tonight.
Meanwhile, DeMarcus Cousins -- averaging 22.6/11.6 --is day-to-day with a left ankle sprain.
DONUT 10: Sneaky ...
It is a game of "mine's bigger than yours.''
It's the shoes.
Here's the NY Times look at a
"Huge NBA Rivalry: Sneaker Collections.''
DONUT 11: Head-to-head ...
One way to settle the Durant-vs.-LeBron debate (and it is a good, healthy debate): Kevin Durant is now 4-13 in his career in head-to-head matchups with LeBron James.
DONUT 12: The Final Word ...
Remember how puzzled we were regarding reports that "everybody was lining up and in a hurry'' to sign Andrew Bynum?
Turns out the only people lining up and in a hurry to sign Andrew Bynum were Chris Broussard and Bill Simmons.
DONUT 13: The Finest Dentists in North Texas! ...
At
McKinneyDentist.com
, Dr. Berlin, Dr. Markham, Dr. Lynch and Dr. Wood have been providing the finest in everything from technology to chair-side manner for years, to our family and to so many of you. Their great work has part of us bringing our Mavs coverage to you since 1995 ... And we're proud to be associated with The Finest Dentists in North Texas ... McKinneyDentist.com!