DONUT 1: Bobcats 114, Mavs 89 ...
"We got beat in the first quarter, the second quarter, the third quarter and the fourth quarter." --
Dallas Mavericks
coach Rick Carlisle.
As one pal notes, that is the perfect way to avoid the pain of getting beat in overtime. But otherwise, it's no way to keep alive a five-game winning streak, which is flushed by Dallas' 114-89 bruising at the hands of the Bobcats.
Dallas came in at 16-1 lifetime vs. Charlotte and Dallas came in at 31-21 for this season. Yet it's not fair to label this loss as "disastrous'' in the sense that the Mavs can recover from it. (Heck, a recovery as quickly as tonight would be delightful!)
But it is a slap back to reality (again) for all of us who continue to look for evidence that a switch has been flipped. (
The Mavs turned it all around with a closed-door team meeting!
) And it is a reminder that just as they are capable of going to Memphis and putting a good Grizzlies team in its place, they can just six days later lay a massive egg like this one.
"We deserved to get thrashed,'' Carlisle said. "And we did.'' ...
and we've got the First Impressions report on the thrashing here.
DONUT 2: The official NBA highlight reel ...
Such as it is ...
DONUT 3: And twins! ...
How fitting that on a night when Charlotte looked like twice the team Dallas is, Bobcats owner Michael Jordan's wife gave birth to the couple's identical twin daughters?
DONUT 4: Stat O' The Day ...
When you play the Mavs, you have a 40-percent chance to put up a season-high in scoring.
That's been the case in eight of the Mavs' last 20 games. To wit:
*Jan. 3: DeAndre Jordan's 25 for the Clippers.
*Jan. 5: Kenyon Martin's 14 for the Knicks.
*Jan. 11: Eric Gordon's 27 for the Pelicans.
*Jan. 15: JJ Redick's 33 for the Clippers.
*Jan. 22: DeMar DeRozan's's 40 for the Raptors.
*Jan. 24: Mirza Teletovic's 34 for the Nets.
*Feb. 9: Chris Johnson's 14 for the Celtics.
*Feb. 11: Anthony Tolliver's 22 for the Bobcats.
Martin's 14 aren't earth-shattering but they were important in a Knicks win. In the cases of Jordan, Redick, DeRozen and Teletovic, these aren't just season-highs, but also career-highs. Oh, and only Johnson's 14 points didn't help his team beat Dallas.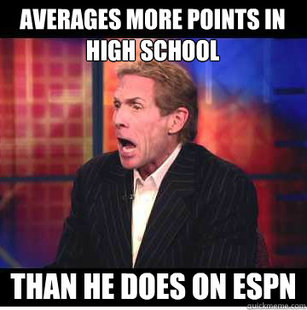 DONUT 5: Beware of Trolls ...
I don't follow Skip Bayless when
I'm on Twitter
but other people -- young, impressionable males without fully-formed brains, I assume -- do. And every once in a while, the young, impressionable males' responses to a Skip take come across my desk.
One such Skip take:
Best power forward right now: Blake, LaMarcus, KLove or AD? Nope. Still Tim Duncan, still playing All-Star level (should've been one!)
So I went to the tweet only to see the thousands of Mavs fans who responded angrily to Skip's NBA ignorance. And to my delight, there were not thousands. There was but a handful.
And so ... Dear Mavs fans: Congratulations on not falling for Skip Bayless -- really, a "troll'' long before there was such a term -- and his anti-Dirk trolling.
Proud of y'all.
DONUT 6: The Dirk we know ...
This is the first time Dirk has ever lost to the Bobcats; he'd been 16-0 against them career (having missed the single loss). But he did what he could, even after having sprained his left ankle early in the second quarter.
He went to the locker room and apparently took a pain-killing shot and then returned for the start of the third quarter. After scoring just two points in the first half before the injury, he had 14 more points while toiling on that bum ankle.
"It was a (14-point deficit) at the half and that's nothing for our team,'' said Nowitzki. "So I knew I was going to go out there early and get some shots up, and if it loosens at all that I was going to give it a go. ... It actually got better as the half progressed. Obviously the meds started working and I felt decent and moved like nothing was wrong, but we just couldn't get any stops.''
Again, Nowitzki plans to play tonight in Indiana despite an ankle that has historically given him trouble.
DB.com injury expert Jeff Stotts
notes that Nowitzki has sprained his left ankle 10 times in his career and twice this year (and always seems to bounce back bionically.)
The Uberman ... as frightening to opponents as a "Walking Dead'' character.
DONUT 7: Larkin up the wall ...
He's on the diminutive side, but
Shane Larkin has ups.
DONUT 8: The deadline is coming ...
The deadline is coming.
DB.com is reporting that the Wizards would like to pluck a point guard from the Mavs' roster. Meanwhile, Mavs fans are smart to be compelled by
the idea that everything on the Cavs' roster is for sale.
And there is a subtle-but-notable "yep'' in this thread from the wise David Lord that should be taken as a hint.
DONUT 9: On to Indy ...
What happens when an immovable force meets a movable object?
When it comes to assists allowed, the Mavs, at this moment, look haplessly movable.
In Charlotte, Dallas allowed 42 assists. That's a once-in-a-decade sort of number.
Why is that significant tonight?
The East-leading Pacers are loaded in most every way. They are 25-2 at home and are coming off a 119-80 win over Denver in which they did to the Nuggets what the Bobcats just did to Dallas.
Among the many things Indy does right: Share the ball. Indiana had 21 assists in the Denver game and improved to 22-1 when it records more than its season average of 20.5 assists.
Dallas needs to disrupt Indy's unselfish flow to avoid a fourth straight loss to the talented Pacers.
DONUT 10: Quoteboard ...
"We only beat Memphis with a winning record, and everybody else are teams we should have beaten,'' Nowitzki said. "So I don't think that five in a row was anything great or anything special. We did what we were supposed to do in those games.'' -- Dirk on the now-dead five-game winning streak.
DONUT 11: TV tonight ...
I've got a TV doubleheader tonight ... and I hope you'll channel-surf and join me!
At 5:30 I've got the pregame show "Mavs Live'' on Fox Sports Southwest before the Mavs-at-Pacers ... and then I'll race up to Frisco to cover
P.J. Hairston
and the Texas Legends on Channel 47 starting at 7.
So when you are channel-surfing, surf on over!
Or better, join me in Frisco and
hang out with the Mavs' D-League affiliate in person! Get your tickets for the whole family here!
By the way, Ricky Ledo sprained his ankle playing for the Legends last night.
"It's a mild sprain,'' the Mavs' second-round rookie tells me. "I'll try to play (tonight) but for sure I will be fine after the (All-Star) Break.''
DONUT 12: The Final Word ...
I'm starting to get a little worried about Bob Costas.
DONUT 13: The Finest Dentists in North Texas! ...
At
McKinneyDentist.com
, Dr. Berlin, Dr. Markham, Dr. Lynch and Dr. Wood have been providing the finest in everything from technology to chair-side manner for years, to our family and to so many of you. Their great work has part of us bringing our Mavs coverage to you since 1995 ... And we're proud to be associated with The Finest Dentists in North Texas ... McKinneyDentist.com!