DONUT 1: Setting the table ...
The
Dallas Mavericks
entered Sunday as losers of four of their last six games, and in much need of a win. Detroit had lost three in a row, 12 of their last 16, and was hoping to end its slide down the dreadful Eastern Conference standings.
Carried by another in a long list of great performances from Dirk Nowitzki (28 points, 9 rebounds), Jose Calderon's hot shooting (7-of-8, 17 points) and Devin Harris's second consecutive 14-point game, the Mavs got what they wanted with a 116-106 victory … the Pistons did not.
Rick Carlisle's Video Visit:
With the win in the books, the Mavs now gets to head into their first consecutive days without a game in a month, the first time since Dec. 24-25.
DONUT 2: Still so good …
What do you say when Dirk has a good game? More of the same? What more can be relayed about one of the greatest players this league has ever known?
He's special. He changes the game. He's a Hall-of-Famer, and the best this franchise has ever known. He's Dirk … still.
In just over 32 minutes, he finished with 28 points, 10-of-16 field goals, 3-of-5 3-pointers, nine rebounds, four assists, one steal and only one turnover.
Carlisle thinks this is All-Star stuff.
"He'll make it. I just have a feeling that he will," Carlisle said of Dirk's candidacy for an All-Star reserve berth, with the roster set to be determined Thursday evening. "But if he doesn't, it's great because he'll have rest. But I do think, you look at his stats, the load he's carrying, and the production in the minutes. If he was playing the minutes that most of those guys are playing, he'd be a 25-point scorer instead of a 20-point scorer. So we'll see."
DONUT 3: Getting his legs back …
With each progressive game, Devin Harris has shown improvement, inched towards becoming exactly the player that everyone in Dallas had hoped for.
"It's been going better and better each game," Rick Carlisle said of Devin. "He's obviously worked extremely hard, getting more rhythm, more feel, shots are going in now, and he made plays … it's a God-send to have a guy like Devin available, who is an experienced NBA player, who's really done everything."
There's a lot to like about what Harris accomplished Sunday night, starting with the basic numbers: leading all bench-scorers with 14 points by hitting 4-of-7 from the floor, 2-of-4 behind the arc, and tying Brandon Jennings for a game-high seven assists … and only one turnover.
However, perhaps his largest contribution was allowing Carlisle to lessen the burden on Monta Ellis's shoulders.
Ellis entered Sunday having played the fourth most minutes in the NBA and having traveled the second greatest distance (per SportsVU) played under 30 minutes for only the third time this season, with both of the previous instances coming in blowouts (a win over the Bucks and a loss to the Blazers).
Here's Devin's Video Visit:
DONUT 4: Slump ender, hot streak continued …
Over his previous six games, Dirk was averaging 19.3 points, but hitting only 40 percent of his shots and 26.9 percent of his 3-point tries.
Hopefully, that cold streak is over after getting a day off from Carlisle prior to the Brooklyn game and returning to form against Detroit.
In the 10 games leading up to Sunday, Monta Ellis had seen his shooting slump vanish, replaced by a return to efficiency. Over those 10, Ellis averaged 20.2 points, 49.7 field-goal percentage and a 33.3 3-point percentage.
Ellis wasn't truly on his game against Detroit; note that he tied his season high in turnovers, eight, set only a few days earlier in Toronto … but he did hit at least 50-percent of his shots for the seventh time in the last 10 games by hitting four of his eight attempts.
DONUT 5: Jose, can you see …
Jose Calderon is a great shooter, as his entering Sunday night as the fifth most efficient 3-point shooter in the NBA supports, but he was in rare form against his former team.
For the third time in his career, and first time since January of 2009, Calderon converted at least 85 percent of his attempts when taking a minimum of eight attempts.
He finished with 17 points, 7-of-8 field goals, 1-of-2 behind the arc, four assists, one steal and two turnovers.
DONUT 6: The Calderon and Ellis Duo …
Speaking of the Mavs starting guards …
Coming into the season, there was concern with how the backcourt duo of Monta Ellis and Jose Calderon would fit, particularly at the defensive end. Those concerns have been validated, but to what degree?
We'll begin by noting the positives, which come in the form of what we've seen from the Mavs' primary starting five that includes them both: Jose Calderon, Monta Ellis, Shawn Marion, Dirk Nowitzki and Samuel Dalembert.
We know the Mavs are now 19-12 with Dalembert in the starting lineup prior to the Detroit game, and as a unit they've outscored opponents by 3.4 points per 48 minutes, having played 398 minutes together.
This isn't elite, but is solid, ranking 13th of the 27 five-man units that had seen at least 200 minutes this season … one spot behind the Heat's most used group of Mario Chalmers, Dwyane Wade, Shane Battier, LeBron James and Chris Bosh at +5.3.
DONUT 7: The Numbers …
| | Team Totals | Monta only | Jose only | W/Both |
| --- | --- | --- | --- | --- |
| Pts | 4662 | 750 | 166 | 2817 |
| Pts allowed | 4606 | 741 | 167 | 2841 |
| Total +/- | 56 | 9 | -1 | -24 |
| Per 48 +/- | 1.2 | 1.2 | -0.6 | -0.9 |
| Opp FG% | 46.1 | 44.2 | 41.4 | 47.2 |
| Minutes | 2165 | 349 | 74 | 1306 |
| O Rating | 106.8 | 106.5 | 116.1 | 106.7 |
| D Rating | 105.3 | 104.9 | 104.4 | 107.3 |
| Net Rating | 1.5 | 1.6 | 11.7 | -0.6 |
| Team Reb% | 47.5 | 47.1 | 46.5 | 46.5 |
| Team Reb% on bench | n/a | 49.1 | 49.4 | - |
(per NBA.com through Jan. 25th)
Perhaps the first thing that jumps out from those numbers is how much better the team rebounds with either Ellis or Calderon off the court. The next is that, of the three options (with only Ellis, with only Calderon, or with both), the team has fared worse in almost every category when Ellis and Calderon share the court.
This is countered to some degree by the note above about the starters … but only to some degree.
DONUT 8: Just as worrisome …
In the chart below, you see the differential of each player from playing with and without the other. Arguably, this is the most concerning look at the pair as a duo. Every single number -- other than the minimal decrease (-0.2) by Monta in offensive rating when playing without Calderon -- is the opposite of what Dallas would hope for.
Differential for Ellis and Calderon individually in comparison to with the other on the court (Player X without Player Y minus Player X with Player Y):
| | Ellis w/o Calderon | Calderon w/o Ellis |
| --- | --- | --- |
| Total +/- | +33 | +23 |
| Per 48 +/- | +2.1 | +0.3 |
| Opp FG% | -3 | -5.8 |
| O Rating | -0.2 | +9.4 |
| D Rating | -2.4 | -2.9 |
| Net Rating | +2.2 | +12.3 |
(through Jan. 25th)
Essentially, what this says is: they do not make the other better. Instead, they seem to have the opposite impact on the other.
Or, to keep it in a team perspective, they have not made the Mavs better when sharing the court as opposed to when playing without the other.
Here's Calderon's Video Visit:
DONUT 9: Not all "doom and gloom" …
As bad as some of the stats may appear, perhaps it is not as bas as it seems.
Why?
Devin Harris.
He's only one player, but his versatility, particularly on defense, where he can take on the more significant threat of the opposing team's guards, thus hiding Ellis/Calderon's deficiencies on that end of the court; allows him to act as a much better complement to either Monta or Jose than they are to each other.
Harris has only been back for five games, and remains in the process of climbing all the way back physically, but his presence changes the dynamic of the Mavs guard rotation. He won't directly alter how Ellis and Calderon perform with each other, but does help create a more rounded three-man rotation than any other guards currently on the roster.
DONUT 10: Thanks, Dee! ...
Thanks to Dee and the incredible staff at
"Dee Lincoln Steak and Burger Bar''
for our incredible Mavs pregame dinners ... the legendary DFW restaurateur has done it again.
Dee Lincoln Steak and Burger Bar is THE "upscale casual'' place to dine before you attend events in Dallas ... And the gang from DB.com looks forward to seeing you there this week!
DONUT 11: Mavsellaneous …
*Sunday was Vince Carter's 37th birthday. He celebrated by hitting at least 50 percent of his shots for the 13th time this season (4-of-8 for 13 points) … the Mavs are 10-3 in those games.
Here's the birthday guy's Video Visit:
How does this rank as a birthday victory?
"I don't know, I've played so many of them,'' Carter joked. "I'm just excited that I can play another year on my birthday.''
*Our
locker-room Quoteboard is here.
*While January has seen Monta Ellis post his highest field-goal percentage of any month this season (47.8% in 15 games), excluding October's single game sample, he has seen his free-throw percentage plummet to 70.0 … 12 percentage points below his next worst month (82 percent in December).
Against Detroit, he was 3-of-3.
*The Dallas offense was blistering against the Pistons, hitting over 58 percent from the floor for the second time this season.
This was the 43rd time Dallas has posted a field-goal percentage at-or-above 58.0 since the 1985-86 season … they've been 40-3 in those games.
*Who
Deserves "The Dirkie''? Mavs fans vote here!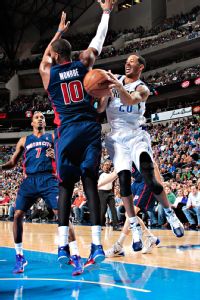 DONUT 12: The Final Word ...
Any win is a "good" win, regardless of whether a team is supposed to do so, but perhaps just as significant as the outcome was the contributions of Devin Harris. Prior to Sunday night, the Mavs had been 2-6 when Monta Ellis had five-or-more turnovers, and 4-5 when he scored 15-or-less. He had eight turnovers and 11 points against the Pistons … but there was Harris.
Devin is not only a favorite of fan nostalgia, but represents an instant addition of impactful NBA-ready talent, much like a trade acquisition that sent nothing out. What his presence ultimately amounts to remains to be seen, but there is reason for optimism within a fanbase that could use some.
Five games in, welcome back Devin Harris … and welcome back to the win column, Dallas Mavericks.